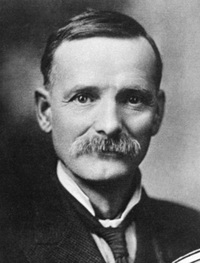 Source: Link
CARSWELL, EDWIN, farmer, farmers' association officer, and businessman; b. 11 Oct. 1858 in Oshawa, Upper Canada, son of Henry Carswell and Mary Hannah Hore; m. 25 Dec. 1883 Deborah Etta Woodward in the Nicola valley, B.C., and they had five daughters and four sons; d. 6 Feb. 1919 in Calgary.
After completing his schooling in Oshawa, Edwin Carswell was apprenticed to his father, a baker and confectioner. In his early twenties he headed west, to San Francisco, and then went to Vancouver and finally inland in British Columbia. He found work in a sawmill in the Nicola Lake area, where he met and married Deborah Woodward, originally of London, Ont. He later moved his family to Kamloops and worked in sawmills and on the construction of the Canadian Pacific Railway. In 1889 the Carswells relocated in Calgary; Edwin found employment in a lumber mill and a sash and door factory.
A bout of ill health led Carswell to try another line of work. In June 1890 he and his brother John scouted the parklands near Penhold and in July they filed homesteads in the Horn Hill district, where they were joined by another brother, James. The following year, with no previous farming experience, Edwin and his family moved to their homestead. Known as a good neighbour, Carswell was adept at building a pioneer settlement. He helped organize the Horn Hill School District, and served on its board for several years. As well, he was instrumental in building St George's Anglican Church, assisted in forming the Penhold Rifle Club, and supported and played for the Horn Hill Football Club. He sat on the board of the local creamery and helped establish routes to facilitate delivery to nearby Red Deer. When farmers in his district began to organize, he took an active role.
Grain growers saw themselves disadvantaged in the market-place by protective tariffs, excessive freight rates, inadequate distribution of railway cars, insufficient storage facilities, unfair grading, combinations to depress prices, and governments that ignored farmers' grievances while pandering to central Canadian manufacturing and business interests. By 1905 two rival agricultural organizations were prominent in Alberta: the Alberta Farmers' Association and the Canadian Society of Equity. In 1907 Carswell became president of the newly organized branch of the AFA at Penhold; by the following year, when significant developments occurred within the movement, he was on the AFA's provincial executive.
The AFA and SOE had tried but failed to unite in 1905 and 1906; by late 1908 the latter was in financial difficulty and negotiations were renewed. Carswell was a member of the committee that worked out terms of union, a constitution, and a new name. The United Farmers of Alberta was launched on 14 Jan. 1909 with much fanfare and the endorsement of the provincial Liberal government. Carswell subsequently represented his district within the UFA and served on its executive. In 1910 he won the position of director of the Red Deer constituency, which he would hold until his election in 1913 as the UFA's fourth vice-president. From 1911 he served on the pork-packing and elevator committees, becoming chair of both. When he was elected third vice-president in 1914 he added to his duties organizational work and membership on the Alberta committee of the Canadian Council of Agriculture. During this period he became manager, in 1910, of the Red Deer Co-operative Livestock Marketing Association, and then its president. In 1912 he moved his family into Red Deer and became secretary and manager of the Red Deer Creamery. Two years later the Carswells moved back to Calgary.
Although not an outspoken member of the UFA, Carswell stood solidly behind its principles of cooperation and member participation, and urged government support of cooperative ventures. At a time when some members were considering direct political involvement by the UFA, Carswell appears to have opposed such action. He preferred to lobby for legislation favourable to agriculture. In August 1910, for instance, he was part of the delegation that presented Prime Minister Sir Wilfrid Laurier, during his visit to Red Deer, with a list of demands for action on the debate over publicly or cooperatively owned facilities for curing and cooling meat, cooperative legislation, terminal elevators, the railway question, and the tariff [see James Speakman]. In 1913 he travelled with the Alberta delegation to CCA meetings in Saskatoon, Regina, and Winnipeg, and then on to Ontario to meet with Prime Minister Robert Laird Borden* and attend the annual convention of the Dominion Grange, which urged cooperation among eastern, central, and western farmers, and denounced protective tariffs.
In the UFA Carswell's interests in grain elevators and pork packing came together. Since 1908 the AFA, and later the UFA, had joined the grain growers of Manitoba and Saskatchewan in pressing for government ownership of elevators. When Manitoba in 1910 adopted elevators as public utilities, and Saskatchewan in 1911 created a growers' cooperative elevator company with public loans and guarantees, the UFA observed both initiatives carefully. From his position on the elevator committee, Carswell helped formulate a plan to meet the needs of Alberta's farmers. In 1913 Premier Arthur Lewis Sifton*'s Liberal administration agreed to most of the committee's recommendations, and Carswell, William John Tregillus, and others worked with the government to hammer out a bill to incorporate the Alberta Farmers Co-operative Elevator Company. At the first shareholders' meeting, Carswell was elected vice-president and a director. Following the Saskatchewan model, the company was to be run cooperatively. In the Alberta company, however, more control remained in farmers' hands, active association and assistance was provided by the Grain Growers' Grain Company Limited, and the government's role was limited to advancing as loans 85 per cent of the costs of constructing and acquiring elevators. Provisions were also made for the cooperative sale of farm supplies and handling of livestock.
By this time Carswell was managing the livestock cooperative in Red Deer so well and obtaining such high prices for hogs that his system was recommended for all of the UFA's local unions. The government, however, refused to build a pork-packing plant. Attempts to pressure it had begun with the AFA and the need was the first resolution of the UFA in 1909. At issue was the guaranteed delivery of hogs, which the government insisted upon before it would build. In 1912 Carswell persuaded a large proportion of the producers around Penhold to pledge hogs, but other UFA locals were less successful. By 1914 Carswell was chair of the UFA's pork-packing committee, which had arranged for the AFCEC to buy UFA-organized shipments, but he was disappointed to find that producers apparently preferred outright sales to commission sales under the cooperative plan.
From this point Carswell directed his energies to the AFCEC. In November 1914 its president, W. J. Tregillus, died and Carswell served as acting president until the election of January 1915, when he became president of the livestock division. In the UFA he declined nomination for a vice-presidency in 1915 and for the presidency the following year. In addition, he stepped down as a chair, though he would remain on UFA committees until 1917. Under Carswell the AFCEC's livestock division initially reported increased business, but in 1917, his last year as president, it lost over $6,000. That same year the AFCEC amalgamated with the Manitoba Grain Growers' Grain Company Limited to form the United Grain Growers Limited, and Carswell became involved in this new organization.
In January 1918 Carswell left the UGG, and active service in the united farmers' movement, to promote the Calgary Abattoir and Cold Storage Company Limited. Later that year he suffered ill health and then recovered, only to be struck down with influenza during the epidemic that was then ravaging Canada. He died of a relapse on 6 Feb. 1919 and was buried in Calgary's Union Cemetery.
GA, BR, minutes of executive and board meetings, 1913–15 (mfm.); M1135, Rice Sheppard, "Twenty-five years in the great north-west" (typescript, 1922); M1745, minutes of conventions and directors' meetings, 1906–7, unidentified newspaper clipping, "The Alberta Farmers' Association and the Society of Equity fail to unite." NA, RG 31, C1, 1901, Penhold, [Alta]: 4. Red Deer and District Arch. (Red Deer, Alta), S-II-3-5 (E. L. Meeres fonds), "Pioneers of central Alberta" (1991), 24.8. Calgary Herald, 8 Feb. 1919. Edmonton Bulletin, 14 Jan. 1909. Grain Growers' Guide (Winnipeg), June 1908, February 1909. News (Red Deer), 12 Feb. 1919. Red Deer Advocate, 12 Aug. 1910. D. G. Embree, "The rise of the United Farmers of Alberta" (ma thesis, Univ. of Alta, Edmonton, 1956). W. A. Mackintosh, Agricultural cooperation in western Canada (Kingston, Ont., 1924). N. F. Priestley and E. B. Swindlehurst, Furrows, faith and fellowship (Edmonton, 1967). Red Deer East Hist. Soc., Mingling memories (Red Deer, 1979), 547–48. United Farmers of Alberta, Official minutes of the annual convention (v.p.), 1910–14, 1916 (with reports for 1909–13, 1915) (copies in PAA, Edmonton, 74.1/221); the Official minutes for 1915 are available on mfm. at GA, BR.
© 1998–2023 University of Toronto/Université Laval
Image Gallery

Cite This Article
Cecilia Danysk, "CARSWELL, EDWIN," in Dictionary of Canadian Biography, vol. 14, University of Toronto/Université Laval, 2003–, accessed September 28, 2023, http://www.biographi.ca/en/bio/carswell_edwin_14E.html.
The citation above shows the format for footnotes and endnotes according to the Chicago manual of style (16th edition). Information to be used in other citation formats:
| | |
| --- | --- |
| Permalink: | http://www.biographi.ca/en/bio/carswell_edwin_14E.html |
| Author of Article: | Cecilia Danysk |
| Title of Article: | CARSWELL, EDWIN |
| Publication Name: | Dictionary of Canadian Biography, vol. 14 |
| Publisher: | University of Toronto/Université Laval |
| Year of publication: | 1998 |
| Year of revision: | 1998 |
| Access Date: | September 28, 2023 |