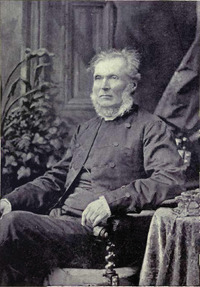 Source: Link
COOK, JOHN, Presbyterian minister, office holder, and school administrator; b. 13 April 1805 in Sanquhar, Scotland, first son of John Cook, a burgess, and Marion Wilson; m. before 1837 Elizabeth Airth, and they had four sons and three daughters; d. 31 March 1892 at Quebec.
Gifted with a keen, scholarly mind, John Cook pursued his education at the University of Glasgow in 1820 and then at the University of Edinburgh, where he studied divinity under the renowned Thomas Chalmers. Licensed by the Church of Scotland, Cook was appointed assistant minister at Cardross in 1831 or 1832. In 1835, probably influenced by Chalmers, he reluctantly abandoned excellent prospects for a congregation in Glasgow to accept a call from St Andrew's Church, Quebec. He was ordained by the Presbytery of Dumbarton on 29 December.
Cook began his ministry at St Andrew's in April 1836. Spiritual home for the Scottish regiments stationed in the Citadel and host to leading political and administrative figures when Quebec was the capital of Lower Canada and later of the united Canadas, St Andrew's was also the favoured congregation of the city's Presbyterian business community. Cook, who acquired a reputation for business acumen and was an excellent host and fine conversationalist, fitted in well with his congregation. He soon took an active role in its affairs and in those of the city. In 1837–38 he had a manse constructed, and in 1845 he was among the incorporators of the Quebec Charitable Firewood Society, a Protestant anglophone body that bought firewood in summer at low prices for winter distribution to the destitute. That year he served prominently in relief efforts after the faubourgs Saint-Roch and Saint-Jean were devastated by fire; he helped organize a major relief effort again in 1866 when the faubourg Saint-Sauveur suffered a similar fate. In 1860 he was appointed a commissioner responsible for foundlings and indigent sick in the district of Quebec. He was a member of the Quebec Library Association, the St Andrew's Society, and the Quebec Bible Society.
Such activities made Cook popular with all classes of society. He believed that social division into leisured and labouring classes would continue, but he rejected the perpetuation of poverty. "There is a closer and more intimate connection between a right economic, and a right moral and religious state, than is usually supposed," he told the Quebec Mechanics' Institute in 1848. Poverty led to crime, and, to avoid poverty resulting from loss of employment, he urged workers to use savings banks and to take out life insurance. He preferred life insurance to banks because it involved self-deprivation for others rather than accumulation of wealth for self-gratification.
Although universally popular, Cook was capable of taking controversial stands on local matters. He refused the hospitality of St Andrew's Church to Alessandro Gavazzi, the incendiary Italian revolutionary and ex-Barnabite, when he came to speak in June 1853, in order to maintain his congregation's tradition of cordial relations with the city's Roman Catholic population. Nevertheless, Cook attended Gavazzi's lecture at Chalmers Free Church, and he tried unsuccessfully to calm the crowd when Irish Catholics stormed the building and a riot ensued. A few days later he assumed the presidency of a committee that demanded punishment of the offenders and better protection by civil authorities for Protestant religious rights. On the other hand, writing, albeit anonymously, to the Morning Chronicle (Quebec) in 1878, he protested as "unjust, insulting, and unwise" the evident unwillingness of the provincial government to invest in a railway link from Terrebonne to Sainte-Thérèse that would give Quebec direct access to western markets at the expense of Montreal. Asserting that Montreal was "rapidly becoming a great English and Protestant city," while Quebec was "likely long to continue . . . French and Catholic," he expressed astonishment that "a French Legislature" would neglect the capital and grieved to see his home city for more than 40 years "going down." Cook was no doubt aware, too, that the railway would significantly benefit the Scottish business class at Quebec.
Cook was deeply committed to promoting education. In 1840 he was named principal pro tempore of a Presbyterian college established at Kingston, Upper Canada; he was active in efforts to secure funding [see William Rintoul*] and a charter for it under the name of Queen's College. An original trustee, at first he promoted clerical influence in the college's administration. Throughout the 1840s and 1850s he worked assiduously to keep the institution financially sound, and from 1857 to 1859 he grudgingly served as interim president while retaining his charge at St Andrew's. In 1877, in honour of his work, Queen's made him its first chancellor, a position he accepted reluctantly because he believed that it should be offered to a layman. In his acceptance speech he confessed to feeling that the founders of the college had erred in making it Presbyterian. He argued that a college should be Christian but not denominational if it was to avoid compromising public support and the pursuit of excellence. Queen's, he believed, ought to affiliate with the other denominational colleges in Ontario and with the secular University of Toronto to form a federated provincial university. At the same time he regretted a perceived atheistic bias on the part of men of science in universities, while slyly expressing confidence that Christianity would overcome atheism "by that law of natural selection, according to which it is the strongest that survives." He also denounced the indifference to university education displayed by a Canadian business class "disposed to undervalue any pursuit, which is not to be immediately productive of material advantage." Cook had received an honorary dd from the University of Glasgow in 1838, and in 1880 Queen's would award him an honorary lld.
Cook was concerned as well about Protestant education in his own province. He felt that its development was necessary to preserve the British Protestant presence, to convert Roman Catholics, and to serve French Canadian Protestants. He was commissioned a trustee of the Royal Institution for the Advancement of Learning in 1836, was made a member of the Quebec Protestant School Board ten years later, and was appointed to the Council of Public Instruction in 1859. Cook was instrumental in founding the High School of Quebec in 1842 or 1843 and was a director by 1845 at the time of its incorporation. When Dr Joseph Morrin* endowed a private school at Quebec, opened in 1862 as Morrin College, he named Cook its principal; Cook occupied that post until his death. The school was affiliated with McGill College in Montreal for its courses in the humanities and sciences and with the Presbyterian Church of Canada in connection with the Church of Scotland for its courses in theology. Although Morrin College had an exclusively Presbyterian board of governors, its staff and students came from various denominations. The curriculum was designed to complete the classical secondary school education and to provide a general base for more specialized university training. Under Cook's guidance the college sought to form an élite that, in his estimation, could guide public opinion wisely, according to the principles of reason and justice, when "the tendency of the times is all in the direction of popular power." In 1882 it boasted 20 full-time and 31 part-time students in arts as well as 5 theology students. In addition, Cook was a member of the corporation of McGill College; there, in a convocation address about 1875, he affirmed that "the capacity of progress is man's chief attribute. . . . And there will be scope for it for ever, in an ever advancing knowledge of the works and ways of God." In his view of the relation between science and religion, Cook agreed generally with the devout Presbyterian principal of McGill, the renowned geologist John William Dawson.
From his arrival in 1836 Cook had worked ceaselessly on behalf of the Presbyterian Church. In 1838 he was elected moderator of the Presbyterian Church of Canada in connection with the Church of Scotland. Later he opposed supporters in the Canadas of the Free Church secession movement of 1843–44 in Scotland and strove in vain to prevent a similar disruption in the colonies. Remaining with the Church of Scotland despite the defection to the Free Church by most of his Scottish relations and by his mentor Chalmers, he was again elected moderator in 1844, replacing the secessionist Mark Young Stark*. Three years later he was among the managers of the ministers' widows' and orphans' fund, and in 1858 he was made a member of the church's board for the management of the Temporalities Fund, incorporated that year. Cook worked constantly for reunification of the Presbyterian bodies in Canada, and in 1870 he was appointed chairman of the joint committee on union. In 1875, with the formation of the Presbyterian Church in Canada, his dream was realized, and he was elected the first moderator of the newly reunited church as a tribute to his dedication and service. Cook went further, however, and ultimately advocated union across denominational lines. Believing that "we have perhaps made our Presbyterianism . . . too exclusively Scotch," he argued that "there is not one Christian organization from the Church of Rome down to the last-formed gathering of Plymouth Brethren from whence some good lesson might not be learned." Nevertheless, he was wary of high Anglicanism, which he qualified as "papistical at heart" and "mongrel medievalism."
Furthermore, Cook believed that the church ought to be open to new scientific knowledge and to use it to gain greater insight into the fundamental teachings of the Bible. He supported biblical criticism and, although never a leader in the movement, gave prestigious backing to the new liberal theological study. He also demanded that the church work to ameliorate the social conditions of the poor and to make religion an integral part of daily living. Seldom a writer or pamphleteer, Cook worked quietly within the regular church courts. At the instigation of friends he published a volume of his sermons in 1888; critics described it as calm and reasonable, neither feverishly evangelical nor laxly liberal. Cook's sermons always had a strong moral basis. Their object was to improve individual behaviour through right belief and right thinking and thereby improve society in general. They reveal no great preoccupation, however, with social moral reform.
Cook had retired from St Andrew's Church and the ministry in 1883, but he continued to serve full time until his replacement arrived in the fall of 1884. Thereafter, he served as minister emeritus until his death in March 1892. The funeral at St Andrew's was attended by Anglican bishop James William Williams, Henri-Gustave Joly* de Lotbinière, and Thomas Chase Casgrain* among others. Mourned by Presbyterians as an educator, pastor, and national leader, Cook was praised by the francophone press as an "enemy of all fanaticism" and a man who had worked "to maintain between the two nationalities that spirit of good will which distinguishes the population of Quebec City."
Elizabeth Ann Kerr McDougall and Neil Semple
John Cook is the author of The advantages of life assurance to the working classes . . . (Montreal, 1848); Early moral and religious education; a lecture (Quebec, 1849); A sermon preached on the occasion of the death of the Rev. Robert McGill, D.D., minister of St. Paul's Church, Montreal (Montreal, 1856); and Sermons preached in St Andrew's Church, Quebec (Montreal, 1888). A portrait of Cook at the Agnes Etherington Art Centre, Queen's Univ., Kingston, Ont., has been reproduced in Frost, McGill Univ., vol.1, and in H. [M.] Neatby and F. W. Gibson, Queen's University, ed. F. W. Gibson and Roger Graham (2v., Kingston and Montreal, 1978–83), vol.1. A stamp was issued in Cook's honour by Canada Post in 1975.
ANQ-Q, CE1-66, 31 mars 1872. NA, RG 68, General index, 1651–1841, 1841–67. Private arch., C. C. Dooley (Quebec), Cook family album. QUA, 1227, 1241, 2139. UCC-C, Biog. files; Inter-church coll., Presbyterian union, 1861–75; James Robertson Memorial Lectures, [Robert] Campbell, "Four Presbyterian fathers: James McGregor, John Bayne, John Cook, James Robertson" (1915). Can., Prov. of, Statutes, 1844–45, cc.89, 105; 1847, c.103; 1858, c.66. Draft of an answer to the dissent and protest of certain ministers and elders who have seceded from the Synod of Canada in connexion with the Church of Scotland (Kingston, 1844). PCC Acts and proc., 1875–92. Presbyterian (Montreal), 28 (1875): 153–88. Presbyterian Church of Canada in connection with the Church of Scotland, Acts and proc. of the synod (Montreal and Toronto), 1831–45, 1871–75. Queen's College Journal (Kingston), 1873–92. Morgan, Sketches of celebrated Canadians. Quebec directory, 1847–48, 1863–64, 1867–68. Hew Scott et al., Fasti ecclesiœ scoticanœ: the succession of ministers in the Church of Scotland from the Reformation (new ed., 9v. to date, Edinburgh, 1915– ), 7: 631. Campbell, Hist. of Scotch Presbyterian Church. William Gregg, History of the Presbyterian Church in the Dominion of Canada, from the earliest times to 1834 . . . (Toronto, 1885). John Moir, Enduring witness: a history of the Presbyterian Church in Canada ([Hamilton, Ont., 1974?]). Robert Stewart, St. Andrew's Church, Presbyterian, Quebec: an historical sketch of the church and its ministers ([Quebec, 1928]). P.-G. Roy, "La famille Cook," BRH, 42 (1936): 193–95. Robert [Philippe] Sylvain, "Séjour mouvementé d'un révolutionnaire italien à Toronto et à Québec," RHAF, 13 (1959–60): 183–229.
© 1990–2023 University of Toronto/Université Laval
Image Gallery

Cite This Article
Elizabeth Ann Kerr McDougall and Neil Semple, "COOK, JOHN," in Dictionary of Canadian Biography, vol. 12, University of Toronto/Université Laval, 2003–, accessed September 24, 2023, http://www.biographi.ca/en/bio/cook_john_12E.html.
The citation above shows the format for footnotes and endnotes according to the Chicago manual of style (16th edition). Information to be used in other citation formats:
| | |
| --- | --- |
| Permalink: | http://www.biographi.ca/en/bio/cook_john_12E.html |
| Author of Article: | Elizabeth Ann Kerr McDougall and Neil Semple |
| Title of Article: | COOK, JOHN |
| Publication Name: | Dictionary of Canadian Biography, vol. 12 |
| Publisher: | University of Toronto/Université Laval |
| Year of publication: | 1990 |
| Year of revision: | 1990 |
| Access Date: | September 24, 2023 |