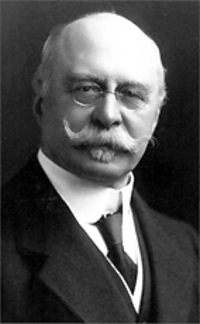 Source: Courtesy of Wikimedia Commons
CHASE-CASGRAIN, THOMAS, lawyer, professor, politician, and newspaper owner; b. 28 July 1852 in Detroit, son of Charles-Eusèbe Casgrain and Charlotte Chase; m. first 15 May 1878 Marie-Louise Le Moine at Quebec, and they had one son; m. secondly 16 Feb. 1915 Marie-Louise Berthiaume, widow of René Masson, in Paris; d. 29 Dec. 1916 in Ottawa and was buried 2 Jan. 1917 in Notre-Dame-des-Neiges cemetery, Montreal.
Thomas Chase-Casgrain came from a family with an avid interest in politics. His father, a physician, would represent the division of Windsor, Ont., in the Senate from 1887 to 1907. His grandfather, Charles-Eusèbe Casgrain*, had been a member of the Lower Canadian House of Assembly and later a member of the Special Council. His uncles included Philippe-Baby Casgrain, a Liberal mp from 1872 to 1891, and Sir Charles-Alphonse-Pantaléon Pelletier. Chase-Casgrain was also a cousin of Joseph-Philippe-Baby Casgrain, a senator from 1900 to 1939, and was a distant relative of mlas Léon and Perreault Casgrain. These were the most important of the politicians in the family, and both the Liberal and the Conservative parties were well represented among their number.
Chase-Casgrain studied at the Petit Séminaire de Québec from 1867 to 1873 and spent the following year as a medical student at the Université Laval. Having transferred to the faculty of law, he remained there until 1877. He obtained his law degree that year and on 17 July was called to the bar. His first partner was Guillaume Amyot*. In 1879 he was appointed professor of law at the university, a position he held for the rest of his life, although he was to give up teaching because of his ministerial duties. Laval awarded him a doctorate in law in 1883, a year after he was made crown attorney for the district of Quebec. In 1885 the federal cabinet of Sir John A. Macdonald* named him to the legal team representing the crown in the trial of Louis Riel*, along with Christopher Robinson* and Britton Bath Osler*, among others. The only French Canadian in the group, he was considered a traitor by the Liberals in Quebec, despite his quite minor role, and he was hanged in effigy during demonstrations in the province.
Taking advantage, to some extent, of the notoriety the Riel affair had brought him, Chase-Casgrain stood as the Conservative candidate for the riding of Quebec in the provincial election of 1886. His success at the polls was the culmination of years spent in partisan battles as a speaker at public meetings or within the Club Cartier at Quebec, of which he had been president several times. Having sat in opposition, Chase-Casgrain did not run again in the election of 1890.
On 16 Dec. 1891 Honoré Mercier* was dismissed from the premiership and on 21 December Chase-Casgrain, though not a member of the assembly, was appointed attorney general in the Conservative government of Charles Boucher de Boucherville. When Mercier's trial began on 20 April 1892, Chase-Casgrain played the principal role on the Conservative side. As attorney general, it was he who had laid the charges of patronage and misappropriation of funds against the former premier.
In the provincial election of 8 March Chase-Casgrain had been elected for the Conservatives, this time in Montmorency. He returned to office as attorney general in the cabinet of Louis-Olivier Taillon* on 31 December and held that position until 11 May 1896. In addition he served as bâtonnier of the Quebec bar from 1892 to 1894 and of the provincial bar from 1893 to 1895.
When Taillon resigned on 13 June 1896, Edmund James Flynn* became leader of the provincial Conservatives. Unable to work under a man who had taken the post he considered rightfully his, Chase-Casgrain embarked that year on a career in federal politics, as the member for Montmorency. Sitting in the opposition, he drew attention to himself as the one French Canadian mp who was basically imperialist. He took a stand in favour of Canada's full participation in the South African War, since England was clamouring for it. After the general election of 1900 Chase-Casgrain and Frederick Debartzch Monk, the only well-known Conservatives elected in Quebec, shared the role of Quebec lieutenant in the party. When Robert Laird Borden* became leader in 1901, Monk and Chase-Casgrain were locked in a power struggle. In the general election of 1904 Chase-Casgrain was defeated, a victim of the great popularity that Sir Wilfrid Laurier's government enjoyed in Quebec and of the reputation as a "hangman" that stuck to him from the Riel affair.
Political struggles did not end, however. Heavily involved in the campaign against Laurier's Canadian navy and in the election battle of 1911, Chase-Casgrain was denied the candidacy in Nicolet through the obstinacy of Armand La Vergne*, the leader of the Ligue Nationaliste Canadienne in the district of Quebec, who had formed an alliance with the Conservatives for the duration of the campaign. The ghost of Riel followed him wherever he went. When Monk left parliament, Borden got Chase-Casgrain a seat through a by-election on 7 Nov. 1914 for the riding of Quebec, having already appointed him postmaster general on 20 October. He also made him his Quebec lieutenant.
Chase-Casgrain spread his propaganda largely through the Quebec newspaper L'Evénement, of which he was part owner. Since Canada was then at war, he bent his efforts to recruitment in the province. He organized many public meetings with Laurier, Rodolphe Lemieux*, Sir Lomer Gouin*, and other Liberal leaders. Chase-Casgrain was considered the most ardent French Canadian supporter of imperialism, and his views even led him to volunteer for active service himself at the age of 63.
By about 1916 Chase-Casgrain was losing his influence with the Quebec Conservatives, and Borden was increasingly keeping him at arm's length, in favour of closer links with younger men such as Albert Sévigny*, who had the support of local organizations in the province. Late in 1916 Liberal newspapers were openly stating that his resignation was imminent. But it was not to be. On 29 December he died in Ottawa of pneumonia, which he had contracted while travelling.
A highly controversial figure in Quebec, Chase-Casgrain is the best representative of the dwindling group of French Canadians who in the early 20th century were attached to the British empire and hostile to Canadian independence in any form. He was the perfect antithesis of Henri Bourassa* and his Nationalistes, and even went against the trend towards autonomy initiated by Laurier and continued, in his own way, by Borden.
Thomas Chase-Casgrain published the following pamphlets: Discours de M. T. Chase Casgrain, c.r., député du comté de Québec, sur la conférence interprovinciale ([Québec], 1888); Discours de l'honorable M. Casgrain, sur la loi réorganisant les tribunaux de la province de Québec (s.l., [1892?]); The courts of Quebec; Mr. Casgrain's measure for their organization . . . (n.p., [1893?]); Aux électeurs du comté de Montmorency ([Québec, 1896?]); Discours de M. T. C. Casgrain, m.p., sur le budget (s.l., [1900?]); Address by the Hon. Thomas Chase Casgrain, delivered at a luncheon given in his honour by the Canadian Club of Vancouver, B.C., on the 16th of August 1915 (n.p., 1915); La tâche du gouvernement Borden; discours de l'hon. T.-C. Casgrain, c.r., ministre des Postes, prononcé le 30 septembre 1916 devant le Club libéral-conservateur de Montréal (s.l., 1916).
ANQ-Q, CE1-1, 15 mai 1878. NA, MG 27, II, D21. Réal Bélanger, L'impossible défi: Albert Sévigny et les conservateurs fédéraux (1902–1918) (Québec, 1983). Alfred Cloutier, L'hon. T.-C. Casgrain, représentant du comté de Québec au parlement fédéral et ministre des Postes dans le cabinet Borden (s.l., 1916). Armand La Vergne, Trente axis de vie nationale (Montréal, 1934). The Queen v Louis Riel, intro. Desmond Morton (Toronto and Buffalo, N.Y., 1974). Robert Rumilly, Hist. de la prov. de Québec; Honoré Mercier et son temps (2v., Montréal, 1975). Mason Wade, Les Canadiens français, de 1760 à nos jours, Adrien Venne et Francis Dufau-Labeyrie, trad. (2e éd., 2v., Ottawa, 1966).
© 1998–2023 University of Toronto/Université Laval
Cite This Article
René Castonguay, "CHASE-CASGRAIN, THOMAS," in Dictionary of Canadian Biography, vol. 14, University of Toronto/Université Laval, 2003–, accessed September 22, 2023, http://www.biographi.ca/en/bio/chase_casgrain_thomas_14E.html.
The citation above shows the format for footnotes and endnotes according to the Chicago manual of style (16th edition). Information to be used in other citation formats:
| | |
| --- | --- |
| Permalink: | http://www.biographi.ca/en/bio/chase_casgrain_thomas_14E.html |
| Author of Article: | René Castonguay |
| Title of Article: | CHASE-CASGRAIN, THOMAS |
| Publication Name: | Dictionary of Canadian Biography, vol. 14 |
| Publisher: | University of Toronto/Université Laval |
| Year of publication: | 1998 |
| Year of revision: | 1998 |
| Access Date: | September 22, 2023 |