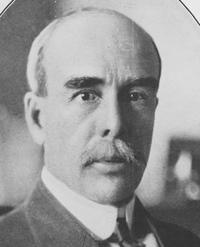 Source: Link
DENNIS, JOHN STOUGHTON, surveyor, militia and army officer, civil servant, and railway-company official; b. 22 Oct. 1856 in Weston (Toronto), Upper Canada, eldest son of John Stoughton Dennis* and Sarah Maria Oliver; m. first 29 Dec. 1879 Mary Conroy in Aylmer (Gatineau), Que., and they had a daughter; m. secondly 1921, in New York City, Kate Hunter of Kingston, Ont.; d. 26 Nov. 1938 in Victoria.
John Stoughton Dennis was born into an affluent loyalist family. His father, as surveyor general and deputy minister of the federal Department of the Interior, played a significant role in the settlement of western Canada, and John would follow in his footsteps. Educated at Trinity College School in Weston, and for a time at the gunnery school in Kingston (A Battery, Garrison Artillery), he trained as a surveyor under his father and Bolton Magrath of Aylmer. In 1877 he qualified as a dominion land surveyor and dominion topographical surveyor. He helped organize the Association of Provincial Land Surveyors in Manitoba and served as its president in 1881. Active too in the Association of Dominion Land Surveyors, formed in 1882, Dennis was president in 1890. Recognition of his engineering skills would come in 1901, when he was admitted to the Canadian Society of Civil Engineers.
Dennis had worked in the west between 1878 and 1885 for the interior department, the Hudson's Bay Company, and real-estate and surveying firms. These pursuits were interrupted by the North-West rebellion of 1885 [see Louis Riel*], when he captained the makeshift Dominion Land Surveyors' Intelligence Corps. He was praised by Major-General Frederick Dobson Middleton* for "the way in which he handled his men" at the battle of Batoche (Sask.).
After his return to Ottawa and the interior department in 1885 – he lived nearby in Aylmer – Dennis was promoted to inspector of surveys, and in 1890 he became chief inspector. In 1893 he organized, and later supervised, the first irrigation surveys in the west; he had long considered drought to be the only factor limiting settlement. Contact with dominion lands officer William Pearce* reinforced this interest. In 1890 Dennis had emphasized the need to understand the cyclical pattern of rainfall on the plains and to plan accordingly. The irrigation surveys were intended to collect data for use in the water and settlement projects undertaken by the private sector, notably the Canadian Pacific Railway and other large landowners [see Elliott Torrance Galt*].
Between January and March 1894 Dennis toured western American states gathering the information needed to draft the North-west Irrigation Act, passed by Canada later that year. He was responsible for its administration, first as chief inspector of surveys and then, from 1897 to 1902, as the first deputy commissioner of the North-West Territories' Department of Public Works. He was able to hold dual employment under an agreement that transferred administrative responsibility for irrigation to the territories. This accord may have originated with Dennis, who anticipated an irrigation branch within Interior. As deputy commissioner, he had to organize the territorial department and establish procedures to deal with other needs, including roads and bridges.
Dennis's contribution to the administration of western water resources included his proposal, initially made in 1896, that a commission be created to deal with cross-border issues. The idea would eventually be implemented under the International Boundary Waters Treaty of 1909 [see Sir George Christie Gibbons*].
With the decision of the CPR in 1902 to develop irrigation in its huge block of land east of Calgary, made on the basis of a survey plan prepared under Dennis, he secured the position of project manager and left the government, his resignation effective 1 Jan. 1903. This work went hand in hand with his executive involvement in the Western Canada Irrigation Association, formed in 1907. While running the railway's irrigation department, a job that necessitated his move from Regina to Calgary, he also served as the CPR's land commissioner in British Columbia and assistant to William Whyte*, the second vice-president in charge of the western division. In 1912 he would become assistant to President Sir Thomas George Shaughnessy*, with responsibility for a new department of natural resources. He played an increasingly important role in the CPR's formulation of policies for the development of its land, mining, and timber interests, especially the occupation and use of prairie lands. The crop-payment plan introduced in 1908 and the loan plan approved in 1912 were innovations suggested by Dennis to reduce the financial burden on settlers wanting to buy railway land.
During the early years of World War I, Dennis's focus on western settlement sharpened. Beginning in 1914 he prepared a series of memoranda on the failure of rural settlement to keep pace with railway construction and urban growth. His recommendations included an aggressive post-war program to correct this imbalance, starting with the CPR's formation of a department of colonization and development in the fall of 1916. Dennis became its first commissioner on 24 March 1917 and he would later move to Montreal, where the railway was headquartered.
Having made these preparations, he concentrated his efforts on meeting imperial and Canadian wartime needs, which in his mind were the same. In 1917–18, with the rank of colonel, he was placed in charge of the Canadian section of the British–Canadian recruiting mission in the United States. In recognition of this service, he was made a cmg in 1918. The next year he was part of the Canadian economic commission and military contingent sent to revolutionary Siberia, where he was responsible for transportation. He was also commissioner of the Canadian Red Cross. Canada's intervention confirmed his view of Siberia as a future market, but following their arrival in Vladivostok in February 1919, the members of the economic commission concluded that the region's devastation precluded this objective. Dennis was able, however, to deal with dire conditions of health and supply before the withdrawal of the Canadian brigade and Red Cross staff in May.
Dennis returned to Montreal and his duties as commissioner of colonization and development, determined to solve the problems identified at the outset of the war. He failed to achieve his ambitious goal of ten million immigrants in ten years, but he had some successes, including the relocation of Mennonites from Russia in the early 1920s. Later in the decade his department supervised a number of new schemes directed specifically at British immigrants. Dennis's role in the CPR's post-war effort to attract settlers also included his presidency of the Canada Colonization Association from 1925 to 1932. He retired from the CPR in December 1929 and moved to Victoria, where, three weeks before his death, he was awarded the Sir John Kennedy Medal of the Engineering Institute of Canada. Highly committed to all of his professional undertakings, he had had few known personal interests. One passion was music: he conducted amateur orchestras, produced operettas, and was an honorary representative for the west of the Toronto Conservatory of Music. He was responsible for inviting Annie Glen Broder to Calgary, where she exercised great influence on the city's musical development.
J. S. Dennis brought technical and administrative skill, perseverance, and innovation to his positions with the federal and territorial governments, the HBC, and the CPR. In all these posts he tried to complete the task, begun by his father, of settling the west.
John Stoughton Dennis is the author of A short history of the surveys performed under the dominion lands system, 1869–1889 ([Ottawa?], 1892); "Reminiscences of the Riel rebellion, 1885," Canadian Surveyor (Ottawa), 3 (1928–31), no.4: 22–24; and The extension of British colonization in Canada: resulting from the activities of the Canadian Pacific Railway Company since its incorporation in 1880, together with a discussion of our present problems and the possibility of increasing our productive population by the movement of a large number of British colonists to Canada (Victoria, 1932).
AO, F 277, MU 1131, W. W. Duncan, "Narrative of the Skirving and Dennis families" (typescript, March 1967). BANQ-O, ZQ16/26, 29 déc. 1879. GA, M 2269, files 1, 459, 473, 475–76, 568, 643. LAC, R180-76-5, box 2444-23; R190-36-2, files 142064, 157337, 396543, 424189, 509966, 510345; R202-8-8, files 21916, 22804. Univ. of Alta Arch. (Edmonton), William Pearce fonds, files 429–30. C. J. Brydges, The letters of Charles John Brydges, 1879–1882, Hudson's Bay Company land commissioner, ed. Hartwell Bowsfield, intro. Alan Wilson (Winnipeg, 1977); The letters of Charles John Brydges, 1883–1889, Hudson's Bay Company land commissioner, ed. Hartwell Bowsfield, intro. J. E. Rea (Winnipeg, 1981). Can., Parl., Sessional papers, 1888–1903 (reports of the Dept. of the Interior, 1887–1902). Canadian annual rev., 1905–30/31. N. F. Dreisziger, "A surveyor advises the government: J. S. Dennis, Jr., and Canadian–American negotiations, 1895–1910," Canadian Surveyor, 29 (1975): 141–44. J. A. Eagle, The Canadian Pacific Railway and the development of western Canada, 1896–1914 (Kingston, Ont., 1989). Robert England, The colonization of western Canada: a study of contemporary land settlement, 1896–1934 (London, 1936). F. H. Epp, Mennonite exodus: the rescue and resettlement of the Russian Mennonites since the communist revolution (Altona, Man., 1962). J. B. Hedges, Building the Canadian west: the land and colonization policies of the Canadian Pacific Railway (New York, 1939; repr. 1971). Roy MacLaren, Canadians in Russia, 1918–1919 (Toronto, 1976). A. O. MacRae, History of the province of Alberta (2v., [Calgary], 1912). Mennonites in Canada (3v., Toronto, 1974–96), 2 (F. H. Epp, 1920–1940: a people's struggle for survival, 1982). North-West Territories, Dept. of Public Works, Annual report (Regina), 1898–1902. J. A. Polk, "The Canadian Red Cross and relief in Siberia, 1918–1921" (ma thesis, Carleton Univ., Ottawa, 2004). D. W. Thomson, Men and meridians: the history of surveying and mapping in Canada (3v., Ottawa, 1966–69), 2. A. O. Wheeler, "The D.L.S. Intelligence Corps and the Riel rebellion, 1885," Canadian Surveyor, 4 (1931–34), no.12: 3–8. Who's who in Canada, 1925/26.
© 2014–2023 University of Toronto/Université Laval
Image Gallery

Cite This Article
John Gilpin, "DENNIS, JOHN STOUGHTON (1856-1938)," in Dictionary of Canadian Biography, vol. 16, University of Toronto/Université Laval, 2003–, accessed October 1, 2023, http://www.biographi.ca/en/bio/dennis_john_stoughton_1856_1938_16E.html.
The citation above shows the format for footnotes and endnotes according to the Chicago manual of style (16th edition). Information to be used in other citation formats:
| | |
| --- | --- |
| Permalink: | http://www.biographi.ca/en/bio/dennis_john_stoughton_1856_1938_16E.html |
| Author of Article: | John Gilpin |
| Title of Article: | DENNIS, JOHN STOUGHTON (1856-1938) |
| Publication Name: | Dictionary of Canadian Biography, vol. 16 |
| Publisher: | University of Toronto/Université Laval |
| Year of publication: | 2014 |
| Year of revision: | 2014 |
| Access Date: | October 1, 2023 |