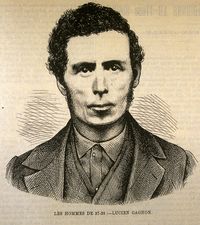 Source: Courtesy of Bibliothèque et Archives Nationales du Québec / 52327/2070279
GAGNON, LUCIEN (sometimes called Julien), farmer and Patriote; b. 8 Jan. 1793 in La Prairie, Lower Canada, son of Pierre Gagnon, a farmer, and Marie-Anne Longtin; d. 7 Jan. 1842 in Corbeau, N.Y., and was buried 11 January at Saint-Valentin, Lower Canada.
Lucien Gagnon's family had lived at La Prairie for several generations, and in all likelihood they were amongst the handful of farmers who enjoyed a fairly comfortable life. Lucien learned farm work at an early age, and like his two brothers he wanted to become the owner of a farm that would give him independence. In his last will, drawn up in 1811, Pierre Gagnon made his three sons his sole and equal heirs. Lucien therefore acquired material security while he was still young and had no difficulty in establishing himself.
On 18 Sept. 1815 Gagnon married Catherine Cartier, daughter of a prosperous farmer from Sainte-Marguerite-de-Blairfindie (L'Acadie). He already owned two properties and had at his disposal more than 14,000 livres of assets. His wife, who brought a large dowry, added to his fortune with money, possessions, and livestock worth 5,000 livres. Following his marriage, Gagnon was recognized to be a well-to-do farmer.
Gagnon led an uneventful existence until the spring of 1828, when the death of his wife upset his life and his children's. His marriage on 8 September to Sophie Régnier of Napierville led him to sell his properties at La Prairie and settle in the parish of Saint-Valentin. Land was still abundant there, but seigneurial dues were high. Gagnon rapidly became one of the major farmers in the area. Around 1830 he was producing 200 minots of wheat and an equally large quantity of oats and barley; he also had an impressive number of livestock.
In 1834, however, overwhelmed by seigneurial charges and in debt to Napier Christie Burton, the seigneur of Léry, Gagnon joined the Patriote movement in his parish. He became friends with Dr Cyrille-Hector-Octave Côté, who favoured a substantial reduction in seigneurial dues in Lower Canada. Thus it was essentially the conflict with the seigneurs that drew Gagnon to the radical wing of the Patriote party.
In 1837 Gagnon was one of those most active in the revolutionary organization in his region. He took part in the mass meeting at Napierville on 17 July. In September, backed by a group of Patriotes, he used threats and intimidation to secure the resignation of the justices of the peace and militia captains in L'Acadie County, all known supporters of the British government. A month later he participated in the Assemblée des Six Comtés at Saint-Charles-sur-Richelieu. Subsequently he toured the parishes in L'Acadie County in an endeavour to rally farmers to the revolutionary cause. Increasingly he displayed the makings of a leader: realistic, tenacious, inflexible, even cruel, he did not hesitate to take difficult and compromising steps when the situation demanded it.
By November 1837 Gagnon was firmly convinced that the Patriotes in his region had to act. He held an important meeting at his home which was attended by Côté, Édouard-Étienne Rodier, and Ludger Duvernay*, among others. Together they planned an attack on the village of Saint-Jean (Saint-Jean-sur-Richelieu) for late in November. On learning that the British forces were aware of their plan, the four decided to cross into the United States to await a more favourable moment. At the end of November, having just settled in at Swanton, Vt, Gagnon recrossed the border and boldly went to Saint-Valentin and the surrounding parishes to recruit support. Accompanied by about 60 men, he managed to skirt Missisquoi Bay and return to Swanton, where the main body of Patriotes was waiting for him. On 6 December the fugitives, with Gagnon at their head, attempted a new raid, this time at Moore's Corner (Saint-Armand Station). Gagnon, who was twice wounded in the battle, succeeded in getting away through the help of two comrades. This military clash, the last of the 1837 rebellion, ended in failure again for the Patriotes. Gagnon, who was taken back to Swanton, was by no means out of difficulty. Late in December he learned that volunteers attached to the British army had burnt his farm and driven his wife and eight children away. Several weeks after he moved to Corbeau, N.Y., his family came to join him.
After the collapse of the 1837 rebellion, Gagnon played an important role among the fugitives remaining in the United States. Initially just a local leader, in 1838 he became a dominant figure in the top echelons of the Patriote movement. In this period the revolutionary organization was taken in hand by Côté and Robert Nelson*, who made Gagnon their confidential agent in military matters. Gagnon's power was increased by the support given him by a small group of farmers who were demanding not only independence for Lower Canada but also the abolition of tithes and of the seigneurial régime.
On 28 Feb. 1838 Nelson, Côté, and Gagnon set out at the head of 300–400 men on a foolish escapade to conquer the colony. They had just crossed into Canadian territory when they were hemmed in and forced to return to the United States. Gagnon and several of his companions were imprisoned by the American authorities for having violated the country's neutrality law. They were nevertheless quickly released by a jury sympathetic to their cause. After this failure Nelson, Côté, and Gagnon established a secret military organization, the Association des Frères-Chasseurs, with branches on both sides of the border.
In the spring of 1838 Gagnon went incognito to Lower Canada to set up lodges of chasseurs and recruit members. He took advantage of the opportunity to visit his wife and children, who had moved back to Saint-Valentin. During the summer, despite the offer of a £100 reward for his capture, he travelled around the counties of Laprairie, Chambly, Beauharnois, and L'Acadie to bring farmers into the organization. He returned to the United States late in August, convinced that he had been successful in establishing an effective network of chasseurs in the counties he had covered.
Nelson, Côté, and Gagnon now set the second uprising for 3 Nov. 1838. Their plan was to lead their force of fugitives and American volunteers in an attack on the parishes along the south shore of the St Lawrence, and then to seize Montreal, Trois-Rivières, and Quebec. The operation again was to end in abject failure: the Patriotes would cross the American border, only to be driven back by British troops and volunteers. On 5 November Côté, Gagnon, and Philippe Touvrey, a French officer recruited by Robert Nelson, led a detachment of about 500 Patriotes to Rouses Point, N.Y., to get weapons and ammunition. They managed to repulse a picket of volunteers at the Lacolle bridge, but on their way back they were easily defeated by militiamen waiting for them. Gagnon managed to get away and reached Napierville, where the main body of Patriotes was stationed. Hearing that the regular troops under Sir John Colborne* were about to arrive, Nelson, Gagnon, and Côté led their men to Odelltown. There the decisive combat took place. On 9 November the battle ended in the defeat of the Patriotes. Gagnon conducted himself courageously till the end of the fighting, and not until the final moments, when he saw that there was no longer any hope, did he return to the United States.
It is more difficult to follow Gagnon's traces after this defeat. He certainly attended a meeting in Swanton late in December, but he displayed no enthusiasm at it. In the course of 1839 there were many disagreements, stormy debates, and personality conflicts among the insurgents. The strength of the revolutionary organization ebbed, and Gagnon was powerless to stop its decline. Bitterly disappointed by the turn of events, he quit the Patriote movement in the summer of 1840 and for several months went about Vermont villages looking for work. Early in 1841 he settled down at Champlain, N.Y. Penniless, alone, wanted by the British government which refused to extend an amnesty to him, Gagnon was unable to re-establish himself. Worn down by fever and stricken with tuberculosis, he died at Corbeau on 7 Jan. 1842. When she received the news of his death, his wife, faithful to his wish, had his body, dressed in the Patriote costume of blue tuque and garments of Canadian cloth, brought back to Saint-Valentin.
The major role played by Lucien Gagnon during the 1837–38 rebellions shows the remarkable influence that a small band of farmers had on the ideological thrust of the Patriote movement. The importance of the seigneurial question in the revolutionary program of 1838 is highly revealing in this respect. That Gagnon was a dominant figure in the Patriote organization also indicates the presence of strong grassroots leadership in the events of 1837–38.
ANQ-M, CE1-2, 9 janv. 1793; CE4-1, 18 sept. 1815; CE4-6, 8 sept. 1828; CE4-16, 11 janv. 1842; CN1-200, 12 févr. 1807, 28 févr. 1811, 13 févr. 1815, 28 févr. 1817; CN1-299, 9 août 1832, 15 sept. 1837; CN4-14, 14 sept. 1815. ANQ-Q, E17. BVM-G, Fonds Ægidius Fauteux, notes compilées par Ægidius Fauteux sur les patriotes de 1837–38 dont les noms commencent par la lettre G, carton 5. PAC, MG 24, B2: 2973–78, 3243–46; B78; C3, 2: 867–68, 904–6, 1726–27; RG 1, E1, 41: 410; 62: 345; RG 4, B20, 25: 11290–92; B37, 1: 607–8; RG 31, C1, 1831, L'Acadie. Can., Prov. of, Legislative Assembly, App. to the journals, 1852–53, app.VV. L.C., House of Assembly, Journals, 1835–36. Le Canadien, 26 janv. 1842. North American, 1 May, 4 Sept. 1839; 5 May, 17 July 1841. F.-D. Brosseau, Essai de monographie paroissiale: St-Georges d'Henryville et la seigneurie de Noyan (Saint-Hyacinthe, Qué., 1913), 128–29, 136–37. Mario Gendron, "Tenure seigneuriale et mouvement patriote: le cas du comté de L'Acadie" (thèse de ma, univ. du Québec à Montréal, 1986), 90–91, 107, 112, 115, 148–49, 161–62, 168, 175. Rumilly, Papineau et son temps. Joseph Schull, Rebellion: the rising in French Canada, 1837 (Toronto, 1971), 56, 88, 133–35, 153, 167, 169, 210. Victor Morin, "Clubs et sociétés notoires d'autrefois," Cahiers des Dix, 15 (1950): 199–203; "La 'République canadienne' de 1838," RHAF, 2 (1948–49): 491–92. Marcelle Reeves-Morache, "La Canadienne pendant les troubles de 1837–1838," RHAF, 5 (1951–52): 106–7.
© 1988–2023 University of Toronto/Université Laval
Image Gallery

Cite This Article
Richard Chabot, "GAGNON, LUCIEN," in Dictionary of Canadian Biography, vol. 7, University of Toronto/Université Laval, 2003–, accessed September 25, 2023, http://www.biographi.ca/en/bio/gagnon_lucien_7E.html.
The citation above shows the format for footnotes and endnotes according to the Chicago manual of style (16th edition). Information to be used in other citation formats:
| | |
| --- | --- |
| Permalink: | http://www.biographi.ca/en/bio/gagnon_lucien_7E.html |
| Author of Article: | Richard Chabot |
| Title of Article: | GAGNON, LUCIEN |
| Publication Name: | Dictionary of Canadian Biography, vol. 7 |
| Publisher: | University of Toronto/Université Laval |
| Year of publication: | 1988 |
| Year of revision: | 1988 |
| Access Date: | September 25, 2023 |