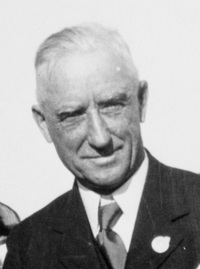 Source: Link
GRAHAM, WILLIAM MORRIS, civil servant and office holder; b. 11 Jan. 1867 in the Ottawa valley, Upper Canada, son of James Fleming Graham and Mary Wright Morris; m. 10 Dec. 1890 Annie Helena Violette Wood in Birtle, Man.; they had no children; d. 28 March 1940 in Regina.
William Morris Graham was one of nine children born to James Fleming Graham, a lumberman, and his wife. The elder Graham went to Red River (Man.) with Colonel Garnet Joseph Wolseley*'s expedition in 1870 and he returned there with his family to settle in 1873. He worked initially for the Dominion Lands Survey and, from 1875, for the federal Indian affairs branch.
During his youth, William often visited reserves in the company of his father and, upon completing his education at Winnipeg's Manitoba College in 1885, he decided that he too would pursue a career with the Department of Indian Affairs, established in 1880. His first appointment was as a clerk in the Birtle agency; then, in January 1887, he moved to the North-West Territories to take a similar position at the Moose Mountain (Sask.) agency. He remained there until March 1895 when he was assigned to the office of Indian commissioner Amédée-Emmanuel Forget* in Regina. During the autumn of 1896 he was sent as acting Indian agent to File Hills, and acquitted himself so well that the appointment was made permanent on 13 July 1897. When the Muscowpetung and File Hills agencies were amalgamated to form the Qu'Appelle agency in February 1901, Graham was placed in charge.
His most noteworthy achievement in his new role was the establishment of the File Hills Colony. In 1898 Graham initiated the first of many transfers to the Peepeekeesis Reserve of natives who were not members of the band living there. He chose graduates from the region's industrial schools, and placed them in the colony with a view to preventing the "retrogression" observed when former students returned to live on reserves. Under Graham's strict surveillance, the colonists soon demonstrated that they could become self-sufficient Christian farmers and the new settlement flourished. Journalists and dignitaries toured the colony and came away impressed with its neat churches, cottages, and gardens. File Hills served as a showpiece for Indian policy while diverting attention from its failures. Poverty was rife and agriculture at a standstill on other reserves in the region, but it was Graham's achievement that attracted attention. In February 1904 he was appointed inspector of Indian agencies for the South Saskatchewan Inspectorate. Graham readily admitted that File Hills was an exception and attributed its success to his careful supervision. All, however, was not as well as it seemed. The Report on the Indian Schools of Manitoba and the North-West Territories (Ottawa, 1907) by Peter Henderson Bryce, chief medical officer of the Department of Indian Affairs, described an appalling number of deaths caused by tuberculosis in Indian schools, including the one at File Hills, and the poor conditions that encouraged the disease. The report caused outrage, but little was done to address the situation at File Hills or elsewhere.
Convinced that natives were lacking in initiative and organizational ability, Graham saw little potential in promoting agriculture on other reserves where his constant presence was not possible. He thought it best that vast tracts of uncultivated land on such reserves be sold to accommodate the European settlers arriving in the west. Using bribery and intimidation, he secured significant surrenders from a number of bands in south Saskatchewan between 1906 and 1909. His harsh, domineering style was deeply resented. The Cree referred to him as Kes-Ke-Kat ("the man with the cut-off leg") – a reference to the limb he had lost in a childhood accident.
The role of inspector never satisfied Graham; he aspired to nothing less than the top position in the department, that of deputy superintendent general. When the incumbent, Francis Pedley, was removed from office in October 1913, Graham hoped that his reputation and connections with the ruling Conservative Party (his wife was related to Arthur Meighen*) would be enough to secure him the appointment. Instead, long-serving bureaucrat Duncan Campbell Scott* was given the job. The offended inspector soon would find other ways to distinguish himself. Early in 1918, when Meighen was minister of the interior and superintendent general of Indian affairs in Sir Robert Laird Borden's Union government, Graham declared that increased wartime food production, which was being encouraged throughout the dominion, would result if "idle" reserve lands were put to efficient use. Meighen was enthusiastic and on 16 February appointed Graham a commissioner for greater production. He moved to Regina and was granted $362,000 from the federal government's war appropriations and extensive authority to administer the scheme. The plan called for several measures: compelling natives to work on farms dedicated to increased production, improving the yield from native farms, and leasing 313,398 acres of reserve lands to non-natives. Those adversely affected by the plan soon had a litany of complaints. Among the issues were mismanagement, loss of crops and animals, commandeering of their agricultural equipment, forced labour, and damage to their lands by the leaseholders. Despite its deficiencies, the program remained in place until Scott was able to initiate its demise in 1922, once Meighen was out of office.
The position of Indian commissioner for the prairie region, abolished in 1909, had been re-established and Graham was appointed to it in July 1920. His relations with Scott, to whom he reported, were often strained. Temperamental, easily offended, and convinced that he alone knew how to solve the "Indian problem," Graham wanted autonomy in conducting his operations. Scott found him a difficult employee. They also held different attitudes towards departmental policy. Graham, for instance, was often critical of the schools operated by the department in collaboration with Christian churches. He complained of poor teaching, the neglect of academic studies, and the physical and sexual abuse of students. To his great frustration, Scott was reluctant to act on his complaints, afraid that there would be trouble with politically influential churches.
Traditional native festivals provided another point of contention. The commissioner feared that ceremonies such as the Sun Dance undermined his endeavours to assimilate the natives, and he wanted the power to suppress them. Scott favoured balancing coercion with persuasion. This approach was unacceptable to the Indian commissioner, who saw farming and dancing as mutually exclusive pursuits.
Graham believed that the authority he sought, and an increased financial reward, would be his if he could succeed Scott as deputy superintendent on the latter's retirement, which was expected in 1932. The Conservatives were back in office and Arthur Meighen entered the Senate as government leader in February that year, so it looked as though the family connection might prove helpful once more. But Graham's chances had been damaged when his name was mentioned in parliament in 1931 in connection with an agreement granting the Antapa Shooting Club, of which he was a member, hunting rights on the Pasqua Reserve near Regina. In the House of Commons James Shaver Woodsworth* charged that the commissioner had used dishonest means to obtain a lease from which he would personally benefit. The episode caused Prime Minister Richard Bedford Bennett* much embarrassment. Undeterred by these events, Meighen attempted to use his influence to secure his relative's promotion to Scott's job, but his efforts were unsuccessful. Moreover, the position of Indian commissioner was abolished effective 31 March 1932, probably at Scott's instigation, and Graham was forced to retire on that date.
Bitter and disillusioned, he spent his remaining years living quietly in Regina. Violette died on 15 Dec. 1939 and Graham, apparently, lost all desire to live on without her. On 28 March 1940 he died of a stroke.
William Morris Graham was an official of note in the Department of Indian Affairs during the early decades of the 20th century. He worked to assimilate the natives in accordance with federal policies, and received acclaim for his initiatives, including the File Hills Colony and the greater production campaign. Indians affected by his schemes, however, remember him for his authoritarian attitude and for interfering with their lives and their land.
William Morris Graham is the author of Treaty days: reflections of an Indian commissioner, intro. James Dempsey (Calgary, 1991).
GA, M 8097. LAC, R216-0-0; R11336-0-7; R14423-0-6. Man., Dept. of Tourism, Culture, Heritage, Sport and Consumer Protection, Vital statistics agency (Winnipeg), no.1890-06-001218. SAB (Regina), SHS 21 (Sask. Hist. Soc. files, corr. and biog. sketch on A. E. Forget). Leader-Post (Regina), 18 Dec. 1939. Eleanor Brass, "The File Hills ex-pupil colony," Saskatchewan Hist. (Saskatoon), 6 (winter 1953): 66–69. Can., House of Commons, Debates; Parl., Sessional papers, 1920 (report of the Dept. of Indian Affairs, 1919). Sarah Carter, "Demonstrating success: the File Hills farm colony," Prairie Forum (Saskatoon), 16 (fall 1991): 157–83; Lost harvests: prairie Indian reserve farmers and government policy (Montreal and Kingston, Ont., 1990). Bruce Dawson, "'Better than a few squirrels': the greater production campaign on the First Nations reserves of the Canadian prairies," in Plain speaking: essays on aboriginal peoples and the prairie, ed. P. C. Douaud and B. W. Dawson (Regina, 2002), 11–21. John English, Arthur Meighen (Don Mills [Toronto], Ont., 1977). J. S. Milloy, "A national crime": the Canadian government and the residential school system, 1879 to 1986 (Winnipeg, 1999). Katherine Pettipas, Severing the ties that bind: government repression of indigenous religious ceremonies on the prairies (Winnipeg, 1994). Norma Sluman and Jean Goodwill, John Tootoosis: biography of a Cree leader (Ottawa, 1982). D. B. Smith, Long Lance: the true story of an impostor (Toronto, 1982); repr. as Chief Buffalo Child Long Lance: the glorious imposter (rev. ed., Red Deer, Alta, 1999). E. B. Titley, A narrow vision: Duncan Campbell Scott and the administration of Indian Affairs in Canada (Vancouver, 1986).
© 2015–2023 University of Toronto/Université Laval
Cite This Article
E. Brian Titley, "GRAHAM, WILLIAM MORRIS," in Dictionary of Canadian Biography, vol. 16, University of Toronto/Université Laval, 2003–, accessed September 25, 2023, http://www.biographi.ca/en/bio/graham_william_morris_16E.html.
The citation above shows the format for footnotes and endnotes according to the Chicago manual of style (16th edition). Information to be used in other citation formats:
| | |
| --- | --- |
| Permalink: | http://www.biographi.ca/en/bio/graham_william_morris_16E.html |
| Author of Article: | E. Brian Titley |
| Title of Article: | GRAHAM, WILLIAM MORRIS |
| Publication Name: | Dictionary of Canadian Biography, vol. 16 |
| Publisher: | University of Toronto/Université Laval |
| Year of publication: | 2015 |
| Year of revision: | 2015 |
| Access Date: | September 25, 2023 |