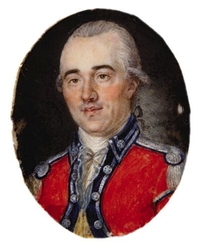 Source: Link
IRUMBERRY DE SALABERRY, IGNACE-MICHEL-LOUIS-ANTOINE D', army and militia officer, seigneur, politician, jp, and office holder; b. 4 July 1752 in Beauport (Que.), son of Michel de Sallaberry*, a naval officer, and Madeleine-Louise Juchereau Duchesnay de Saint-Denis; m. 18 Feb. 1778 Françoise-Catherine Hertel de Saint-François in Montreal, and they had ten children, seven of whom reached adulthood; d. 22 March 1828 at Quebec.
After the Seven Years' War Michel de Sallaberry retired to France with his wife. Ignace-Michel-Louis-Antoine stayed in the colony and lived with his maternal aunt Marie-Thérèse Juchereau Duchesnay. He attended the Petit Séminaire de Québec from 1765 to 1769. When the Americans invaded in 1775 [see Benedict Arnold*; Richard Montgomery*], he volunteered his services to help defend Fort St Johns (Saint-Jean-sur-Richelieu). The garrison at the fort surrendered early in November. Salaberry, who had been wounded twice during the hostilities, was hospitalized at the Hôtel-Dieu in Montreal. In May 1777 he joined the forces of Major-General John Burgoyne*, which were defeated near Saratoga (Schuylerville, N.Y.) in October. At the end of the war in 1783, he was put on half pay.
Like a number of the seigneurial gentry, Salaberry signed a petition to the king in 1788 opposing the constitutional reforms being sought by the merchants of the colony. In 1791 he became a friend of George III's son, Prince Edward* Augustus, and through him he benefited greatly from the patronage of the colonial and imperial governments. In July 1792 he asked the prince and his mistress, Thérèse-Bernardine Montgenet, known as Mme de Saint-Laurent, to be godparents to his youngest son, Édouard-Alphonse*. His three other sons also enjoyed royal favour, obtaining, for example, commissions in British army regiments.

Salaberry himself was made a justice of the peace for the district of Quebec in 1794, an appointment regularly renewed until 1821. He obtained the same office for the districts of Trois-Rivières and Saint-François in 1821, Gaspé in 1824, and Montreal in 1826 and 1828. In 1796 he was appointed major in the 1st battalion of the Royal Canadian Volunteer Regiment, which was disbanded in 1802. In January 1801 he was called upon to replace Louis-Joseph de Fleury Deschambault as deputy superintendent of the Saint-François Abenakis. Six years later he was appointed commissioner to receive the oath of allegiance and commissioner to build a new market and a new prison at Quebec. In 1808 he received the post of surveyor for the preservation of woods and timber for Lower Canada. His loyalty to the crown also brought him appointment to the Legislative Council in 1817.
When the first house of assembly had been constituted in the summer of 1792, Salaberry sought election in Dorchester and Quebec ridings and won in both. Having to choose between them, he decided in favour of Dorchester, which he represented with Gabriel-Elzéar Taschereau*. He left the Quebec seat to be filled by Michel-Amable Berthelot* Dartigny. In the election of a speaker, Salaberry voted for British merchant William Grant* rather than Jean-Antoine Panet*, a Canadian who in the event was elected. During the sessions he voted mostly with the English party.
Salaberry was defeated in the 1796 elections but ran again in 1804, this time in Lower Town Quebec. In the fourth parliament he joined the ranks of the Canadian party from the outset. It was certainly Salaberry's bill on the financing of prisons that caused the greatest division in the assembly. In his report he recommended that a new jail be built in every district at government expense, the cost of any one not to exceed £9,000 and the amount to be collected through taxes on imports. The report precipitated a severe crisis in the house, widening the split between the Canadians, who were in favour of the bill, and the British merchants, who opposed it fiercely, demanding that construction be financed by a land tax instead. Nevertheless, the bill received the assent of Lieutenant Governor Sir Robert Shore Milnes* in March 1805, after some stormy debates. Salaberry was defeated in his riding in 1808 but was successful in Huntingdon, which he represented until October 1809. He retired from elective politics that year after being defeated in Lower Town.
Being 60 did not prevent Salaberry from wanting to take part in the War of 1812. In May of that year he was appointed lieutenant-colonel of the 1st Select Embodied Militia Battalion, but after suffering a stroke he retired in October. He continued to serve in the militia as colonel of the 1st battalion of Quebec's militia. As for political interests, in October 1822 he chaired the Quebec committee formed to resist the proposed union of Upper and Lower Canada.
Salaberry died at Quebec on 22 March 1828, after a long illness. He was buried four days later in the parish church of Beauport. His sons Maurice-Roch and François-Louis had died while serving in India. Édouard-Alphonse was killed in a campaign in Spain. Charles-Michel inherited his father's estate, which he shared with his two unmarried sisters and his brother-in-law, Michel-Louis Juchereau* Duchesnay, the husband of the late Charlotte-Hermine-Louise-Catherine d'Irumberry de Salaberry. The estate comprised a two-storey stone house on Rue Sainte-Anne in the Upper Town of Quebec, two pieces of land in Godmanchester Township, 1,200 acres in Halifax Township, the seigneury of La Guillaudière, and a quarter of the seigneury of Beauport.

Ignace-Michel-Louis-Antoine d'Irumberry de Salaberry belonged to the seigneurial gentry who in an intelligent manner sought to enhance their social position and secure a certain standard of living through the patronage of the colonial and imperial governments. Salaberry's drawing-room became a favourite place for members of the seigneurial nobility, the clergy, and the government to meet. The paternalistic Salaberry tried to further careers, seeking out suitable jobs for his children and friends. He was often successful, particularly through the good offices of Prince Edward Augustus, with whom he was always on excellent terms.
Céline Cyr and Michelle Guitard
ANQ-M, CE-51, 18 févr. 1778; P1000-4-461; P1000-44-877. ANQ-Q, CE1-5, 5 juill. 1752, 26 mars 1828; P-289; P1000-93-1906. ASQ, Fichier des anciens. PAC, MG 24, G45; RG 68, General index, 1651–1841. The life of F.M., H.R.H. Edward, Duke of Kent, illustrated by his correspondence with the De Salaberry family, never before published, extending from 1791 to 1814, ed. W. J. Anderson (Ottawa and Toronto, 1870). F.-J. Audet, "Les législateurs du Bas-Canada." F.-M. Bibaud, Le Panthéon canadien (A. et V. Bibaud; 1891). Desjardins, Guide parl. Le Jeune, Dictionnaire. Officers of British forces in Canada (Irving). Quebec Gazette, 20 Nov. 1788. Turcotte, Le Conseil législatif. Wallace, Macmillan dict. Jacqueline Lefebvre, L'abbé Philippe Desjardins, un grand ami du Canada, 1753–1833 (Québec, 1982). Ouellet, Bas-Canada. P.-G. Roy, La famille d'Irumberry de Salaberry (Lévis, Qué., 1905). Wallot, Un Québec qui bougeait. F. [-J.] Audet et Édouard Fabre Surveyer, "Ignace-Michel-Louis-Ant. d'Irumberry de Salaberry," La Presse, 26 nov. 1927: 69. Hare, "L'Assemblée législative du Bas-Canada," RHAF, 27: 361–95.
© 1987–2023 University of Toronto/Université Laval
Cite This Article
Céline Cyr and Michelle Guitard, "IRUMBERRY DE SALABERRY, IGNACE-MICHEL-LOUIS-ANTOINE D'," in Dictionary of Canadian Biography, vol. 6, University of Toronto/Université Laval, 2003–, accessed October 1, 2023, http://www.biographi.ca/en/bio/irumberry_de_salaberry_ignace_michel_louis_antoine_d_6E.html.
The citation above shows the format for footnotes and endnotes according to the Chicago manual of style (16th edition). Information to be used in other citation formats:
| | |
| --- | --- |
| Permalink: | http://www.biographi.ca/en/bio/irumberry_de_salaberry_ignace_michel_louis_antoine_d_6E.html |
| Author of Article: | Céline Cyr and Michelle Guitard |
| Title of Article: | IRUMBERRY DE SALABERRY, IGNACE-MICHEL-LOUIS-ANTOINE D' |
| Publication Name: | Dictionary of Canadian Biography, vol. 6 |
| Publisher: | University of Toronto/Université Laval |
| Year of publication: | 1987 |
| Year of revision: | 1987 |
| Access Date: | October 1, 2023 |