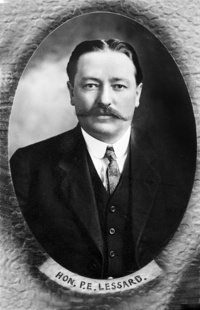 Source: Courtesy of Wikimedia Commons
LESSARD, PROSPER-EDMOND (baptized James-Alexander-Prosper-Edward), businessman, militia officer, office holder, and politician; b. 3 Feb. 1873 in Cranbourne, Que., son of Jean-Prosper Lessard and Annie Campbell Davidson; m. 24 Nov. 1900 Hélène Gariépy in Edmonton, and they had three daughters and two sons; d. 11 April 1931 in Saint-Paul-des-Métis (St Paul), Alta, and was buried in the cemetery of St Joachim's Church, Edmonton.
Prosper-Edmond Lessard studied commerce and sciences at Montreal's Collège du Mont-Saint-Louis in the mid 1890s. Upon his graduation, he was hired as a bookkeeper in a Montreal mercantile house. This employment was cut short, however, when Lessard joined the stream of hopeful prospectors bound for the Klondike. He arrived in Edmonton in 1898 towards the end of the gold rush and decided to settle in the burgeoning town. Two important factors influenced his decision. First, he found employment as a bookkeeper in a merchant company run by fellow Quebecers Joseph Chénier and Joseph-Hormidas Gariépy. Secondly, he began courting Gariépy's daughter Hélène, whom he married in 1900. In November 1899 Edmond-Hector Brosseau had bought Chénier's share in the company, and Lessard in turn purchased Brosseau's share in November 1901, thus going into partnership with his father-in-law. The firm of Gariépy and Lessard prospered until the partners sold out in April 1909.
Over the course of his career, Lessard displayed remarkable versatility and pursued a wide variety of interests. He developed strong business connections and became a member (1902) of Edmonton's Board of Trade, of which he was a director between 1907 and 1909. In the latter year, with Adéodat Boileau and Léo Savard, he formed Imperial Agencies, which handled loans, insurance, and real estate. Investing heavily in resource extraction and industry, he served as vice-president of the Elk Park Oil Company, and he was a director of the Western Timber and Mines Company and Edmonton Iron Works. He was also a director of organizations as diverse as the North-West Grain Company, the North West Brewing Company, the Great Western Garment Company, the St Paul Mercantile Company, the Picardville Mercantile Company, the Elk Point Trading Company, W. A. MacKenzie and Company, and the Commercial Life Assurance Company of Canada.
Beyond his multifarious business ventures, Lessard played an increasingly active role in public affairs. In 1900 and 1901 he was secretary-treasurer of Edmonton's Young Men's Liberal Club. In October 1905 he, Philippe Roy, Joseph-Henri Picard, and others launched Le Courrier de l'Ouest, Alberta's French-language Liberal organ. Lessard became secretary-treasurer of the Edmonton Liberal Association the following year; he was elected president in 1907 and re-elected in 1908. In March 1910 he was named honorary vice-president of the Club Laurier, founded by Edmonton's French Liberals to support the party's federal leader, Sir Wilfrid Laurier*. He was also occupied with the militia, serving as the captain of E Squadron of the Canadian Mounted Rifles in 1907, and then of D Squadron when the 19th (Alberta) Mounted Rifles was formed in the following year. As well, he found time to sit as a trustee of the separate-school board from 1907 to 1910. Lessard filled these challenging positions with seemingly boundless energy, good humour, and personal charm. He consequently enjoyed tremendous popularity in business and political circles as well as in local sporting circles in which he remained engaged throughout his life.
In the provincial election held in March 1909 Lessard ran as a candidate for the riding of Pakan. He won by acclamation, becoming the first French Canadian member in Alberta's Legislative Assembly. In November he was sworn in as minister without portfolio in the cabinet of Alexander Cameron Rutherford*. His tenure in this position was short-lived, however, because the Liberals were badly divided by the Alberta and Great Waterways Railway scandal [see Charles Wilson Cross*] and in May 1910 Rutherford was compelled to resign. Lessard, a Rutherford loyalist, was not chosen for the cabinet formed by the new premier, Arthur Lewis Watkins Sifton*. Nevertheless, he retained both his seat and the confidence of his constituents, and was duly returned in the elections of April 1913 and June 1917 as the mla for St Paul, the eastern part of his former riding. He was ousted in July 1921 when the United Farmers of Alberta defeated Charles Stewart*'s Liberals. Herbert Greenfield* became premier.
As an mla, Lessard was especially committed to protecting and extending the rights of Franco-Albertans. He openly challenged territorial legislation resulting from a motion by Frederick William Gordon Haultain* in 1892 that had begun eliminating French from the legislature and restricted its use in schools. In several addresses to the assembly, Lessard called attention to the historical presence of francophone voyageurs, missionaries, and settlers in the prairie west [see Albert Lacombe*] and insisted on the inviolability of French-language rights. Le Courrier de l'Ouest, which printed some provincial statutes in French, quoted him in the issue published on 7 April 1915: "Our ancestors were the first … to colonize the Northwest Territories. We have no need of special privileges in this region for it is our homeland; here we have natural and legal rights which we will defend tirelessly."
Outside the legislature, Lessard assumed a leading role in the movement to build up Alberta's francophone population. Since the 1890s the Roman Catholic diocese of St Albert had been attempting to establish French-speaking parishes north of Edmonton by attracting French Canadian and Franco-American immigrants [see Vital-Justin Grandin*]. To invigorate this campaign, Lessard collaborated with fellow laymen J.‑H. Picard, Léonidas-Alcidas Giroux, and R.‑A. Blais to institute the Société de la Colonisation de l'Alberta on 20 Sept. 1912. Setting out to advertise the province's agricultural potential, the organization had created an information office by February of the following year, and an energetic publicity campaign had been launched.
Lessard's political career culminated in his appointment to the Senate in September 1925 on the advice of Prime Minister William Lyon Mackenzie King*. He performed his duties with verve and dedication while remaining actively involved in Edmonton's francophone organizations, notably the Conseil La Vérendrye of the Knights of Columbus and the Association Canadienne-Française de l'Alberta.
On 11 April 1931 Lessard died suddenly in his sleep at age 58. His widespread popularity was reflected by the dense crowd who attended his funeral at St Joachim's Church in Edmonton. A diverse cross-section of the province's early society – businessmen, politicians, clergymen, soldiers, and homesteaders – was united in grief. It was among Franco-Albertans that Lessard's passing was most deeply mourned: they had lost a powerful and diligent champion of their language and culture in Alberta.
FD, Frampton, Québec, 12 févr. 1873. Le Courrier de l'Ouest (Edmonton), 18 janv., 6 déc. 1906; 3 janv. 1907; 26 mars, 18 juin 1908; 18, 25 févr., 11, 18 mars, 21, 28 oct. 1909; 3 mars, 2 juin 1910; 9 janv., 17 avril 1913; 29 janv., 11 juin 1914; 8, 15 avril 1915. Le Devoir, 13 avril 1931. Edmonton Bull., 11, 14 April 1931. La Survivance (Edmonton), 16, 23 avril 1931. E. A. Aunger, "Legislating language use in Alberta: a century of incidental provisions for a fundamental matter," Alberta Law Rev. (Edmonton), 42 (2004–5): 463–97. Éloi DeGrâce, "Le Courrier de l'Ouest (1905–1916)," in Glimpses of the Franco-Albertan past: recollections and studies, ed. Alice Trottier et al. (Edmonton, 1981), 101–11. Dictionnaire de l'Amérique française: francophonie nord-américaine hors Québec, Charles Dufresne et al., édit. (Ottawa, 1988), 221–22. E. J. Hart, Ambition and reality: the French-speaking community of Edmonton, 1795–1935 (Edmonton, 1980). R. J. A. Huel, "Gestae Dei per Francos: the French Canadian experience in western Canada," in Visions of the New Jerusalem: religious settlement on the prairies, ed. B. G. Smillie (Edmonton, 1983), 39–53. Claude et Jacques Lamarche, Dictionnaire biographique Guérin: Québec-Canada/2000 (Montréal, 1999), 221. France Levasseur-Ouimet, 1899–1999, Saint-Joachim, la première paroisse catholique d'Edmonton (Edmonton, 1999). M. R. Lupul, The Roman Catholic Church and the North-West school question: a study in church–state relations in western Canada, 1875–1905 (Toronto, 1974). Robert Painchaud, Un rêve français dans le peuplement de la prairie (Saint-Boniface [Winnipeg], 1986). Jean Pariseau, Les oblats de Marie-Immaculée dans les paroisses canadiennes-françaises de la région de Rivière-de-la-Paix, 1912–1967 (Ottawa, 2002). D. B. Smith, "A history of French-speaking Albertans," in Peoples of Alberta: portraits of cultural diversity, ed. Howard and Tamara Palmer (Saskatoon, 1985), 84–108. L. G. Thomas, The Liberal party in Alberta: a history of politics in the province of Alberta, 1905–1921 (Toronto, 1959). Alice Trottier, "Les oblats et la colonisation en Alberta," in Western Oblate Studies 1: proceedings of the first symposium on the history of the Oblates in western and northern Canada …, ed. R.[‑J.‑A.] Huel et al. (Edmonton, 1990), 107–16. Who's who in Canada, 1927.
© 2015–2023 University of Toronto/Université Laval
Cite This Article
Timothy P. Foran, "LESSARD, PROSPER-EDMOND (baptized James-Alexander-Prosper-Edward)," in Dictionary of Canadian Biography, vol. 16, University of Toronto/Université Laval, 2003–, accessed October 4, 2023, http://www.biographi.ca/en/bio/lessard_prosper_edmond_16E.html.
The citation above shows the format for footnotes and endnotes according to the Chicago manual of style (16th edition). Information to be used in other citation formats:
| | |
| --- | --- |
| Permalink: | http://www.biographi.ca/en/bio/lessard_prosper_edmond_16E.html |
| Author of Article: | Timothy P. Foran |
| Title of Article: | LESSARD, PROSPER-EDMOND (baptized James-Alexander-Prosper-Edward) |
| Publication Name: | Dictionary of Canadian Biography, vol. 16 |
| Publisher: | University of Toronto/Université Laval |
| Year of publication: | 2015 |
| Year of revision: | 2015 |
| Access Date: | October 4, 2023 |