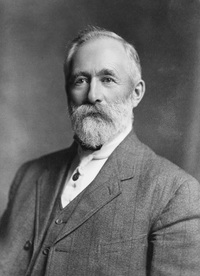 Source: Link
McDOUGALL, JOHN CHANTLER, Methodist clergyman and author; b. 27 Dec. 1842 in Sydenham (Owen Sound), Upper Canada, son of George Millward McDougall*, a farmer who was to become a Methodist missionary, and Elizabeth Chantler; m. first in the spring of 1865 Abigail Steinhauer at the Whitefish Lake mission (Alta), and they had three daughters; m. secondly 22 Sept. 1872 Elizabeth Ann Boyd in Cape Rich (St Vincent Township), Ont., and they had six children; d. 15 Jan. 1917 in Calgary.
As a child, John McDougall attended various mission schools, and he learned to speak Ojibwa at an early age. In 1857–58 and 1859–60 he studied at Victoria College, Cobourg, but he left to accompany his father to a new station in 1860. George McDougall had been made superintendent of western missions for the Wesleyan Methodist Church in Canada and was posted to the Rossville mission, near Norway House (Man.). There John became fluent in Cree, taught school, and assisted in mission work until 1862, when his father decided that the superintendent's headquarters should be farther west. A site was chosen in the valley of the North Saskatchewan where present-day Pakan, Alta, stands, and the McDougall family relocated to this mission, which was named Victoria.
In these waning days of the Hudson's Bay Company's regime, the McDougalls foresaw rapid white settlement in Rupert's Land. They were immensely optimistic about the agricultural possibilities of the entire region and envisioned the day when it would be covered with farmsteads and villages and crossed by railway lines. Well aware of the destruction which advancing settlement had inflicted on the native people of Upper Canada, they hoped that the Indians of the region would gather around the mission and enjoy some measure of isolation from white society for a generation in which they could adjust to the coming changes. Their only chance in the new west seemed to lie in their conversion to Christianity and eventual adoption of European cultural values. It was the solution favoured by social activists generally, who believed it would enable native people to participate in the future as full citizens.
John worked as interpreter and teacher at Victoria and was recommended as a candidate for missionary service in 1864. The next year he married the eldest daughter of the Reverend Henry Bird Steinhauer*, an Ojibwa missionary serving at nearby Whitefish Lake, and Mamenawatum (Seeseeb, Jessie Joyful), a Swampy Cree woman. The young couple were appointed to reopen a mission at Pigeon Lake. John was officially received on trial by the church in 1866. From Pigeon Lake he visited native people in their camps and the HBC posts of Rocky Mountain House and Fort Edmonton (Edmonton). He was so well regarded by chief factor William Joseph Christie* that in the spring of 1869 Christie offered him charge of a post. McDougall thought seriously about the proposal, for the church had not yet given him ordained status, but in the end he turned it down. Following the Red River disturbances of 1869–70 [see Louis Riel*], Christie appointed him to go to various Indian camps and assure the people that their rights would be respected by the Canadian government.
The bloodshed at Red River had been minor compared with the loss of life from various developments farther west. A terrible epidemic of smallpox swept across the country in 1870–71. Lawless Americans were making incursions across the border, and the whisky trade created escalating violence in Indian camps. Intertribal warfare was intensifying as the buffalo herds diminished [see Mékaisto*]. The McDougalls' friend Maskepetoon*, a Plains Cree chief and important Methodist convert, had been murdered by Blackfoot, and Cree warriors were soon exacting revenge. Everyone, including the missionaries, lived under threat. "The strain was continuous, disease and death and danger constant," wrote McDougall, whose wife died in April 1871, of unknown causes.
At the first missionary conference held in the west, at Winnipeg in 1872, McDougall was finally ordained to the Indian service. His request for further college training was denied, but he went back to Ontario none the less, and while he was there he married his cousin Elizabeth Boyd. Together they immediately left for the west. The conference had decided to open a mission in the foothills country to minister to the Stoney, with whom Methodists had had good relations for several decades [see Ozîja Thiha*; John Chiniquay*], and in 1873 McDougall was chosen to establish it. Located at a site near present-day Morley, Alta, Morleyville became the family home, and both John and his brother David acquired land in the vicinity. When the newly created North-West Mounted Police were sent west in 1874, John McDougall was given the task of preparing the people of the region for the force's arrival. Following the sudden death of his father in January 1876, he was named by the Methodist Missionary Society to succeed him as chairman of the Saskatchewan District. He also continued at Morleyville.
The 1870s saw the first treaties signed with the Indians of western Canada, and at the request of the commissioners McDougall was present for the negotiation of Treaty No.6 at Fort Pitt (Sask.) in 1876 [see Mistahimaskwa*] and Treaty No.7 at Blackfoot Crossing (Alta) in 1877 [see John Chiniquay]. He was influential in the Indian councils held to consider the terms of the agreements and saw no conflict of interest in his dual role, since he was firmly convinced that it was in the interest of native people for reserves to be established quickly, before the flood of white settlers swept in. In later years, after reserve life proved to be one of hardship, some Stoney began to question the objectivity of his advice. Undoubtedly he was too optimistic about the potential of the region for cultivation, and he certainly did not foresee all the restrictions which would be imposed on treaty Indians. In later years he spoke out against the pass system that prevented them from leaving their reserve without the agent's permission and against the rule that required them to have the agent's approval before selling the produce of their farms. "Give the Indian full liberty in all matters except the disposition of his lands and the trafficking in intoxicants," he would urge. He would also take part in various initiatives aimed at getting more land for the Stoney, but settlers and developers had the ear of the government by then, and he was always unsuccessful.
During the North-West rebellion of 1885 the Stoney remained loyal to their treaty promises, and McDougall was free to accompany the Alberta Field Force under Thomas Bland Strange*, which headed towards the scene of the fighting in the North Saskatchewan valley. When in 1897 the church divided the Saskatchewan District he was made chairman of the Indian District, comprising parts of all the present four western provinces. Victoria College made him a dd, honoris causa, in 1903, and in 1906 he was elected president of conference when the Methodist Church held its full annual meeting in Edmonton, at McDougall Church.
McDougall's career was not without controversy. He participated in a bitter exchange of letters in the Christian Guardian with Egerton Ryerson Young*, a Methodist missionary and author, over alleged inaccuracies in one of Young's books. From time to time he engaged in fur trading and contracting with the Indians, which brought him into conflict with the Methodist Missionary Society and with other traders. He justified his actions on the grounds that they furthered his mission work, chronically underfunded.
McDougall retired in 1906, and the federal government appointed him a special commissioner to the Doukhobors. His attempts to oblige them to comply with the Dominion Lands Act, which was incompatible with their communal style of living, made them regard him as unsympathetic. He also served as a commissioner for the Department of Indian Affairs; in that capacity he helped negotiate the sale of several pieces of reserve land and in 1909 and 1910 visited reserves in the interior of British Columbia to hear the views of their residents on the vexed question of aboriginal title and other matters. He annoyed the department by writing to the Winnipeg Free Press in favour of allowing Indians to continue traditional ceremonies such as the Sun Dance, which officials were trying to stamp out, and he continued to irritate them – and the Methodist authorities – by arranging for Indians to put on their costumes and dance at various exhibitions, including the Calgary Stampede of 1912. Although he had previously stated himself to be an independent in politics, in the provincial election of 1913 he ran as a Liberal for Calgary Centre on a platform of women's suffrage, fair treatment for workers, and economic development. His well-known views on temperance may not have helped his cause. In any case, he was defeated.
Described by the Toronto Globe as "a thrilling platform speaker," McDougall was a prolific author as well, and his lively and entertaining style brought him great popularity. He wrote six volumes of personal memoirs which recount his life and adventures up to 1876 and which are, according to literary critic Susan Jackel, "marked by a surprising consistency of tone and freshness of recall." He also published a biography of his father, a historical novel about a young Cree chief, and many articles on the west. McDougall claimed to be more at home in the Cree language than in English, and with the Reverend Ervin Bird Glass he compiled and edited a Cree hymn-book and prepared a primer in English and Cree; moreover, he revised the translation into Cree of an exposition of Scripture by the Reverend John Semmens*.
McDougall's confidence in the possibilities for native people in the new order reflects the optimistic spirit of his age. He came from a civilization which was inclined to believe that its expansion was God's will and, to his credit, he refused to believe that the role of Indians was to die out. He considered himself their friend and worked to prepare them, in the way he thought best, for the inevitable changes he saw coming. From the perspective of the late 20th century he seems naive, given the misery and demoralization that have been the lot of Indian communities, but it should be remembered that what he did was to believe in the ideals of his society and act on them.
John Chantler McDougall's principal titles include: George Millward McDougall: the pioneer, patriot and missionary (Toronto, 1888; 2nd ed., 1902); Forest, lake and prairie; twenty years of frontier life in western Canada, 1842–62 (Toronto, 1895; 2nd ed., 1910); Saddle, sled and snowshoe; pioneering on the Saskatchewan in the sixties (Toronto, 1896); Pathfinding on plain and prairie: stirring scenes of life in the Canadian north-west (Toronto, 1898); In the days of the Red River rebellion: life and adventure in the far west of Canada (1868–1872) (Toronto, 1903; repr. 1911; repr., intro. Susan Jackel, Edmonton, 1983); "Wa-pee Moostooch," or "White Buffalo," the hero of a hundred battles: a tale of life in Canada's great west during the early years of the last century ([Calgary, 1908]); On western trails in the early seventies: frontier pioneer life in the Canadian northwest (Toronto, 1911); and Opening the great west: experiences of a missionary in 1875–76, [ed. H. A. Dempsey], intro. J. E. Nix (Calgary, 1970), a volume he had left in manuscript form at the time of his death.
AO, RG 80–5-0–30, vol.29: 17.147. UCC-C, Biog. file. G. H. Cornish, Cyclopædia of Methodism in Canada . . . (2v., Toronto and Halifax, 1881–1903). J. W. Grant, Moon of wintertime: missionaries and the Indians of Canada in encounter since 1534 (Toronto, 1984). Susan Jackel, "Images of the Canadian west, 1872–1911" (phd thesis, Univ. of Alta, Edmonton, 1977). John Maclean, McDougall of Alberta: a life of Rev. John McDougall, d.d., pathfinder of empire and prophet of the plains (Toronto, 1927). J. E. Nix, Mission among the buffalo: the labours of the reverends George M. and John C. McDougall in the Canadian northwest, 1860–1876 (Toronto, [1960]). The Oxford companion to Canadian literature, ed. William Toye (Toronto, 1983). John Snow, These mountains are our sacred places: the story of the Stoney Indians (Toronto and Sarasota, Fla, 1977). E. B. Titley, A narrow vision: Duncan Campbell Scott and the administration of Indian Affairs in Canada (Vancouver, 1986).
© 1998–2023 University of Toronto/Université Laval
Cite This Article
James Ernest Nix, "McDOUGALL, JOHN CHANTLER," in Dictionary of Canadian Biography, vol. 14, University of Toronto/Université Laval, 2003–, accessed October 4, 2023, http://www.biographi.ca/en/bio/mcdougall_john_chantler_14E.html.
The citation above shows the format for footnotes and endnotes according to the Chicago manual of style (16th edition). Information to be used in other citation formats:
| | |
| --- | --- |
| Permalink: | http://www.biographi.ca/en/bio/mcdougall_john_chantler_14E.html |
| Author of Article: | James Ernest Nix |
| Title of Article: | McDOUGALL, JOHN CHANTLER |
| Publication Name: | Dictionary of Canadian Biography, vol. 14 |
| Publisher: | University of Toronto/Université Laval |
| Year of publication: | 1998 |
| Year of revision: | 1998 |
| Access Date: | October 4, 2023 |