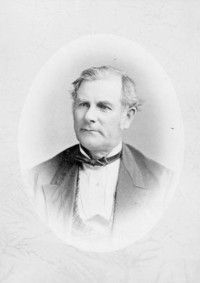 McKELLAR, ARCHIBALD, farmer, businessman, militia officer, politician, office holder, and author; b. 3 Feb. 1816 near Inveraray, Scotland, son of Peter McKellar and Flora McNab; m. first 11 Aug. 1836 Lucy McNab (d. 1857), and they had four sons and five daughters; m. secondly 27 May 1874 Mary Catherine Powell, daughter of Grant Powell* and widow of Lawrence William Mercer; they had no children; d. 11 Feb. 1894 in Hamilton, Ont., and was buried in Chatham.
Archibald McKellar's parents, anxious to own land, immigrated to Upper Canada in 1817. They received 50 acres from Thomas Talbot* in Aldborough Township. In 1837 the family moved to a 500-acre property near Chatham, in Raleigh Township, one of the finest agricultural regions in the province. Archibald had attended public school in Aldborough until 1834 and he spent a year in high school at both Geneva, N.Y., and Niagara (Niagara-on-the-Lake). Upon leaving school, he married his 16-year-old second cousin and, being an only son, helped operate the family farm. He was president of the new Kent Agricultural Society in 1844 and, to his lasting pride, he won second prize in its ploughing match. But farming was not enough for the energetic young man. In partnership with John Dolsen in Chatham from 1848 to 1863, he owned a large steam sawmill equipped with modern planing machinery.
Public affairs early drew McKellar's attention. He did guard-duty at Chatham and Sandwich (Windsor) during the rebellion of 1837–38, and then stayed in the militia, becoming a major in the 24th (Kent) Battalion of Infantry. As municipal institutions evolved in Upper Canada, he held a succession of positions: Western District councillor from Raleigh (1842–48), township reeve (1846–49), and member of Kent's provisional council (1848) and county council (1849–57). After moving to Chatham he served as its reeve (1853–54, 1856–57) and as a town councillor (1855).
Meanwhile, his interest in provincial politics was rising. Although he worked vigorously in 1841 for the local tories, with whom he had been connected, he became convinced that the reformers were right in seeking more democratic government. He met Peter* and George* Brown of the reform Toronto Globe as a result of their common anti-slavery sentiment. McKellar was one of the founders in 1849 of the Elgin Association for the promotion of a black settlement in Raleigh [see William King]. In 1851 he chaired the meeting that nominated George Brown as the reform candidate for Kent, and with Alexander Mackenzie of Port Sarnia (Sarnia) he organized Brown's victorious campaign. Thus began a warm personal and political friendship: the "Reform Triumvirate" the three were sometimes called.
McKellar himself stood unsuccessfully for Kent in the 1854 general election but three years later he defeated the incumbent, Edwin Larwill, the leading opponent of the Elgin Association. "The negro vote," declared the Chatham Planet, "had achieved its vengeance." Quite apart, however, from his sympathy for fugitive slaves, McKellar was well known in the county's business and municipal circles, and he possessed considerable political talent. On the platform he was lively and resourceful, combining common sense, forcefulness, and humour, and on occasion speaking Gaelic to woo the Highland voters. He was re-elected in 1861 and 1863.
Throughout this era of political flux in the united province, as Brown strove to construct a Grit-Reform party to counter John A. Macdonald's Conservatives, McKellar was one of the "reliables." In caucus and the legislature and at party conventions, he upheld Brown on the main Reform issues: representation by population, non-sectarian education, and northwestern expansion. On the hustings, where he often appeared with Mackenzie, he was one of Brown's chief combatants. Though equally strict in personal habits, using neither tobacco nor alcohol, the genial and jaunty Archie McKellar complemented the sterner Mackenzie. James Young*, editor of the Dumfries Reformer in Galt (Cambridge), later termed them "the best-informed, most thorough and successful political stumpers" of the day. They swayed many votes, notably in Waterloo North in 1864 against Postmaster General Michael Hamilton Foley*, and founded in the province's agrarian southwest a strong Reform base that would continue into the 20th century.
McKellar served on the constitutional committee in 1864 which recommended federal union to solve the province's political deadlock. When the Legislative Assembly debated in 1865 the federation proposals from the Quebec conference, he spoke only to declare himself "entirely in favor"; he would "oppose any amendments." At the first election for the House of Commons in 1867, he was defeated in Kent, where the Roman Catholic voters evidently remembered his stand against their schools. But he was elected to the Ontario legislature for Bothwell (comprising parts of Kent and Lambton) in 1867 and 1871, and for Kent East in 1875.
The fathers of confederation had expected provincial governments to function without parties and Ontario's first administration was a coalition led by John Sandfield Macdonald*. McKellar's presence in the legislature was significant. He had accepted the "Great Coalition" of 1864 because of the critical situation, but he remained a staunch party man, opposed in principle to coalitions. A Liberal opposition gradually emerged under his leadership: he was the most experienced Reformer, a link with the Brownite tradition, and still an influence in the southwestern ridings. He recognized, however, the superior ability of young Toronto lawyer Edward Blake* and approved the party's choice of him as official leader in 1870.
When Blake became premier the following year, McKellar was sworn in as commissioner of agriculture and public works on 20 December. He retained these portfolios under Oliver Mowat*, Blake's successor in 1872. When Mowat reorganized his cabinet on 4 April 1874, McKellar combined the duties of provincial secretary with those of commissioner of agriculture and arts. His main achievements as a minister reflected his background. He helped obtain charters and bonuses for the Canada Southern and the Erie and Huron railways, which improved transportation for the counties bordering Lake Erie. He sponsored legislation providing funds for drainage projects to reclaim swampy areas for agriculture. He initiated studies of the site which the provincial government under Macdonald had acquired in 1871 at Mimico (Toronto) for an agricultural school. When that site was found to be unsuitable, he piloted through the legislature in 1873 a measure authorizing the purchase of the 550-acre farm of F. W. Stone near Guelph. There on 1 May 1874 the Ontario School of Agriculture and Experimental Farm was opened [see William Johnston*].
By this time the provincial opposition had begun to focus attacks on McKellar. In 1873 they accused him of exerting undue influence against Abram William Lauder*, a successful Conservative candidate in the last election. In 1874 they denounced him for having awarded public works projects to friends, for mismanagement at the agricultural school, and for having made clandestine visits to its matron (now his wife) while at the school in his official capacity. Bipartisan committees of the house appointed to investigate the charges soon cleared him on practically all counts. But his political career was halted. Mackenzie, now prime minister, concluded that he would be unsuitable for the position of lieutenant governor in 1875. Mowat seized the opportunity to appoint him to the shrievalty of Wentworth County.
McKellar resigned his provincial offices on 23 July 1875 and assumed that of sheriff on 1 August. In Hamilton, where he took up residence, he was soon involved in community life as a member of MacNab Street Church (Presbyterian) and the St Andrew's Society, as president of the Gaelic Society, and as an officer in the Wentworth Historical Society. He continued his reforming bent by crusading until the end of his life for improved compensation and privileges for Ontario's sheriffs, whose payment was traditionally by fees earned in issuing writs and in performing other duties related to the processes of local courts. He wrote letters to the press and pamphlets, and he urged the legislature to pass a bill (drafted by himself) that would make it an offence to serve certain legal papers without a sheriff's seal. His actions precipitated a dispute in 1880 with some of the province's lawyers, who felt their profession threatened. McKellar's efforts were in vain. It was a lasting annoyance to him that the Mowat government, in fact, eventually strengthened the position of processserving attorneys, to the detriment of sheriffs' incomes.
A brief illness preceded McKellar's death in 1894. Although, according to the Hamilton Herald, he had taken "to politics as a school boy does to dime novels," he had not been a great parliamentarian, nor was he a constitutional architect or powerful leader like Brown. Nevertheless, he had been a trusted party lieutenant, popular speaker, and efficient organizer, who through an age of shifting political alignments and "loose fish" stood out as a steadfast Reformer. He had contributed both to the rise of the Liberal party and to the permanent establishment of party government in Ontario.
Archibald McKellar's proposed bill to improve compensation and privileges for Ontario sheriffs was published as The sheriff's petition, with statements of grievances and proofs; also, draft of an act, to redress these grievances, and to provide for the execution of all papers in legal proceedings as cheaply as possible ([Hamilton, Ont., 1879]); another edition appeared in Toronto in 1880. Copies of his numerous other pamphlets on the subject are scattered throughout various libraries and archives; some of them are cited in Canadiana, 1867–1900, nos.23012–18, 30207. A number of additional works, all published in Hamilton, are preserved in the Pamphlet Coll. at the AO: Reasons why all papers issued out of the Superior, Surrogate and County courts . . . should be made by the sheriff or by his officers ([ 1885]); To the members of the government and legislature of Ontario . . . the good and valid reasons . . . all papers issued out of the Superior, Surrogate and County courts . . . should be served by the sheriff . . . ([1885]); Letter to the members of the government and legislature of the province of Ontario; on process serving ([1886]); Letter to the electors of Ontario, on the subject of sheriffs' fees ([1890]); and Letter to the members of the Ontario Legislature and the public, on the subject of sheriffs' fees ([1892]). A collection of McKellar's letters to the Toronto Daily Mail, 1889–91, and an 1893 petition to the government are in the Misc. coll. at AO, MU 2121, 1889, no.5, and MU 2122, 1893, no.1, respectively.
McKellar is also the author of Emigration to the province of Ontario, Canada ([Toronto, 1872]), an official publication of the Dept. of the Commissioner of Agriculture and Public Works, and of some family reminiscences, prepared in May 1886 and published posthumously as "The old 'Bragh,' or hand mill," [ed. David Boyle], OH, 3 (1901): 170–79.
Ont., Legislative Library (Toronto), Newspaper Hansard, 1867–74 (1st session) (mfm. at AO). QUA, 2112, Alexander Mackenzie to George Brown, 13 May 1875. Can., Prov. of, Parl., Confederation debates. Ont., Inspector of Legal Offices, Report on a certain pamphlet of Sheriff McKellar, of Hamilton, on the subject of sheriffs' fees ([Toronto, 1890]); Legislative Assembly, Select committee to which was referred certain charges preferred by the Honourable Archibald McKellar, M.P.P., against John Charles Rykert, esq., M.P.P., Report ([Toronto, 1875]). Globe, 13 Sept. 1849, 4 Oct. 1851, 21 May 1864, 4 March 1868, 12–13 Feb. 1894. Planet (Chatham, Ont.), 31 Dec. 1857, 11 Jan. 1858, 27 Nov. 1891. Spectator (Hamilton), 1, 10 Nov. 1880. Times (Hamilton), 12 Feb., 2 March 1894. Canadian biog. dict. CPC, 1875. Cyclopædia of Canadian biog. (Rose and Charlesworth), vol.1. Illustrated historical atlas of the counties of Essex and Kent (Toronto, 1880; repr. 1973). Legislators and legislatures of Ont. (Forman), 1: xxix–xxx, 154, 167, 173; 2: 4, 20, 34. Charles Clarke, Sixty years in Upper Canada, with autobiographical recollections (Toronto, 1908). A. M. Evans, "Oliver Mowat and Ontario, 1872–1896: a study in political success" (phd thesis, 2v., Univ. of Toronto, 1967). Victor Lauriston, Romantic Kent; more than three centuries of history, 1626–1952 (Chatham, 1952). A. L. Murray, "Canada and the Anglo-American anti-slavery movement: a study in international philanthropy" (phd thesis, Univ. of Pa., Philadelphia, 1960). James Young, Public men and public life in Canada . . . (Toronto, 1902; repr. in 2v., 1912) (includes portrait, p.205).
© 1990–2023 University of Toronto/Université Laval
Image Gallery

Cite This Article
A. Margaret Evans, "McKELLAR, ARCHIBALD," in Dictionary of Canadian Biography, vol. 12, University of Toronto/Université Laval, 2003–, accessed October 1, 2023, http://www.biographi.ca/en/bio/mckellar_archibald_12E.html.
The citation above shows the format for footnotes and endnotes according to the Chicago manual of style (16th edition). Information to be used in other citation formats:
| | |
| --- | --- |
| Permalink: | http://www.biographi.ca/en/bio/mckellar_archibald_12E.html |
| Author of Article: | A. Margaret Evans |
| Title of Article: | McKELLAR, ARCHIBALD |
| Publication Name: | Dictionary of Canadian Biography, vol. 12 |
| Publisher: | University of Toronto/Université Laval |
| Year of publication: | 1990 |
| Year of revision: | 1990 |
| Access Date: | October 1, 2023 |