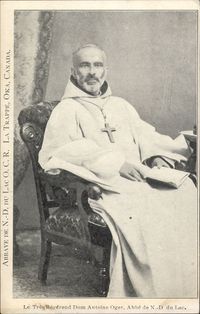 Source: Courtesy of Bibliothèque et Archives Nationales du Québec / 52327/1953783
OGER, PIERRE, named Dom Marie-Antoine, Cistercian and first abbot of the Trappist monastery in Oka, Que.; b. 17 June 1852 in La Jumellière, France, son of Pierre Oger, a farmer, and Modeste Davy; d. 1 Aug. 1913 in Oka.
Pierre Oger was born in the devoutly Roman Catholic region of Anjou, one of a family of five children. He studied first at the Petit Séminaire de Mongazon and later at the Grand Séminaire, both in Angers, in the days of the fiery Bishop Charles-Émile Freppel, who ordained him to the priesthood on 22 Dec. 1877. Appointed prefect of discipline and professor of science at the Collège Saint-Louis in Saumur, he held these two positions until he joined the Trappists, who were part of the Cistercian order. He entered Notre-Dame de Bellefontaine abbey on 14 Sept. 1881, less than a year after the famous expulsion of the monks by the army and at the very time that Bellefontaine was founding Notre-Dame monastery on Lac des Deux Montagnes at Oka, in the diocese of Montreal. In religious life Oger took the name Antoine, preceded, as was customary in his community, by Marie.
Even before he had made his solemn vows, Oger was sent to Oka as superior by his abbot, Dom Jean-Marie Chouteau. He arrived on 2 Sept. 1886 and was elected titular prior (superior of the house) on 10 May of the following year. In the fall of 1889 he began construction of a new stone monastery, which Archbishop Édouard-Charles Fabre* of Montreal came out to dedicate in 1891. The priory was elevated to an abbey on 16 Aug. 1891 and on the following 26 March Dom Antoine was elected its perpetual abbot by a majority of the 14 voters. At that time there were 61 people in the abbey, 30 of whom had taken vows (13 choir monks and 17 lay brothers). When on 29 June 1892 Archbishop Fabre solemnly consecrated him in Montreal's Notre-Dame church, Dom Antoine became the first mitred abbot in the province of Quebec.
The year 1892 proved memorable for the Trappists in more than one respect. At the instigation of Pope Leo XIII three of the Cistercians' four branches were united under the name of Reformed Cistercians. Dom Sébastien Wyart was elected abbot general and in 1898 he would return to the ancient abbey of Cîteaux, where the annual general chapter, the order's highest governing body, met each September. Dom Antoine would go to France every year to attend this meeting. It was also in 1892 that a new Trappist daughter house was founded at Mistassini in the Lac Saint-Jean district, after strong pressure had been brought to bear by Monsignor Calixte Marquis*, a promoter of colonization, by Premier Honoré Mercier* and Archbishop Louis-Nazaire Bégin* of Quebec, who had both visited Bellefontaine in 1891, and later by the newly appointed bishop of Chicoutimi, Michel-Thomas Labrecque. Oka was the mother house of this monastery. Dom Antoine, its father immediate, went there several times a year. The financial survival of Oka would be ensured in large part by the activities of Brother Alphonse Juin, who came from France in 1893 to make the cheese factory a profitable operation. Oka cheese, which would soon be famous, was to become the abbey's distinctive commercial product.
Dom Antoine and the abbey at Oka played a decisive role in agricultural education in the province. The 1882 statute of incorporation stipulated that the Trappists had founded an establishment "for the purpose of engaging in agriculture and of teaching it by theory and practice." At his consecration as abbot, Dom Antoine had chosen as his own coat of arms a sheaf of wheat surmounted by a cross, an eloquent symbol of the monastery's agricultural mission. The school of agriculture was opened at Oka in 1893, housed in the old wooden buildings of the monastery. Dom Antoine recruited lay teachers in France. Its 30 students came from all over Quebec, being subsidized by government bursaries. The Trappists maintained absolute control of instruction and administration. In 1908 the school would become the Institut Agricole d'Oka, affiliated with the Université Laval in Montreal. It offered a three-year university course designed to train agronomists, and at that time had 10 professors and 100 students.
Dom Antoine's priority, however, was the spiritual and temporal administration of his abbey. Well known for their austere life, the Trappists laid special emphasis on silence, prayer, work, and penitence. The records say little about Dom Antoine's spirituality, but a number of his contemporaries attest to his authoritarianism. "The reverend father is intelligent; he lacks level-headedness [and] pays little attention to the advice of others, having too much confidence in himself," noted a visitor of the order in 1897. In temporal matters he was accused of piling up debts, a charge which earned him the condemnation of the 1896 general chapter meeting, but he was exonerated two years later. Indeed, the abbot of Oka was on very bad terms with his father immediate, the abbot of Bellefontaine. His relations with Oka's daughter houses were not much better. The 1898 general chapter meeting appointed him father immediate of Petit Clairvaux [see Jacques Merle*], which he transferred in 1900 from Tracadie, N.S., to Lonsdale, R.I., under the leadership of Jean-Marie Murphy, the first Trappist at Oka to have made his vows. With Dom Pacôme Gaboury, whom he was forced to allow to go to Mistassini as superior in 1901, his relations were especially bad; on 8 December he reached the point of offering his resignation in no uncertain terms to the abbot general, who did not accept it. Dom Antoine's troubles were not over. On 23 July 1902 his monastery burned down. The $86,000 received from the insurance company paid off existing obligations, but he managed to go into debt again in the course of reconstruction. On 21 Aug. 1906 Archbishop Paul Bruchési* consecrated the new abbey church, erected on the same site. A juniorate would operate from 1904 in the temporary monastery built after the fire until 1913, when it would be transferred to Mistassini.
Dom Antoine was well known for his great generosity. When in the period 1901–3 the monks in France were threatened with expulsion, he did everything possible to support them. He helped the Trappists from Bonnecombe move to Rogersville, N.B. (Notre-Dame du Calvaire), where they were soon joined by the Trappist nuns from Vaise (Notre-Dame de l'Assomption). He assisted the prioress of Bonneval in founding the abbey of Notre-Dame du Bon Conseil in Saint-Romuald, south of Quebec City. His appointment by Archbishop Bégin as its father immediate created new financial difficulties for him. Dom Antoine did all he could to help a congregation from his native Anjou, the Filles de la Charité du Sacré-Cœur de Jésus, to settle at Newport, Vt, in 1905 and at Magog in the diocese of Sherbrooke in 1907.
The last years of Dom Antoine's life seem to have been more peaceful. Charles Magnan, who had entered the Institut Agricole d'Oka in 1909 as a student, in 1966 remembered him as officiating majestically, his face serene and framed by a huge beard. "He spoke in measured and reasonable tones, but one could sense, in the rhythm of his sentences, a passionate man, whose restrained and disciplined speech showed great control over an inner nature that, in his youth, must have been exuberant and impetuous." Dom Antoine attended the first plenary council of Canadian bishops at Quebec in 1909, the International Eucharistic Congress at Montreal in 1910, and the first congress on the French language at Quebec in June 1912 [see Stanislas-Alfred Lortie]. At the general chapter meeting in September, he showed signs of the illness that would prove fatal. After trying to find a cure in Spain, he returned to Oka, where he died on 1 Aug. 1913.
Dom Antoine made his greatest contribution in setting up the monastery of Notre-Dame on Lac des Deux Montagnes, of which he can be considered the founding abbot. In 1913 the Trappist monastery at Oka, as it is commonly called, had 97 people, 79 professed (41 choir monks and 38 lay brothers). At the time of his death, one of his compatriots observed: "Dom Antoine was the model of a Cistercian abbot. In his monastery he was the most correct of monks and in the outside world, to which duties often called him, the most charming of men, capable of combining to perfection monastic austerity and the utmost urbanity. And he was a good counsellor. How many lives he saved from ruin! In his great heart he always found the word of encouragement." In short, this son of St Bernard established the first major centre of Cistercian life in Quebec and was at the same time a pioneer in agricultural education. He fully lived out his motto: In sudore et patientia ("In sweat and patience").
[The main primary sources for Dom Antoine consulted by the author are in the Arch. de l'Abbaye Cistercienne (Oka, Qué.), E 2000. These documents, which survived fires in 1902 and 1916, are primarily of an administrative nature. Curiously, hardly any letters written by Dom Antoine after 1904 have been located, a fact confirmed at the Arch. de la Chancellerie de l'Archevêché de Montréal, in file 470.125.
The most useful study available is C.-A. Doucet, La trappe d'Oka: son histoire depuis sa fondation en 1881, jusqu'à nos jours (s.l., [1979?]). Other sources include Bénédiction solennelle du T.R.P dom M. Antoine, abbé de N.D. du lac des Deux Montagnes d'Oka: à l'église de Notre-Dame de Montréal, le 29 juin 1892 (Montréal, 1892); L'abbaye de Notre-Dame du lac des Deux Montagnes et l'Ordre de Cîteaux au Canada et dans les États-Unis (Montréal, 1906); Père Louis-Marie, L'institut d'Oka: cinquantenaire, 1893–1943; école agricole, institut agronomique, école de médecine vétérinaire ([Oka, 1944]); André Côté, "L'Ordre de Cîteaux et son établissement dans la province de Québec, depuis la Révolution française jusqu'à 1935" (thèse de ma, univ. Laval, Québec, 1971) and "Le monastère de Mistassini: sa suppression ou sa formation en prieuré, 1900–1903," CCHA, Sessions d'études, 40 (1973): 92–111; and André Picard et Jean Doutre, Oka: ouvriers de la parole, 1881–1981 ([Oka, 1981]).
For general background information on the Trappists during this period, the following studies are particularly helpful: [L.-A.] Fichaux, Dom Sébastien Wyart, abbé général de l'ordre cistercien réformé, auparavant capitaine adjudant-major aux zouaves pontificaux (Lille, France, 1910), and L. J. Lekai, The Cistercians: ideals and reality ([Kent, Ohio, 1977]). g.l.]
© 1998–2023 University of Toronto/Université Laval
Image Gallery

Cite This Article
Guy Laperrière, "OGER, PIERRE, Dom Marie-Antoine," in Dictionary of Canadian Biography, vol. 14, University of Toronto/Université Laval, 2003–, accessed September 28, 2023, http://www.biographi.ca/en/bio/oger_pierre_14E.html.
The citation above shows the format for footnotes and endnotes according to the Chicago manual of style (16th edition). Information to be used in other citation formats:
| | |
| --- | --- |
| Permalink: | http://www.biographi.ca/en/bio/oger_pierre_14E.html |
| Author of Article: | Guy Laperrière |
| Title of Article: | OGER, PIERRE, Dom Marie-Antoine |
| Publication Name: | Dictionary of Canadian Biography, vol. 14 |
| Publisher: | University of Toronto/Université Laval |
| Year of publication: | 1998 |
| Year of revision: | 1998 |
| Access Date: | September 28, 2023 |