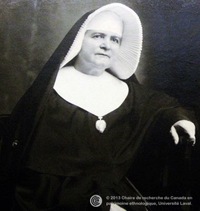 Source: Link
PARADIS, ÉLODIE (baptized Alodie-Virginie), named Mother Marie-Léonie, Marianite Sister of Holy Cross and founder of the Little Sisters of the Holy Family; b. 12 May 1840 in L'Acadie, Lower Canada, the only daughter among the six children of Joseph Paradis and Émilie Grégoire; d. 3 May 1912 in Sherbrooke, Que.
In the mid 1840s Élodie Paradis's father moved to the concession of La Tortue, near the village of Saint-Philippe-de-Laprairie, in order to support his family. There he rented a disused mill in which he sawed lumber, ground grain, and carded wool. When Élodie was nine years old, her mother sent her to a boarding-school run by the Congregation of Notre-Dame in La Prairie. That year her father went off to California to look for gold and the family lived temporarily in Napierville, where Élodie continued her studies for a few months. She returned to the school in La Prairie in 1850. Having heard from her youthful neighbour Camille Lefebvre* that there was a community of nuns within the Holy Cross family, Élodie presented herself at the noviciate of the Marianite Sisters of Holy Cross in Saint-Laurent, near Montreal, on 21 Feb. 1854. She was not yet 14. When her father came back from California, he tried to bring her home, without success. Under the name of Sister Marie-de-Sainte-Léonie she was accepted as a novice. In 1856 she taught at Sainte-Scholastique (Mirabel) and on 22 Aug. 1857 she made her vows. She would then be a teacher, monitor, and secretary to the mother superior at Varennes, Saint-Laurent, and Saint-Martin (Laval). In 1862 she was sent to New York, where the Marianites operated an orphanage, a workroom, and a school for poor children in the parish of St Vincent de Paul. Eight years later she joined the American branch of the order and went to Indiana to teach French and needlework to the nuns who were slated to become teachers.
After a short stay in Michigan, in 1874 Sister Marie-Léonie was chosen to direct a group of novices and postulants at the College of St Joseph in Memramcook, N.B. This college, which had been founded in 1864 by her compatriot Camille Lefebvre, needed recruits for "housekeeping tasks and maintenance of the culinary department." There Élodie Paradis could heed what she considered her calling at that moment: to be an auxiliary and assistant to the Holy Cross Fathers in the mission of educating young Acadians. Several factors strengthened her resolve: the precarious situation of the college in the absence of support personnel essential to its smooth operation; the Acadians' low level of education; and the lack of institutions for young women eager to enter the religious life. Fourteen Acadian girls taken into the workroom that she directed began wearing their own unique habit on 26 Aug. 1877. In 1880 the general chapter of the Holy Cross Fathers accepted the idea of a new foundation for the needs of the colleges, the Little Sisters of the Holy Family. Alfred-Valère Roy*, who succeeded Lefebvre, thought the actions taken by his predecessor and Sister Marie-Léonie helped "to save the Acadian nationality, threatened and doomed to anglification" as much by Irish Roman Catholics as by Protestants.
Appointed superior of the new community, Mother Marie-Léonie tried on many occasions to persuade Bishop John Sweeny* of Saint John, N.B., to give his approval to her religious family, but in vain. In 1895 she met Bishop Paul Larocque* of Sherbrooke, who was looking for domestic staff for his seminary. He agreed to receive the mother house and the noviciate of the Little Sisters into his diocese and to give them his approval. On 5 Oct. 1895, after 21 years in Acadia, Mother Marie-Léonie returned to Quebec. She and her community moved to 10 Rue Peel in Sherbrooke, and on 26 Jan. 1896 Larocque granted canonical approval, official church recognition. Mother Marie-Léonie then applied herself to the tasks of giving her institution a rule of life and helping the nuns develop a spirit of cheerful simplicity and sisterly generosity. Their generosity was even extended to other countries and was symbolized by their adoption of a little girl from Kabylia. "She was all heart," Bishop Larocque would say of Mother Marie-Léonie. After providing for the education of the sisters who were illiterate, she pursued their human and spiritual formation in her correspondence with them after they left Sherbrooke for other provinces and the United States.
Mother Marie-Léonie died on 3 May 1912, just before her 72nd birthday. In the course of her life she had overseen 38 establishments in Quebec, New Brunswick, Ontario, and the United States, most of them in colleges and a few in episcopal households. At the time of her death, the Little Sisters of the Holy Family had some 635 members. Élodie Paradis was beatified in Montreal on 11 Sept. 1984, during Pope John Paul II's visit. The church thereby recognized an "avant-garde woman" who had met the needs of her time by founding the first institute to help priests in their educational work. Without this assistance, some colleges would have been unable to survive, since they did not have the means to hire lay personnel.
The main documentation concerning Mother Marie-Léonie is preserved at the Arch. du Centre Marie-Léonie (Sherbrooke, Qué.). The work of the community which she founded forms the subject of Les servantes du bon Dieu, a 1979 film directed by Diane Létourneau.
ANQ-M, CE4-1, 12 mai 1840. Arch. des Sœurs de Sainte-Croix (Saint-Laurent, Qué.), Fonds Mère-Marie-Léonie. A.-M. Cimichella, Marie-Léonie Paradis; ses multiples et mystérieux chemins (1840–1912) (Montréal, 1980). Thérèse Gendron et Raymond Maric, Léonie Paradis: fondatrice des Petites Sœurs de la Sainte-Famille (Strasbourg, France, [1986?]). Gerbes de faveurs merveilleuses obtenues par l'intercession de mère Marie-Léonie, fondatrice de l'Institut des Petites Sœurs de la Sainte-Famille (Sherbrooke, 1962). Arsène Goyette, Une grande âme et une grande œuvre (Sherbrooke, 1926). Jeanne Grégoire, La source et le filon: de l'ancêtre Pierre Paradis à la fondatrice des Petites Sœurs de la Sainte-Famine, mère Léonie (Montréal, 1961). Eugène Nadeau, Mère Léonie, fondatrice des Petites Sœurs de la Sainte-Famille (1840–1912) (Montréal, 1950); Montre-moi tes chemins: les routes imprévues de mère Léonie, fondatrice des Petites Sœurs de la Sainte-Famille, 1840–1912 (Sherbrooke, [1974]). M.-G. Perras, Message de mère Marie-Léonie Paradis, fondatrice des Petites Sœurs de la Sainte-Famille (1840–1912) (Sherbrooke, 1953). Denise Robillard, Mère Marie-Léonie, 1840–1912, fondatrice des Petites Sœurs de la Sainte-Famille (Montréal, 1984).
© 1998–2023 University of Toronto/Université Laval
Image Gallery

Cite This Article
Denise Robillard, "PARADIS, ÉLODIE, named Mother Marie-Léonie," in Dictionary of Canadian Biography, vol. 14, University of Toronto/Université Laval, 2003–, accessed September 23, 2023, http://www.biographi.ca/en/bio/paradis_elodie_14E.html.
The citation above shows the format for footnotes and endnotes according to the Chicago manual of style (16th edition). Information to be used in other citation formats:
| | |
| --- | --- |
| Permalink: | http://www.biographi.ca/en/bio/paradis_elodie_14E.html |
| Author of Article: | Denise Robillard |
| Title of Article: | PARADIS, ÉLODIE, named Mother Marie-Léonie |
| Publication Name: | Dictionary of Canadian Biography, vol. 14 |
| Publisher: | University of Toronto/Université Laval |
| Year of publication: | 1998 |
| Year of revision: | 1998 |
| Access Date: | September 23, 2023 |