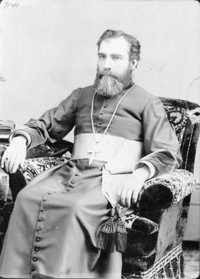 LA ROCQUE, PAUL (baptized Paul-Toussaint, he signed Paul LaRocque), Roman Catholic priest and bishop; b. 27 Oct. 1846 in Sainte-Marie-de-Monnoir (Marieville), Lower Canada, son of Albert Larocque, a farmer, and Geneviève Dagneau; d. 15 Aug. 1926 in Sherbrooke, Que.
Paul La Rocque came from a family that included several prominent members of the Catholic clergy. Two of his father's cousins were bishops of Saint-Hyacinthe, Joseph* from 1860 to 1866 and Charles* from 1866 to 1875. Paul's younger brother Charles was the first curé of Saint-Louis-de-France in Montreal (1888-1904), and a sister became a nun with the Sisters Adorers of the Precious Blood. Paul himself was made the second bishop of Sherbrooke. Yet his father had been unable to sign his name at Paul's baptism.
Paul La Rocque first attended the Petit Séminaire de Sainte-Thérèse in 1858-59. Following a period at the Séminaire de Saint-Hyacinthe from 1859 to 1862, he returned to it to complete his classical studies and he donned the soutane there in 1865. With his delicate constitution (he suffered from poor health all his life), he was "ordained to die," as the saying went, by Bishop Charles La Rocque at the Hôtel-Dieu in Montreal on 9 May 1869. He was then sent as a missionary to Key West, Fla, to build up his strength. La Rocque spent more than ten years there working with the Cubans and blacks who inhabited the island. This period in Florida enabled him to acquire a command of English that would prove extremely useful to him in his future diocese. Back in Saint-Hyacinthe in 1880, he was immediately sent by his bishop, Louis-Zéphirin Moreau*, to study in Rome, where he earned doctorates in theology and canon law. La Rocque returned to Saint-Hyacinthe in 1884 and a year later was appointed curé of the cathedral, succeeding Elphège Gravel*, who had been chosen as the first bishop of Nicolet. Saint-Hyacinthe was at that time (and would remain) a veritable seedbed of future bishops.
It was in 1893 that La Rocque became the second bishop of Sherbrooke, succeeding Antoine Racine*. Consecrated there on 30 November, he would remain at the head of the diocese until his death 32 years later. The period in which he held episcopal office coincided with a time of expansion for the Catholic Church in the Eastern Townships. The decennial reports La Rocque sent to Rome noted the growth of the Catholic population. It rose from 60,000 to 105,000 between 1896 and 1924, years which saw the non-Catholic population decline from 43,000 to 32,000; the ranks of secular priests increased from 90 to 177, and 37 new parishes were established, bringing their total number to 91 by 1924. La Rocque toured these parishes every three years. During his pastoral visits, which lasted more than a month, he confirmed the children, who would never forget his long white beard, doubtless a holdover from his missionary days. From 1910 La Rocque frequently spoke about the "petits chevaliers de la tempérance," the newly confirmed boys to whom he awarded the Cross of Temperance once they had promised "to abstain from every kind of intoxicating drink until the age of 21," as he put it to the curés of his diocese. At the pastoral level the bishop, who in all other respects maintained excellent relations with those whom he referred to as "our separated brothers," vigorously opposed both mixed marriages and the practice of Catholic children attending Protestant schools.
The growth of the Catholic Church led to the establishment of various new charities and institutions and the consolidation of existing ones, such as the Séminaire Saint-Charles-Borromée, which was adjacent to the bishop's residence. Destroyed by fire on 30 Dec. 1897, the seminary was rebuilt and inaugurated in June 1900 by the apostolic delegate, Mgr Diomede Falconio. Among the religious bodies he welcomed, La Rocque was particularly supportive of the contemplative orders: the Sisters Adorers of the Precious Blood (1895) and the Servants of the Blessed Sacrament (1925) in Sherbrooke, and the Benedictines (1912) in Saint-Benoît-du-Lac [see Pierre-Paul Vannier*]. He was on the verge of losing the last order at the end of World War I, but managed to keep them in 1919. Two other female orders established their mother houses within his diocese. The Little Sisters of the Holy Family, founded by Élodie Paradis*, named Mother Marie-Léonie, arrived in Sherbrooke in 1895 and spread rapidly; they devoted themselves to "the manual tasks required for the material care of the interior of seminaries, colleges, [and] episcopal houses." In his pastoral letter of 28 Jan. 1896, which gave this community canonical recognition, La Rocque specified that the sisters should "confine themselves to this work and never deviate from it." In 1919, in Lennoxville, Florina Gervais, named Marie du Sacré-Cœur, founded the community of the Missionary Sisters of Notre Dame des Anges, which was devoted to fostering among young Chinese girls the vocations of catechist and nun. In 1920 the Franciscans also set up their noviciate in Lennoxville, following the lead of the Redemptorists; the bishop had put the Redemptorists in charge of a Sherbrooke parish which in 1913 had become known as Notre-Dame-du-Perpétuel-Secours.
La Rocque was also interested in education. There already were several teaching communities in his diocese, among which the most important numerically were the Congregation of Notre-Dame, the Sisters of the Presentation of Mary, and the Brothers of the Sacred Heart. In 1907 he managed to attract the Filles de la Charité du Sacré-Cœur de Jésus. To develop hospitals and other charitable institutions he had to negotiate with the Sœurs de la Charité de Saint-Hyacinthe (Grey Nuns), who had been responsible for the Hospice du Sacré-Cœur in Sherbrooke since 1875. These discussions drew him into a lengthy conflict with the sisters lasting from 1895 to 1905, because he wanted to establish a mother house in Sherbrooke. The sisters refused and took their case right up to the Holy See in Rome, which ruled in their favour. Good relations were re-established when the bishop's second cousin Mother Mathilde Davignon became the superior general at Saint-Hyacinthe in 1905.
La Rocque spent almost a year in Rome, from November 1904 to October 1905, to settle this affair. It was his second ad limina visit, and he was accompanied by his vicar general, Hubert-Olivier Chalifoux, who hailed from Saint-Hyacinthe. On the occasion of his third and final ad limina visit in 1914, La Rocque, who was ill at the time, managed to persuade Benedict XV to appoint Chalifoux auxiliary bishop of Sherbrooke, despite the opposition of the apostolic delegate, Mgr Pellegrino Francesco Stagni. Chalifoux in May 1919 organized the celebrations to honour La Rocque's 25 years of service as bishop and 50 years as a priest, marking the high point of his episcopate. On this occasion the clergy and the faithful presented him with an offering that amounted to $34,305.64 when the subscription ended on 30 June 1920. It was also in 1919 that the bishop inaugurated his cathedral, the Pauline chapel (actually the basement of the future cathedral), and, most significantly, his new bishop's house, a veritable episcopal palace that was the work of architect Louis-Napoléon Audet. The chapel, which was dedicated to the Blessed Virgin, would be decorated by Ozias Leduc*.
In 1922 La Rocque lost his faithful companion, Bishop Chalifoux, who had been ill for three years. Alphonse-Osias Gagnon, the superior of the seminary, was chosen as his auxiliary in 1923; he would later become his successor (1927-41). In the last years of his life La Rocque devoted himself mainly to new Catholic initiatives: a weekly newspaper (Le Messager de Saint-Michel de Sherbrooke, in 1917), Catholic and national labour unions, closed retreats (the Villa Saint-Alphonse, 1923), and the Semaine Sociale (1924). He died in 1926, widely venerated.
La Rocque had taken little part in the great national debates, although he strongly endorsed the bishops' stand on the Manitoba schools question [see Thomas Greenway*]. He was an ardent and steadfast supporter of Franco-Ontarians; in 1916 a subscription "for our brothers, the wounded of Ontario" [see Charles Hugh Gauthier], raised $2,055, the highest sum collected in the diocese up to that point. Characteristically for the period, his spirituality was based on devotion to the Sacred Heart as well as to the Virgin Mary, love of the Eucharist, and veneration of the papacy, as witnessed his heartfelt greeting to Mgr Stagni, the pope's representative, when he travelled around the diocese in 1913.
Because of his poor health, La Rocque did not take the usual path of Quebec bishops. His ten years in Key West had given him a tolerant approach that proved valuable to him throughout his episcopate. He successfully ensured the growth of the Catholic diocese of Sherbrooke. An embodiment of the good bishop, loved by all, "the magnificent and splendid Mgr Paul LaRocque" – as one of his successors, Bishop Philippe Desranleau*, would describe him – fully lived up to his motto, Omnibus omnia factus sum ("I made myself all things to all people").
[The main documents concerning Paul La Rocque are found in the Arch. de l'Archevêché de Sherbrooke, Qué. Its archival collections are in two separate locations: the Service des Archives (Historiques) holds the La Rocque fonds (P4), which contains important correspondence, while the Chancellerie houses the administrative files and the register of letters. Both the collections are so voluminous that the author was able to consult only a small part of each. The bishop's pastoral thought is condensed in his Mandements, lettres pastorales, circulaires et autres documents publiés dans le diocèse de Sherbrooke (24v., Sherbrooke, 1874-1967), 4-9.
A selection of the numerous works on La Rocque includes the following items: É.-J.[-A.] Auclair, Mgr Paul LaRocque, deuxième évêque de Sherbrooke ([Saint-Gérard, Qué.], 1930); "Les trois évêques Larocque," SCHEC, Rapport, 13 (1945-46): 11-17; P.-J.-A. Lefebvre, Monseigneur Paul LaRocque, deuxième évêque de Sherbrooke: souvenir de 1893-94 (Montréal, 1894); "Mgr Paul-Stanislas LaRocque," Séminaire Saint-Charles-Borromée, Annuaire (Sherbrooke), 1926-27: 341-65; Dolor Biron, Jubilé d'argent et d'or de Monseigneur Paul LaRocque, évêque de Sherbrooke, mai 1919: 1869-1919, 1893-1918 ([Sherbrooke?, 1919?]); C.-J. Roy, Visite de S.E. Monseigneur Stagni, délégué apostolique au Canada et à Terreneuve, dans les Cantons de l'Est: compte rendu des fêtes . . . (Québec, 1914); Obituaire du clergé, 1874-1993: archidiocèse de Sherbrooke (Sherbrooke, 1993?), 38; Laurier Lacroix, "La décoration religieuse d'Ozias Leduc à l'évêché de Sherbrooke" (mémoire de ma, univ. de Montréal, 1973); [Philippe Desranleau], La chaire de Mgr Desranleau: extraits de sermons, conférences, causeries, allocutions du premier archevêque de Sherbrooke, L.-C. O'Neil, compil. (Sherbrooke, [1953]), 33. g.l.]
© 2005–2023 University of Toronto/Université Laval
Cite This Article
Guy Laperrière, "LA ROCQUE, PAUL," in Dictionary of Canadian Biography, vol. 15, University of Toronto/Université Laval, 2003–, accessed October 2, 2023, http://www.biographi.ca/en/bio/la_rocque_paul_15E.html.
The citation above shows the format for footnotes and endnotes according to the Chicago manual of style (16th edition). Information to be used in other citation formats:
| | |
| --- | --- |
| Permalink: | http://www.biographi.ca/en/bio/la_rocque_paul_15E.html |
| Author of Article: | Guy Laperrière |
| Title of Article: | LA ROCQUE, PAUL |
| Publication Name: | Dictionary of Canadian Biography, vol. 15 |
| Publisher: | University of Toronto/Université Laval |
| Year of publication: | 2005 |
| Year of revision: | 2005 |
| Access Date: | October 2, 2023 |