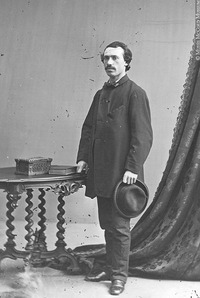 Source: Link
RAPHAEL, WILLIAM, artist, photographer, art teacher, anatomical illustrator, and art restorer; b. 22 Aug. 1833 in Nakel, Prussia, one of seven or more children; m. 29 Oct. 1862 Ernestina Danziger (d. 1925) in Montreal, and they had nine children, including Samuel, who became a professional artist in New York City; d. 15 March 1914 in Montreal.
As a youth, William Raphael, an aspiring artist of Orthodox Jewish background, made frequent trips from Nakel to Berlin to study art. At the Academy of Arts he trained under portraitist Johann Eduard Wolff and portraitist and painter of genre and historical scenes Karl Begas. Begas's Biedermeier Realist approach to nature (as opposed to the tendencies of the Biedermeier Romantics or Northern German Romantics) most influenced Raphael's sober interpretation of nature. His artistic work and attitudes towards teaching never veered far from his academic education.
Nine small sketch-books-cum-diaries that Raphael kept from age 17 reveal many highlights of his life, career, and art. They indicate that his studies in Berlin came to an abrupt halt in April 1856, perhaps because of his father's illness. After his father's death in July he painted portraits of 34 friends and family members during his last stay in Nakel. Political unrest may have been a factor in his decision to leave; two sketches suggest that there was fighting in Nakel. Like some of his relatives and friends, he sought better opportunities in North America. After four months in New York City, he continued on to Montreal, where one of his brothers lived. He arrived by train on 23 April 1857. Nine years later, in his most illustrious genre scene, which he titled Immigrants at Montreal (later changed to Behind Bonsecours Market, Montreal), he embellished his arrival by placing himself in the centre of a bustling yet harmonious market scene at the waterfront, clutching his hand-luggage in his right hand and his portfolio and his family's ritual candelabrum in his left. This colourful cityscape now hangs in the National Gallery of Canada.
During his early years in Lower Canada Raphael sustained himself by commissions for portraits and artwork related to photography. From 1859 to at least 1860, he was employed as an artist at the photography studio of William Notman*. By 1863–64 he was associated with photographer A. B. Taber. A canvas at the National Gallery of Canada, entitled McFarlane children (1871) and signed by Raphael and photographer James Inglis, suggests his continued involvement with photography and portraiture. As late as 1908 he advertised as an artist and a photographer, underscoring his dependence on portraiture to earn at least part of his living.
Portraits by Raphael of persons from a broad cross-section of the community have been located. One is of a German Jew, Hermann Danziger, whose 15-year-old daughter he married. As his reputation grew, he painted persons of note, most in oil, either from photographs or freehand. Portraits have been found of Dr Louis-Édouard Desjardins, Dr Francis Wayland Campbell*, Dr Aaron Hart David, the Reverend Abraham de Sola* of the Shearith Israel congregation (who performed his marriage), Canon Joseph-Octave Paré*, and several French Canadian politicians, including Clément-Charles Sabrevois* de Bleury. Oil paintings by Raphael of Canadian governors general were reputed to have hung in the Parliament Buildings in Ottawa. A photograph of a full-length painting, Gladstone and Laurier at Hawarden Castle, dated 10 July 1897, shows the two prime ministers arm in arm. The original has not been found; it and other paintings by Raphael may have burnt in the fire that destroyed the centre block of the Parliament Buildings in 1916. In 1905 Raphael had accepted the commission of judge Louis-François-Georges Baby* and William Douw Lighthall* to copy rare portraits of men who had built New France and Quebec. These hung in the Château Ramezay from 1908 to 1976.
Large family portraits that Raphael painted as keepsakes are mostly bust-length and formal. They contrast with the more casual Self portrait (undated) and the relaxed, full-length studies of his wife and children in colourful environments, such as Ernestina seated with her dog on the staircase of her veranda in Lady in pink knitting outdoors (undated). The winter scene of two of their sons tobogganing, Fletcher's Field, Montreal (1880), the picture of their son Harry in a playful mood, Boy; with a top (1879), and the loosely painted Boy, ducks and cats (1884) all incorporate movement and differ from the more serious Irish immigrant (1870) in tattered clothes and Portrait of a boy (1875), a posthumous tribute commissioned by the parents of the deceased.
Like Cornelius Krieghoff*, Raphael was known for his lively genre scenes, depicting habitant and native life. In them he incorporated a formal realism, basing his compositions on carefully prepared sketches. Yet he lent to them a casual air through relaxed, often witty, mises en scène, for example in the winter scene Bonsecours (1880), where there is a sense of lively activity, anecdote, and humour. Movement and the romantic notion of the chase were particularly appealing to him, as is seen in the dramatic winter scene Habitants attacked by wolves (1870). The harsh Canadian winter is immediately felt in that scene and in Royal mail, New Brunswick (1864). In contrast, there is an air of calmness to St. Jean Baptiste parade outside the Bank of Montreal (1875), which captures a sense of time and place. Raphael added levity to this ordered, formal composition by including the curious onlookers peering through windows and the fashionably dressed women gossiping below.
Raphael recorded various landscapes when he travelled through parts of Canada, the United States, and Scotland. He captured the quiet moods of natural environments at all times of the day. In many works, he relished evidence of man's existence, depicting churches, castles, old mansions, boats, and canoes. There is invaluable documentation on native life in his encampment scenes. One example, Indian encampment on the lower St. Lawrence (1879), is dark and mysterious. There is just enough light within the tent to illuminate the natives conversing inside. This dramatic moonlit scene was submitted as his diploma painting; with it he gained acceptance in 1880 as a founding member of the Royal Canadian Academy of Arts.
Some of Raphael's original oils were made into lithographic prints. The anecdotal The early bird catches the worm (1868) was reproduced the following year by the Montreal firm of Roberts and Reinhold. Newspapers promoted it as "the first attempt in Canada of the chromo process." A painting similar to Habitants attacked by wolves, painted in 1869 and titled Pursued by the wolf pack, was chromolithographed by Burland, L'Africaine and Company in 1870 for distribution to members of the Art Association of Montreal. In 1881 Head of Iroquois chief, Caughnawaga and Scene at Murray Bay were made into photoprints by the association and published as part of its Portfolio of photo-prints from paintings. . . . That same year Lucius Richard O'Brien*, president of the Royal Canadian Academy, invited him to submit four illustrations of habitants for the two-volume Picturesque Canada . . . (Toronto, 1882–84). In 1950 the National Gallery of Canada produced The first portfolio of Canadian drawings (Montreal) from originals in its collection. The two works by Raphael included in it are close in appearance to those in Picturesque Canada.
Less known are Raphael's still lifes of fish, hanging fowl, and floral arrangements, all fashionable at the turn of the century. In addition, he painted many religious scenes for various Roman Catholic orders in Montreal which commissioned him to copy works by European artists or, on rare occasions, to create his own.
One of Raphael's greatest contributions was in the field of art education. He taught secondary-school level students and those aspiring to become professional artists. As early as 1866 he had advertised as a "teacher of landscape painting." He admitted that "without teaching no artist could live [in Montreal] . . . due to a small buying class and a taste for French and Dutch art above good Canadian work." The English-speaking institutions at which he taught included the High School of Montreal and the Art Association of Montreal. When the Art Association opened its school in 1881, Raphael presented the first course in "Figure Painting and Drawing" to advanced students. For the sessions of 1881–82 he also took over Allan Aaron Edson*'s class in "Composition and Landscape," as well as a course in "Figure Painting and Drawing from the Antique." Raphael was criticized by his colleagues at the association for using outmoded teaching methods. He was eventually replaced by the younger artists Robert Harris and William Brymner*, who taught in the manner of the French studios, directly opposed to Raphael's academic methods. Raphael could not comprehend the shift in artistic values, which occurred, ironically, during the period of his career when he received the greatest recognition. He pushed for funding from the Royal Canadian Academy to form an art school of his own, but none was forthcoming.
Raphael also taught in French-speaking schools, principally for the Sisters of St Anne, at their mother house in Lachine and at some of their other convents, from 1879 until 1914. Both there and at the Congregation of Notre-Dame's Pensionnat Villa-Maria, his lack of French obliged him to teach by demonstration and example.
By 1885 Raphael had set up his own private school, offering drawing and painting to 30 pupils. Two years later he expanded his studio to accommodate two levels of students. Exhibitions of their work were favourably reviewed in Montreal newspapers by art critics who praised his proficiency as a teacher. Several of his students achieved renown: Wyatt Eaton*, who had studied privately with Raphael in the 1860s, became a successful portrait painter; William Townley Benson was a professional landscape artist in Mexico; Sister Saint-Sylvestre decorated chapels throughout Canada and the United States for the Congregation of Notre-Dame; Sister Marie-Arsène, head of the art school of the Sisters of St Anne, and her successor, Sister Marie-Hélène-de-la-Croix, who was a devoted protégée of Raphael, both produced religious paintings and portraits for churches and convents throughout their order.
Raphael was appreciated during his lifetime for two additional talents – his expertise in anatomical drawing and in the restoration of paintings. He created diagrams for physicians as teaching aids and produced illustrations for medical journals. Dr William Osler, who continued to employ him even after moving to the United States, praised his "fine anatomical work." Raphael regularly restored paintings for churches and convents, including a group of copies of Italian paintings made by Antoine-Sébastien Falardeau*.
Despite the need to engage in a variety of activities to support a wife and nine children, Raphael found time to participate in a number of social organizations and at least one religious one. He was invested a freemason on 19 April 1864 and was a charter-member of Temple Emanu-El in Montreal in 1882. He was deeply involved in many professional organizations. A member of the Art Association of Montreal from the 1860s, he was a founding member of the Society of Canadian Artists in 1867, a member of the Ontario Society of Artists from 1879, a charter-member of the Royal Canadian Academy of Art in 1880, an original member of the Pen and Pencil Club of Montreal in 1890, and a member of the Council of Arts and Manufactures of the Province of Quebec in 1904. He exhibited regularly with the Society of Canadian Artists, the Art Association of Montreal, and the Royal Canadian Academy, but only minimally with the Royal Society of British Artists (1877–78), the Ontario Society of Artists (1879, 1897), and the Pen and Pencil Club (1890–91). He was remembered as a kind, unassuming man, totally devoted to his art. He left a precious legacy of paintings, drawings, and sketches that record 19th-century Canada.
Paintings and sketches by William Raphael are found in the National Gallery of Canada (Ottawa), the Montreal Museum of Fine Arts, the McCord Museum of Canadian Hist. (Montreal), and various other public and private collections in Canada and abroad. Examples of his anatomical drawings are preserved in the Osler Library, McGill Univ. Libraries, Montreal.
ANQ-M, CE1-97, 29 oct. 1862. McCord Museum of Canadian Hist., M 17373–74 (Raphael sketch-books). Montreal Museum of Fine Arts, Reference Library, William Raphael file. Mount Royal Cemetery (Outremont, Que.), Temple Emanu-el sect., tombstone no.105. National Gallery of Canada Library, Raphael sketch-books and file. Private arch., S. R. Goelman (Toronto), Interview with Émile Falardeau, 19 March 1978. Gazette (Montreal), 9 June 1885; 3 June, 11 July 1886. Montreal Daily Witness, 14 March 1888. Montreal Herald and Daily Commercial Gazette, 8 June 1887. Art-Journal (London), new ser., 8 (1869): 157. Canadian men and women of the time (Morgan; 1898 and 1912). Directory, Montreal, 1863/64, 1867/68. S. [R.] Goelman, William Raphael, r.c.a. (1833–1914) (exhibition catalogue, Walter Klinkhoff Gallery, Montreal, 1996); "William Raphael, r.c.a. (1833–1914)" (ma thesis, Concordia Univ., Montreal, 1978). J. R. Harper, Early painters and engravers in Canada (Toronto, 1970). Journal of Anatomy and Physiology (London), 13 (1879), plate no.17. Montreal General Hospital, Reports, Clinical and Pathological, ed. William Osler, 1 (1880): 192, 206, 232. "William Osler and William Raphael," Osler Library Newsletter (Montreal), nos.83/84 (1996–97): 1–3.
© 1998–2023 University of Toronto/Université Laval
Cite This Article
Sharon Rose Goelman, "RAPHAEL, WILLIAM," in Dictionary of Canadian Biography, vol. 14, University of Toronto/Université Laval, 2003–, accessed October 1, 2023, http://www.biographi.ca/en/bio/raphael_william_14E.html.
The citation above shows the format for footnotes and endnotes according to the Chicago manual of style (16th edition). Information to be used in other citation formats:
| | |
| --- | --- |
| Permalink: | http://www.biographi.ca/en/bio/raphael_william_14E.html |
| Author of Article: | Sharon Rose Goelman |
| Title of Article: | RAPHAEL, WILLIAM |
| Publication Name: | Dictionary of Canadian Biography, vol. 14 |
| Publisher: | University of Toronto/Université Laval |
| Year of publication: | 1998 |
| Year of revision: | 1998 |
| Access Date: | October 1, 2023 |