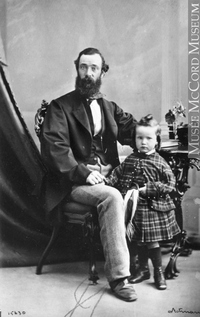 Source: Link
ROSS, PHILIP SIMPSON, accountant, businessman, and office holder; b. August 1827 in Belfast; m. 1856 Christina Chalmers Dansken in Portland, Maine, and they had five sons and three daughters; d. 1 Feb. 1907 in Montreal.
Philip Simpson Ross liked to emphasize that he was of Scottish descent. At the time of his birth his parents were in Belfast, where his father, a Scot serving in the British army, was stationed. "I claim," he later insisted, "notwithstanding the accident of my birth in Ireland, I am a Scotsman." Educated in Glasgow, he was employed as a bookkeeper at the Monkland Iron and Steel Company before emigrating in 1851. He eventually settled in Montreal, where he found work as an accountant at the Montreal Marine Works, the shipyard of Augustin Cantin*.
Ross was a direct, matter-of-fact man whose pragmatic approach to life was evident even in his marriage proposal. According to family tradition, he sent the names of three young women in Scotland to his former minister there and asked the minister to propose in his name, specifying that he had no preference in the matter. Christina Chalmers Dansken accepted and they were married within an hour of her arrival by ship in Portland. In 1858 Ross left the Montreal Marine Works to set up an independent accounting service in an office on Rue des Sœurs-Grises near the waterfront. Demand for accounting services was slight during the mid 19th century. Most businesses were still individual enterprises or partnerships. Few were accountable to shareholders and none were required to file tax returns. They had their own bookkeepers, kept their accounts private, and had little wish or need for outside services. Ross therefore advertised as a commission merchant and customs agent, as well as an accountant.
Shortly after opening his office Ross realized that he would need additional income. Around 1860 he went into partnership with his brother James; the firm of P. S. Ross and Brother, ship chandlers, was located at his office. Even this venture met with difficulty. In 1863 the dishonesty of an unnamed associate put him $30,000 in debt. He was able to make arrangements with his creditors, however, and resumed business. In 1872 another brother, William, joined the firm.
An opportunity to expand his accounting business came in 1875, when the Canadian government implemented its recent insolvency act, which provided for the appointment of "official assignees" to administer the assets of insolvent businesses. Ross was eager for an appointment – so eager, in fact, that he was among the first official assignees. The appointment enabled him to give up the business of ship chandler around 1879 or 1880 and devote himself to accountancy and the duties of his post. It may also have helped him to recover from losses he had sustained during the depression of the mid 1870s. Untimely real estate investments in Saint-Henri (Montreal) during that period had brought him close to bankruptcy once again.
Ross's professional career spanned a period which witnessed the formation of large joint-stock companies. He thus had the opportunity to become the accountant for several of these new corporations at their beginnings. Some of those that employed him, such as Sun Mutual Life Insurance Company of Montreal and Bell Telephone Company of Canada, grew to be among the largest in the country. Ross's firm expanded with them, until it became one of Canada's pre-eminent practices. In the early years he was able to complete the audits of these companies himself. Eventually three of his sons joined him, forming P. S. Ross and Sons. Although he continued to maintain an active interest in the firm until his death, he turned the management of the business over to them in 1890. The firm continued to bear his name until its merger in 1958 with George A. Touche and Company; it soon became Touche Ross and Company, one of the largest accounting firms in Canada.
Ross played an important role in the development of accountancy as a profession. When he began practice in 1858 anyone could claim to be an accountant. There were no accountants' organizations, required qualifications, or ethical standards. Ross worked together with his friend James Court to bring some order into the profession. On 11 June 1879 they assembled 11 other accountants to form an association. The group was granted a provincial charter on 24 July 1880, incorporating the Association of Accountants in Montreal. Only members of this association would have the right to use the designation "Chartered Accountant" after their names. It was the first organization of chartered accountants to be incorporated in North America.
Court, who was Ross's senior, was elected president of the association; Ross became vice-president. When Court died three years later, Ross succeeded him as president. He remained at the post for the next 13 years – the longest presidency the association would have. During his tenure he guided the organization through its formative years. The association would broaden its scope to cover the entire province and, after several name changes, would become in 1978 the Ordre des Comptables Agréés du Québec.
Ross played an active role in a variety of business and social endeavours. He served as secretary of the Canada Iron Mining Company, the Canada Insurance Union, and the Windsor Hotel Company. He was a member of the Montreal Board of Trade and was treasurer of the Natural History Society of Montreal.
In his concern to establish high ethical standards for accountancy Ross revealed his own religious convictions. He was active in the work of the Presbyterian Church and gave freely of his services as auditor of the temporalities board of the Presbyterian Church in Canada. For 30 years he was the voluntary auditor of the church's fund for the widows and orphans of its ministers. In 1862 he was one of the founders of the Montreal Sailors' Institute [see Andrew Allan] and he served as its secretary for many years. When the institute, which attempted to save sailors from the temptations of the waterfront, accumulated a deficit and contemplated closing, Ross, although far from rich at the time, paid off the debts himself.
Cherishing his private life, Ross detested publicity. Often he was heard to say, "Thank God I was never minded to get mixed up in politics and that dirty business." At his death, which occurred at age 79, the Montreal Daily Herald remarked that while he was a man preferring to live in the quietude of his home, "nevertheless no good work in the way of church, charitable or educational interests ever came his way which failed to enlist promptly and largely his time, energy and money."
Ross's historical position rests not only on the founding of one of Canada's principal accounting firms, but on his prominent role in enabling accountancy to take its place among Canada's recognized professions.
Mount Royal Cemetery Company (Outremont, Que.), Burial reg. Samson Bélair/Deloitte & Touche Arch. (Montreal), Minute-books; P. S. Ross and Sons files; G. M. Smith, "The annals of Touche Ross" (typescript, n.d.). Montreal Daily Herald, 4 Feb. 1907. Canadian men and women of the time (Morgan; 1898). E. A. Collard, First in North America: one hundred years in the life of the Ordre des Comptables Agréés du Québec (Montreal, 1980); Stories about 125 years at Touche Ross [Toronto], 1983). Directory, Montreal, 1852–1907.
© 1994–2023 University of Toronto/Université Laval
Cite This Article
Edgar Andrew Collard, "ROSS, PHILIP SIMPSON," in Dictionary of Canadian Biography, vol. 13, University of Toronto/Université Laval, 2003–, accessed September 27, 2023, http://www.biographi.ca/en/bio/ross_philip_simpson_13E.html.
The citation above shows the format for footnotes and endnotes according to the Chicago manual of style (16th edition). Information to be used in other citation formats:
| | |
| --- | --- |
| Permalink: | http://www.biographi.ca/en/bio/ross_philip_simpson_13E.html |
| Author of Article: | Edgar Andrew Collard |
| Title of Article: | ROSS, PHILIP SIMPSON |
| Publication Name: | Dictionary of Canadian Biography, vol. 13 |
| Publisher: | University of Toronto/Université Laval |
| Year of publication: | 1994 |
| Year of revision: | 1994 |
| Access Date: | September 27, 2023 |