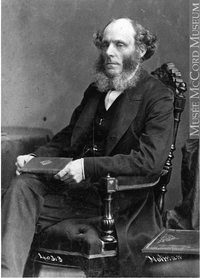 Source: Link
STAIRS, WILLIAM JAMES, merchant, banker, and politician; b. 24 Sept. 1819 in Halifax, third child of William Machin Stairs* and Margaret Wiseman; m. there 16 June 1845 Susan (Susanna) Duffus Morrow, and they had 13 children; d. there 27 Feb. 1906.
When William James Stairs was born his father, a merchant, was scrounging for business, having been brought nearly to bankruptcy as a result of the postwar recession. During the 1820s, however, the health of W. M. Stairs's business improved considerably, and by 1832 he was in a position to remove his eldest son from the Halifax Grammar School, where he had commenced his education, to Horton Academy in Wolfville. Young William had a flair for classical scholarship and would have preferred to have taken a college course, but his father was reluctant to educate him beyond what was necessary for a career in business or appropriate to the heir of a merchant gentleman. In 1834 William was brought back to Halifax to join the family firm as an accounting clerk. Seven years later, having reached his majority, he was made a partner; his younger brother John became a partner in 1844. When their father decided in 1847 to divide the hardware and ship chandlery aspects of his business, the latter became a subsidiary under the name William J. Stairs and Company. In 1853 John went into business for himself, and the following year Robert Morrow, William Machin's son-in-law, became a partner. The firm was then known as William Stairs, Son and Morrow, a name it would retain until its demise in 1976.
W. M. Stairs died in 1865, leaving his eldest son as sole executor and principal beneficiary of his $248,000 estate. Stairs replaced his father on the board of directors of the Union Bank of Halifax and began to turn away from exclusive concentration on merchandising towards manufacturing and finance. The Dartmouth Rope Works, a subsidiary of the family firm, started operations in 1869, and was placed under the management of his 21-year-old son John Fitzwilliam. Within a decade it had become the largest rope factory in Canada, and in 1890 it was the country's largest manufacturer of binder twine. William Stairs, Son and Morrow was among the original shareholders in the Nova Scotia Steel Company of New Glasgow, incorporated in 1882. Subsequently W. J. Stairs exploited his position as president of the Union Bank from 1883 to 1898 to encourage investment in local industry. In 1900 William Stairs, Son and Morrow was incorporated by statute as a limited liability company with a capital stock of $500,000. The board of directors consisted of Stairs, his sons John Fitzwilliam, James Wiseman, and Edward, and Robert Morrow's son Geoffrey. Stairs was also a director of the United Fire Insurance Company of London, England, and the Halifax Gas Light Company, and vice-president of the Starr Manufacturing Company of Dartmouth, famous worldwide for its skates.
Though Stairs served two terms as an alderman on the Halifax city council between 1855 and 1857, his political career did not begin in earnest until the mid 1860s. He had inherited from his father an abiding personal and political loyalty to Joseph Howe*, which brought him to the forefront of the anti-confederation movement. At the series of great public debates held at Temperance Hall, Halifax, in December 1864 and January 1865 Stairs addressed the economic consequences of union with Canada, arguing that the Maritime provinces would have to shoulder the burden of higher Canadian tariffs and taxation and help fund the proportionally much heavier Canadian debt. When the Anti-Confederation League (also called the League of the Maritime Provinces) was organized at Halifax in the summer of 1866, Stairs was appointed first vice-president. After confederation had been achieved, he served as chairman of the Repeal Association.
The anti-confederates were lopsidedly victorious at the polls in September 1867, but Stairs had declined to stand for election to either the House of Commons or the House of Assembly, and he only reluctantly accepted appointment to the provincial Legislative Council in January 1868. Stairs was virtually the only member of Halifax's commercial élite who supported Howe's decision in 1869 to seek "better terms" for Nova Scotia within confederation and enter the federal cabinet; thereafter Stairs's position as a councillor became increasingly untenable. Howe for his part was eager to advance the political careers of his few remaining friends and allies in Nova Scotia, but Stairs was constrained by the pressure of business to refuse Howe's offer of appointment to the Senate. He was likewise compelled to withdraw from a royal commission on canals, to which he was appointed in November 1870 by Prime Minister Sir John A. Macdonald*. His sudden resignation from the council in the midst of the legislative session of 1871 was precipitated by Attorney General Martin Isaac Wilkins*'s bill to disenfranchise federal employees before the upcoming provincial general election. Stairs attended the council for the last time on 31 March. His brief political career is noteworthy for his having resigned on a matter of principle and for his having placed personal above party loyalty in his unshaken attachment to Howe.
Stairs involved himself in many public institutions. He was commissioned a second lieutenant in the militia in 1839, and rose to lieutenant-colonel in 1862. He also served as a long-time member of the executive committee and as president of the Halifax Chamber of Commerce, and as member and quondam chairman of the Point Pleasant Park Commission. His having been a director of the Halifax Protestant Industrial School, a trustee of the Halifax Grammar School, and a member of the board of governors of Dalhousie University demonstrates Stairs's lifelong commitment to education.
As a corporate financier, industrialist, and politician, Stairs was eclipsed in his lifetime by his eldest surviving son, John Fitzwilliam. Nevertheless, at the end of the 19th century Stairs was generally recognized as the father of eastern Canadian finance capitalism. His corporate investments, which included nearly 25 per cent of the stock of William Stairs, Son and Morrow Limited, were diverse and substantial, and he left an estate valued at some $558,000. In 1898, the year of his retirement from the presidency of the Union Bank, Stairs had been one of only four Haligonians estimated as being worth more than $400,000. The family firm, which he as the "Son" in William Stairs, Son and Morrow had built into the largest mercantile house east of Montreal, would be owned and controlled by his direct descendants until 1972. It continues to operate in metropolitan Halifax under the name Bird-Stairs, a division of J. W. Bird and Company Limited of Fredericton.
[A portrait of William James Stairs, executed while he was president of the Union Bank of Halifax, was donated by his son Edward to the government of Nova Scotia in 1910; its present location is unknown.
Stairs's papers are preserved among the Stairs family fonds (MG 1, 3250–90), which constitute ser.A of the Stairs family archive on deposit at the PANS. A comprehensive selection from this series was published posthumously by the subject's children as Family history, Stairs, Morrow; including letters, diaries, essays, poems, etc. (Halifax, 1906). Stairs's correspondence with Joseph Howe during the period 1866–69 is in the Howe papers at NA, MG 24, B29, 4: 89–138, 361, 688–90; 9: 657–64; 26A: 232–37, 242–45, 250–51 (available on microfilm at PANS). Howe's letters to Stairs have been published in "Joseph Howe and the Anti-Confederation League," ed. L. J. Burpee, RSC Trans., 3rd ser., 10 (1916–17), sect.ii: 409–73. Extant records of William Stairs, Son and Morrow Limited are divided among Dalhousie Univ. Arch. (Halifax), MS 4-6; PANS, MG 3 (vols.632–38, 3872, 3874–75, 3877, 3918–74, 5005–16, 5024–28); and ser.E of the Stairs family archive in PANS, MG 1 (vols.3265–77). j.b.c.]
Halifax County Court of Probate (Halifax), Estate papers, no.6217. J. M. Beck, Joseph Howe (2v., Kingston, Ont., and Montreal, 1982–83), 2. [G. G.] Patterson, "Joseph Howe and the Anti-Confederation League," Dalhousie Rev., 10 (1930–31): 397–402. J. S. Scott, "The spiritual history of a business," Port and Prov. (Halifax), 3 (1935), no.3: 15–28.
© 1994–2023 University of Toronto/Université Laval
Image Gallery

Cite This Article
J. B. Cahill, "STAIRS, WILLIAM JAMES," in Dictionary of Canadian Biography, vol. 13, University of Toronto/Université Laval, 2003–, accessed September 24, 2023, http://www.biographi.ca/en/bio/stairs_william_james_13E.html.
The citation above shows the format for footnotes and endnotes according to the Chicago manual of style (16th edition). Information to be used in other citation formats:
| | |
| --- | --- |
| Permalink: | http://www.biographi.ca/en/bio/stairs_william_james_13E.html |
| Author of Article: | J. B. Cahill |
| Title of Article: | STAIRS, WILLIAM JAMES |
| Publication Name: | Dictionary of Canadian Biography, vol. 13 |
| Publisher: | University of Toronto/Université Laval |
| Year of publication: | 1994 |
| Year of revision: | 1994 |
| Access Date: | September 24, 2023 |