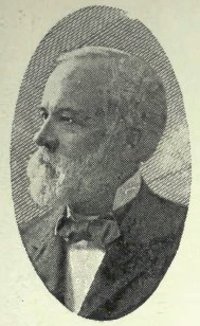 Source: Courtesy of Wikimedia Commons
STOCKTON, ALFRED AUGUSTUS, lawyer, professor, politician, and writer; b. 2 Nov. 1842 in Studholm Parish, N.B., son of William Augustus Wiggins Stockton and Sarah Oldfield; m. 5 Sept. 1871, in Halifax, Amelia Elizabeth Pickard, daughter of the Reverend Humphrey Pickard*, and they had ten children; d. 15 March 1907 in Ottawa.
Alfred Stockton's New Jersey ancestors migrated as loyalists to one of the most fertile tracts of New Brunswick, where for generations they held the militia and parochial offices that were the badges of the rural gentry. Educated first at Mount Allison Wesleyan academy and college in Sackville, Stockton pursued higher studies with an ma from Mount Allison in 1867 and an llb and earned lld from Victoria University (Cobourg, Ont.) in 1869 and 1887. In 1883 the busy Stockton also obtained a phd by examination and dissertation from Illinois Wesleyan University (Bloomington, Ill.). Having been articled to his uncle the Saint John lawyer Charles Wesley Stockton, he had been admitted an attorney in 1867 and called to the New Brunswick bar the year following.
Stockton made his living as one of Saint John's leading lawyers. His most famous – albeit unsuccessful – case, tried on appeal in 1892, resulted in judicial acceptance of the "independence and autonomy" of the provincial level of government as one of the cornerstones of Canadian constitutional law and took Stockton before the Judicial Committee of the Privy Council. His appointment in 1879 as deputy registrar of the Vice-Admiralty Court at Saint John had allowed him to become probably the country's foremost authority in maritime law, an expertise he poured into the copiously edited Reports of cases decided in the Vice-Admiralty Court of New Brunswick from 1879 to 1891 . . . and a full digest of all Canadian vice-admiralty cases (Saint John, 1894). He had also prepared elaborate annotation for the 1882 edition of the New Brunswick Reports of George Frederick Street Berton*.
The lectures which Stockton and others presented at Mount Allison in 1891 were probably the first college-level instruction in law ever offered in the province. His talks on the same subject to the Saint John Law Students' Association in 1882 and 1890 and for the University of New Brunswick's "extension" lectures there in 1892 were among forces which led to the opening of the Saint John Law School, later the University of New Brunswick faculty of law, in October of that year. Recruited to its staff by Isaac Allen Jack, he taught constitutional and admiralty law at the new institution for 14 years. Students recalled him as a thick-set but handsome man with a "melodious barytone voice" and an affable disposition.
Stockton's service to legal education continued despite an active career in electoral politics. In the political contests of the 1860s he had been an anti-confederate, and he remained sternly critical of New Brunswick's place in the dominion and a proponent of Maritime union. In 1868 he joined John Valentine Ellis* and other antis in forming the New Brunswick League, an incipient repeal movement reacting against federal tariff policies. In 1883 he entered the House of Assembly in a Saint John by-election, and he would sit until defeated narrowly in 1899. At first he was a supporter of the Liberal-dominated coalition of Andrew George Blair, but Blair's decision in 1889 to make a place for Solicitor General Robert John Ritchie as police magistrate of Saint John by ousting the much-respected Benjamin Lester Peters prompted Stockton to resign and thus helped precipitate the 1890 general election. Stockton led the campaign that turned the six Saint John seats against the government and nearly cost Blair his office.
Stockton was subsequently recognized as leader of the opposition and came to be regarded as a Conservative provincially. He also broke with the federal Liberals in 1891 over what he saw as the annexationist tendency of the reciprocity proposal of that year and, like many other former Saint John opponents of the National Policy, joined the Liberal Conservatives. Following his provincial defeat Stockton contested the Saint John federal seat for the Conservatives, unsuccessfully in 1900 but winning election in 1904. He was still an mp at his death.
True to their Liberal formation, Stockton's political ideas display a strong democratic tinge. He upheld the principle of universal suffrage and favoured elective lieutenant governors and senators. As early as 1886 he urged the New Brunswick assembly to grant the vote to all adult women; he introduced resolutions in support of female enfranchisement in at least 1889, 1894, 1895, and 1897. His rationale was both progressive – that history was the story of the gradual elevation of women towards equality – and utilitarian. "Women," he urged, "were specially interested in temperance and educational questions, and . . . in these matters the province would be the gainer by giving the legislative franchise to women." While Stockton's resolutions were neither the earliest nor the most radical New Brunswick proposals, and while they were unsuccessful (albeit narrowly), his status as leader of the opposition made him the foremost legislative spokesman for woman's suffrage in the 1890s.
The evidence of the earned doctorates and copiously edited law reports suggests the truth of Robert Laird Borden*'s remark that Stockton was "a man for whom, probably, the world of letters and scholarship had more attraction than political life." Though his "voluminous and admirable" library was destroyed in the great fire of 1877, he was able to leave to the Free Public Library of the City of Saint John 16 bound volumes of pamphlets that included unique imprints by James Glenie* and Edward Winslow*. As early as 1871 he and George Wheelock Burbidge had intended to acquire George Stewart's distinguished magazine and make it a "New Brunswick Quarterly." This ambition was disappointed, but Stockton did become an editor of the Maritime Monthly when it appeared in Saint John in 1873 and was corresponding editor of Montreal's Revue critique de législation et de jurisprudence du Canada. Towards the end of his life he gave financial support to David Russell Jack* in publishing Acadiensis (Saint John), and it was in this connection that Stockton was to make perhaps his most enduring contribution.
At his death in 1892 Joseph Wilson Lawrence* had entrusted Stockton with his massive research notes on New Brunswick's pre-confederation judiciary. In 1904, at Jack's urging, Stockton at last began working Lawrence's ill-digested corpus into form for serialization as an Acadiensis supplement entitled "The judges of New Brunswick and their times." To Lawrence's text Stockton added discursive annotation that sometimes overwhelmed what it was ostensibly to amplify. Despite the fact that Stockton was a legal scholar rather than a student of history, this annotation proved a great strength of the final work. The last few chapters, left unwritten at Stockton's own death, were supplied by William Odber Raymond*.
Stockton's 1883 phd thesis for Ill. Wesleyan Univ., Bloomington, is entitled "Ancient Mexico and the fall of the Aztec dynasty." In addition to the works mentioned in the text his publications include The rules and regulations of the courts of vice-admiralty in the British dependencies . . . ([Saint John, N.B.?], 1876) and a collection of occasional essays issued as The Monroe doctrine and other addresses (Saint John, 1898). The judges of New Brunswick and their times was published posthumously in monograph form ([Saint John, 1907]), and has been reprinted with an introduction by David Graham Bell (Fredericton, 1983 [actually published in 1985]).
PANB, RS32, C, 12. Univ. of King's College Library (Halifax), Univ. of King's College, board of governors, minutes and proc. (mfm. at PANS). Colonial Farmer (Fredericton), 18 Sept. 1871. Daily Sun (Saint John), 21 Jan. 1881, 28 Feb. 1882; continued as St. John Daily Sun, 5 April, 14 May 1889; 11, 28 Jan. 1890; 16, 21 Feb., 1 March 1892; 18 April, 30 Nov. 1894; 23 Feb. 1895; and as Sun, 16 March 1907. New Dominion and True Humorist (Saint John), 16 Dec. 1871. Progress (Saint John), 2 March 1895. Saint John Globe, 20 June 1867, 5 July 1879, 7 July 1882, 30 Jan. 1899. Argosy, (Sackville, N.B.), 26 (1899–1900), no.7. W. P. Bell, A genealogical study (Sackville, 1962). Biog. rev. of N.B. (Jack). Can., House of Commons, Debates, 15 March 1907. Elections in N.B. Hannay, Hist. of N.B., vol.2. Liquidators of the Maritime Bank of Canada v. Receiver-General of New Brunswick, [1892] Appeal Cases (London), 437–44, esp. 442. Reid, Mount Allison, vol.1. George Stewart, The story of the great fire in St. John, N.B., June 20th, 1877 (Toronto, 1877). T. C. Stockton, The Stockton family of New Jersey, and other Stocktons (Washington, 1911). R. G. Thorne, "Aspects of the political career of J. V. Ellis, 1867–1891" (ma thesis, Univ. of N.B., Fredericton, 1981). Elspeth Tulloch, We, the undersigned: a historical overview of New Brunswick women's political and legal status, 1784–1984 (Moncton, N.B., 1985). Univ. of King's College, Windsor, N.S., School of Law (Saint John), Calendar (Halifax), 1892/93–1895/96 (copies in UNBL, Law Library).
© 1994–2023 University of Toronto/Université Laval
Image Gallery

Cite This Article
D. G. Bell, "STOCKTON, ALFRED AUGUSTUS," in Dictionary of Canadian Biography, vol. 13, University of Toronto/Université Laval, 2003–, accessed October 4, 2023, http://www.biographi.ca/en/bio/stockton_alfred_augustus_13E.html.
The citation above shows the format for footnotes and endnotes according to the Chicago manual of style (16th edition). Information to be used in other citation formats:
| | |
| --- | --- |
| Permalink: | http://www.biographi.ca/en/bio/stockton_alfred_augustus_13E.html |
| Author of Article: | D. G. Bell |
| Title of Article: | STOCKTON, ALFRED AUGUSTUS |
| Publication Name: | Dictionary of Canadian Biography, vol. 13 |
| Publisher: | University of Toronto/Université Laval |
| Year of publication: | 1994 |
| Year of revision: | 1994 |
| Access Date: | October 4, 2023 |