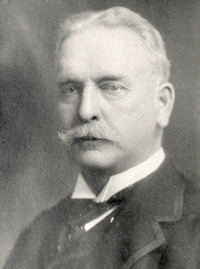 Source: Courtesy of Wikimedia Commons
WARBURTON, ALEXANDER BANNERMAN, lawyer, politician, judge, and author; b. 5 April 1852 in Charlottetown, son of James Warburton and Martha C. Green; m. there first 23 Aug. 1883 Helen M. Davies (d. 1884); m. there secondly 26 Oct. 1889 Isabel Cogswell Longworth, daughter of John Longworth*, and they had three daughters; d. there 14 Jan. 1929.
Alexander Bannerman Warburton was born while his father James was a member of Prince Edward Island's first responsible, and reform, government. James had been born in Garryhinch, in the town of Portarlington (Republic of Ireland), and had come to the Island in 1834 to settle in Prince County. A. B. Warburton's given names commemorated Sir Alexander Bannerman*, a lieutenant governor of the Island. He grew up on the family farm in St Eleanors and was a pupil at Summerside Grammar School before attending St Dunstan's College in Charlottetown for two years in the late 1860s. A brilliant pupil, he carried on in 1869 to King's College in Windsor, N.S., where he won the Almon-Welsford prize in his first year for the highest aggregate average; it was also the highest aggregate ever achieved at King's. He won the General Williams prize in engineering as well.
After two years at King's, Warburton enrolled in the University of Edinburgh, where he studied arts and classics. He subsequently attended Walter Wren's school in London before taking his ba at Windsor in 1874. Upon returning to the Island, he was appointed secretary of the Queens County Liberal Association and read law with Louis Henry Davies. In 1876 he took a bcl from King's, collecting the Bishop's prize in the process, and then read law with George Baugh Allen at the Inner Temple in London. He was admitted to the bar of the Island in 1879, and would later become associated in practice first with Francis Joseph Conroy and then in turn with Charles Robert Smallwood, Donald Alexander MacKinnon, and D. Edgar Shaw. In 1897 he was appointed a qc. His major early contribution to the law was his collaboration with Francis Longworth Haszard* on a two-volume series of reports on the Island's Supreme Court cases, chiefly those of judge James Horsfield Peters*.
Active in local affairs, Warburton served as secretary-treasurer of the Charlottetown Driving Park and Exhibition Association of Prince Edward Island. An ardent conservationist, in 1884 he managed a project of tree planting in Charlottetown that beautified Queen and Rochford squares. In 1903 he would be appointed to the Island's three-member Forestry Commission, and by 1905 he had joined the Canadian Forestry Association, which he would serve as a provincial vice-president for two terms from 1910 to 1912. A member of St Paul's Anglican Church, he was for many years a delegate to synod. Warburton also acted as a director of the Patriot Publishing Company (which issued the leading Liberal newspaper on the Island) and of the Eastern Assurance Company of Canada. He was a governor of King's College in Windsor, and president of the Liberal Association of West Queens.
In 1890 Warburton ran as a free-trade Liberal candidate for the provincial legislature in Charlottetown, but was defeated. Successful in Queens County, 1st district, in 1891 and 1893, he was re-elected in 1897, when he briefly became leader of the party and premier of the province upon the resignation of Frederick Peters. While premier he struggled with the ongoing problems of finance and dominion-provincial relations without great success. Not even the presence of his former mentor, Sir L. H. Davies, in Ottawa as part of the Liberal government of Sir Wilfrid Laurier* was much help in obtaining assistance for the Island. Warburton's administration did not distinguish itself in any way, and even the biographical sketch he wrote for the 1912 edition of Henry James Morgan*'s Canadian men and women of the time does not list any achievements of his premiership. Not surprisingly, in 1898 he stepped down, to be succeeded by Donald Farquharson*. He then took up an appointment as judge of the county court of Kings. Unlike most Island judges, however, Warburton did not give up his political activities. He was mayor of Charlottetown from 1901 to 1904 and a member of the city's Board of School Trustees in 1904. That same year he resigned his seat on the bench and ran unsuccessfully with Lemuel Ezra Prowse as a federal Liberal candidate in Queens.
Warburton had always had scholarly ambitions, and he published several historical and historical-literary studies in the Prince Edward Island Magazine and Acadiensis in the early 1900s. During the period after his defeat for the House of Commons, he collaborated with D. A. MacKinnon, then lieutenant governor, and others on a history of Prince Edward Island, to which were appended biographical sketches of over 500 prominent Islanders of the past and present. This sort of production was common for most Canadian provinces in the early years of the 20th century. Warburton wrote the opening "Historical sketch," which took the story to 1830 but not beyond. He admitted to difficulty in doing his research. "No complete copies of the early records are to be had on the Island," he noted. "The old newspaper files are very incomplete, and very few of the Journals of the House of Assembly, of the period treated of, are to be found." Warburton relied heavily on the published researches of scholars such as William Francis Ganong* and John Caven. He had access to a few transcripts of off-Island records, but he did not travel to London to examine the Colonial Office files in the Public Record Office. Nor did he make any attempt to improve the Island's historical collecting.
In 1908, standing again in Queens, Warburton was elected to the House of Commons, where he became chair of the committee on public accounts. He did not distinguish himself. His speeches recorded in Hansard were infrequent and pedantic. His major honour was to head the parliamentary delegation to the coronation of King George and Queen Mary in 1911, at which time he was presented at Buckingham Palace. He was not re-elected that year or in 1917. In 1920 he was appointed surrogate and judge of probate for the Island, and he served in this capacity until his death.
Warburton in 1923 published A history of Prince Edward Island from its discovery in 1534 until the departure of Lieutenant-Governor Ready in A.D. 1831. This work expanded at length on his earlier historical sketch, producing an account limited by the same problems of evidence. Warburton used some transcripts at the Public Archives of Canada, but the book was based largely on contemporary accounts and secondary sources; it thus perpetuated many of the old mistakes of Island historiography. He wrote somewhat apologetically in his preface, "I am well aware that there is much that could be added to this volume, if one could find the scattered material." Nevertheless, the book served until the 1970s as the fullest statement of the early history of the Island and, along with his court reports, represents Warburton's main claim to distinction.
Alexander Bannerman Warburton's writings include his History of Prince Edward Island, published in Saint John in 1923, and several articles: "Our educational system," Prince Edward Island Magazine (Charlottetown), 2 (1900–1): 279–80; "The sea-cow fishery," Acadiensis (Saint John), 3 (1903): 116–19, and Prince Edward Island Magazine, 5 (1903–4): 141–45; and "Great epochs in English literature and their causes: a sketch," Prince Edward Island Magazine and Educational Outlook (Charlottetown), 6 (1904–5): 212–17. He also collaborated on two publications: Reports of cases determined in the Supreme Court, Court of Chancery, and Vice Admiralty Court of Prince Edward Island . . . , comp. with F. L. Haszard (2v., Charlottetown, 1885–86), and Past and present of Prince Edward Island . . . , ed. with D. A. MacKinnon (Charlottetown, [1906]).
Charlottetown Guardian, 15 Jan. 1929. Examiner (Charlottetown), 23 Aug. 1883, 26 Oct. 1889. Islander (Charlottetown), 5 Aug. 1870. Patriot (Charlottetown), 15 Jan. 1929. Canadian directory of parl. (Johnson). Canadian men and women of the time (Morgan; 1912). Who's who and why, 1915/16.
© 2005–2023 University of Toronto/Université Laval
Image Gallery

Cite This Article
J. M. Bumsted, "WARBURTON, ALEXANDER BANNERMAN," in Dictionary of Canadian Biography, vol. 15, University of Toronto/Université Laval, 2003–, accessed October 4, 2023, http://www.biographi.ca/en/bio/warburton_alexander_bannerman_15E.html.
The citation above shows the format for footnotes and endnotes according to the Chicago manual of style (16th edition). Information to be used in other citation formats:
| | |
| --- | --- |
| Permalink: | http://www.biographi.ca/en/bio/warburton_alexander_bannerman_15E.html |
| Author of Article: | J. M. Bumsted |
| Title of Article: | WARBURTON, ALEXANDER BANNERMAN |
| Publication Name: | Dictionary of Canadian Biography, vol. 15 |
| Publisher: | University of Toronto/Université Laval |
| Year of publication: | 2005 |
| Year of revision: | 2005 |
| Access Date: | October 4, 2023 |