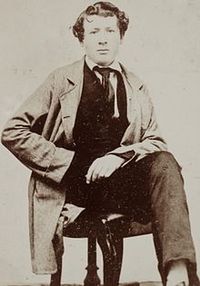 Source: Courtesy of Wikimedia Commons
MORGAN, HENRY JAMES, civil servant, author, and editor; b. 14 Nov. 1842 in Quebec, son of Robert Morgan, a constable, and Mary Ann Proctor; m. November 1873 Emily Richards (d. 1901), and they had a daughter and three sons; d. 27 Dec. 1913 in Brockville, Ont.
Henry James Morgan's parents were Scottish. His father, a veteran of the Napoleonic Wars, immigrated to Quebec in 1838 and died in 1846; his mother would die in 1864. Morgan's career as public servant, which began on 19 Nov. 1853 when he entered the Legislative Assembly as a page, was supplemented in the late 1850s with work as a parliamentary correspondent for several newspapers. He held the temporary position of sessional clerk from 1860 to 1864; in 1862 he interrupted this work to attend Morrin College in Quebec. He served as private secretary first to Isaac Buchanan*, during his term as president of the Executive Council (March–June 1864), and then to provincial secretary William McDougall* from November 1864 to confederation. Morgan continued as a clerk in the federal Department of the Secretary of State; in October 1873 he became a first-class clerk and assumed charge of Canada's state records. At about this time he studied law at McGill College in Montreal; he was called to the bar in 1873 in both Quebec and Ontario, but his aspirations remained with the public service. One of his most significant achievements there was the assembling and cataloguing of state records, an effort that helped lay the foundation for the later development of a national archives [see Douglas Brymner*].
Promoted chief clerk on 22 Dec. 1875, Morgan retained the position of records keeper until 1883. He was demoted to first-class clerk on 31 Jan. 1888 as a result of being accused of using state funds for his own purposes. This charge, apparently motivated by political rivalries, took Morgan and his friends several years to clear. His rise through the public service had been assisted by a network of influential persons whose favours he returned over the years by including them in his biographical works. He retired in 1895 and devoted the remainder of his life to writing.
Morgan's early efforts as an author and editor grew out of the spare time available to him as a clerk, his access to official records, and his circle of notable acquaintances. To create Sketches of celebrated Canadians (1862), a work that was partially subsidized by Isaac Buchanan, he corresponded with a broad range of people in the Canadas, the Maritimes, and elsewhere. The Canadian parliamentary companion, which he edited from 1862 to 1876, was a guide to legislatures throughout Canada; it also provided biographical and political information solicited from elected and appointed officials. The dominion annual register, edited by Morgan and various assistants from 1878 to 1886, was a yearly "record of all the material and important matters in a young nation's history." Associates of Morgan, among them Robert Bell and John George Hodgins, contributed chapters on their areas of expertise, including political occurrences, the development of Canadian institutions, and important legal cases.
In these publications, and in his work as a founding member of the Canada First movement in 1868 [see William Alexander Foster*], Morgan was an enthusiastic promoter of Canada. His Bibliotheca canadensis (1867), a bibliography of literary, historical, and political writings from 1763 to 1867, remains a valuable reference work on Canadian literature, broadly defined to embrace the popular, the official, and the little known. Morgan also edited the work of Thomas D'Arcy McGee* and published tributes to such persons as Benjamin Sulte*, Lord Elgin [Bruce*] and his family, and Sir Charles Tupper.
In his literary pursuits, Morgan's purpose seems always to have been twofold: to promote the political and cultural condition of Canadian society, and to provide a medium for the public appreciation of the individuals behind this development. This combination was Morgan's most important and durable contribution. Celebrated Canadians was a mixture of factual material from published sources and autobiographical accounts, some of it gathered from replies to loosely organized and vaguely worded requests from Morgan. The occasionally conflicting versions of events that were printed are evidence that he acted more as an uncritical compiler than as an editor. Infused into the work and Morgan's early patriotism was an anglocentric, conservative concern that the union of the Canadas was being threatened by regional and racial pressures. In several biographies he indulged in open criticism, castigating Louis-Joseph Papineau*, for instance, as a nationalist agitator and opponent of union.
After 1862 Morgan's method and style in this type of work became more systematic and objective. In his Parliamentary companion, The Canadian legal directory . . . (Toronto, 1878), and Canadian men and women of the time (1898 and 1912), he based his writing in part on the subjects' responses to printed questionnaires. This approach allowed for standardized sketches with information presented in routine sequence. For Morgan, a "man is born; goes to college; obtains a degree; enters a profession or business; is elected to parliament; is called to office; performs certain acts of administration; is elevated to the bench; marries; and so forth." Biographies of this nature constituted a series of personal achievements that were, simultaneously, contributions to Canadian society. Morgan did not work alone in these efforts. To assemble the largest possible number of entries he utilized a network of friends and contacts to recommend inclusions and draft biographies.
In contrast to his earlier practice, Morgan rarely allowed opinion to colour the events or achievements of these lives, except by appending selected evaluations of persons expressed elsewhere. Conscious of the tenuousness of his position as a civil servant, he left the Canada First movement when it became politically active and thereafter tried to suppress partisan sentiment in his works. Whatever the grounds for his demotion in 1888, his case could not have been helped by the provocative pamphlet he prepared at about this time under the pen-name Mufti dealing with the Jesuit estates question and "parliamentary corruption."
Differences between Morgan's early and later biographical work reflected too the internal development of Canada and its position in the world. In contrast to Celebrated Canadians, both editions of Canadian men and women contained few persons who were not living and active citizens; whereas the early work chiefly portrayed people who had immigrated, the later publications featured a significant proportion of educated and skilled Canadians making contributions elsewhere in the British empire and in the United States.
Morgan also sought to recognize the contributions of women. Although he claimed some sympathy for the women's movement, his Types of Canadian women . . . (Toronto, 1903) was little more than a vanity publication. The majority of the women in the volume were wives of members of Canada's political and business élites, and every entry is accompanied by a photograph or a portrait. The biographical sketches usually offer more information about the fathers and husbands of the subjects than about the women themselves. On the other hand, most of the female subjects in Canadian men and women were artists, performers, and authors, with a few professionals. As was the case with his sketches of men, Morgan's objective was to commend women whose skills and talents identified them with the development of the nation.
During Morgan's writing career, which lasted almost to the time he died, his works were widely recognized and used, especially by the press. He was awarded an lld by the College of Ottawa in 1903 and a dcl by King's College in Windsor, N.S., two years later; he became a member of the Royal Society of Canada in 1904. Morgan died in 1913 at his daughter's residence in Brockville and was buried at Beechwood Cemetery in Ottawa.
Henry James Morgan's Sketches of celebrated Canadians, and persons connected with Canada . . . (Quebec and London, 1862) was reprinted at Montreal in 1865, and a reprint of his Bibliotheca canadensis: or a manual of Canadian literature (Ottawa, 1867) appeared at Detroit in 1968.
Morgan was the editor of Thomas D'Arcy McGee's Speeches and addresses chiefly on the subject of British-American union (London, 1865), and the author of tributes to various individuals, among them The Elgin period: the late Honorable Mrs Robert Bruce, interesting reminiscences ([Ottawa, 1890]); Recollections of Father Dawson . . . (Ottawa, 1895); The writings of Benjamin Sulte (Milwaukee, Wis., 1898); and Ad multos annos: a tribute to Sir Charles Tupper on his political birthday, 1900 (Toronto, 1900). His papers are preserved in NA, MG 29, D61.
ANQ-Q, CE1-61, 6 janv. 1843, 4 févr. 1846; CE1-63, 26 nov. 1864. Brockville Times (Brockville, Ont.), 29 Dec. 1913. Can., Parl., Sessional papers, 1884, no.13, app.D; no.33; 1889, no.6b; 1895, no.16a. CPG, 1880: 27–28. J. C. Dent, The Canadian portrait gallery (4v., Toronto, 1880–81), 4. RSC, Trans., 3rd ser., 8 (1914), proc.: vii-ix. M. B. Taylor, Promoters, patriots, and partisans: historiography in nineteenth-century English Canada (Toronto, 1989).
© 1998–2023 University of Toronto/Université Laval
Image Gallery

Cite This Article
Robert Lanning, "MORGAN, HENRY JAMES," in Dictionary of Canadian Biography, vol. 14, University of Toronto/Université Laval, 2003–, accessed September 25, 2023, http://www.biographi.ca/en/bio/morgan_henry_james_14E.html.
The citation above shows the format for footnotes and endnotes according to the Chicago manual of style (16th edition). Information to be used in other citation formats:
| | |
| --- | --- |
| Permalink: | http://www.biographi.ca/en/bio/morgan_henry_james_14E.html |
| Author of Article: | Robert Lanning |
| Title of Article: | MORGAN, HENRY JAMES |
| Publication Name: | Dictionary of Canadian Biography, vol. 14 |
| Publisher: | University of Toronto/Université Laval |
| Year of publication: | 1998 |
| Year of revision: | 1998 |
| Access Date: | September 25, 2023 |