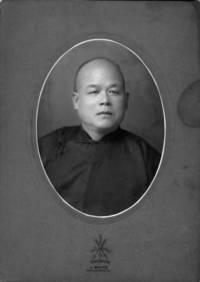 Source: Courtesy of Wikimedia Commons
YIP SANG ((Ye Sheng in Mandarin), also known as Yip Chun Tien (Ye Chuntian) and Yip Lin Sang (Ye Linsheng); he took the style name Yip Loy Yiu (Ye Lairao)), businessman, social reformer, and political activist; b. 6 Sept. 1845 in Shengtang village, Duhu county, Guangdong province (People's Republic of China); m. first Lee Shee (Li Shi); m. secondly Dong Shee (Deng Shi); m. thirdly Wong Shee (Wang Shi); m. fourthly Chin Shee (Jin Shi); he had 19 sons and 4 daughters; d. 20 July 1927 in Vancouver.
The career of Yip Sang illustrates the trans-Pacific family, cultural, and business ties that characterized the lives of most first-generation migrants from China during the 19th and early 20th centuries. He came to North America to escape poverty and unrest at home. His father, the son of a wealthy man, had become impoverished. The family's situation must have worsened when he died during Yip's boyhood. As a teenager Yip lost his mother as well. In 1864, after his older sister had been kidnapped by local bandits, he sold his possessions to buy passage to California. There he worked as a cook, dishwasher, cigar maker, and gold miner. After a time he had saved enough money to return to China for a visit, during which, according to family tradition, he saw a girl he promised himself he would marry. He returned to the United States, once again working as a cook. On his next trip to China he married the girl, who bore his first two children. She died after he went back to North America alone. He accordingly took a second wife. When she proved unable to manage a household he married for a third time.
Yip came to Canada in 1881 to work on the Cariboo goldfields. Unsuccessful there, he moved to what would become Vancouver and sold coal door to door until he was employed by the Canadian Pacific Railway Supply Company on a construction gang. He became the company's bookkeeper, timekeeper, and paymaster, and eventually its superintendent of Chinese labour. In 1885 he returned to China and took a fourth wife.
In 1888 Yip founded the Wing Sang Company in Vancouver. Like many Chinese firms at this time, Wing Sang engaged in a variety of enterprises. In addition to labour contracting, the company ran a trans-Pacific import and export business, pioneering the export of salt fish to various points on the Pacific rim, including Japan. It also played an important role in forwarding remittances from workers to their families in China and serving as a contact point for correspondence. Yip became the Chinese agent for the Canadian Pacific Railway Company, supplying its railway with construction labourers and its steamships with sailors and fresh produce. By 1908 his company was one of the four largest Chinese companies in Vancouver, with an annual revenue of $50,000 from its import-export business alone and real estate holdings worth over $200,000.
Yip, who became a naturalized British subject in 1891, was one of the most important leaders of Vancouver's Chinese community. He was instrumental in the formation of the Chinese Benevolent Association in Vancouver and the Chinese Board of Trade during the 1890s. These organizations subsequently defended the community from racism, governed its affairs, and established social institutions such as the Chinese hospital and the Chinese public school. Linked to the CPR and fluent in English, Yip also appears to have played a key role as a go-between with the dominant Anglo-European community in British Columbia. He proved to be a major witness for the federal royal commissions headed by the deputy minister of labour, William Lyon Mackenzie King*, in the wake of the anti-Asian riot in Vancouver in 1907. He testified to the decline of the labour-contract system as a result of the increase in the head tax imposed on Chinese immigrants in 1903. Yip also served as a life governor of the Vancouver General Hospital.
Yip played a particularly important role in the formation of the Chinese Empire Reform Association, the first modern Chinese political party, established by reformer Kang Youwei. Kang had fled China and had arrived in Victoria in 1899 en route to England following the failure of the reform movement in China the previous year. Yip Sang sent a close relative, Yip On, to receive Kang. Yip On became the principal organizer of the international association, which sought the establishment of a constitutional monarchy in China, while Yip Sang became president of the Canadian chapter. Although Kang Youwei had great prestige and was an internationally known figure, it is likely that Yip Sang's business contacts were principally responsible for the spread of the association in the overseas Chinese communities of the Pacific rim and the Americas. Certainly he and Yip On were instrumental in establishing the association's Commercial Corporation, which attracted a great deal of investment from these communities.
In 1901 Yip brought his entire family over from China. He established his three wives, their children, and various other close relatives, along with their servants, in the residence above his store at 51 Dupont (East Pender) Street. When these premises grew too small to accommodate the growing family, he had a six-storey dwelling built at the rear. Yip's grandson Harry Yip remembers that his grandfather established a strict curfew on the building's over 100 residents. At 10:00 p.m. Yip locked the door with the key of which he alone had a copy. Having gone from dire poverty to considerable respectability, he seems to have been determined to preserve his greatest asset, his family.
A firm believer in education, Yip served for ten years as principal of the Aiguo Xuetang, the school established by the Chinese Empire Reform Association in Vancouver about 1902. He insisted that his children be educated in both English and Chinese. He hired private tutors or sent them to the Aiguo Xuetang to ensure their Chinese education. Most also attended provincially controlled public schools and some went on to university. Apparently, with one exception, all of his family's girl house servants also attended school. His daughter Susan was one of the first Chinese Canadian women to attend university, enrolling at the University of British Columbia in 1915. In 1945 Kew Dock Yip, one of his sons, was the first Chinese Canadian to become a member of the bar.
In many ways Yip was ahead of his time. One of the first to seize on the significance of the Chinese reform movement, he appears to have shared Kang Youwei's views on women as well. Not only did he see to the education of his daughters, but as early as 1902, when the married women of Guangdong migrant communities were allowed few activities outside the home – they rarely even appeared in public unescorted by an adult male relative – two of his wives and at least one female relative through marriage were members of the Chinese Empire Reform Women's Association. In other respects, however, Yip, like Kang, was a stern Confucian patriarch. Presumably in an effort to escape succession duties, he bequeathed only token amounts to the 18 sons who survived him. Even though his estate was worth $78,000, he left nothing at all to his daughters.
At the time of his death Yip Sang was one of the foremost members of Canada's Guangdong migrant community. He had played a leading role as a labour contractor, an importer-exporter, and a political and community leader. He had also successfully established the largest Chinese family lineage in Canada, having over 660 living descendants by 1996.
BCA, GR-1415, file 12451. City of Vancouver Arch., Add. mss 1108 (Yip family and Yip Sang Ltd fonds). NA, MG 26, J4. Gordon Clark, "Man honored at family reunion," Province (Vancouver), 3 Aug. 1996. Peter McMartin, "The fabulous, overlooked life of Yip Sang," Toronto Star, 4 Dec. 1993. Can., Royal commission to investigate methods by which Oriental labourers have been induced to come to Canada, Report (Ottawa, 1908). Harry Con et al., From China to Canada: a history of the Chinese communities in Canada, ed. Edgar Wickberg (Toronto, 1982; repr., 1988). Ye Chuntian xiansheng chuanji [The biography of Mr Ye Chuntian] (Hong Kong, [1973]). Paul Yee, Saltwater city: an illustrated history of the Chinese in Vancouver (Vancouver, 1988).
© 2005–2023 University of Toronto/Université Laval
Cite This Article
Timothy J. Stanley, "YIP SANG (Ye Sheng, Yip Chun Tien, Ye Chuntian, Yip Lin Sang, Ye Linsheng, Yip Loy Yiu, Ye Lairao)," in Dictionary of Canadian Biography, vol. 15, University of Toronto/Université Laval, 2003–, accessed September 23, 2023, http://www.biographi.ca/en/bio/yip_sang_15E.html.
The citation above shows the format for footnotes and endnotes according to the Chicago manual of style (16th edition). Information to be used in other citation formats:
| | |
| --- | --- |
| Permalink: | http://www.biographi.ca/en/bio/yip_sang_15E.html |
| Author of Article: | Timothy J. Stanley |
| Title of Article: | YIP SANG (Ye Sheng, Yip Chun Tien, Ye Chuntian, Yip Lin Sang, Ye Linsheng, Yip Loy Yiu, Ye Lairao) |
| Publication Name: | Dictionary of Canadian Biography, vol. 15 |
| Publisher: | University of Toronto/Université Laval |
| Year of publication: | 2005 |
| Year of revision: | 2005 |
| Access Date: | September 23, 2023 |