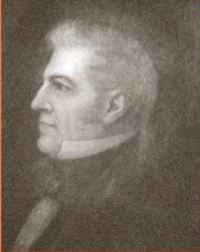 Source: Link
CALDWELL, WILLIAM, physician, surgeon, army officer, and teacher; b. 14 May 1782 in Kilmarnock, Scotland, third son and fifth child of George Caldwell and Jean Wilson; m. 23 Jan. 1822 Jane Douglass Sweeney in Montreal, and they seem to have had no children; d. there 25 Jan. 1833.
William Caldwell received his medical education at the University of Edinburgh, attending three sessions from 1800 to 1803, but he did not receive an md there. That degree he acquired later, on 24 Jan. 1817, by attestation from Marischal College, Aberdeen. After his studies at Edinburgh, he became a hospital mate in July 1804 and was made assistant surgeon to the 4th West India Regiment in December 1805. Promoted surgeon and attached to the Royal York Rangers in 1809, he was subsequently assigned to the 1st Foot and then to the 13th Light Dragoons. In 1813 he attained the rank of staff surgeon, serving that year and the next in the Peninsular War. He came to Lower Canada in the summer of 1815 and retired on half pay in December. After settling in St Andrews (Saint-André-Est), he moved to Montreal in 1817 and there was licensed by the medical examiners for the district on 25 June. He was living on Rue Saint-Jacques in 1819 when Montreal, with a population of about 20,000, counted 21 doctors. Within ten years he and Dr William Robertson* had the principal English practices in the city.
Two years after settling in Montreal Caldwell found himself a participant in a duel that has been described as one of the longest and fiercest ever fought in Canada. The controversy preceding it originated in a petition presented by John Molson* to the House of Assembly in January 1819, which drew attention to the lack of facilities for the sick in Montreal and requested financial aid to erect and endow a public hospital. The petition met with considerable opposition from those who feared that the installation would usurp the role played exclusively until then by the Hôtel-Dieu. The most vocal opponent was Michael O'Sullivan*, a member of the assembly. In a satirical and highly provocative speech, reported in detail in the local newspapers, O'Sullivan attacked the motives of those who advanced the proposal. One of these was Caldwell. In the exchange of correspondence that followed in the press, Caldwell did not confine himself to refuting O'Sullivan's arguments; he lost his temper and implied, in a letter published in the Canadian Courant and Montreal Advertiser on 10 April 1819, that O'Sullivan lacked courage. O'Sullivan promptly challenged Caldwell to a duel, which was fought the following day. As reported in the Quebec Gazette of the 15th, "Five shots were fired by each Gentleman; two of them have dangerously wounded Mr. O'Sullivan; Dr. Caldwell has received a shot in the arm, which is much shattered." Both men recovered, although O'Sullivan probably lived out his life in constant pain from a ball on the spine.
There is no evidence that the duel influenced the fate of the projected public hospital except perhaps by increasing bitterness and further diminishing the chances of financial support from the government. Nothing more was heard of the petition, and supporters of the plan fell back on the resources of the citizens of Montreal for funds to establish the Montreal General Hospital, which opened its doors on Rue Craig (Rue Saint-Antoine) in 1819 and then was moved to Rue Dorchester in 1822. Caldwell became one of the original medical officers. In 1823 a number of doctors from the hospital set up a medical school called the Montreal Medical Institution [see Andrew Fernando Holmes*], and Caldwell became instructor in the "Practice of Physic." According to one of his students, Aaron Hart David, he was "tall, erect and very gentleman-like, but he had a stern countenance, although of a very mild, amiable disposition, and was constantly doing good. He was keen in discernment, cool in judgment, sagacious in expedient, and kind in counsel, he was, in fact, a physician of the highest order." He was also an "impressive lecturer," but "from his severe cast of countenance most of the students were afraid to approach him."
In 1823 Caldwell was appointed an examiner of persons to be licensed in medicine in Lower Canada when Lord Dalhousie [Ramsay*] remodelled the examination board to consist only of medical officers of the Montreal General Hospital. Their right to teach and to license gave the staff of the hospital a virtual monopoly of entry into the medical profession, a situation that angered many other doctors in the city. When in 1831 a new law authorized licensed doctors in Montreal and Quebec to participate in the election of 12 members to a board of medical examiners for each district, Caldwell and his colleagues all suffered resounding defeats at Montreal.
Caldwell found himself involved in yet another controversy in the early 1830s. A pew-holder in the Scotch Presbyterian Church, later known as St Gabriel Street Church, he was a member of the temporal committee from 1830 to 1833. When the congregation divided over the choice of a minister, Edward Black* or Henry Esson*, Caldwell vigorously supported Esson. Violence occurred when Black's party took possession of the church, and Esson's people tried to gain admission by force. Prominent in the fray was Caldwell.
The Montreal Medical Institution had become the medical faculty of McGill College in 1829, whereupon Caldwell was appointed lecturer in, and later professor of, the principles and practice of medicine. However, his early death prevented him from playing a major role in the affairs of the college. In 1832 Lower Canada was racked with Asiatic cholera. It appeared in Montreal on 8 June and, according to Aaron Hart David, more than 4,000 of the city's 32,000 residents fell victim to the dread disease. After the first few weeks Caldwell, so fearless in defending his opinions before men, became frightened of cholera to such an extent that he sent David, his senior student, "to all and every one of his patients, no matter what the disease." David asserts that the intensity of Caldwell's terror produced the debility which, a few months later, resulted in gangrene of the lungs, but the hypothesis is scarcely credible. Whatever the cause of Caldwell's initial illness, his condition was worsened by typhus fever, which broke out in Montreal in the winter of 1832; four of his students died of it, as did Caldwell himself on 25 Jan. 1833.
[A portrait of William Caldwell painted by Andrew Dickson Patterson hangs in the McIntyre Medical Sciences Building at McGill Univ. (Montreal). It was done from a photograph of a portrait destroyed by fire in 1907; the identity of the original artist is not known. e.h.b.]
ANQ-M, CE1-125, 28 janv. 1833; CE1-126, 23 janv. 1822. Edinburgh Univ. Library, Special Coll. Dept., medical matriculation records, 1800–3. General Reg. Office (Edinburgh), Kilmarnock, reg. of births and baptisms, 26 May 1782. McGill Univ. Arch., Montreal Medical Instit. and McGill College Medical Faculty, minute-book, 1823–33. Canadian Courant and Montreal Advertiser, 10 April 1819. Montreal Gazette, 26 Jan. 1833. Quebec Gazette, 15 April 1819. Fasti academiae Mariscallanae Aberdonensis: selections from the records of the Marischal College and University, [1593–1860], ed. P. J. Anderson and J. F. K. Johnstone (3v., Aberdeen, Scot., 1879–98), 2: 149. William Johnston, Roll of commissioned officers in the medical service of the British army . . . (Aberdeen, 1917). Abbott, Hist. of medicine. R. Campbell, Hist. of Scotch Presbyterian Church. Ægidius Fauteux, Le duel au Canada (Montréal, 1934). R. P. Howard, A sketch of the late G. W. Campbell . . . being the introductory address of the fiftieth session of the medical faculty of McGill University (Montreal, 1882). M. E. [S.] Abbott, "Early American medical schools: the faculty of medicine of McGill University," Surgery, Gynecology and Obstetrics (Chicago), 60 (1935): 242–53. E. H. Bensley and B. R. Tunis, "The Caldwell–O'Sullivan duel: a prelude to the founding of the Montreal General Hospital," Canadian Medical Assoc., Journal (Toronto), 100 (1969): 1092–95. A. H. David, "Reminiscences connected with the medical profession in Montreal during the last fifty years," Canada Medical Record (Montreal), 11 (1882): 1–8. Édouard Desjardins, "Un duel résulta d'une polémique autour de l'Hôtel-Dieu et du Montreal General Hospital," L'Union médicale du Canada (Montréal), 100 (1971): 530–35. Sylvio Leblond, "La médecine dans la province de Québec avant 1847," Cahiers des Dix, 35 (1970): 69–95. B. R. Tunis, "Medical licensing in Lower Canada: the dispute over Canada's first medical degree," CHR, 55 (1974): 489–504.
© 1987–2023 University of Toronto/Université Laval
Cite This Article
Edward Horton Bensley, "CALDWELL, WILLIAM (1782-1833)," in Dictionary of Canadian Biography, vol. 6, University of Toronto/Université Laval, 2003–, accessed September 24, 2023, http://www.biographi.ca/en/bio/caldwell_william_1782_1833_6E.html.
The citation above shows the format for footnotes and endnotes according to the Chicago manual of style (16th edition). Information to be used in other citation formats:
| | |
| --- | --- |
| Permalink: | http://www.biographi.ca/en/bio/caldwell_william_1782_1833_6E.html |
| Author of Article: | Edward Horton Bensley |
| Title of Article: | CALDWELL, WILLIAM (1782-1833) |
| Publication Name: | Dictionary of Canadian Biography, vol. 6 |
| Publisher: | University of Toronto/Université Laval |
| Year of publication: | 1987 |
| Year of revision: | 1987 |
| Access Date: | September 24, 2023 |