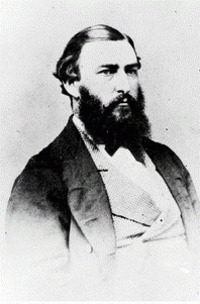 Source: Link
BREW, CHARTRES, gold commissioner and judge; b. 31 Dec. 1815 at Corofin, County Clare (Republic of Ireland), eldest son of the Honourable Tomkins Brew, stipendiary magistrate of Tuam, County Galway; d. 31 May 1870 at Richfield, B.C.
At age 20 Chartres Brew joined the volunteer British Legion which left England under George de Lacy Evans in 1835 to fight in the Carlist wars. After recovering from severe wounds, he entered the Royal Irish Constabulary in 1840. On the outbreak of the Crimean War in 1854 he volunteered for the commissariat, and on 1 Feb. 1856 became assistant commissary-general. Awarded the Crimean Medal with three clasps, he returned to Ireland to serve in the constabulary and in 1857 held the position of inspector in the city of Cork.
In August 1858 Brew was recommended to the colonial secretary, Sir Edward Bulwer-Lytton, for the office of chief inspector of police for the new gold colony of British Columbia at a salary of £500. Bulwer-Lytton had chosen to rely on stipendiary magistrates and a constabulary to maintain law and order among the thousands of miners arriving at the Fraser River goldfields. As inspector of police, Brew was to assist Governor James Douglas* in forming a force similar to the Irish Constabulary. Military protection (and duties such as surveying and road building) were to be provided for the colony by the Corps of Royal Engineers under Colonel Richard Clement Moody*. Brew left Southampton on 4 September and after a journey full of vicissitudes, including shipwreck, arrived at Victoria on 8 November. He immediately visited Langley and the diggings at Yale and on his return to Victoria requested permission to commence his duties.
Brew's initial plan was to have a police force of 150 men, trained and equipped locally, organized along military lines, and centrally controlled. Douglas doubted the wisdom of recruiting police from a mining population which included so many Americans and requested that 60 members of the Irish constabulary be sent to form a nucleus. In January 1859 Douglas learned that a bitter dispute had broken out between the justice of the peace at Hills Bar and the gold commissioner at Yale and that the notorious Ned McGowan, a refugee from California vigilante justice, was organizing his followers at Yale against constituted authority. On 10 January Douglas appointed Brew chief gold commissioner and ordered him to sail for Yale the same day with three constables. Though the trouble subsided, Brew recommended the establishment there of a force of 20 constables. The constables recruited from among the miners by the former gold commissioner, he reported, were "nearly all a worthless set of loungers." He had already succeeded in having two young Irishmen, Thomas Elwyn* and John Carmichael Haynes*, appointed constables and he added William George Cox* to their number. Brew now thought 150 Irish constabulary should be obtained for the colony and Douglas concurred, but when the cost was made clear and the British government refused to bear the expense, the plan was dropped.
Brew was far from happy about his unfulfilled expectations: his office had not materialized and his request for an allowance for expenses had been ignored. Douglas, in fact, had quietly absorbed him into the magistracy, though the appointment as chief gold commissioner was supposed to be temporary. During the 1859 mining season Brew found himself performing regular duties of a gold commissioner: collecting miners' licences, recording claims, and settling claims disputes. On 23 April 1859 Brew asked to be relieved of his duties. Instead Douglas kept him at Yale until May when he finally formally recognized his title as chief inspector of police. Although Brew kept up the struggle until October to have a police corps for the whole colony organized, no step was taken, and the magistrates in the gold districts continued to select their own constables, employing only those who were "absolutely and indispensably necessary." This situation remained until the fear of general Indian insurrection in spring 1864 led Governor Frederick Seymour to centralize the police force, put it under his own control, and fix the size of the constable establishment. It never became a paramilitary force, and although Brew kept the title and salary of inspector of police he had authority only over the constables in his own district.
Brew's abilities were such, however, that he came to be relied on for multifarious functions by Douglas and later by Seymour. In October 1859 he became chief magistrate at New Westminster. On 1 Sept. 1862 he was appointed acting treasurer of British Columbia to replace Captain William Driscoll Gosset and held the position for two years. For six months after Colonel Moody's departure from the colony, Brew served as acting chief commissioner of lands and works. Concurrently he was justice of the peace and judge of the small debts court. He was a natural choice for membership in the colony's first Legislative Council, and from 1864 until 1868 he served as an appointed member.
In addition, Brew's judicial and police experience continued to be appealed to. It was to Brew and the New Westminster Volunteer Rifle Corps that Seymour turned in 1864 when he feared the Indian uprising after the Bute Inlet attack [see Klatsassin; Alfred Penderell Waddington*]. Brew (accompanied by Seymour) led one expedition and W. G. Cox another to apprehend the murderers after they had scattered into the interior plains. Brew's party had to cross the Cascade Mountains and make a 250-mile march to Puntzi Lake to join Cox. In mid August, when the Indians' capture seemed imminent, Seymour departed, leaving Brew, "an experienced Magistrate, a man of admirable temper and discretion, full powers for holding a Court of Justice in the Chilcotin country."
In 1867 when a violent dispute over a claim on Grouse Creek led to the defiance of the gold commissioner's order by 500 miners, Seymour called upon Brew "to undertake another most disagreeable, dangerous and unhealthy duty." On 4 September Brew was ordered to replace Henry Maynard Ball as gold commissioner and take temporary charge of Cariboo. He accompanied Chief Justice Joseph Needham to Richfield for the investigation of the dispute, and remained at hand after Needham had resolved the "Grouse Creek War" by finding in favour of the company whose claim had been jumped. In October Brew was appointed county court judge, and his remaining days were spent as magistrate and gold commissioner at Richfield. There he developed a scientific interest in mining and secured the esteem and respect of the mining community by his impartiality. He supervised the rebuilding of Barkerville after its destruction by fire in 1868, seeing to improvements in its layout and safety requirements.
By June 1869 Brew was "suffering from acute rheumatism, a complaint which then prevailed in Cariboo." In March 1870 his accounts as gold commissioner were in arrears owing to his increasing debility: "For some weeks I have not had sufficient strength even to sign my name," he reported to Victoria. After several months' confinement with a painful illness, he died at Richfield on 31 May 1870. The inscription on the tablet over his grave bears the tribute of his friend Judge Matthew Baillie Begbie*: "A man imperturbable in courage and temper, endowed with a great and varied administrative capacity, a most ready wit, a most pure integrity and a most humane heart." In 1859, after "Ned McGowan's War," 80 miners at Yale had paid Brew an equally notable tribute when they praised his ability to give justice while keeping "the kind feelings and respect of all." Brew never created the police force he had planned, but Douglas and Seymour regarded him as without equal in the role of gold commissioner and stipendiary magistrate. He established a standard of conduct that enabled the Irishmen whom he attracted to serve the gold commissioner to maintain peace in the goldfields at the height of production with no more than 18 constables in regular employment.
Chartres Brew's correspondence for the period 1858–59 is printed in The early history of the Fraser River mines, ed. F. W. Howay (PABC Memoir, VI, Victoria, 1926).
PABC, B.C., Colonial Secretary, correspondence outward, January 1867–December 1870 (letterbook); Gold Commissioner, Cariboo, correspondence outward, 11 Dec. 1866–15 Aug. 1870 (letterbook); Governor, despatches to London, 1858–63, 1863–67, 1864–67, 1868–69 (letterbooks); Lands and Works Dept., correspondence outward, August 1861–May 1865; Colonial correspondence, Chartres Brew correspondence; G.B., Colonial Office, despatches to B.C., no.11, 2 Sept. 1859, enclosure, Chartres Brew, testimonials; Miscellaneous papers relating to Chartres Brew; O'Reilly coll., Chartres Brew, Diary excerpt, 26 Aug.–1 Sept. 1858; letter to Capt. Travaillot, 19 Jan. 1859. PRO, CO 60. B.C., Legislative Council, Journals, 1864–69. G.B., Parl., Command paper, 1859 (2nd session), XXII, [2578], pp.297–403, British Columbia: papers relative to the affairs of British Columbia, part II. . . . British Colonist (Victoria), 10 June 1865. Cariboo Sentinel (Barkerville, B.C.), 4 June 1870, 21 Sept. 1872. F. J. Hatch, "The British Columbia police, 1858–1871" (unpublished ma thesis, University of British Columbia, Vancouver, 1955). E. S. Hewlett, "The Chilcotin uprising: a study of Indian-white relations in nineteenth century British Columbia" (unpublished ma thesis, University of British Columbia, 1972). M. A. Ormsby, "Some Irish figures in colonial days," BCHQ, XIV (1950), 61–82.
© 1976–2023 University of Toronto/Université Laval
Image Gallery

Cite This Article
Margaret A. Ormsby, "BREW, CHARTRES," in Dictionary of Canadian Biography, vol. 9, University of Toronto/Université Laval, 2003–, accessed September 29, 2023, http://www.biographi.ca/en/bio/brew_chartres_9E.html.
The citation above shows the format for footnotes and endnotes according to the Chicago manual of style (16th edition). Information to be used in other citation formats:
| | |
| --- | --- |
| Permalink: | http://www.biographi.ca/en/bio/brew_chartres_9E.html |
| Author of Article: | Margaret A. Ormsby |
| Title of Article: | BREW, CHARTRES |
| Publication Name: | Dictionary of Canadian Biography, vol. 9 |
| Publisher: | University of Toronto/Université Laval |
| Year of publication: | 1976 |
| Year of revision: | 1976 |
| Access Date: | September 29, 2023 |