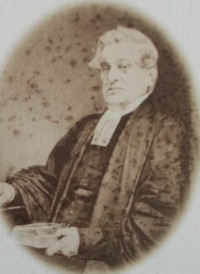 Source: Link
UNIACKE, ROBERT FITZGERALD, evangelical clergyman of the Church of England and social activist; baptized 24 Dec. 1797 in Halifax, N.S., fourth son of Attorney General Richard John Uniacke* and Martha Maria Delesdernier; m. 1830 Elizabeth Gould Francklin, granddaughter of Michael Francklin*; d. 1 June 1870 at Halifax without offspring.
Robert Fitzgerald Uniacke was educated at the Halifax Grammar School, King's Collegiate School, and King's College, Windsor. He was articled in his father's Halifax law firm until he decided to enter holy orders after he experienced a religious conversion influenced by the preaching of Isaac Temple, tutor to the sons of Lieutenant Governor Dalhousie [Ramsay*]. Because Bishop Robert Stanser* was not in residence, Uniacke was ordained in England by the bishops of London and Chester (2 June 1822 and 23 March 1823). He served as a curate in the diocese of Chichester at Fishbourne (1822–24), and officiated at Mid Lavant.
In 1825 Uniacke returned to Nova Scotia as a missionary of the Society for the Propagation of the Gospel to be rector at St George's Church in Halifax. He arrived in the midst of the controversy at St Paul's Church over the right of the crown to name a rector to succeed John Inglis*, and attracted many Pauline dissentients to St George's. It became independent of St Paul's when a separate parish was created in 1827. With the assistance of curates after 1847, Uniacke remained rector until his death; his only absence was in 1838–39 when he successfully sought in Britain a cure for a serious throat infection.
Uniacke attended to both the spiritual and the temporal needs of his parishioners, mostly "Persons of limited Incomes." Because his parish comprised one-third of Halifax and extended eight miles into the country, he undertook a campaign of church building that resulted in the erection of St John's Chapel of Ease, Three Mile House (Fairview), and St Mark's Chapel, Richmond (northeast Halifax). He was also largely responsible for the construction of a church at Lakeland in Hants County near the Uniackes' fine country home, Mount Uniacke. He inherited this property in 1835 after agreeing to comply with the terms of his father's will that the sole recipient of the property give up all other claims on the estate.
Another major enthusiasm was education; besides Sunday Schools and evening classes Uniacke established at St George's and Three Mile House charity schools which were highly regarded as elementary schools open to poor children of all persuasions. The courage and physical exertions of both Uniacke and his wife during the cholera epidemic of 1834 endeared them to Haligonians. They were constant contributors to every good cause and active in parish relief, as well as in the establishment of homes for orphans and the aged.
Uniacke's evangelical fervour and low church predilections can best be illustrated by his relations with the exclusivist Bishop John Inglis and his Tractarian successor, Bishop Hibbert Binney*. Uniacke defied Inglis by supporting, joining, and actively directing evangelical Anglican organizations, especially the Colonial Church Society (subsequently the Colonial and Continental Church Society) and such interdenominational associations as the British and Foreign Bible Society. Binney felt the weight of Uniacke's opposition and influence over the junior clergy in Halifax, when the crusty, pious old rector stubbornly refused to join the diocesan synod on the ground that it would give too much power to the bishop, and an Anglo-Catholic bishop at that. Uniacke died noted for his good works but as steadfastly opposed to change as he had been a force for change in his youth.
Halifax County Court of Probate (Halifax), no.1739, will of R. F. Uniacke; no.2201, will of E. G. Uniacke (mfm. at PANS). PANS, MG 1; 926B (Richard John Uniacke Sr papers), R. J. Uniacke's will; RG 5, P, 69–74, education. USPG, C/CAN/NS 8, ff.69, 405–25; 11, ff.26, 243, 248–49, 251–52, 255, 274, 356–56a; D 27, 489–91; E/PRE/B (1846), pp.313–15; E/PRE/C (1852–58), pp.1409–10, 1413–16; E, 6 (1859), p.279; E, 22 (1867), pp.1009–11; E, 24 (1868–69), pp.611–13. Hibbert Binney, Remarks on diocesan synods, addressed to the clergy and laity of his diocese (Halifax, 1864). Church of England, Diocese of Nova Scotia, Journal of the Synod (Halifax), 1866. Colonial and Continental Church Soc. (Halifax Branch), Report, 1848–71. Formation and proceedings of the Halifax Association in Aid of the Colonial Church Society, 1847 (Halifax, 1847). G. W. Hill, In memory of Robert Fitzgerald Uniacke, rector of St. George's, Halifax . . . ([Halifax, 1870]). N.S., House of Assembly, Journal and proc., 1839, 1845. N.S. Bible Soc., Report (Halifax), 1832–70. St George's District Visiting Soc., Annual report (Halifax), 1841–71. Acadian Recorder, 4 July 1818, 30 July 1831, 30 Aug. 1834, 1 June 1870. Church Times (Halifax), 1848–58. Guardian (Halifax), 1 July 1840; 12 April, 26 Nov. 1847. Novascotian, 6 June 1870.
© 1976–2023 University of Toronto/Université Laval
Image Gallery

Cite This Article
Judith Fingard, "UNIACKE, ROBERT FITZGERALD," in Dictionary of Canadian Biography, vol. 9, University of Toronto/Université Laval, 2003–, accessed December 11, 2023, http://www.biographi.ca/en/bio/uniacke_robert_fitzgerald_9E.html.
The citation above shows the format for footnotes and endnotes according to the Chicago manual of style (16th edition). Information to be used in other citation formats:
| | |
| --- | --- |
| Permalink: | http://www.biographi.ca/en/bio/uniacke_robert_fitzgerald_9E.html |
| Author of Article: | Judith Fingard |
| Title of Article: | UNIACKE, ROBERT FITZGERALD |
| Publication Name: | Dictionary of Canadian Biography, vol. 9 |
| Publisher: | University of Toronto/Université Laval |
| Year of publication: | 1976 |
| Year of revision: | 1976 |
| Access Date: | December 11, 2023 |