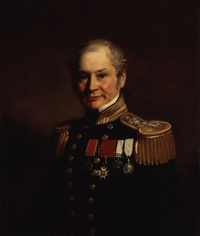 Source: Courtesy of Wikimedia Commons
BELCHER, Sir EDWARD, naval surveyor and explorer; b. in Halifax, N.S., on 27 Feb. 1799, son of Andrew Belcher and Marianne Von Geyer; d. in London, England, on 18 March 1877.
Edward Belcher, a grandson of Jonathan Belcher*, chief justice of Nova Scotia, moved from Halifax to England with his family in November 1811. On 9 April 1812 he entered the Royal Navy as a first class volunteer, a rank which indicated that he was destined for an officer's career. He was promoted midshipman on 2 Dec. 1812 and lieutenant on 21 July 1818. During this period he served on a number of ships on the Atlantic coast of North America, in the West Indies, and on the African and Home stations. In September 1821 he was posted to the Salisbury, on the Halifax station. He had meanwhile been studying surveying and natural history, equipping himself to take part in the navy's extensive 19th-century surveys of the world's oceans which were to result in the famous Admiralty charts.
Belcher's first major assignment was as assistant surveyor on the Blossom commanded by Frederick William Beechey*, which sailed for Bering Strait by way of Cape Horn on 19 May 1825. The voyage had two purposes: to come to the relief of William Edward Parry* and John Franklin* should they reach the strait in their separate attempts to discover a northwest passage; and to conduct surveys of uncharted areas along the ship's route. Belcher returned to England in October 1828 for other duties, was raised to the rank of commander on 16 March 1829, and given his first ship, the Ætna, on 27 May 1830. With the vessel's return to England from surveying the West African coast on 19 Aug. 1831, Belcher and his officers laid a number of charges against one another, arising out of his alleged abusive treatment of the crew. Belcher was acquitted and sailed for Africa on 21 Dec. 1831. When the Ætna returned to England on 19 Aug. 1833, crew members again laid charges against Belcher. This time the Admiralty posted him in disgrace to the Lightning, surveying the Irish Sea. In 1836 the navy hydrographer, Francis Beaufort, who appears to have been Belcher's patron, persuaded the Admiralty to give Belcher another command, and he replaced the ailing Captain Beechey on the Sulphur which was to undertake surveys of the west coasts of North and South America. This voyage lasted for almost six years; Belcher did not return to England until 19 July 1842. In the interim he had undertaken surveys of the Americas and the South Pacific islands, and on the return voyage by way of China he participated valiantly in the battles at Canton which ended in the ceding of Hong Kong to Great Britain. For his performance he was made a companion of the Order of the Bath on 14 Oct. 1841 and subsequently knighted on 21 Jan. 1843. The crew of the Sulphur complained of ill-treatment but Belcher was again exonerated by a court of inquiry and placed in charge of another surveying vessel, the Samarang, which left England on 26 Jan. 1843. He conducted surveys in the South China Sea and returned to England on 31 Dec. 1846.
On 11 Sept. 1830 he had married Diana Jolliffe, stepdaughter of Captain Peter Heywood. After the Ætna returned in August 1831, they lived together again at Portsmouth until he left in December. Shortly before the end of his second tour in 1833 she informed him that she would not live with him again, claiming that he had twice infected her with venereal disease. Then began a protracted legal struggle which Belcher spitefully prolonged. Despite the bitterness of the separation, his wife was content to call herself Lady Belcher after Belcher was knighted a decade later.
Daring and able though he was, Belcher had earned a wide reputation for harshness in command. After 1846 the Admiralty chose not to give him another command until 1852 when he was put in charge of an expedition of five ships to search in the Canadian Arctic for the missing ships and men of Sir John Franklin who had not been heard from since 1845. Belcher split his forces, sending the Resolute under Henry Kellett and its tender, Intrepid, west through Barrow Strait to Melville Island. The only real accomplishment of this western division was the rescue in 1852 of Robert McClure and the men of the Investigator from their trap in Mercy Bay; in the summers of 1853 and 1854 ice conditions prevented much progress and Kellett's ships were not even capable of returning to Belcher's base on Beechey Island. Belcher's own ship Assistance and its tender Pioneer under Sherard Osborn comprised the northern division, which in August 1852 went north through Wellington Channel. They did some survey work and made some discoveries but, like the western division, became enmeshed in heavy ice in 1853 and were unable to break free in 1854. Belcher must take part of the blame for this outcome himself, for he refused to take the advice of skilled Arctic navigators such as Sherard Osborn and as a result blundered into the heaviest ice.
Finally, in the summer of 1854, Belcher ordered the abandonment of all the vessels, ignoring Kellett's strenuous objections. As a result the ships were deserted and the crews returned home on transport ships waiting at Beechey Island. On their return to England, Belcher was court-martialed for leaving his ships in the Arctic but he was acquitted when he was able to show that his orders gave him complete discretion. In spite of the acquittal, he continued to be criticized severely in England. The outcry against Belcher became even greater after Kellett's Resolute broke free from the ice and was salvaged in Baffin Bay by James Buddington, an American whaling captain. He towed her to New London, Conn., where she was bought by the United States Congress, refitted, and presented to Queen Victoria as a gift from the American people in December 1856.
In his retirement Belcher occupied himself with writing and scientific inquiry. Despite the numerous failures of his career and principally because of his advanced age and seniority, he became a rear-admiral on 11 Feb. 1861, was promoted vice-admiral on 2 April 1866, made a knight commander of the Order of the Bath on 13 March 1867, and finally raised to the rank of admiral on 20 Oct. 1872.
During his career, Belcher was one of the most controversial figures in the Royal Navy. As an officer he had many desirable attributes: scientific curiosity, technical competence, inventiveness, physical energy, and sometimes reckless bravery. However, he suffered from an irritable, quarrelsome, and hypercritical nature which made relations with superiors and subordinates alike extremely difficult. Although he was in many ways a capable officer, his record remains blighted by his ignominious failure as commander in chief of the Franklin search expedition, an appointment which has been described as "unfortunate" since Belcher's temperament did not enable him to function as the situation demanded.
University of British Columbia, Special Collections Division, Belcher papers. Edward Belcher, Horatio Howard Brenton: a naval novel (3v., London, 1856); The last of the Arctic voyages; being a narrative of the expedition in H.M.S. Assistance under the command of Captain Sir Edward Belcher, C.B., in search of Sir John Franklin, during the years 1852–53–54 (2v., London, 1855); Narrative of a voyage round the world, performed in Her Majesty's Ship Sulphur, during the years 1836–1842 . . . (2v., London, 1843); Narrative of the voyage of H.M.S. Samarang during the years 1843–46; employed surveying the islands of the Eastern Archipelago . . . (2v., London, 1848); A treatise on nautical surveying . . . (London, 1835).
F. W. Beechey, Narrative of a voyage to the Pacific and Beering's Strait to co-operate with the polar expeditions: performed in His Majesty's Ship Blossom . . . in the years 1825, 26, 27, 28 (2v., London, 1831). [McClure], Discovery of the north-west passage (Osborn). Joseph Phillimore, A report of the judgement delivered by Joseph Phillimore, in the cause of Belcher, the wife, against Belcher, the husband (London, 1835). The zoology of the voyage of H.M.S. Samarang during the years 1843–1846, ed. Arthur Adams (London, 1850). The zoology of the voyage of H.M.S. Sulphur, under the command of Captain Sir Edward Belcher, R.N., C.B., F.R.G.S., etc. during the years 1836–42, ed. R. B. Hinds (2v., London, 1843–44). Times (London), 3 Oct. 1831, 7 Oct. 1854, 20 March 1877.
DNB. O'Byrne, Naval Biog. Dict., 68–69. E. S. Dodge, Northwest by sea (New York, 1961), 304–8. A. G. L'Estrange, Lady Belcher and her friends (London, 1891). G. E. Fenety, Life and times of the Hon. Joseph Howe, (the great Nova Scotian and ex-lieut. governor); with brief references to some of his prominent contemporaries (Saint John, N.B., 1896). Harris, Church of Saint Paul, 187. M. A. Lewis, A social history of the navy, 1793–1815 (London, [1960]). Beamish Murdoch, A history of Nova-Scotia or Acadie (3v., Halifax, 1865–67), III, 313. G. S. Ritchie, The Admiralty chart: British naval hydrography in the nineteenth century (London, 1967), 221–37. Noel Wright, Quest for Franklin (London, 1959), 206–14. Rutherford Alcock, "Address to the Royal Geographical Society . . . : obituary," Royal Geographical Soc. J. (London), XLVII (1877), cxxxvi–cxlii C. J. Townshend, "Jonathan Belcher, first chief justice of Nova Scotia," N.S. Hist. Soc. Coll., XVIII (1914), 25–57. W. H. Whitmore, "Notes on the Belcher family," New Eng. Hist. and Geneal. Register (Boston), XXVII (1873), 239–54.
© 1972–2023 University of Toronto/Université Laval
Image Gallery

Cite This Article
Basil Stuart-Stubbs, "BELCHER, Sir EDWARD," in Dictionary of Canadian Biography, vol. 10, University of Toronto/Université Laval, 2003–, accessed December 11, 2023, http://www.biographi.ca/en/bio/belcher_edward_10E.html.
The citation above shows the format for footnotes and endnotes according to the Chicago manual of style (16th edition). Information to be used in other citation formats:
| | |
| --- | --- |
| Permalink: | http://www.biographi.ca/en/bio/belcher_edward_10E.html |
| Author of Article: | Basil Stuart-Stubbs |
| Title of Article: | BELCHER, Sir EDWARD |
| Publication Name: | Dictionary of Canadian Biography, vol. 10 |
| Publisher: | University of Toronto/Université Laval |
| Year of publication: | 1972 |
| Year of revision: | 1972 |
| Access Date: | December 11, 2023 |