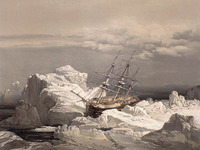 CRESSWELL, SAMUEL GURNEY, naval officer and artist; b. 25 Sept. 1827 at King's Lynn, England, third son of Francis Cresswell, banker, and Rachel Elizabeth Fry (her mother, Elizabeth Fry, née Gurney, was a distinguished philanthropist); d. 14 Aug. 1867, unmarried, at King's Lynn.
From his childhood, Samuel Gurney Cresswell expressed a keen desire to go to sea rather than pursue a formal education at Harrow as his older brothers had done. His parents, having sought the advice of Sir William Edward Parry*, an intimate family friend "in whose judgement . . . [they] had perfect confidence," decided that Samuel, aged 14, would enter the Royal Navy. He served as midshipman until September 1847 on board hms Agincourt under Sir Thomas John Cochrane* in the China Seas. Stationed then at Portsmouth, England, on hms Excellent, he was promoted mate 6 April 1848. In May 1848 he was appointed to hms Investigator on Sir James Clark Ross' Arctic expedition in search of Sir John Franklin*. On 10 Sept. 1849 he was promoted 2nd lieutenant.
Within three weeks of his return to England in November 1849, Cresswell voluntarily rejoined Investigator as a member of Robert John Le Mesurier McClure*'s Arctic expedition in search of the northwest passage. Bound for the Bering Strait, the men set sail in January 1850 and encountered the first ice west of Barrow Point in August. On 26 October a travelling party from McClure's ship, held fast off Banks Land, discovered that Prince of Wales Strait connected to Viscount Melville Sound. Melville Island, first discovered 34 years earlier by Parry who had approached from the opposite direction, was clearly seen by the members of the party from their elevated position to lie across the entrance to Prince of Wales Strait. They had indisputable proof of the existence of a northwest passage.
Excessively heavy ice conditions during the summers of 1851 and 1852 prevented McClure's expedition from making progress eastward, and forced their wintering in 1851–52 and 1852–53 at the Bay of Mercy. The expedition was faced with the prospect of starvation but was located on 6 April 1853 by a sledge party sent by Captain Henry Kellett*, commander of hms Resolute on the Franklin search expedition under Captain Sir Edward Belcher*. Cresswell with 24 invalids followed McClure on the 170-mile trek to Kellett's winter camp at Dealy Island located off Melville Island. Arriving in good health, Cresswell volunteered to continue overland about 300 miles to Beechey Island in the hope of meeting a ship. On 2 August, Captain Edward Augustus Inglefield arrived in hms Phoenix on which Cresswell, triumphantly bearing McClure's dispatches to the Admiralty, set sail for England on the 23rd. He arrived in England with the first news, himself the living proof, of the discovery of the long-sought northwest passage. At a public dinner held in his honour by his native townsmen on 26 Oct. 1853, coincidentally the third anniversary of the discovery, he recounted the highlights of the voyage. Fitting tribute was paid by Rear-Admiral Parry, the person who had been influential in Cresswell's career and felt a personal responsibility for his safety.
Cresswell, while on the Ross and McClure expeditions, executed numerous water-colours which today provide a valuable pictorial record of the crews' activities and Arctic terrain. Some of his sketches, suitably ironed flat from their rolled up state and placed in an album, were presented personally to Queen Victoria with a request for permission to dedicate a volume of lithographic views after the drawings to her majesty. The resulting folio volume, published in 1854 in London, was entitled A series of eight sketches in colour . . . of the voyage of H.M.S. Investigator. His drawings were also used to illustrate The discovery of the north-west passage by H.M.S. "Investigator," edited by Sherard Osborn* and published in London in 1856.
Subsequently Cresswell served on hms Archer in the Baltic during the Russian War until his promotion to commander on 21 Oct. 1854. While stationed in the China Seas in 1857 as commander of hms Surprise, he was promoted captain on 17 Sept. 1858. During this posting Cresswell met with ill health from which he never fully recovered. He retired in February 1867 and died a few months later.
S. G. Cresswell, Dedicated . . . to her most gracious majesty the queen, a series of eight sketches in colour (together with a chart of the route) . . . of the voyage of H.M.S. Investigator . . . during the discovery of the north-west passage (London, [1854]).
[The author was kindly granted access to primary sources held in a private collection in England. w.m.e.c.] National Maritime Museum (London, Eng.), ms 58/128 (mfm. at PAC). The discovery of the north-west passage by H.M.S. "Investigator", Capt. R. M'Clure, 1850, 1851, 1852, 1853, 1854, ed. Sherard Osborn (London, 1856). Can., Sessional papers, 1911, XIII, no.21a, 229–455. Gentleman's Magazine, CCXXIII (July–Dec. 1867), 407. Illustrated London News, 24 Aug. 1867. Norfolk Chronicle (Norwich, Eng.), 29 Oct. 1853. Bibliotheca Americana; a dictionary of books relating to America from its discovery to the present time, ed. Joseph Sabin et al. (29v., New York, 1868–1936), V, 76; XI, 17–18. Boase, Modern English biog., VI, 758. G.B., Adm., Navy list, 1843–68. [Katharine Fry], Katharine Fry's book, ed. Jane Vansittart (London, 1966). C. R. Markham, The Arctic navy list; or, a century of Arctic & Antarctic officers, 1773–1873; together with a list of officers of the 1875 expedition and of their services (London, 1875). The late Captain S. Gurney Cresswell, R.N. ([King's Lynn, Eng., 1867]).
© 1976–2023 University of Toronto/Université Laval
Cite This Article
W. M. E. Cooke, "CRESSWELL, SAMUEL GURNEY," in Dictionary of Canadian Biography, vol. 9, University of Toronto/Université Laval, 2003–, accessed September 30, 2023, http://www.biographi.ca/en/bio/cresswell_samuel_gurney_9E.html.
The citation above shows the format for footnotes and endnotes according to the Chicago manual of style (16th edition). Information to be used in other citation formats:
| | |
| --- | --- |
| Permalink: | http://www.biographi.ca/en/bio/cresswell_samuel_gurney_9E.html |
| Author of Article: | W. M. E. Cooke |
| Title of Article: | CRESSWELL, SAMUEL GURNEY |
| Publication Name: | Dictionary of Canadian Biography, vol. 9 |
| Publisher: | University of Toronto/Université Laval |
| Year of publication: | 1976 |
| Year of revision: | 1976 |
| Access Date: | September 30, 2023 |