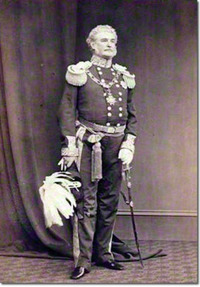 Source: Link
CARY, LUCIUS BENTINCK, 10th Viscount FALKLAND, colonial administrator; b. 5 Nov. 1803, eldest son of Charles John Cary, 9th Viscount Falkland, a captain in the Royal Navy, and Christiana Anton; m. first 27 Dec. 1830 Amelia FitzClarence, natural daughter of William IV, and they had one son; m. secondly 10 Nov. 1859 Elizabeth Catherine Gubbins, widow of the 9th Duke of St Albans; d. 12 March 1884 at Montpellier, France.
Little is known of the early life of Lucius Bentinck Cary, who succeeded to the Falkland viscountcy in 1809 after his father's death in a duel. Possibly through his father's acquaintance with the Duke of Clarence during their naval careers, Falkland became sufficiently intimate with the royal household to be appointed lord of the bedchamber and to marry the natural daughter of the duke after the latter succeeded to the throne as William IV in 1830. Falkland also launched his political career in 1830 by publishing a pamphlet advocating parliamentary reform; the following year he sat in the House of Lords as a representative peer for Scotland and was created gch. To his Scottish title he added in 1832 that of Baron Hunsdon of Scutterskelfe, Yorkshire, in the peerage of the United Kingdom. By 1837 he was chief government whip in the Lords and in that year was made a privy councillor. On Victoria's accession in 1837 he served first as lord-in-waiting and after 1838 as lord of the bedchamber.
Somewhat unexpectedly, Falkland was appointed in August 1840 lieutenant governor of Nova Scotia at a critical time in the province's history. A fierce, protracted political battle had just culminated in a successful demand by the assembly for the recall of the lieutenant governor, Sir Colin Campbell*. As a titled aristocrat, practised courtier, and political manipulator, Falkland was sent to calm these troubled waters by introducing the system of administration which Lord Sydenham [Thomson*] had developed in the Canadas. In the aftermath of the rebellions and the Durham Report, British ministers were not prepared to jeopardize imperial interests by conceding the controversial principle of responsible government which the British North American Reformers demanded. Nevertheless, as a step towards a more harmonious and acceptable form of government in Nova Scotia, Falkland was instructed to reconstitute the Executive Council, hitherto a Tory oligarchy, so that it included able, influential members from both houses of the legislature, irrespective of party affiliations. Working closely with such a body the governor would play an active part in formulating policies and in pushing through a vigorous legislative programme of much-needed reforms, as if he were prime minister of a coalition government.
Initially, fortuitous circumstances enabled Sydenham in the Canadas and Falkland in Nova Scotia to proceed along these difficult lines. With an appeal to the public spirit of provincial politicians, Falkland in October 1840 constructed an executive of both Conservatives and Reformers. Although shunned by diehard Tories of the old official and merchant clique, whose upstart pretensions the aristocratic governor loathed, moderate Conservatives like James William Johnston* expressed a willingness and felt an obligation to offer their services to the crown. Joseph Howe* and several fellow Reformers, still elated about the triumph over Campbell and reassured by Falkland's liberal credentials, also accepted office in the coalition because they saw it as a practical step toward responsible government.
At first the anomalous arrangement prospered and Falkland established an intimate working relationship with Howe based on personal friendship and an apparent similarity of outlook. They conferred on policy, patronage, and protocol, and plotted to ensure that Howe succeeded Hibbert Newton Binney as collector of excise at Halifax. Nevertheless, such an uneasy political compromise, which gave the elected politicians enhanced influence but denied them real power, could not long survive the reawakening of personal rivalries and controversial issues. During the contentious session of 1843 the question of provincial subsidies to denominational colleges set the anti-sectarian Howe and the Baptist Johnston at each other's throats. Falkland brought matters to a head when he incautiously appointed to the legislative and executive councils Mather Byles Almon*, Johnston's brother-in-law and a prominent Conservative merchant and banker. Howe and his friends angrily resigned and took up the cry of single-party government. From that moment the intimacy between Falkland and Howe was irretrievably shattered and the two intemperate, unforgiving men drifted into a remorseless, unedifying feud. Through the press Howe scathingly attacked Falkland and in an exasperated outburst in the assembly in 1846 declared that someone would "hire a blackfellow to horsewhip a Lieutenant-Governor." Hypersensitive to criticism and irritated by defiance, Falkland championed ever more staunchly the principle of coalition. His failure after the 1843 election to persuade Reformers to rejoin the executive meant that in practice Falkland fell into the clutches of the Conservatives, thereby hastening the advent of the party government he so deprecated.
Local Reformers alleged that the governor's abandonment of liberal for tory sympathies was intended to curry favour with Sir Robert Peel's ministry in England and win him preferment elsewhere. Nevertheless, Falkland's antipathy to the whole concept of government by a cabinet formed from the majority party in the assembly was the result not so much of personal calculation or political convictions, as of an instinctive distaste for the prospect of being ingloriously reduced to a cipher, like "a King at a Tournament," as Howe had described it, "who had nothing to do but to remain neuter during the Contest and then distribute the prizes among the Victors." This degrading possibility offended Falkland's amour propre more than his principles. Frenzied, alarmist dispatches home warned of the threatened destruction of the royal prerogative and of Britain's ties with Nova Scotia, but Falkland's cautious superiors refused to intervene or explicitly proscribe party government. After three years of unavailing struggle, Falkland asked to be relieved of his post and left for England in August 1846.
Although there was talk of him succeeding Lord Elgin [Bruce*] as governor of Jamaica, Falkland spent the next two years more congenially as captain of the Yeomen of the Guard, and possibly as government whip in the Lords. In 1848 he was appointed governor of Bombay. After an uneventful, undistinguished period of service in India he returned to England in 1853. He subsequently served as a magistrate and deputy lieutenant for the North Riding of Yorkshire.
Falkland was a tall, distinguished-looking man with a stately bearing and a severe, disdainful countenance which mirrored his aristocratic conceit and sensitive self-esteem. His administration in Nova Scotia was marked by courteous good humour when things went favourably, but adverse circumstances brought out an injudicious impulsiveness and an imperious, irritable temper ill suited to smoothing the difficult transition from representative to responsible government. Whatever his success in handling fellow peers, he lacked the adroitness, pliancy, and self-effacing detachment to be an adept manager of colonial politicians or a skilful moderator of their factional rivalries. Although he tended to view provincial politics in terms of personalities rather than political principles, the passage of events exposed his much vaunted liberalism as a shallow faith masking an instinctive conservatism and an egocentric temperament.
PAC, MG 24, B29. PANS, RG 1, 116–19. PRO, CO 217/175–93; CO 218/32–34. [Joseph Howe], Joseph Howe, voice of Nova Scotia, ed. J. M. Beck (Toronto, 1964); The speeches and public letters of Joseph Howe, ed. William Annand (2v., Boston and Halifax, 1858); Speeches and letters (Chisholm). N.S., House of Assembly, Journal and proc., 1840–46. Illustrated London News, 22 March 1884. Times (London), 14 March 1884. W. R. Livingston, Responsible government in Nova Scotia: a study of the constitutional beginnings of the British Commonwealth (Iowa City, 1930). W. S. MacNutt, Atlantic provinces: the emergence of colonial society, 1712–1857 (Toronto, 1965). C. [B.] Martin, Empire & commonwealth: studies in governance and self-government in Canada (Oxford, 1929). D. A. Sutherland, "J. W. Johnston and the metamorphosis of Nova Scotian conservatism" (ma thesis, Dalhousie Univ., Halifax, 1968).
© 1982–2023 University of Toronto/Université Laval
Image Gallery

Cite This Article
Peter Burroughs, "CARY, LUCIUS BENTINCK, 10th Viscount FALKLAND," in Dictionary of Canadian Biography, vol. 11, University of Toronto/Université Laval, 2003–, accessed November 29, 2023, http://www.biographi.ca/en/bio/cary_lucius_bentinck_11E.html.
The citation above shows the format for footnotes and endnotes according to the Chicago manual of style (16th edition). Information to be used in other citation formats:
| | |
| --- | --- |
| Permalink: | http://www.biographi.ca/en/bio/cary_lucius_bentinck_11E.html |
| Author of Article: | Peter Burroughs |
| Title of Article: | CARY, LUCIUS BENTINCK, 10th Viscount FALKLAND |
| Publication Name: | Dictionary of Canadian Biography, vol. 11 |
| Publisher: | University of Toronto/Université Laval |
| Year of publication: | 1982 |
| Year of revision: | 1982 |
| Access Date: | November 29, 2023 |