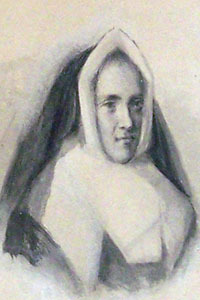 Source: Link
BARBIER, MARIE, dite de l'Assomption, sister of the Congrégation de Notre-Dame; baptized 1 May 1663, daughter of Gilbert Barbier (known as Le Minime), master carpenter, surveyor, seigneurial attorney, and churchwarden of the parish of Ville-Marie, and of Catherine de La Vau; d. 19 May 1739.
We are partially familiar with Marie Barbier's youth through the letters she wrote to her director, Charles de Glandelet. She relates to him, among other things, her youthful vanities, her rescue from an attempted rape thanks to the intervention of the Virgin, and her various mystical experiences. From the age of 14 she was a boarder and perhaps an "aspirant" with the Sisters of the Congrégation de Notre-Dame, since in 1679 she was admitted as a novice and in 1684 her religious profession was confirmed by a "donation inter vivos." She was the first Montreal woman to enter the congregation of Marguerite Bourgeoys*.
During her probationary period she offered up special devotions to the Infant Jesus on the recommendation of a preacher. This somewhat naïve theologian claimed that such devotion was very effective in obtaining forgiveness of sins because children, he said, never harbour resentment. Marie's sense of guilt over her peccadillos of the past, and her simple faith, therefore led her to maintain a constant dialogue with the Holy Child. He became her recourse and help in daily tasks, so much so that she put him "in charge" of the bread when her duties summoned her elsewhere. According to Abbé Glandelet, this trust enabled Marie to accomplish the most extraordinary feats: sick people who ate rolls "shaped like a round flat biscuit" and made in honour of the Infant Jesus were cured; flour and other provisions were multiplied in times of scarcity; a storm that flooded the granary left this very flour untouched; a fire on Île d'Orléans was stopped. The Congrégation de Notre-Dame has had restored a primitive picture of the Infant Jesus that tradition still associates with Sister Barbier's name.
In 1685 Marie Barbier, accompanied by Sister Mayrand, went to the parish of Sainte-Famille on Île d'Orléans and founded a school. In 1686 she was recalled to Quebec and took part in the founding of the almshouse of La Providence. Bishop Saint-Vallier [La Croix] had conceived this project after being delighted with the similar institution established by Marguerite Bourgeoys at Ville-Marie.
Marie Barbier returned to Île d'Orléans in 1689 and remained there until she left for Ville-Marie in 1691. The following year, 1692, she was appointed assistant, and in 1693 became superior, succeeding Mother Bourgeoys; she remained in office until 1698. Shortly after her election she came into conflict with Bishop Saint-Vallier over the rule governing the congregation. Saint-Vallier, incapable of conceiving that a nun might have a life which extended beyond the cloister, rewrote Sister Bourgeoys' original rule. Several articles, inapplicable to a teaching congregation working in a developing colony, could be followed only in a cloister. The prelate came expressly to Ville-Marie to impose on the nuns solemn vows, the payment of a dowry, and also a special vow of obedience to the bishop. He even threatened to require from them a written acceptance of his proposals. They succeeded, however, in persuading Bishop Saint-Vallier to postpone the enforcement of the ruling until after his return from France, where he was to consult M. Louis Tronson, the superior of the Sulpicians in Paris. The council of the congregation, under Marie Barbier's guidance, sent a very detailed petition to Tronson. The latter prevailed upon the bishop to accept some changes, but the revision took four years. The rule of 1698 did, however, preserve some articles decreed by the prelate.
In 1700 Marie Barbier had to be admitted to the Hôtel-Dieu of Quebec, "to be cured . . . of a cancer in her breast." She had developed the tumour following an excessively harsh penance during which she had been wearing an instrument with iron points under her robe, near the breast. Michel Sarrazin, "as skilful a surgeon as he was a clever doctor," performed the surgery on 29 May – perhaps the first operation for cancer in Canada. Mother Juchereau de Saint-Ignace tells us in the Annales that Marie Barbier "returned to Montreal, completely cured."
Afterwards Sister Barbier occupied several administrative posts, while continuing to teach and work, until her death on 19 May 1739; she was about 76 years old.
Marie Barbier knew how to inflict great suffering on herself; so excessive were some of her penances that she was to regret them. It is noteworthy that in the petition against the 1694 rule she asked that no mortification of the flesh be imposed, urging that this should be an individual choice made by each sister on the advice of her director. Marie Barbier's mystic life will continue to be somewhat obscure so long as we do not know the precise extent of Abbé Glandelet's influence on her spiritual training.
AJM, Greffe de Bénigne Basset, 20 déc. 1684; Greffe de Claude Maugue, 11 août 1679; Greffe de Jean de Saint-Père, 5 nov. 1650. ANDM, Registres des baptêmes, mariages et sépultures. ASQ, Congrégation Notre-Dame, 198: [Charles de Glandelet], Recueil touchant la S[œur Marie Barbier], fille séculière de la Congrégation de Notre-Dame. . . . Juchereau, Annales (Jamet). Histoire de la congrégation de Notre-Dame de Montréal (9v., Montréal, 1910, 1941), II, IV. [É.-M. Faillon], Vie de la Sœur Bourgeoys, fondatrice de la Congrégation de Notre-Dame de Villemarie en Canada, suivie de l'histoire de cet institut jusqu'à ce jour (2v., Ville-Marie [Montréal], 1853), II.
© 1969–2023 University of Toronto/Université Laval
Image Gallery

Cite This Article
M. Eileen Scott, "BARBIER, MARIE, de l'Assomption," in Dictionary of Canadian Biography, vol. 2, University of Toronto/Université Laval, 2003–, accessed June 7, 2023, http://www.biographi.ca/en/bio/barbier_marie_2E.html.
The citation above shows the format for footnotes and endnotes according to the Chicago manual of style (16th edition). Information to be used in other citation formats:
| | |
| --- | --- |
| Permalink: | http://www.biographi.ca/en/bio/barbier_marie_2E.html |
| Author of Article: | M. Eileen Scott |
| Title of Article: | BARBIER, MARIE, de l'Assomption |
| Publication Name: | Dictionary of Canadian Biography, vol. 2 |
| Publisher: | University of Toronto/Université Laval |
| Year of publication: | 1969 |
| Year of revision: | 2022 |
| Access Date: | June 7, 2023 |