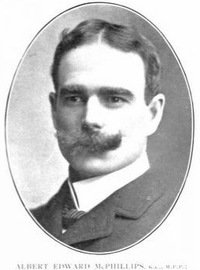 Source: Link
McPhillips, Albert Edward, lawyer, militia officer, politician, and judge; b. 21 March 1861 in Richmond Hill, Upper Canada, son of George McPhillips and Margaret Lavin; m. 3 Sept. 1896 Emily Sophie Davie, daughter of Alexander Edmund Batson Davie*, in Victoria, and they had two sons and one daughter; d. there 24 Jan. 1938.
Albert Edward McPhillips was the son of an Irish Roman Catholic civil engineer who had immigrated to Upper Canada in 1840. The family moved to Manitoba in 1873 when George received a position as a land surveyor. Educated at Winnipeg's Collège de Saint-Boniface and Manitoba College, McPhillips decided to pursue a career in law, and in 1882 he was called to the province's bar. During the 1880s he practised in the city with his brother Lewis Griffith and various other partners (including Edmund Marter Wood), as well as in several firms. In 1890 he acted as solicitor and manager of the Crédit Foncier Franco-Canadien.
During this period McPhillips was committed to militia service. He earned a second-class certificate from Toronto's School of Military Instruction, and during the North-West rebellion of 1885 [see Louis Riel*] he took some time away from his law practice to serve with the 90th Winnipeg Rifles under General Frederick Dobson Middleton*. For his participation in the battles of Fish Creek (Sask.) and Batoche, he received a medal with a clasp. He would retire from militia service in 1890 with the rank of captain.

About 1891 McPhillips moved to Victoria and he was called to the bar of British Columbia the next year. Shortly thereafter he became one of the founders of McPhillips, Wootton and Barnard, which specialized in corporate law; clients included the Imperial Bank of Canada and the British Columbia Electric Railway Company.
Showing a keen interest in politics, McPhillips published a pamphlet in 1896, addressed to the electors of Victoria, on the Manitoba school question [see Thomas Greenway*]. The document was a reaction to a political speech given by Ernest Vining Bodwell, who would be an unsuccessful Liberal candidate for Victoria City in the federal by-election that year. McPhillips denounced comments made by Bodwell on 26 Dec. 1895, as well as those of Manitoba mla Joseph Martin*, in favour of abolishing the denominational school system in that province. He defended the rights of his fellow Catholics there to have a separate educational system, strictly from a legal standpoint, while assuring his readers that British Columbia could not be dragged into a judicial battle on the issue because it did not have the same legal dispositions.
McPhillips ran for Victoria City in the provincial general election of 9 July 1898 and won a seat. He labelled himself a Conservative even though party lines had not yet been established in the province. During his time as an mpp, he continued to practise law with his firm. He served as president of the Victoria Bar Association in 1898 and 1899, and was appointed a qc in 1900. That year he was re-elected. In 1901 he introduced the Deserted Wives' Maintenance Act to compel deserting husbands to compensate their spouses, and the Children's Protection Act, which allowed police and workers of Children's Aid societies to apprehend vagrant and delinquent children. He sponsored the Support for Illegitimate Children Act two years later. On 4 June 1903 he was named attorney general for Richard McBride*'s new Conservative government, the province's first officially partisan administration. His leader's attitude must have pleased McPhillips, who believed in strict party loyalty.
After losing his seat in the legislature in the October general election, McPhillips formed another firm, McPhillips and Heisterman; his brother Lewis, who had moved to Victoria, was a partner. In 1906 Albert posted articles and letters from the Daily Colonist and the Victoria Daily Times to the federal minister of justice, Allen Bristol Aylesworth*. Worried that Canada would give away sealing rights in an agreement with Britain, Japan, and the United States, he claimed that he was not protesting on behalf of clients or business interests, but as a concerned Canadian and a fervent nationalist.
Re-elected in 1907, McPhillips represented the Islands riding in McBride's Conservative government. He retained his seat in the general elections of 1909 and 1912. Appointed to the province's royal commission on taxation in 1911, from 1910 he also served as president of the Executive Council for three years.
McPhillips remained in the legislature until 1 Sept. 1913, when he became the first Conservative and first Catholic to be elevated to the British Columbia Court of Appeal [see James Alexander Macdonald]. On the bench, McPhillips was applauded by his fellow judges for what they considered to be his earnestness and desire for openness in all matters. He had an independent streak that separated him from other benchers. Although he would often disagree with their rulings, his opinions were generally highly respected. In criminal cases he was known for his frequent leniency. In 1924 he found in favour of indigenous people in a land dispute with the government and stated that there was "no express extinguishment of the Indian title in British Columbia," an opinion that, according to historian Christopher Moore, would not be expressed by the province's judges for another 60 years. Yet he also shared prejudices that were common at the time. When the court had unanimously upheld an immigration board of inquiry's decision to refuse entry to a Sikh British subject in 1914 [see Edward Blake Robertson; William Bruce Almon Ritchie*], a ruling that would virtually halt South Asian immigration in the province [see Xenophobia] for over 30 years, McPhillips was widely cited in the press as saying that Asians are "without disparagement to them, undesirables in Canada."
McPhillips became involved in several organizations, both social and philanthropic, in the provincial capital. He acted as vice-president of the city's branch of the Union Club from 1896 to 1901, and was its president in 1902–3. He was also a member of the Canadian Club and a fellow of the Royal Colonial Institute. His legal expertise was put to use for humanitarian causes when he was named honorary counsel to the Children's Aid Society of Victoria.
An avid outdoorsman, McPhillips's favourite recreation was horseback riding. He also enjoyed high jumping, hunting, and camping. On one outing with a group that included fellow British Columbia politician Price Ellison, he went on an exploratory survey trip into an area that had been designated by Premier McBride's administration as government land. In 1911 it was set aside as Strathcona Provincial Park, the first of its kind in British Columbia.
On the morning of 24 Jan. 1938, McPhillips was expressing himself so vehemently in court that a fellow judge became concerned for him. During the lunch break he suffered a seizure and never regained consciousness. His death received significant coverage in the provincial newspapers. Fellow judges and politicians praised his service to the province and his passion for justice. His constituents would later honour him by naming an avenue after him on Salt Spring Island. A passionate Canadian militia officer, politician, and jurist, the Honourable A. E. Philips was widely respected for his sense of justice and loyalty to his province, party, and country.
Albert Edward McPhillips is the author of the 1896 pamphlet The Manitoba question: true side of the case: Mr. Bodwell's fallacies exposed: Mr. Joseph Martin and his methods (Victoria).
Ancestry.com, "Ontario, Canada, Roman Catholic baptisms, marriages, and burials, 1760–1923," Albert Edward McPhillips, baptismal record: www.ancestry.ca (consulted 2 Oct. 2018). BCA, GR-2951, no.1938-09-538375; GR-2962, no.1896-09-016530. City of Victoria Arch., AC4-CL-07237 (Clipping files coll., McPhillips, Albert Edward, Capt., 1861–1938). LAC, R233-34-0, Ont., dist. Essex (1), subdist. Sandwich East (j): 85; R233-35-2, Man., dist. Selkirk (183), subdist. Winnipeg (C), div. 4: 11; R233-36-4, Man., dist. Winnipeg (10), subdist. Ward 2 (B), div. 1: 66–67; R233-37-6, B.C., dist. Victoria (4), subdist. Victoria (City) (D), div. 5: 12; R233-114-9, B.C., dist. Victoria (City) (24), subdist. (27): 2; RG13-A-2, vol.1911, file 1906-749 (A. E. McPhillips, K.C. – Victoria, British Columbia – Pelagic sealing); RG15-D-II-1, vol.445, file 118091 (A. E. Phillips, Winnipeg, elects to take scrip). Daily Colonist, 21 Sept. 1913, 25 Jan. 1938. Vancouver Daily Province, 25 Jan. 1938. Vancouver Sun, 25 Jan. 1938. Victoria Daily Times, 25 Jan. 1938. Canadian men and women of the time (Morgan; 1912). C. A. Clarkson, Domestic reforms: political visions and family regulation in British Columbia, 1862–1940 (Vancouver and Toronto, 2007). CPG, 1898–99. Directory, Winnipeg, 1880, 1882–84, 1886, 1888, 1890. Christopher Moore, The British Columbia Court of Appeal: the first hundred years (Vancouver, 2014).

© 2022–2023 University of Toronto/Université Laval
Image Gallery

Cite This Article
Hugh Avi Gordon, "McPHILLIPS, ALBERT EDWARD," in Dictionary of Canadian Biography, vol. 16, University of Toronto/Université Laval, 2003–, accessed October 1, 2023, http://www.biographi.ca/en/bio/mcphillips_albert_edward_16E.html.
The citation above shows the format for footnotes and endnotes according to the Chicago manual of style (16th edition). Information to be used in other citation formats:
| | |
| --- | --- |
| Permalink: | http://www.biographi.ca/en/bio/mcphillips_albert_edward_16E.html |
| Author of Article: | Hugh Avi Gordon |
| Title of Article: | McPHILLIPS, ALBERT EDWARD |
| Publication Name: | Dictionary of Canadian Biography, vol. 16 |
| Publisher: | University of Toronto/Université Laval |
| Year of publication: | 2022 |
| Year of revision: | 2022 |
| Access Date: | October 1, 2023 |