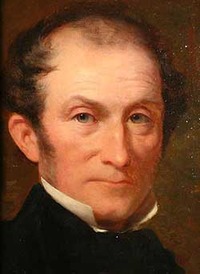 Source: Link
ALLISON, CHARLES FREDERICK, merchant, philanthropist, and college administrator; b. 25 Jan. 1795 in Cornwallis, N.S., son of James Allison, farmer and merchant, and Margaret Hutchinson; m. 23 June 1840 Milcah Trueman, and they had at least one daughter; d. 20 Nov. 1858 in Sackville, N.B.
Of Ulster Scottish descent, Charles Frederick Allison grew up in Cornwallis, N.S., where he received his education. After moving to Parrsboro, he spent several years working as a clerk in a store owned by James Ratchford, a relative by marriage. At the age of 21 he joined the expanding mercantile firm run by his cousin William Crane and Bardin Turner in Sackville, N.B., and within a few years became a partner. The Crane and Allison concern operated both in the Sackville area, as a distributor of local agricultural produce and imported goods, and on the Miramichi River, exporting timber to Liverpool and selling provisions and imported commodities. The firm's widespread trading links in both Great Britain and the New England states enabled it also to play a significant role in stimulating the development of shipbuilding in Sackville parish, since it bought several vessels from local yards during the 1820s. Allison's cautious approach to business transactions – a contemporary remarked that he was "inclined to pursue safe rather than rapid modes of acquiring wealth" – made him an effective counterpart to the ebullient Crane. As Crane was active in provincial politics from 1824, the daily conduct of the firm's affairs fell largely to Allison, until he retired from active business in early 1840 to devote himself to the establishment of Mount Allison Wesleyan Academy in Sackville.
The roots of Allison's interest in education lay in a spiritual crisis during the mid 1830s which resulted in his conversion from the Church of England to the Methodist denomination. Through the influence of the Reverend William Smithson, he began to attend Methodist services in 1833, and in 1836 he was among those converted at a series of revival meetings held in Sackville by the Reverend John Bass Strong. Allison thus joined a denomination which had aspired for some years to open an educational institution in the Maritime provinces but had been unable to raise the necessary funds. In 1839 he resolved this difficulty by offering to buy land in Sackville for a school and to construct a suitable building at his own expense, and to donate £100 annually for its first ten years of operation. He wanted a preparatory school for boys where "not only the Elementary, but higher branches of Education may be taught."
First broached at a meeting of New Brunswick Methodist ministers in Saint John, Allison's offer was then put to a joint meeting of the New Brunswick and Nova Scotia districts in Halifax on 12 July 1839. An observer, the Reverend Enoch Wood*, later recalled Allison's characteristically unassuming demeanour at the meeting. "One sentence of his address," Wood wrote, "I have never forgotten. . . . 'The Lord hath put it into my heart to give this sum towards building a Wesleyan Academy,' – and then he made a short pause, as though he was afraid he had spoken too strongly, resuming – "I know the impression is from the Lord, for I am naturally fond of money.'"
Allison's "munificent offer" was accepted by the meeting. Winding up his business affairs by the following January, he laid the foundation-stone for the Mount Allison Wesleyan Academy on 9 July 1840, supervised the construction personally, and saw it opened to students on 19 Jan. 1843. In the years that followed, he took an active interest in its operation: he was a frequent visitor to the school and served as treasurer until his death. Shy by nature and quiet in manner, Allison shunned public attention. In 1849 he declined an appointment to the Legislative Council of New Brunswick offered by the government leader, Edward Barron Chandler*, even though he had been assured that he would not be called upon to identify himself with any political party. Most of his energy continued to be expended on the academy, and during the late 1840s and early 1850s he played a leading role in promoting the idea of adding a school for girls. He again supervised the construction of a building and, in the summer of 1854, after donating £1,000, had the satisfaction of seeing the female academy, with Mary Electa Adams* as lady preceptress, begin to receive students. Allison did not live to see the inauguration of yet a further institution bearing his name – the Mount Allison Wesleyan College, opened in 1862 – but it benefited from a sum left in his will to be put towards a degree-granting college.
Yet when Allison died, it was not his money that was chiefly remembered at Mount Allison, important though his donations had been. In fact, his retirement from business in 1840 had limited his wealth and his fortune was described as "a small one"; his estate was estimated at only £10,000. Humphrey Pickard*, the academy's principal, declared that Allison's gift had also included his time and energy, and his passing was mourned as the loss of an able counsellor and a loyal and constant friend of the institution. As a merchant, Allison had participated successfully in the commercial economy of the Maritime provinces; as the founder of Mount Allison, he turned both his wealth and his personal abilities to the service of his religious denomination and to the cause of education in the region.
A large, full-length oil portrait of Charles Frederick Allison, begun by the English artist William Gush shortly before Allison's death in 1858 and completed subsequently, hangs in the Owens Art Gallery of Mount Allison Univ. (Sackville, N.B.). A smaller portrait by the same artist is in the university's Alumni and Continuing Education Centre. Details regarding these portraits are available in Mount Allison Univ. Arch., F. W. W. DesBarres, "Correspondence from Alice Borden and L. M. Fortier concerning William Gush (artist), his career, and his painting of the Allison portraits" (ms, 1929).
BLHU, R. G. Dun & Co. credit ledger, Canada, 7: 203. Mount Allison Univ. Arch., C. F. Allison papers. N.B. Museum, N.B. Hist. Soc. papers, Crane & Allison corr., 1834–52. PANB, MC 218, MS3/17; "New Brunswick political biography," comp. J. C. and H. B. Graves (11v., typescript), IV; RG 7, RS74A, 1858, C. F. Allison. PANS, MG 3, 300. SOAS, Methodist Missionary Soc. Arch., Wesleyan Methodist Missionary Soc., corr., N. Am., C. F. Allison to William Temple, 4 June 1839 (mfm. at UCA and United Church of Canada, Maritime Conference Arch. (Halifax)). United Church of Canada, Maritime Conference Arch., Wesleyan Methodist Church, New Brunswick District, minutes, 12 July 1839 (mfm. at UCA). British North American Wesleyan Methodist Magazine (Saint John, N.B.), 1 (1840–41): 79–80; 2 (1842): 274; 3 (1843): 198–99 [a series of short, uncredited articles on the foundation of the Wesleyan Academy, the first of which reprints Allison's endowment proposal]. A catalogue of the officers and students of the Wesleyan Academy, Mount Allison, Sackville, New Brunswick (Saint John; Sackville), 1843–52 (copies in Mount Allison Univ. Arch.). Richard Knight and William Temple, "Address of the Wesleyan missionaries in the Nova Scotia and New-Brunswick districts to the members of society, and congregations attending their ministry, and friends of religious education generally," British North American Wesleyan Methodist Magazine, 1: 558. Mount Allison Academic Gazette (Sackville), nos.1 (December 1853)–6 (1857), especially no.3 (December 1854): 2–4; no. 8 (1859): 13–14 (copies in Mount Allison Univ. Arch.). Humphrey Pickard, "A discourse commemoratory of the late Chas. F. Allison, esq., founder of the Mount Allison Wesleyan Academy, delivered in Lingley Hall, Sabbath evening, May 29th, 1859, at the request of the students," Mount Allison Academic Gazette, no.8: 5–9. Provincial Wesleyan (Halifax), 14 Feb. 1852, 18 March 1853. Royal Gazette (Fredericton), 21 Feb. 1849. L. A. Morrison, The history of the Alison, or Allison family in Europe and America, A.D. 1135 to 1893; giving an account of the family in Scotland, England, Ireland, Australia, Canada, and the United States (Boston, 1893). D. E. Alward, "Down Sackville ways: shipbuilding in a nineteenth century New Brunswick outport" (ba thesis, Mount Allison Univ., 1978), 136–37. W. C. Milner, History of Sackville, New Brunswick (Sackville, 1934). J. G. Reid, Mount Allison University: a history, to 1963 (2v., Toronto, 1984). Smith, Hist. of Methodist Church. Wynn, Timber colony. [M. C. Maxwell] Mrs A. E. Vesey, "Founder's Day address," Mount Allison Record (Sackville), 17 (1933–34): 14–22 (copy in Mount Allison Univ. Arch.). "The old Sackville Academy," Argosy (Sackville), 39 (1912–13): 262–64 (copy in Mount Allison Univ. Arch.). Enoch Wood, "Wesleyan Academy, Mount Allison, Sackville, N.B.," Wesleyan (Halifax), 19 May 1882: [6].
© 1985–2023 University of Toronto/Université Laval
Image Gallery

Cite This Article
John G. Reid, "ALLISON, CHARLES FREDERICK," in Dictionary of Canadian Biography, vol. 8, University of Toronto/Université Laval, 2003–, accessed June 3, 2023, http://www.biographi.ca/en/bio/allison_charles_frederick_8E.html.
The citation above shows the format for footnotes and endnotes according to the Chicago manual of style (16th edition). Information to be used in other citation formats:
| | |
| --- | --- |
| Permalink: | http://www.biographi.ca/en/bio/allison_charles_frederick_8E.html |
| Author of Article: | John G. Reid |
| Title of Article: | ALLISON, CHARLES FREDERICK |
| Publication Name: | Dictionary of Canadian Biography, vol. 8 |
| Publisher: | University of Toronto/Université Laval |
| Year of publication: | 1985 |
| Year of revision: | 1985 |
| Access Date: | June 3, 2023 |