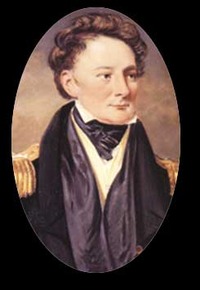 Source: Courtesy of Wikimedia Commons
BARCLAY, ROBERT HERIOT (Herriot), naval officer; b. 18 Sept. 1786 in Kettle (Kettlehill), Scotland, son of the Reverend Peter Barclay, minister of Kettle; brother of John*; m. 11 Aug. 1814 Agnes Cosser of Westminster (London), and they had several children; d. 8 May 1837 in Edinburgh.
Robert Heriot Barclay entered the Royal Navy as an 11-year-old in May 1798, and served as a midshipman in the 44-gun ship Anson until transferred to Lord Nelson's flagship, the Victory, in February 1805. A month later he received promotion to acting lieutenant in the Swiftsure (74 guns), and he was confirmed in rank ten days before taking part in the battle of Trafalgar on 21 Oct. 1805. In the storm that followed the battle the Swiftsure had to cut a captured French ship, the Redoubtable, loose from her tow, and Barclay rescued 170 of her seamen before she sank.
During 1808 and 1809 he repeatedly demonstrated a high order of bravery and skill as second lieutenant of the fifth rate Diana (38 guns), on service in the English Channel. In November 1809, when commanding a detachment of boats attacking a French convoy, he lost his left arm. The following year, after recuperating from the wound, he went to the North American station, apparently led to believe he would be promoted commander. Instead, he was assigned briefly to the schooner Bream as a lieutenant, and then served in the Aeolus (32 guns) and the sloop Tartarus. Returning to the eastern Atlantic, he was in the Iphigenia (36 guns) between July 1810 and October 1812.
War in North America brought Barclay to Halifax in February 1813. He conducted a small group of officers overland to Kingston, Upper Canada, and when he arrived on 5 May he took charge, as an acting commander, of all naval forces on the lakes. Superseded ten days later by Captain Sir James Lucas Yeo*, he was sent to Lake Erie as senior officer. By his own account, "This Command was offered to Captain [William Howe] Mulcaster the next in command to Sir James Yeo, who to my personal knowledge declined it in consequence of its ineffectual State and Sir James Yeo refusing to send Seamen."
When Barclay reached Amherstburg in mid June after an eventful and difficult journey, largely overland, he took command of the 16-gun ship Queen Charlotte and a small squadron. In vessels he was superior to the American forces, but a lack of naval stores and trained seamen, partly because of chronic shortages and partly because of Yeo's refusal to send men from Lake Ontario, placed him at a disadvantage. With extensive industrial resources and lines of communication available to him, Barclay's opponent, Captain Oliver Hazard Perry, was able to construct, arm, and man enough vessels with regular seamen to overcome Barclay's edge in numbers of ships, guns, and crews. The refusal of Major-General Francis de Rottenburg* to cooperate with Barclay in an attack left Perry's base at Erie, Pa, secure.
The American squadron concentrated there while shipwrights slaved to get the 20-gun brigs Niagara and Lawrence ready for action. Barclay looked into the harbour on 30 July, saw no sign of the ships coming out, lifted the blockade he had mounted, and bore off across the lake to Dover (Port Dover). At a public dinner there he is said to have responded to a complimentary toast, "I expect to find the Yankee brigs hard and fast on the bar at Erie when I return, in which predicament it will be but a small job to destroy them." When he went back on 4 August the Niagara was hard aground, but the smaller vessels and the Lawrence were anchored offshore. According to American master shipwright Daniel Dobbins, the southeast wind made all the vessels face in the same direction, and "viewing the coast from the offing during a southeasterly wind, the haze incident to such wind, coupled with the high land in the rear, deceives the vision." Barclay, after an hour's reconnaissance, decided that all the vessels were out, ready to do battle with his undermanned and weak little squadron. He returned to Amherstburg in order to commission his new ship, the Detroit (20 guns), and prepare his relatively untrained crews for the encounter he knew to be inevitable. He sailed to meet Perry on 9 September, found the American squadron among the Bass Islands soon after daylight on the 10th, and opened the engagement just before noon. "The Action Continued with great fury until half past two," reported Barclay. At that time he appeared to have won the day, but the situation was soon reversed. Every British captain and all the most experienced officers were either killed or seriously wounded by the end of the battle an hour and a half later, when Perry accepted Barclay's surrender and made prizes of all the British vessels.
Totally exonerated afterwards – his remaining arm was injured and part of his thigh was cut away, so that "he tottered before a court-martial like a Roman trophy – nothing but helm and hauberk" – he received a gift of plate from the inhabitants of Quebec and Canadian merchants in London. The Admiralty confirmed him as commander on 13 Nov. 1813, and on 7 Nov. 1815 granted him a pension of £200 in addition to the five pence a day previously allowed for his wounds.
The inhabitants of Upper Canada remembered Barclay with mixed feelings. Amelia Harris [Ryerse*] later recollected that the lifting of the blockade in July 1813 had resulted from Barclay's preoccupation with a "pretty widow." Her accusation has never been proved. Despite Barclay's undoubtedly brave fight, she added, "those who knew of his leaving the blockade could not help feeling that all the disasters of the upper part of the province lay at his door."
In the recriminations following British naval defeats during the War of 1812, Barclay became the victim of a political clash in parliament. Although the debate over Lake Erie, begun by the Marquis of Buckingham in 1815, died when Napoleon escaped from Elba, Barclay was consigned to obscurity by the Admiralty. He began to petition for employment in 1822, hoping for assistance from his supporter Buckingham, was given command of the bomb-vessel Infernal from 12 April to 11 Oct. 1824, and was made post-captain on 14 October. After this belated concession to his court martial's findings that "the Judgement and Gallantry of Captain Barclay . . . were highly conspicuous and entitled him to the highest Praise," he received no further employment before his death 13 years later.
NMM, C. G. Pitcairn-Jones, notes on sea officers. PAC, RG 8, I (C ser.), 678, 729. PRO, ADM 1/2737–38, 1/4541 (mfm. at PAC); ADM 9/4/1241; ADM 12/168/721. William L. Clements Library, Univ. of Mich. (Ann Arbor), War of 1812 coll. Select British docs. of War of 1812 (Wood), vol.2. Marshall, Royal naval biog., vol.3, pt.i. The defended border: Upper Canada and the War of 1812 . . . , ed. Morris Zaslow and W. B. Turner (Toronto, 1964). W. W. Dobbins, History of the battle of Lake Erie (September 10, 1813), and reminiscences of the flagships "Lawrence" and "Niagara" (2nd ed., Erie, Pa., 1913). B. J. Lossing, The pictorial field-book of the War of 1812 . . . (New York, 1869). A. T. Mahan, Sea power in its relations to the War of 1812 (2v., London, 1905). Theodore Roosevelt, The naval war of 1812; or, the history of the United States Navy during the last war with Great Britain; to which is appended an account of the battle of New Orleans (3rd ed., New York, 1883). Max Rosenberg, The building of Perry's fleet on Lake Erie, 1812–1813 (n.p., 1968). Egerton Ryerson, The loyalists of America and their times: from 1620 to 1816 (2v., Toronto and Montreal, 1880). E. A. Cruikshank, "The contest for the command of Lake Ontario in 1812 and 1813," RSC Trans., 3rd ser., 10 (1916), sect.ii : 161–223. H. H. Peckham, "Commodore Perry's captive," Ohio Hist. (Columbus), 72 (1963): 220–27. C. P. Stacey, "Another look at the battle of Lake Erie," CHR, 39 (1958): 41–51.
© 1988–2023 University of Toronto/Université Laval
Image Gallery

Cite This Article
W. A. B. Douglas, "BARCLAY, ROBERT HERIOT," in Dictionary of Canadian Biography, vol. 7, University of Toronto/Université Laval, 2003–, accessed November 29, 2023, http://www.biographi.ca/en/bio/barclay_robert_heriot_7E.html.
The citation above shows the format for footnotes and endnotes according to the Chicago manual of style (16th edition). Information to be used in other citation formats:
| | |
| --- | --- |
| Permalink: | http://www.biographi.ca/en/bio/barclay_robert_heriot_7E.html |
| Author of Article: | W. A. B. Douglas |
| Title of Article: | BARCLAY, ROBERT HERIOT |
| Publication Name: | Dictionary of Canadian Biography, vol. 7 |
| Publisher: | University of Toronto/Université Laval |
| Year of publication: | 1988 |
| Year of revision: | 1988 |
| Access Date: | November 29, 2023 |