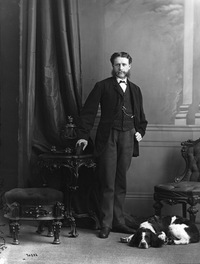 Source: Courtesy of Wikimedia Commons
BEERS, WILLIAM GEORGE, dentist, publisher, editor, athlete, and author; b. 5 May 1841 in Montreal, son of James Crawford Beers, cabinet-maker, and Isabella Hope; m. Mary E. Hope; d. 26 Dec. 1900 in Montreal.
After being educated in Montreal at Philips School and Lower Canada College, in November 1856 William George Beers was apprenticed for four years to Charles M. Dickinson, a dentist in the city. This training soon placed him in the front rank of dentists in the Canadas, and by the early 1860s he was publishing articles in American dental journals. One of the first proponents of dental schools and of legislation to establish the dental profession, he was a driving spirit behind the founding in 1868 of the Dental Association of the Province of Quebec, of which he was named secretary and later president. That year, with his own money, he founded the Canada Journal of Dental Science (Montreal); it ran into financial difficulties from 1871 and finally expired in 1879 after draining all of Beers's resources.
Beers had been playing lacrosse since the age of six. In the summer of 1860 he was goal-tender for the Montreal Lacrosse Club in a match presented before the visiting Prince of Wales. Lacrosse had been played occasionally by whites since the 1830s, but the acknowledged masters of the game were its originators, the Indians. In his youth Beers avidly studied matches between the Indians of Saint-Régis (Akwesasne) and Caughnawaga (Kahnawake) in the Montreal area, but he could not accept their wild, often violent, style of play. The game, he concluded, required rationalization. In 1860 he published a brochure that laid down basic rules and established field size, the distance between goals, and the number of players per side. Lacrosse subsequently began to enjoy wide popularity among whites. On 26 Sept. 1867, largely through Beers's efforts, the National Lacrosse Association was formed in Kingston, Ont., by the representatives of 29 clubs from Quebec and Ontario, and it adopted his rules. Two years later he published Lacrosse, the national game of Canada, in which he outlined the historical background of the game, repeated its rules, and reflected on the theory and strategy of play in the various positions.
Through his writings on lacrosse Beers exhibited several attitudes and beliefs typical of the English Canadian élite of his time. He supported the British notion of muscular Christianity, demonstrated a strong belief in the need for order, and affirmed that science and scientific methods were the keys to progress. For Beers the Indian played lacrosse "mainly by instinct . . . but the Indian never can play as scientifically as the best white players." "The present game," he asserted, "improved and reduced to rule by the whites, employs the greatest combination of physical and mental activity white man can sustain in recreation, and is as much superior to the original as civilization is to barbarism." Later, however, Beers would recognize the limits of rules and "civilization" in the Canadian make-up. "Canadian sports . . . have a character of their own," he wrote in 1883. "They smack more of the ungoverned and ungovernable than the games of the Old World, and seem to resent the impost of regulations."
Beers did more than codify lacrosse; he promoted it actively and successfully. The National Lacrosse Association gave the game the structure and leadership needed to make it a rival to such sports as cricket, horse-racing, soccer, rugby, and baseball, while Beers's book popularized it throughout the country. In 1876 and 1883 Beers was the main organizer of tours of the British Isles by Canadian lacrosse teams, tours that were designed to promote interest in the game overseas. His promotion of lacrosse revealed Beers's fervent nationalism. "If the Republic of Greece was indebted to the Olympic Games; if England had cause to bless the game of cricket, so may Canada be proud of Lacrosse," he asserted. "It has raised a young manhood throughout the Dominion to active healthy exercise; . . . and has perhaps done more than anything else to involve the sentiment of patriotism among young men in Canada." So successful was Beers as a promoter that his claim lacrosse had been declared the national game of Canada by act of parliament became a myth both long and widely held. Nevertheless, lacrosse did become the national game of Canada by the end of the century. Indeed Beers's pioneering effort in its development and promotion provided a model, at the time, for the organization and administration of other sports in Canada.
Yet Beers was aware of the problems lacrosse would face if "a common perversion of the game," the use of brute force and rough play by "unscientific and young players," grew. His efforts to eliminate violent play while retaining virile body contact, however, were doomed to failure at a time when ethnic and religious conflict found an outlet in matches between teams from antagonistic groups; in the early 20th century the game declined in popularity.
Lacrosse was not the only sport in which Beers was involved, nor was it the only means whereby he expressed his nationalism. In the 1850s he had been a member of the Montreal Snow Shoe Club, the Olympic Club, and a tobogganing club. In 1862–63 he contributed 20 articles on Canadian sports to Wilkes' Spirit of the Times (New York), and he subsequently wrote on various aspects of Canadian life for Saturday Reader (Montreal) and Once a Week (London), as well as for Harper's Magazine (New York), Lippincott's Magazine (Philadelphia), Century Illustrated Magazine (New York), Scribner's Magazine (New York), and other major American periodicals. Following the Trent affair in 1861 [see Sir Charles Hastings Doyle*] he organized a company in the battalion of Victoria Rifle Volunteers from the players of the Montreal and Beaver lacrosse clubs, outfitting them at his own expense; this battalion became the famed Victoria Rifles of Canada. He was a founder of the Montreal Amateur Athletic Association, incorporated in 1881, which soon affiliated snowshoe, lacrosse, bicycle, toboggan, and football clubs in the city and later added hockey, chess, and cricket clubs. Its expansion enabled the association to provide excellent sporting facilities and leadership in organizing sports on a national basis. It ultimately branched out into cultural activities including drama, music, and debating. In 1883, recalling personally a time in Canadian society when "scholar and sportsman were deemed as irrelative as vice and virtue," Beers applauded those who, like himself, had paved the way for a "rational estimate of recreation" in Canadian life. A splendid orator, Beers had become a well-known speaker in Canada and the United States, and he wrote poetry, songs, articles, and books to promote patriotism in the young dominion. Politically a Conservative, in religion a Presbyterian, he was above all a nationalist; "he believes," wrote Henry James Morgan*, "in annihilation rather than annexation, and in Imp. Canadianism." He was a founder of the Canadian National League in 1893.
Boasting the largest dental practice in Montreal by 1880, Beers had been a leader in the dental profession in Canada since the 1870s at least. In 1889 he became editor of the newly established Dominion Dental Journal (Toronto), and in 1892 he was named the first dean of the Dental College of the Province of Quebec. He had been a professor of dentistry at McGill University and was a public adviser on all matters relating to dentistry. He was twice president, and served for 11 years as secretary, of the Board of Examiners, which regulated the profession. In all he published more than 200 articles on preventive dentistry. He strove unceasingly to improve standards of practice, and in 1896 he resigned as dean of the Dental College when a number of the staff favoured a use of dental assistants that Beers feared would undermine the reputation of the profession. During the 1890s at least, he restricted his private practice to oral surgery, and by his success he initiated a trend to specialization among dentists in the larger urban centres. Typically, Beers exuded nationalism even in the context of his profession, the organization of which he liked to date from confederation. He used the occasion of addresses to dental societies to promote his nationalist views, as in 1888, when he declared to a gathering of American dentists discussing annexation, "Mr Chairman, Canada is not for sale," or two years later, when he told graduates of a Toronto dental school that "neither race, nor religion, nor color can separate us from the duty we owe to do some patriotic service for our land."
Beers died of heart disease in December 1900 at age 59, having bequeathed his dental library of some 400 volumes – undoubtedly the largest in Canada at the time – to the Royal College of Dental Surgeons of Ontario. Chiefly through his codification and promotion of lacrosse, his development of organized sport, and his contribution to the professionalization of dentistry, William George Beers made a remarkably lasting impact on Canadian social history. In addition, he gave frequent and eloquent expression to a nascent Canadian nationalism at a time when, following the American Civil War, the United States appeared to many to be an ever-increasing menace to a continuing separate existence for the young dominion.
William George Beers is the author of numerous articles and books, including Lacrosse, the national game of Canada (Montreal, 1869); Over the snow; or the Montreal carnival (Montreal, 1883); and Young Canada's reply to 'annexation' ([Montreal, 1888]). A portrait of Beers appears in D. W. Gullett, A history of dentistry in Canada (Toronto, 1971), and a photograph of him with the Montreal Lacrosse Club in 1867 is reproduced in S. F. Wise and Douglas Fisher, Canada's sporting heroes (Don Mills [Toronto], 1974), 29.
ANQ-M, CE1-95, 29 mai 1842. NA, MG 28, 51; MG 29, C17. Gazette (Montreal), 27 Dec. 1900. Canadian men and women of the time (Morgan; 1898). Dane Larken, "Lacrosse: 'little brother of war,' the Indians called it," Canadian Geographic (Ottawa), 104 (1984), no.5: 36–43.
© 1990–2023 University of Toronto/Université Laval
Cite This Article
J. Thomas West, "BEERS, WILLIAM GEORGE," in Dictionary of Canadian Biography, vol. 12, University of Toronto/Université Laval, 2003–, accessed September 26, 2023, http://www.biographi.ca/en/bio/beers_william_george_12E.html.
The citation above shows the format for footnotes and endnotes according to the Chicago manual of style (16th edition). Information to be used in other citation formats:
| | |
| --- | --- |
| Permalink: | http://www.biographi.ca/en/bio/beers_william_george_12E.html |
| Author of Article: | J. Thomas West |
| Title of Article: | BEERS, WILLIAM GEORGE |
| Publication Name: | Dictionary of Canadian Biography, vol. 12 |
| Publisher: | University of Toronto/Université Laval |
| Year of publication: | 1990 |
| Year of revision: | 1990 |
| Access Date: | September 26, 2023 |