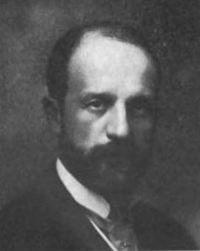 Source: Link
BIENVENU, TANCRÈDE (baptized Louis-Tancrède), bookkeeper, teacher, banker, businessman, and administrator; b. 26 April 1864 in Sainte-Julie, Lower Canada, son of Azari Bienvenu, a day labourer, and Marie-Louise-Odile-Octavie Chagnon, dit Larose; m. 13 May 1885 Clara Martin in the parish of Notre-Dame, Montreal, and they had seven daughters and five sons; d. 5 Feb. 1931 in Westmount, Que., and was buried two days later in Notre-Dame-des-Neiges cemetery in Montreal.
Very little is known about the first years of Tancrède Bienvenu's life. The third in a family of at least eight children, Tancrède was a second cousin of Sir Louis-Hippolyte La Fontaine*. He enrolled in the industrial college in Varennes at the end of his adolescence. His mother had been a teacher, and it seems that the Bienvenu family attached great importance to education. In 1882, after completing his training, Bienvenu was hired as a bookkeeper by Auguste Couillard, a wholesale hardware merchant in Montreal. After teaching at his alma mater for a few years, including 1888, he went into partnership for a very short time (it is not clear in what capacity) with the hardware firm of Martin, Bienvenu and Company.
At the end of the 1880s Bienvenu started work at the Banque Jacques-Cartier, probably in the assistant manager's department. The bank was growing rapidly at the time and generated higher profits and dividends than its competitors. Bienvenu quickly worked his way up the ladder. According to Le Prix courant, he became an inspector in 1891, assistant manager in 1893, manager, and then general manager in 1896. From 1897 to 1899 the bank made great progress under his direction. Indeed, its assets grew by more than double the average rate for the industry, and its earnings far surpassed those reported by similar enterprises in the province. In 1899 the panic sparked by the failure of the Banque Ville-Marie [see William Weir*] nevertheless dealt a severe blow to the Banque Jacques-Cartier, whose customers attempted to withdraw their deposits en masse [see Alphonse Desjardins*] and which had to suspend operations for a few weeks. It was at this point that Bienvenu's role took on a new importance. The president, Guillaume-Narcisse Ducharme*, asked him to reorganize the bank's affairs, stave off liquidation, and execute Ducharme's plan, which was to re-establish the reserve funds and increase the capital from $750,000 to $1 million. To regain the confidence of clients, Bienvenu also instituted such measures as a guarantee on deposits of less than $1,000, which appeared to be a popular move. To reassure investors, he called for a change in the company's name: on 3 July 1900 it became the Banque Provinciale du Canada. Beginning in the mid 1910s, he would also act as its vice-president.
Between 1901 and 1921 the capital of the three biggest French Canadian financial institutions, the Banque Nationale, the Banque Provinciale du Canada, and the Banque d'Hochelaga, grew from $3.45 million to $8 million. These firms opened more than 250 branches in an essentially French-speaking market. The Banque Provinciale du Canada alone saw its capital increase from $862,000 to $3 million. It opened 152 branches, mainly in French-speaking towns in Quebec, but also in Ontario and the Maritimes.
The organization's success was the result of teamwork between French Canadian bankers and English Canadian managers. The former, who constituted a majority on the board of directors, dealt primarily with day-to-day operations, such as deposits, the location of branches, and commercial loans. The latter (including the businessmen George Bull Burland and Samuel Carsley) looked after the investment of savings deposits in the capital market. Their presence was important for Bienvenu, for it had considerable influence on the management of the firm, but without changing its French Canadian identity.
At the beginning of the 1920s the Banque Provinciale du Canada refused to participate in a plan (which was abandoned) to merge French Canadian banks in order to compete with English Canadian institutions. At the end of 1923, when the Banque Nationale seemed on the verge of bankruptcy [see Georges-Élie Amyot*], the idea resurfaced, this time supported by the Liberal government of Louis-Alexandre Taschereau*. The Banque Provinciale again declined to take part: according to its administrators, French Canadians would derive no benefit from having access to just one French Canadian financial institution. It was rumoured that the Conservative affiliation of certain managers at the Banque Provinciale, along with Bienvenu's inability to obtain a seat on the Legislative Council because of Taschereau's objections, may have influenced that decision. The absorption of the Banque Nationale by the Banque d'Hochelaga in 1924 gave birth to what would become known in 1925 as the Banque Canadienne Nationale. Not counting the credit unions, this bank and the Banque Provinciale du Canada were now the only two French Canadian financial institutions in the province of Quebec. Bienvenu attempted to open branches where those of the Banque Nationale had been closed, but the two firms soon agreed to limit their mutual competition.
In 1927 Bienvenu wrote to one of his daughters, Sister Germaine, that he needed to spend two months under observation at the clinic of the neurologist Georges Guillain in Paris. His health problems (including a partly paralyzed hand) would prevent him thereafter from going to work at the bank every day. He gave up his position as general manager to become first vice-president, a post he would occupy for the rest of his life.
Outside the realm of banking, Bienvenu had had an interest in the business of Carlo Onorato (Charles-Honoré) Catelli, who specialized in the manufacture of pasta. In 1908 he was one of the businessmen who succeeded in having the Compagnie C. H. Catelli incorporated as a joint-stock company. Four of Bienvenu's sons held key positions in the firm in 1918. The family fortune was now assured. This enterprise, "the biggest in Canada" in its field, according to an article published in Le Devoir on 7 March 1925, had 150 employees and distributed its pasta in Canada, England, the West Indies, and elsewhere.
Bienvenu held many honorary and administrative positions. He was honorary treasurer of the committee that raised money to erect a monument to Edward VII in 1911 and to build Notre-Dame Hospital. He was a member of the Honorary Advisory Council for Scientific and Industrial Research in 1916, of the finance committee of the Canadian Red Cross Society, and of the Canadian Patriotic Fund during World War I. Bienvenu was also a director of the Crédit Foncier Franco-Canadien, the Life Insurance Company La Sauvegarde, the Scottish Union and National Insurance Company, the Guardian Assurance Company Limited, and the Lake of the Woods Milling Company Limited.
Unlike some other capitalists of the time, such as Frédéric-Ligori Béïque, Sir Rodolphe Forget*, and Joseph-Marcellin Wilson, who all had close ties to a political party, Bienvenu had usually taken great care not to reveal, at least in public, his own loyalties. On a few occasions, however, his name surfaced in written accounts. On 16 Oct. 1904, for example, the newspaper Le Nationaliste, run by the combative Olivar Asselin, published a headline revealing that La Presse had been purchased by some well-known Conservatives, including Hugh Graham, the wealthy owner of the Montreal Star. In the days that followed, it was learned that during the night of 12 October Trefflé Berthiaume*, owner of La Presse, had in fact sold his daily to the Conservative financier David Russell. In his capacity as a banker, Bienvenu deposited with the Banque Provinciale du Canada the proceeds of the transaction, which was part of a conspiracy to discredit the Liberal Party. A short time later Russell had to sell his purchase to Donald Mann and William Mackenzie*, two railway promoters. Prime Minister Sir Wilfrid Laurier*, after some negotiations with the new owners, succeeded in keeping La Presse in the Liberal fold. In January 1905 Mackenzie and Mann even sent a letter to Laurier in which they affirmed, "It is distinctly understood … that the paper La Presse is not to be a Tory organ, that it is to be independent, and that it is to give Sir Wilfrid Laurier a generous support." It was not until the fall of 1906 that Bienvenu saw Berthiaume regain possession of La Presse in the course of another transaction that took place in the head office of the Banque Provinciale du Canada.
In 1907 Bienvenu's name appeared again in association with a similar affair. A dispatch from Le Soleil, the voice of Quebec's Liberal Party, affirmed on 10 December that "the few newspapers likely to become party organs for Mr Borden [Sir Robert Laird Borden] have been approached on behalf of a syndicate composed of Messieurs Rodolphe Forget, Tancrède Bienvenu and Hugh Graham." The following day Bienvenu sent a telegram to Laurier: "I strongly protest against this article in yesterday's 'Soleil' [and] ask you to believe [I] know absolutely nothing about this affair [and] besides [I] never concern myself with politics." Some of Laurier's close associates suspected Bienvenu of being implicitly loyal to the Conservatives. In his letters to Borden, in 1915, Bienvenu does show a certain sympathy for the Conservative prime minister, calling himself, in a message written on 19 June, "your most sincere and respectfully [sic] friend."
Tancrède Bienvenu was regarded as a prudent administrator, a hard worker who put in 15-hour days, and a talented manager. The purchase of a family residence in Westmount in the early 1910s and a summer home in Murray Bay (La Malbaie), as well as his frequent journeys to France, Rome, and Atlantic City, N.J., confirmed his status. On 5 Feb. 1931 his health problems finally caught up with him. Two days later the funeral procession that accompanied his remains to Notre-Dame-des-Neiges cemetery included both Conservative and Liberal financiers and politicians.
BANQ-CAM, CE601-S10, 13 oct. 1857; CE601-S42, 26 avril 1864; CE601-S51, 13 mai 1885. FD, Notre-Dame (Montréal), 7 févr. 1931. LAC, Census returns for the 1911 Canadian census, Que., dist. Montreal (182), subdist. St Laurent Ward (11): 22; R233-35-2, Que., dist. Chambly (67), subdist. St Bruno (I): 13; R233-36-4, Que., dist. Montreal (172), subdist. St James Ward (E): 4–5; R233-37-6, Que., dist. Montreal (177), subdist. St Laurent Ward (A): 26; R6113-2-3: 2749–51, 67478; R10811-2-3: 93729, 133098–101, 133950–53, 154488–90. Le Devoir, 23 mai 1925, 3 avril 1926, février 1931. Le Nationaliste (Montréal), octobre 1904–janvier 1905. La Patrie, février 1931. La Presse, octobre 1904, 14 août 1919, 11 déc. 1920, février 1931. Le Prix courant (Montréal), 1891–97. Le Soleil, décembre 1907. BCF, 1930: 360. Directory, Montreal, 1894–1931. J. Hamelin et al., La presse québécoise, vols.2–4. "In memoriam: sœur Germaine Bienvenu (S. S.-Claire-du-Sacré-Cœur), décédée le 27 novembre 1972," Notices biographiques (45v. parus, Montréal, 1969– ), 3: 297–312. Hélène Pelletier-Baillargeon, Olivar Asselin et son temps (3v., [Montréal], 1996–2010), 1. Ronald Rudin, Banking en français: the French banks of Quebec, 1835–1935 (Toronto, 1985). Rumilly, Hist. de la prov. de Québec, vol.12: 172–78; Hist. de Montréal, vol.3. Joseph Schull, Laurier, trans. H.‑J. Gagnon ([Montréal], 1968), 357–61.
© 2020–2023 University of Toronto/Université Laval
Cite This Article
in collaboration with Simon Jolivet, "BIENVENU, TANCRÈDE (baptized Louis-Tancrède)," in Dictionary of Canadian Biography, vol. 16, University of Toronto/Université Laval, 2003–, accessed December 4, 2023, http://www.biographi.ca/en/bio/bienvenu_tancrede_16E.html.
The citation above shows the format for footnotes and endnotes according to the Chicago manual of style (16th edition). Information to be used in other citation formats:
| | |
| --- | --- |
| Permalink: | http://www.biographi.ca/en/bio/bienvenu_tancrede_16E.html |
| Author of Article: | in collaboration with Simon Jolivet |
| Title of Article: | BIENVENU, TANCRÈDE (baptized Louis-Tancrède) |
| Publication Name: | Dictionary of Canadian Biography, vol. 16 |
| Publisher: | University of Toronto/Université Laval |
| Year of publication: | 2020 |
| Year of revision: | 2020 |
| Access Date: | December 4, 2023 |