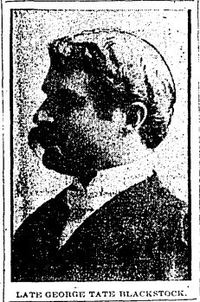 Source: Link
BLACKSTOCK, GEORGE TATE, lawyer; b. 1 April 1856 in Newcastle, Upper Canada, son of William Schenck Blackstock and Mary Hodge Gibbs; m. 25 Feb. 1880 Emiline (Emma) Moulton Fraser in Bay City, Mich., and they had two sons and a daughter; d. 27 Dec. 1921 in Toronto.
George Tate Blackstock's childhood was marked by hardship and uncertainty. His father was a Wesleyan Methodist minister of Scottish-Irish descent, and for many years the family led a migratory life on the ministerial circuit. Despite frugal domestic management, they often struggled, living on credit and accepting food and other commodities in lieu of salary, which many poorer communities could not afford. Sometimes the children stayed with relatives of their mother, a member of a prominent family in Oshawa, Ont. A knowledge of the Bible, Shakespeare, and classical literature was assiduously cultivated by William Blackstock in his children. Following the Blackstocks' move to Goderich, George briefly attended grammar school there. Largely owing to his mother's inheritance and the assistance of her family, in 1871 he was admitted to Upper Canada College in Toronto, where he studied rhetoric. Intent on a career in law, he entered Osgoode Hall in 1874 and graduated four years later.
Called to the bar in 1879, Blackstock worked initially with the Toronto firm of Rose, Macdonald, and Merritt, and rapidly established a reputation as an accomplished civil lawyer. Said to have possessed a commanding physical presence in the courtroom, he was described as "a dark-haired, good looking fellow, with an easy and friendly gift of conversation and an entire freedom from restraint or nervousness on social occasions." In 1880-81 he lectured at Osgoode Hall on the Statute of Frauds as part of a series organized by the school's Legal and Literary Society. He joined Wells, Gordon, and Sampson in 1882 but soon left to open his own practice, where he would handle both civil and criminal litigation. As counsel for the Canadian Pacific Railway between 1881 and 1894, he participated in the arbitration proceedings between the railway and the dominion government in connection with western development. One of the first trustees of the York County Law Association in 1885, on 2 Dec. 1889 he was appointed a federal qc. In 1890 his skilful, though unsuccessful defence of Reginald Birchall* in a sensational murder trial considerably enhanced his standing as a pre-eminent trial lawyer.
In 1892 Blackstock joined Beatty, Blackstock, Nesbitt, and Chadwick, a firm that was strongly rooted in Toronto's Conservative establishment, and where his brother, Thomas Gibbs Blackstock, and David Fasken were both successful corporate lawyers. As one of the first partners with a barrister's practice, George helped establish its reputation in litigation. Blackstock was secured for many important actions, both as a defence counsel and as a crown prosecutor. He was involved in two high-profile cases of alleged combines: in 1909 he unsuccessfully prosecuted the Dominion Wholesale Grocers' Guild, which he denounced as "an iron heel on the neck of the people," and in 1913 he found insufficient evidence to prosecute the Stamped Ware Association, which included the firm of John McClary. One of his most notable moments as a crown counsel occurred in Hamilton in 1909 during the inquest into the murder of Ethel Caroline Kinrade, which aroused intense national coverage in the media. The chief witness, the victim's sister, was subjected to a gruelling cross-examination by Blackstock that was dramatically punctuated by her fainting after he had implicated her in the crime. Upon returning from one of his annual trips to England in May 1913, Blackstock and four other lawyers left Beatty Blackstock to form a new firm, Blackstock, Galt, and Gooderham.
A Conservative and passionate advocate of imperial unity, Blackstock had been encouraged to enter politics by his uncles Thomas Nicholson Gibbs* and William Henry Gibbs, both of whom served in the government of Sir John A. Macdonald*. During the 1880s Blackstock and Macdonald corresponded on a variety of issues; on three occasions, for example, Blackstock interceded unsuccessfully on behalf of William Albert Reeve* for a judgeship in Manitoba. He was returned in neither of the constituencies in which he ran: the provincial seat of Lennox (1884, 1885) and the federal riding of Durham West (1887, 1891). Macdonald's death and the decline of the party seem to have put an end to his ambitions, though he remained active on party committees and distinguished himself as a tireless campaigner for the Conservative cause.
Blackstock was renowned for his eloquence and wit as an orator and was frequently invited to banquets, political rallies, and prominent society gatherings in Canada, Britain, and the United States. "I am feted everywhere," he wrote from New York in 1903, "dinners and luncheons all the time. . . . They all say I am the best known private foreigner in the U.S." His speeches and articles in the press, generally on political themes, were widely quoted. Addressing the Canadian Manufacturers' Association in September 1907, he appealed for "a loftier conception of Imperial duty" and criticized Canada's poor contribution to the maintenance of the British armed forces and the burdens of empire. A speech to the Canadian Club in Toronto earlier the same month was hailed by Saturday Night as "the wittiest and most entertaining of the year and the one most direct in its appeal, which was for high ideals of Canadian citizenship and statesmanship." In March 1911 he founded, with Alexander Whyte Wright* and mla Arthur Clarence Pratt, the Canadian branch of the Imperial Mission, an English association, and was elected its first president. The branch decided to promote imperial unity by fighting against reciprocity, then being championed by the government of Sir Wilfrid Laurier*. Blackstock's reputation in England was prodigious; he had been in great demand as a speaker for the National Conservative Union during the British election of 1910, and he later declined several invitations to run for parliament.
Blackstock suffered illnesses that forced him on occasion to neglect his legal career, and these were complicated by his personal circumstances. In the 1890s he had become increasingly distraught over "domestic worries." He confided to a friend that "when waiting for his turn to address the court the perspiration would drop off his finger-ends." Medical specialists in New York and Toronto, among them Dr Daniel Clark*, diagnosed him as a "chronic, hysterical hypochondriac," and he spent time in several American institutions. His wife divorced him on 1 Oct. 1896 in Newport, R.I., on the grounds of non-support, though it remains unclear, as a history of Beatty Blackstock puts it, "whether his family problems were the source or the result of his personal difficulties." Eventually, failing health and impaired eyesight obliged him to withdraw from active practice altogether.
Prior to the outbreak of World War I, he again fell ill, in England, and he eventually returned to Canada, where he was cared for by two of his sisters. He lived in Buffalo, N.Y., for some time after the war. Following his death at his Toronto home, he was widely eulogized. One friend, a prominent member of the New York bar, eloquently captured the loss felt by many when he said, "It is an example of the utter prodigality of nature to have endowed this man with so many brilliant and engaging qualities and then to have wrecked his physical power and left him so helpless in the prime of life."
George Tate Blackstock is the author of "Canada and the Venezuelan settlement," Canadian Magazine, 8 (November 1896-April 1897): 170-75.
AO, RG 22-305, no.44453. Bay City Daily Tribune (Bay City, Mich.), 26 Feb. 1880. Daily Mail and Empire, 2 Oct. 1896, 28 Dec. 1921. Evening Telegram (Toronto), 28, 30 Dec. 1921. Globe, 3 Oct. 1896; 30 Oct. 1905; 25 July 1906; 27 Sept. 1907; 9 Jan., 11-13 March, 5 May 1909; 28, 30 Dec. 1921. Toronto Daily Star, 28 Dec. 1921. World (Toronto), 2 Oct. 1896, 30 Oct. 1905. Frank Arnoldi, "George Tate Blackstock," Canadian Magazine, 58 (November 1921-April 1922): 424-35. C. M. Blackstock, All the journey through (Toronto, 1997). Canadian men and women of the time (Morgan; 1912). C. I. Kyer, "The transformation of an establishment firm: from Beatty Blackstock to Faskens, 1902-1915," in Essays in the history of Canadian law, ed. D. H. Flaherty et al. (8v. to date, [Toronto], 1981- ), vol.7 (Inside the law: Canadian law firms in historical perspective, ed. Carol Wilton, 1996): 161-206.
© 2005–2023 University of Toronto/Université Laval
Image Gallery

Cite This Article
S. Craig Wilson, "BLACKSTOCK, GEORGE TATE," in Dictionary of Canadian Biography, vol. 15, University of Toronto/Université Laval, 2003–, accessed December 8, 2023, http://www.biographi.ca/en/bio/blackstock_george_tate_15E.html.
The citation above shows the format for footnotes and endnotes according to the Chicago manual of style (16th edition). Information to be used in other citation formats:
| | |
| --- | --- |
| Permalink: | http://www.biographi.ca/en/bio/blackstock_george_tate_15E.html |
| Author of Article: | S. Craig Wilson |
| Title of Article: | BLACKSTOCK, GEORGE TATE |
| Publication Name: | Dictionary of Canadian Biography, vol. 15 |
| Publisher: | University of Toronto/Université Laval |
| Year of publication: | 2005 |
| Year of revision: | 2005 |
| Access Date: | December 8, 2023 |