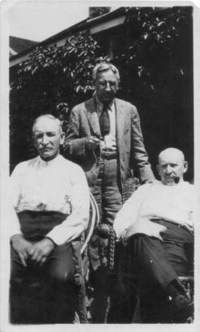 Source: Link
FASKEN, DAVID, lawyer and businessman; b. 31 Dec. 1860 in Pilkington Township, Upper Canada, son of Robert Fasken and Isabel Milne; m. 1885 Alice Winstanley, and they had a daughter, who died in infancy, and a son; d. 2 Dec. 1929 in Toronto and was buried in Elora, Ont.
In 1837 Robert Fasken emigrated with his family from Scotland; seven years later he took up land near Elora. Born on the family farm, the fifth of ten children, David Fasken attended school in Elora. Upon graduating from the University of Toronto with a ba in 1882, he chose law as a career. He was articled in Toronto first to Beaty, Hamilton, and Cassels and then to the firm of William Henry Beatty*, which did the legal work for the Gooderham and Worts businesses. After his call to the bar in 1885, he practised with this firm.
Beatty was Fasken's mentor but the two differed in several respects. Beatty, a Conservative in politics and an Anglican by religion, was from an upper-middle-class Toronto family. Fasken, a Liberal and a Methodist, was in Beatty's view a raw lad from the farm. Though Fasken shunned publicity, he had drive and ambition, and, according to one biographer, "a capacity for sustained and concentrated effort, close attention to detail, and absolutely unprejudiced weighing of facts" – qualities that endeared him to Beatty. By 1902 Beatty, who had become increasingly involved in business, left the management of Beatty Blackstock, as the firm was known, to Fasken. With 15 lawyers, among them George Gooderham*'s son-in-law Thomas Gibbs Blackstock and his brother George Tate Blackstock, it was the largest in Canada.
Like Beatty, Fasken combined legal work with a series of successful business ventures. Shortly after the incorporation of the Excelsior Life Insurance Company in 1889, he had bought shares in the struggling company and encouraged the Gooderhams to do so as well. Voted together, these shares gave Fasken control. On 13 Feb. 1900 he was elected president, a position he would hold until his death. Although he directed operations only on a part-time basis, he built the company into a profitable insurer.
Fasken's entrepreneurial spirit also placed him in the front rank of financiers determined to tap the mineral and recreational potential of the Precambrian Shield in "New Ontario." During the construction of the Temiskaming and Northern Ontario Railway in 1903, silver was discovered at Long (Cobalt) Lake. A stampede followed and a town sprang up, but despite the promise, Canadian banks by and large refused finance. The following year Fasken acted quickly with Ellis P. Earle and other New York investors to form the Nipissing Mining Company Limited, which acquired claims covering 846 acres at the centre of the camp. For many years Nipissing's president and a director, Fasken was, as well, a director and substantial shareholder of La Rose Consolidated Mines Limited and Trethewey Silver-Cobalt Mine Limited. In 1909 the Montreal Daily Star listed him among the 17 Canadians and 8 Americans whom Cobalt had turned into millionaires. In addition to securing much of the capital needed to mine this rugged locale, Fasken acquired the three powerplants that supplied Cobalt with hydroelectricity. In 1911 he merged them to form the Northern Ontario Light and Power Company Limited, of which he became president; he also organized the Northern Canada Power Company Limited.
Spurred by his initial success at Cobalt, Fasken had grasped other opportunities. Together with his youngest brother and law partner, Alexander, and William George Gooderham, he financed hotels, steamers, and general stores on the TNOR at the new lakeside village of Temagami. In 1910, with Earle, his brother Alex, and others, he formed a syndicate to invest in the newly discovered Porcupine goldfield [see Benjamin Hollinger*], northwest of Cobalt and also on the TNOR. Two years later he and a group of other Canadian and American millionaires formed the Canadian Mining Exploration Company Limited; on 31 December its president, Ambrose Monell, stated that in its first eight months 400 properties had been considered for development but most had been rejected. With his brother and Earle, Fasken formed a syndicate to finance the staking of the Flin Flon mine in Manitoba and in 1915 the brothers visited the site, travelling at times by oxen and canoe.
Fasken's firm carried out the legal work for the companies he was involved with, and its growing expertise in mining law attracted new mining clients. He thus reshaped the firm to serve his own business needs. In September 1906, under a revised partnership agreement, he had been formally recognized as Beatty Blackstock's managing partner. He was named a kc in 1910. Five years later the firm's name was changed to Fasken, Cowan, Chadwick, and Rose, and its offices were moved from the Gooderham-related Bank of Toronto building to the new Excelsior Life building on Toronto Street, a move that confirmed Fasken's imprint. Like his own home and other Fasken-financed structures, including an addition to Toronto Western Hospital, the Excelsior building had been designed by his architect friend Edward James Lennox*. Fasken's link to Toronto Western, to which he donated $500,000, was not completely charitable: its doctors provided reviews and opinions for Excelsior, while Fasken's firm was the hospital's solicitor.
In 1914 Fasken had acquired 226,000 acres near Midland, Texas, with the intention of subdividing it for farming. He moved there, likely for health reasons, and by 1918 was spending most of his time at his ranch, returning to Toronto only occasionally. He founded the town of Fasken in 1917, incorporated the Midland Farm Company, and built a railway to the site, but few people moved to the new town, which would die in the 1920s.
When in 1919 Fasken retired from active practice in his law firm because of illness, his brother Alex became managing partner. Despite his activity in Texas, Fasken had continued to maintain a residence in Toronto, as well as large farms near Elora and Clarkson (Mississauga) and a cottage at Temagami. He passed away in Toronto in December 1929, leaving an estate worth $1,792,300, which did not include the valuable oil reserves yet to be discovered on his Texas ranch. The Toronto Daily Star, ignoring his other achievements, ran the headline "David Fasken, wealthy mining magnate dies." Today the law firm he managed still bears his name, but little is known of this man with the Midas touch.
AO, RG 22-305, no.63434. Fasken Martineau DuMoulin Arch. (Toronto), W. H. Beatty to C. W. Beatty, 3 Aug. 1892 (copy); Material relating to David Fasken, esp. Fasken family tree (1966); Partnership agreement between W. H. Beatty, E. M. Chadwick, David Fasken et al., 1 Sept. 1906; J. B. Robinson memoirs. LAC, RG 31, C1, 1871, Pilkington Township, Ont., div.2: 7; 1901, Toronto, Ward 4, div.25: 11 (mfm. at AO). Wellington South Land Registry Office (Guelph, Ont.), Pilkington Township, deeds, vol.2 (1852-62): f.7, no.3528 (mfm. at AO). Cobalt Daily Nugget (Cobalt, Ont.), September 1910. Daily Mail and Empire, 10 Dec. 1927. Globe, 3 Dec. 1929. Toronto Daily Star, 4 Dec. 1929. Canadian annual rev., 1909: 348; 1910: 398; 1912: 644. Canadian men and women of the time (Morgan; 1912). Fasken v. Minister of National Revenue, [1949] Dominion Law Reports (Toronto), 1: 810-39. Alexander Fraser, A history of Ontario: its resources and development (2v., Toronto and Montreal, 1907), 1: 584-85. The handbook of Texas (3v., Austin, Tex., 1952-76), 3: 293. B. W. Hodgins and Jamie Benidickson, The Temagami experience: recreation, resources, and aboriginal rights in the northern Ontario wilderness (Toronto, 1989). C. I. Kyer, "The transformation of an establishment firm: from Beatty Blackstock to Faskens, 1902-1915," in Essays in the history of Canadian law, ed. D. H. Flaherty et al. (8v. to date, [Toronto], 1981-?), vol.7 (Inside the law: Canadian law firms in historical perspective, ed. Carol Wilton, 1996), 161-206. Marilyn Litvak, Edward James Lennox: "Builder of Toronto" (Toronto, 1995). Standard dict. of Canadian biog. (Roberts and Tunnell), vol.2. R. J. Surtees, The northern connection: Ontario Northland since 1902 (Toronto, 1992).
© 2005–2023 University of Toronto/Université Laval
Cite This Article
C. Ian Kyer, "FASKEN, DAVID," in Dictionary of Canadian Biography, vol. 15, University of Toronto/Université Laval, 2003–, accessed September 25, 2023, http://www.biographi.ca/en/bio/fasken_david_15E.html.
The citation above shows the format for footnotes and endnotes according to the Chicago manual of style (16th edition). Information to be used in other citation formats:
| | |
| --- | --- |
| Permalink: | http://www.biographi.ca/en/bio/fasken_david_15E.html |
| Author of Article: | C. Ian Kyer |
| Title of Article: | FASKEN, DAVID |
| Publication Name: | Dictionary of Canadian Biography, vol. 15 |
| Publisher: | University of Toronto/Université Laval |
| Year of publication: | 2005 |
| Year of revision: | 2005 |
| Access Date: | September 25, 2023 |