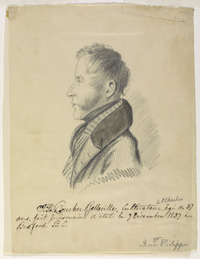 BOUCHER-BELLEVILLE, JEAN-BAPTISTE, called Jean-Philippe, teacher, newspaper owner and editor, Patriote, civil servant, and linguist; b. 8 Sept. 1800 at Quebec, son of Pierre Boucher-Belleville and Louise Belleau; d. 1874 at Saint-Michel-de-Napierville, Quebec.
Boucher-Belleville, who signed himself "J.-Philippe," received a classical education at the college of Montreal from 1814 to 1825, and was first a teacher with Siméon Marchessault* at Saint-Charles-sur-Richelieu. In 1831 he published at Montreal Les Principes de la langue française, en deux parties, suivis des règles de la versification française, which ran into several editions, and in 1832, Les Principes de la langue latine, en deux parties, suivis des règles de la versification latine. He then tried journalism, and wrote numerous articles in the Montreal newspapers on subjects related to religion, politics, and agriculture.
In 1835 or 1836 Boucher-Belleville became the owner and editor of L'Écho du Pays (Saint-Charles-sur-Richelieu), a political weekly favouring the Patriote party that had been started by Pierre-Dominique Debartzch* in 1833 and first edited by the lawyer Alfred-Xavier Rambau*. The paper devoted numerous articles to primary education and to the debates in the House of Assembly and the Legislative Council. Boucher-Belleville published the last issue in June 1836. He then launched another periodical, Le Glaneur, which lasted only a short time (December 1836 to September 1837). This was a newspaper concerned with literature, agriculture, and industry, which endeavoured to carry on the work of L'Écho du Pays, although stressing agriculture. Boucher-Belleville attributed the slump in agriculture in Lower Canada to the unenterprising methods of the French Canadians. Under the pen-name of "Jean-Paul Laboureur" he published articles on modern agricultural techniques, types of ploughing, the utilization of potash, and the function of crop rotation. He even adapted to agriculture a work by Dr Jean-Baptiste Meilleur, Cours abrégé de leçons de chymie . . . , published at Montreal in 1833, and gave extracts of it in his journal.
During the 1830s Boucher-Belleville corresponded fairly regularly with Ludger Duvernay*. In a letter dated 11 April 1834 he stated "that there is nothing to be expected of priests . . . . they are a privileged caste like the ministerial tribe." On 4 April 1835 he opposed sending Louis-Joseph Papineau to England to defend the requests of the House of Assembly, because no one, he thought, could replace him at home.
Boucher-Belleville was caught up in the turmoil created by the disturbances of 1837–38. On 22 Nov. 1837 Papineau presided over the meeting at Saint-Charles, where he arranged for officers to be chosen for the defence of the country: Boucher-Belleville was appointed quartermaster. On 7 December, after the defeat, he was taken prisoner. On 28 Feb. 1838 he wrote from Laprairie to Duvernay to tell him that he had come out of prison penniless, and that no one in the Richelieu valley had been willing to help him.
On 15 Jan. 1839 appeared the first number of L'Aurore des Canadas (Montreal), a political, literary, and commercial newspaper started by François Cinq-Mars; Boucher-Belleville was its first editor, probably until 1845. The paper endeavoured to find a basis of agreement between the French Canadians and their governors, to stress understanding between the two races, and to defend the Catholic clergy. This last aim scandalized Dr Antoine-Pierre-Louis Consigny, who wrote to Duvernay, saying that Boucher-Belleville "has never been the unquestioning friend of priests, and yet he is now coming to their defence!" Indeed, in a letter to Ludger Duvernay dated 3 Aug. 1841, Boucher-Belleville declared: ". . . religion is necessary for the mass of the people, . . . the priests acted badly in 1837, but . . . they have realized their error, in short . . . the clergy are powerful."
Around 1850 Jean-Philippe Boucher-Belleville was the secretary of the Department of Education at Montreal. Dr Jean-Baptiste Meilleur made it clear, in his Mémorial de l'éducation du Bas-Canada, that from 1846 on he was allowed a secretary and a clerk whose chief occupation was to keep the accounts, analyse the various documents, classify them, and index them; one of the two clerks was a copyist in the education office. We do not know how long Boucher-Belleville held this position. It was no doubt in this period that he published his Dictionnaire des barbarismes et des solécismes . . . (1855).
In 1835, at Terrebonne, Jean-Philippe Boucher-Belleville had married Marguerite Porlier, daughter of Jacques Porlier, a voyageur; he had one daughter, who died with her mother in 1841. Boucher-Belleville was the nephew of Jean-Baptiste Boucher-Belleville*, the parish priest of Laprairie from 1792 to 1839. The latter published a collection of canticles and a Manuel abrégé de controverse.
At the end of his life Boucher-Belleville was the owner of a farm at Saint-Michel-de-Napierville; he died there in 1874, at 74 years of age.
J.-P. Boucher-Belleville, Dictionnaire des barbarismes et des solécismes les plus ordinaires en ce pays, avec. le mot propre ou leur signification (Montréal, 1855); Les principes de la langue française, en deux parties, suivis des règles de la versification française (Montréal, 1831); Les principes de la langue latine, en deux parties, suivis des règles de la versification latine (Montréal, 1832).
"Papiers Duvernay conservés aux archives de la province de Québec," APQ Rapport, 1926–27, 145ff. "Les Patriotes de 1837–1838 d'après les documents J.-J. Girouard," P.-A. Linteau, édit., RHAF, XXI (1967–68), 281–311. L'Aurore des Canadas (Montréal), 15 janv. 1839–1845. L'Écho du Pays (Saint-Charles-sur-Richelieu, Qué.), 1835–36. Le Glaneur (Saint-Charles-sur-Richelieu, Qué.), déc. 1836–sept. 1837. Beaulieu et Hamelin, Journaux du Québec. Morgan, Bibliotheca Canadensis, 41. Joseph Tassé, Les Canadiens de l'Ouest (2e éd., 2v., Montréal, 1878), I, 137. Gérard Filteau, Histoire des Patriotes (3v., Montréal, 1938–39), III, 33–34. J.-B. Meilleur, Mémorial de l'éducation du Bas-Canada (2e éd., Québec, 1876), 354. L.-P. Audet, "Jean-Baptiste Meilleur était-il un candidat valable au poste de surintendant de l'Éducation pour le Bas-Canada en 1842?" Cahiers des Dix, XXXI (1966), 179.
© 1972–2021 University of Toronto/Université Laval
Image Gallery

Citations
EN:UNDEF:public_citation_style_default
Information to be used in other citation formats
Permalink: http://www.biographi.ca/en/bio/boucher_belleville_jean_baptiste_10E.html
| | |
| --- | --- |
| Author of Article: | Louis-Philippe Audet |
| Title of Article: | BOUCHER-BELLEVILLE, JEAN-BAPTISTE, Jean-Philippe |
| Publication Name: | EN:UNDEF:public_citation_publication, vol. 10 |
| Publication Details: | EN:UNDEF:public_citation_publisher, 1972 |
| Year of publication: | 1972 |
| Year of revision: | 1972 |
| Access Date: | October 17, 2021 |