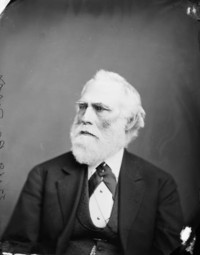 BRONSON, HENRY FRANKLIN, lumber manufacturer; b. 24 Feb. 1817 in Moreau Township, Saratoga County, N.Y., son of Alvah Bronson and Sarah Tinker; m. 5 Nov. 1840 Editha Eliza Pierce, and they had three sons and one daughter; d. 7 Dec. 1889 at Ottawa, Ont.
Henry Franklin Bronson, a member of a family well known in the northeastern United States, was educated at Poultney Academy in Vermont where he specialized in agricultural science and rudimentary forestry. During his early youth he had spent a good deal of time with the family of lumberman John J. Harris in Queensbury Township, Washington (Warren) County, N.Y., and when he completed his education he joined Harris' lumber and forwarding business as a clerk. In 1840 Harris purchased large stands of white pine in the upper Hudson lakes region, erected mills there, and made Bronson a junior partner. The new firm, Harris and Bronson Company, developed good markets for its lumber in the growing cities of Boston and New York but by 1848 found its timber supplies becoming increasingly restricted. Consequently, in the summer of 1848 Bronson undertook an exploratory journey up the Ottawa valley to investigate its timber and water-power resources. He was impressed with the area and recommended that the business be transferred north.
Harris, reluctant to move the mills into a foreign colony, was more inclined to invest in the pine lands of Michigan. Nevertheless, when it was announced in 1852 that the fine hydraulic sites at the Chaudière Falls near Bytown (Ottawa) were for sale he decided to visit the area. Harris was treated to a civic banquet by the eager burghers who were anxious to attract new industry to their town and who promised that if his company invested in any of the hydraulic lots no competitive bids would be accepted from other companies. With this guarantee the Harris and Bronson Company acquired hydraulic lots on Victoria Island adjacent to the Chaudière Falls for 1s. per lot above the upset price of £50, and a water-power rental charge of £5 per annum for each run of stones operated in their mills. Bronson became a full partner at this time.
In late 1852 the company erected a modern mill using a gang saw, a device with several saws set in a frame which could be operated by one man (Bronson was the first to use iron rather than wood for the frame or gate). A new partner, James Coleman, joined the business and in 1853 Harris, Bronson and Coleman Company obtained timber limits along the Gatineau River. Nearly 700 square miles of new limits were acquired along the Dumoine River and in several other areas in 1857. In 1864 the firm made arrangements with the Canadian Land and Emigration Company to cut timber from the latter company's pine groves along the York branch of the Madawaska River.
With a new mill and first quality timber limits, the company was in an excellent position to supply its traditional markets in the northeastern United States, and the signing of the Reciprocity Treaty between the United States and British North America in 1854 promoted its development and expansion. Despite temporary depressions in 1857–58 and 1861–62 caused by stagnation in the American market, the partners were able to increase their production each year until by 1870 it had reached over 25 million board feet annually. In 1866 Harris retired and Abijah Weston of Painted Post, N.Y., and Bronson's eldest son Erskine Henry joined to form Bronsons and Weston Lumber Company. Weston was a large lumber wholesaler with offices in Michigan, New York, and Vermont who brought important new capital into the firm enabling the partners not only to enlarge their lumbering and milling operations in Canada but also to set up their own wholesale outlets at Albany, Boston, and Burlington, Vt. Rough lumber was resawn and dressed at these outlets which were operated under a separate corporate entity, Bronson, Weston, Dunham and Company. In 1871 Bronsons and Weston acquired large tracts of redwood timber in California which were developed later by Erskine Henry Bronson. In the late 1870s or the early 1880s the partners also set up their own bank at Painted Post to help finance the company's various operations.
H. F. Bronson had moved his family to Bytown in 1853 and had soon become a prominent member of the "American community," a name applied to American entrepreneurs such as William Goodhue Perley and Ezra Butler Eddy* who had moved north between 1852 and 1854 to set up the sawmilling industry in the town. Bronson, however, did not long remain a member of a foreign clique. Although he never gave up his American citizenship, he moved easily into community affairs and rapidly became respected in Ottawa. He was a dominant influence in St Andrew's Presbyterian Church and a founder of Ottawa Ladies' College in 1869. He and his wife were charter members of the Protestant Orphans' Home in Ottawa, and took an active interest in many other philanthropic organizations. In 1868 with Perley and James Skead he promoted the Upper Ottawa Steamship Company. He was also not reluctant to become involved in Canadian politics, and the Reform party gained his sympathy. After the termination of the Reciprocity Treaty in 1866 Bronson lobbied hard and long to have it restored. By 1870 he had become a major supporter of the federal and provincial Liberals in eastern Ontario and he used his company as a political machine in every constituency in which it did business; indeed its woods managers served as Liberal poll bosses.
Before his death in 1889 Henry Franklin Bronson had built an impressive empire which stretched from Mattawa, Ont., to New York City and as a corporate entity did over one million dollars worth of business each year. The Ottawa mills alone employed more than 300 men. His legacy was his share in helping establish the sawn lumber industry which dramatically changed the social and economic structure of the Ottawa valley. Bronsons and Weston Lumber Company was managed by E. H. Bronson until 1899 when it was dissolved and replaced by a holding company, the Bronson Company.
PAC, MG 27, II, D14, 5; MG 28, I37, 1–6; III26; RG 1, E1, 75: 264; RG 31, A1, 1871 census, 893: schedule 7, Bronson, Weston and Company. Can., Prov. of, Legislative Assembly, App. to the journals, 1857, V: app. 25. Ottawa Citizen, 18 Jan. 1894. Cyclopædia of Canadian biog. (Rose, 1886). H. R. Cummings, Early days in Haliburton (Toronto, 1963), 131–52, app.iv. J. E. Defebaugh, History of the lumber industry of America (2v., Chicago, 1906–7), I: 158. A. R. M. Lower, The North American assault on the Canadian forest: a history of the lumber trade between Canada and the United States . . . (Toronto and New Haven, Conn., 1938; repr. New York, 1968), 123–47.
© 1982–2023 University of Toronto/Université Laval
Cite This Article
Robert Peter Gillis, "BRONSON, HENRY FRANKLIN," in Dictionary of Canadian Biography, vol. 11, University of Toronto/Université Laval, 2003–, accessed June 8, 2023, http://www.biographi.ca/en/bio/bronson_henry_franklin_11E.html.
The citation above shows the format for footnotes and endnotes according to the Chicago manual of style (16th edition). Information to be used in other citation formats:
| | |
| --- | --- |
| Permalink: | http://www.biographi.ca/en/bio/bronson_henry_franklin_11E.html |
| Author of Article: | Robert Peter Gillis |
| Title of Article: | BRONSON, HENRY FRANKLIN |
| Publication Name: | Dictionary of Canadian Biography, vol. 11 |
| Publisher: | University of Toronto/Université Laval |
| Year of publication: | 1982 |
| Year of revision: | 1982 |
| Access Date: | June 8, 2023 |