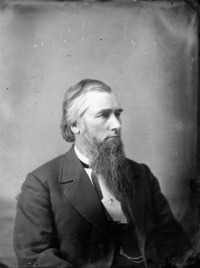 PERLEY, WILLIAM GOODHUE, lumber manufacturer, financier, and politician; b. 4 June 1820 at Enfield, N.H., son of John and Susanna Perley; m. first 14 Sept. 1846 Mabel E. Ticknor Stevens (she died in the early 1860s); m. secondly 20 June 1866 Georgianna M. Gale; d. 1 April 1890 at Ottawa, Ont.
William Goodhue Perley was educated at the common school in Enfield and probably entered the lumber trade during the late 1830s as a clerk. He then set up his own business at Lebanon, N.H., and established interests in northern New York State. He prospered by supplying lumber to the rapidly growing markets of Boston and New York City. By 1850, however, practically all the first class timber land in northern New York was depleted, and Perley (who maintained his home in Lebanon for some years) and his partner, Gordon B. Pattee, decided in 1852 to move their operation to the rich pine lands of the Ottawa valley. They purchased several hydraulic lots on Île de la Chaudière at the Chaudière Falls on the Ottawa River and in 1853 started developing their mill site. By 1865 they were producing 16 million board feet of lumber per annum, mostly for the American market.
Pattee and Perley Company benefited from the Reciprocity Treaty of 1854 which allowed British North American timber into the United States duty-free. The firm leased large pine limits on the upper Madawaska River and in 1857 acquired additional hydraulic lots at the Chaudière Falls. In 1859, with the addition of John T. Brown, another Ottawa lumberman, the firm was reorganized as Perley, Pattee and Brown, Perley being the dominant figure. Despite the termination of the Reciprocity Treaty in 1866 and a series of severe trade depressions in the 1870s and 1880s, the firm continued to expand. In 1871 the mill was capitalized at $450,000 and employed 250 men for six months each year; by the time of Perley's death in 1890 production had risen to almost 70 million board feet of lumber per year. After his death the firm passed into the hands of his heirs, including his son George Halsey Perley*, before being dissolved in 1893.
Perhaps in response to the end of reciprocity Perley began to advocate measures to lower production costs, particularly improved transportation systems for the Ottawa valley. With Thomas Coltrin Keefer* and fellow lumbermen Joseph Merrill Currier, Joseph-Ignace Aumond*, and Robert Blackburn, he promoted the Ottawa City Passenger Railway Company, chartered in 1866. Its horse-drawn trams and sleighs not only provided Ottawa with its first urban transit system, but also gave the promoters a cheap and convenient system for moving lumber from mills at the Chaudière Falls and New Edinburgh (now part of Ottawa) to shipping points on the Rideau Canal and the Ottawa and Prescott Railway. In 1868 Perley joined Henry Franklin Bronson and James Skead in setting up the Upper Ottawa Steamboat Company, a highly successful venture which reduced the cost of transporting supplies from Ottawa to up-river depots.
The need to cut production costs became more pressing after 1879 when Sir John A. Macdonald*'s Conservative government introduced its National Policy which raised tariff rates to protect and encourage Canadian industry. Many Ottawa valley lumbermen feared that the new rates would discriminate against their industry by failing to provide it with adequate protection from imports while making it vulnerable to a retaliatory tariff by the United States. Moreover, the quality of the products of the Canadian lumber industry had declined markedly since the early 1870s and Canadian exporters were already experiencing difficulties in overcoming American tariff walls. Perley, however, was a long-time protectionist and a confirmed Liberal-Conservative. He thought that all "young nations" needed a protective tariff to encourage economic development and was convinced that the forest industry was strong enough to bear "increased taxation on that account."
In response to the new Conservative policy Perley intensified his efforts to reduce and stabilize production costs. Along with fellow Ottawa lumberman John Rudolphus Booth*, and George C. Noble of St Albans, Vt, he purchased in 1879 several moribund railway charters in the Ottawa and Montreal areas and amalgamated the charters to form the Canada Atlantic Railway which would run from Ottawa to the American border by way of the port of Montreal. Perley, Booth, and Noble invested heavily in the project and construction started in 1880, but they also sought government aid. Perley reminded Macdonald that the National Policy greatly discriminated against the lumber trade, and that railways such as the Canada Atlantic which were designed to improve the industry's competitive position deserved special consideration. Though not enthusiastic for a railway which would invade the traffic area of the new Canadian Pacific Railway syndicate, Macdonald recognized the need to keep the support of Perley and his Tory friends, and provided a limited subsidy in 1885. By 1884 the Canada Atlantic had been completed as far as Coteau-Landing, Quebec, on the main line of the Grand Trunk, and in 1888 it reached Rouse's Point on the American border. From the beginning the line proved to be a success and its volume of traffic steadily increased.
Perley and his associates on the Canada Atlantic worked next to extend it up the Ottawa valley and across to Georgian Bay. Their objectives were, first, to transport supplies to the lumber camps more cheaply and enable the operators to move their mills closer to their timber limits, and second, to tap the grain traffic from the Canadian west by providing the shortest route to the mills and docks of Montreal. In 1888 they joined Tory lumberman Claude McLachlin of Arnprior in promoting the formation of two new railways, the Ottawa, Arnprior and Renfrew Railway Company and the Ottawa and Parry Sound Railway Company, to cover the distance between Ottawa and Parry Sound. Although this new initiative was vigorously opposed by both the Toronto Board of Trade, which contended that the wealth of Ontario's new northern frontier would be channelled to Ottawa instead of Toronto, and the CPR, it received the support of Oliver Mowat*'s Liberal government in Ontario and in 1896, six years after Perley's death, the Ottawa, Arnprior and Parry Sound Railway arrived at Depot Harbour on Georgian Bay.
Until relatively late in life William Perley remained very much a private man, more interested in business than in civic matters or politics. He took an interest in the affairs of Christ Church (Anglican) in Ottawa, was a regular contributor to philanthropic causes such as the Protestant Orphans' Home, and a director of the Ottawa Ladies' College, but he did not take a conspicuous part in such affairs. Perley's concern for the financing of the Canada Atlantic, however, appears to have drawn him into public life. He campaigned for the Liberal-Conservative nomination in Ottawa in 1882 but placed third after Charles Herbert Mackintosh* and Joseph Tassé*. Feeling personal affront at his defeat by the much younger Mackintosh, and suspecting that Mackintosh was not a particularly ardent supporter of the Canada Atlantic, Perley resigned for a short time from the Liberal-Conservative party in anger. Nevertheless he and his associates did not give up. They worked assiduously to undermine Mackintosh's support after 1882. In 1887 Perley secured one of the Tory nominations for Ottawa City. He was elected but did not distinguish himself in the House of Commons. In April 1888, however, he made a major speech opposing Sir Richard John Cartwright*'s resolution for unrestricted reciprocity and defending the National Policy for its aid to the Canadian economy; he also called on the lumber community to develop its domestic market instead of depending on the American export trade. It was the only significant event of his parliamentary career and early in 1890 Perley became seriously ill. He died on the morning of 1 April 1890 at Ottawa.
PAC, MG 26, A, 141: 54746; 142: 58155–73; 385: 180981–82, 181177–79; MG 27, II, D14, 5; F7, 1, file 3; MG 28, III26, 703; 706; RG 1, E1, 83: 627; RG 31, A1, 1871, schedule 6, industrial census, Ottawa, Victoria Ward. Can., House of Commons, Debates, 6 April 1888; Statutes, 1888, c.65; 1891, c.93. Can., Prov. of, Statutes, 1866, c.106. Ont., Statutes, 1888, c.71. Ottawa Daily Citizen, 20 May 1882, 3 April 1890. Canadian directory of parl. (J. K. Johnson). Canadian men and women of the time (Morgan, 1912), 704. CPC, 1887. An encyclopædia of Canadian biography . . . (3v., Montreal and Toronto, 1904–7), II. Sutherland's city of Ottawa directory . . . , comp. James Sutherland (Ottawa), 1869–70. Lucien Brault, Ottawa: old & new (Ottawa, 1946), 185–86, 194. A. R. M. Lower, The North American assault on the Canadian forest: a history of the lumber trade between Canada and the United States . . . (Toronto and New Haven, Conn., 1938; repr. New York, 1968), 123–47. A. H. D. Ross, Ottawa, past and present (Toronto, 1927), 157. G. R. Stevens, Canadian National Railways (2v., Toronto and Vancouver, 1960–62), II.
© 1982–2023 University of Toronto/Université Laval
Cite This Article
Robert Peter Gillis, "PERLEY, WILLIAM GOODHUE," in Dictionary of Canadian Biography, vol. 11, University of Toronto/Université Laval, 2003–, accessed September 30, 2023, http://www.biographi.ca/en/bio/perley_william_goodhue_11E.html.
The citation above shows the format for footnotes and endnotes according to the Chicago manual of style (16th edition). Information to be used in other citation formats:
| | |
| --- | --- |
| Permalink: | http://www.biographi.ca/en/bio/perley_william_goodhue_11E.html |
| Author of Article: | Robert Peter Gillis |
| Title of Article: | PERLEY, WILLIAM GOODHUE |
| Publication Name: | Dictionary of Canadian Biography, vol. 11 |
| Publisher: | University of Toronto/Université Laval |
| Year of publication: | 1982 |
| Year of revision: | 1982 |
| Access Date: | September 30, 2023 |