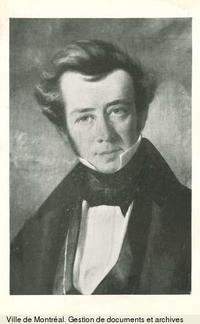 Source: Link
BUCHANAN, ALEXANDER, lawyer, judge, and justice of the peace; b. 23 April 1798 in Gosport, England, son of John Buchanan and Lucy Richardson; d. 5 Nov. 1851 in Montreal.
John Buchanan, Alexander's father, came from an old Scottish family established in Ireland; he immigrated to Canada in 1802 with his young family when the 49th Foot, to which he was attached as surgeon, was sent out on a tour of duty. After his wife's death the following year, he took up residence at Quebec, becoming surgeon to the staff of the garrison in that town. Young Alexander, the eldest of three children, was sent like others of his social background to the school run by the Reverend Daniel Wilkie.
In 1814, a year before his death, John Buchanan apprenticed Alexander to his friend Andrew Stuart*, a lawyer, who made a contractual agreement to see to the boy's education for five years and to facilitate his call to the bar. After his father died, Alexander remained with his mentor, who now became his guardian; the other members of the family were entrusted to the care of Joseph-François Perrault*, a well-known protonotary in the district of Quebec.
Having reached his majority in April 1819 and after being called to the bar in May, Buchanan without more ado used his inheritance to embark on a long trip that took him to England, Ireland, Scotland, and France. He returned to Lower Canada in the autumn of 1820, and from then on could concentrate on his career. It was at Montreal, where he subsequently lived, that in 1821 he defended his first case before the Court of King's Bench. The next year he went into partnership with his mentor's brother James Stuart, a renowned lawyer who had been solicitor general. When Stuart left for Quebec upon his appointment as attorney general in 1825, Buchanan joined a lawyer equally well known in the province, Charles Richard Ogden*, son of judge Isaac Ogden and solicitor general. In the spring of 1824 Buchanan had married Mary Ann Buchanan, daughter of James Buchanan, the British consul in New York, and sister of Alexander Carlisle Buchanan*. Despite the demands of his profession Buchanan found time to lead an active life in society. A member of St Paul's Lodge and of St Patrick's Society in Montreal, he helped found the Advocates' Library and Law Institute of Montreal in 1828. In a report submitted to the institute, he suggested that its members play a part in training candidates for the bar by giving courses and lectures on the law and jurisprudence. He later undertook this role himself, and was several times president of the institute between 1836 and 1843.
An important stage in Buchanan's career was reached on 17 June 1835 when he was made a king's counsel. A few months later he was asked to replace a member of the commission established to work with a corresponding body in Upper Canada to determine the boundary between the two provinces. On 30 Nov. 1838, after the rebellion had been crushed by force of arms, he was made chairman of a commission of inquiry concerning the prisoners being held in the Montreal jail.
In 1839, at the conclusion of the trials, Governor Sir John Colborne* rewarded Buchanan for his services by appointing him judge of the Court of Requests (a circuit court limited to small causes) for the district of Montreal and justice of the peace to the Court of Quarter Sessions. Considering this double office too onerous and underpaid, Buchanan resigned in 1841; he did, however, subsequently agree to act as justice of the peace in the district court. Resuming his practice, he went into partnership with a succession of well-known lawyers, including Henry Ogden Andrews, nephew of his second partner, Francis Godschall Johnson*, subsequently chief justice, and John Bleakley.
In addition to these numerous occupations, Buchanan was made chairman of two important commissions of inquiry in 1842. The first was set up to revise the acts and ordinances of Lower Canada. Buchanan's report, which was presented in three sections from 1843 to 1845, incorporated the previously scattered laws into one volume; it recommended that these laws, which were in both French and English, be codified and translated to promote their dissemination. The second commission was to inquire into the system of seigneurial tenure in Lower Canada. In this period of economic and political change many people were demanding that it be abolished or at least reformed. The report, laid before the Legislative Assembly of the province of Canada on 4 Oct. 1843, took note of the divergent opinions of various representatives of French Canadian and English Canadian interests. Nevertheless it came down on the side of those opposing seigneurial tenure, accepting their criticisms: a true relic of "barbaric ages," this system of servitude was disastrous for agriculture and industrial development, no longer met the needs of the population, and must be abolished. Freehold tenure, encouraging competition, would on the other hand help the population attain a more advanced stage of civilization and bring progress to the whole colony. This report helped prepare the way for the 1854 act abolishing the seigneurial system [see Lewis Thomas Drummond*].
Alexander Buchanan would not live to see the result. On 5 Nov. 1851, soon after being appointed to the council of the Montreal bar (incorporated in 1849), and to the post of governor of the association administering the Montreal General Hospital, he died at his new residence, Cornwall Terrace, on Rue Saint-Denis in Montreal. His son, George Carlo Vidua, followed in his footsteps and became a judge.
The reports of the last two commissions of inquiry directed by Alexander Buchanan are reproduced in Can., Prov. of, Legislative Assembly, App. to the journals, 1843, app.FF, app.OO.
ANQ-M, CE1-63, 5 nov. 1851. ANQ-Q, E17/18, no.1119; E17/29, no.2189; E17/31, no.2423; E17/35, no.2772; E17/40, no. 3191. La Minerve, 6 nov. 1851. P.-G. Roy, Les avocats de la région de Québec; Les juges de la prov. de Québec. Buchanan, Bench and bar of L.C.; The Buchanan book; the life of Alexander Buchanan, Q.C., of Montreal, followed by an account of the family of Buchanan (Montreal, 1911); Later leaves of the Buchanan book (Montreal, 1929). "Le Docteur John Buchanan," BRH, 17 (1911): 100–3.
© 1985–2023 University of Toronto/Université Laval
Image Gallery

Cite This Article
Jacques Boucher, "BUCHANAN, ALEXANDER," in Dictionary of Canadian Biography, vol. 8, University of Toronto/Université Laval, 2003–, accessed September 30, 2023, http://www.biographi.ca/en/bio/buchanan_alexander_8E.html.
The citation above shows the format for footnotes and endnotes according to the Chicago manual of style (16th edition). Information to be used in other citation formats:
| | |
| --- | --- |
| Permalink: | http://www.biographi.ca/en/bio/buchanan_alexander_8E.html |
| Author of Article: | Jacques Boucher |
| Title of Article: | BUCHANAN, ALEXANDER |
| Publication Name: | Dictionary of Canadian Biography, vol. 8 |
| Publisher: | University of Toronto/Université Laval |
| Year of publication: | 1985 |
| Year of revision: | 1985 |
| Access Date: | September 30, 2023 |