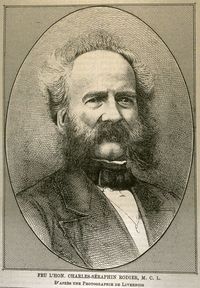 Source: Courtesy of Bibliothèque et Archives Nationales du Québec / 52327/2070461
RODIER, CHARLES-SÉRAPHIN, merchant, lawyer, philanthropist, mayor of Montreal, and legislative councillor of Quebec; b. 4 Oct. 1797 at Montreal, L.C., son of Jean-Baptiste Rodier, blacksmith, and Julie-Catherine Le Jeune; d. 4 Feb. 1876 at Montreal, Que.
Charles-Séraphin Rodier was the grandson of Pierre Rodier, a native of the Dauphiné, who fought in the Seven Years' War and remained in Canada after 1759. One of 16 children, he was born in the Saint-Joseph section of Montreal, and was baptized as Charles only, the Séraphin being added at a later date. Of his early life little is known; he attended the Sulpician college of Montreal, 1809–10, and entered the dry goods business about 1816, opening a shop on St Paul Street. He was the first merchant in the city to import his own goods direct from Great Britain and France, working through agents in London and Liverpool, and also making regular trips across the Atlantic to obtain the lowest prices. He crossed the ocean some 40 times between 1819 and 1832. Before long he branched into the wholesale trade and by the time he retired in 1836, evidently anticipating the coming troubles, he had amassed a considerable fortune.
Rodier then began a new career: along with the future judge, Samuel Cornwallis Monk*, who became a lifelong friend, he studied law under Alexander Buchanan*. Rodier was admitted to the bar in 1841, but did not practise to any great extent except to appear for friends or in charity cases. Instead he turned to various speculations; in these he was generally successful, for he left an estate that was estimated to be worth over half a million dollars. His first speculative venture, during which he nearly ran into great difficulties, was his acquisition of the Hotel Rascoe. Rodier was also a director of the Banque Jacques Cartier.
He was one of those who petitioned for Montreal's first municipal charter of 1831 and was an elected councillor while it was in force, 1833–36. Although he was the only member of the council to vote for open meetings he was not a political radical, unlike his cousin Édouard-Étienne Rodier*. As he said in private, "You are wrong, my friends, the time is not ripe." After the first charter was allowed to lapse, he was appointed one of the justices of the peace to administer the city in 1837 and served as president of that body. In February 1839 he was further commissioned as one of the investigators "Concerning losses sustained during the Rebellion," in which capacity he decided some 400 cases [see Philip Henry Moore]. When Governor Charles Edward Poulett Thomson* appointed a council to administer Montreal under the revived municipal charter of 1840, Rodier was again a member, serving until a council was elected in 1843. He was then out of municipal government for some years. Nevertheless, he served as a harbour commissioner from 1840 to 1850, and as such was responsible for consolidating and refinancing the debt in 1845. For some years after 1844 he was also one of the commissioners who arranged for the foundlings and indigent sick in the Montreal district.
In 1858, when Henry Starnes* retired from the office of mayor, Rodier contested the election against John James Day, one of the aldermen. Day had alienated some of his potential voters by supporting Thomas D'Arcy McGee* in the provincial election of 1857–58 and Rodier was elected by 3,132 votes to 2,329. He was re-elected in 1859, 1860, and 1861. In 1859, he defeated Côme-Séraphin Cherrier* easily by 1,558 to 194; however, there was a major effort by Benjamin Holmes*, supported by the Montreal Gazette, to unseat him in 1860 and he won by only 24 votes. In 1862 he was defeated by Jean-Louis Beaudry* by 1,235 to 903 in a light vote in a "dull and flat" contest.
As mayor, Rodier was particularly proud of the improvement he made in the city's financial position and of the role he played in having new docks built. Rodier's mayoralty further saw the completion of the Victoria Bridge (1859) [see James Hodges], the beginning of a public transportation system (1861), and the building of the Crystal Palace. On the other side of the balance was the great flood of April 1861, when the water rose 24 feet above average and a quarter of the city was inundated. Rodier himself distributed food for the stranded from a skiff. The major social event of his mayoralty was the arrival of the Prince of Wales in August 1860, on his tour of Canada. The city was refurbished and Rodier greeted the prince in new robes, chain of office, and sword, copied from those of the lord mayor of London; his attire won him the nickname "The Peacock" from his political opponents. Afterwards he renamed his Rue Saint-Antoine house "Prince of Wales Castle" and had a statue of the prince erected on a turret. Later he also received François d'Orléans, Prince de Joinville, and Prince Alfred of Saxe-Cobourg-Gotha, another son of Queen Victoria. The Montreal Daily Witness, in evaluating his career, said that "as Mayor he kept firm control on the reins of power, and made himself respected in the Council."
After his defeat in 1862 Rodier retired from politics until 1867, when he was appointed to the new Legislative Council of Quebec as member for the De Lorimier division. There he sat as a Conservative and gained a reputation for both eloquence and financial acumen. Throughout his life he was connected with the militia, being commissioned ensign and acting as quartermaster of the Montreal 2nd Battalion in 1821, rising to lieutenant in 1828, captain in 1831, major in 1847, and finally lieutenant-colonel of the 7th Montreal Battalion in 1862.
He was also active in religious charities. In 1843, a year after the Jesuits had returned to Canada, he provided them, without charge, with their first Montreal noviciate in a portion of his own Rue Saint-Antoine mansion, which they used until 1851. In 1868 he turned part of his premises over to the Grey Nuns as the Bethlehem Asylum for orphans and in 1872–73 he built them a larger building on Richmond Square. He presented them with this property, valued at $35,000, and also endowed the orphanage both then and in his will. Further he arranged for the Sulpicians to provide aid and medical treatment for the poor in part of the orphanage, and endowed the Good Shepherd Nuns. It was at his suggestion that St James Cathedral was located in Dominion Square.
On 8 Sept. 1825, at Notre-Dame Church, he had married Marie-Louise (d. 14 April 1879), the daughter of Paul Lacroix. The family were Alsatians whose original name was Von Kreuz. Two sons and a daughter died young, but two daughters outlived him. Senator Charles-Séraphin Rodier* (1818–90), an industrialist and a leading figure in Montreal, was his nephew.
A man who made a success of several careers, and was famous in the city for his correctness of dress and his courteous manner, Rodier often had an original way of doing things and could be eccentric. His long and varied career provides a good example of how the conservative businessmen of the pre-rebellion days could adapt themselves to new circumstances, and play an important role in the era after responsible government: the Patriotes of 1837 would have seen him as a traitor, but one of his pallbearers was Antoine-Aimé Dorion*. As Le Nouveau Monde stated in his obituary, he was "one of Montreal's most respected citizens; his fine and charitable nature has long earned him the esteem of his fellow citizens."
AJM, Greffe de A.-C. Décary, testament de C.-S. Rodier, 22 janv. 1876. AVM, Biographies de maires. Gazette (Montreal), 5 Feb. 1876. Montreal Daily Witness, 12 Feb. 1862, 5 Feb. 1876. Montreal Gazette, 6 March 1858; 13 Jan. 1860; 24, 25 Feb. 1862. Le Nouveau Monde (Montréal), 5 févr., 9 févr. 1876; 15 avril 1879. L'Opinion publique (Montréal), 24 févr. 1876. Can. parl. comp., 1875, 458–59. Turcotte, Conseil législatif de Québec, 239. A la mémoire de l'honorable Charles-Séraphin Rodier, avocat, ex-maire de Montréal, membre du Conseil législatif de la province de Québec, lieut.-colonel du 7e bataillon, fondateur de l'asile de Bethléem (s.l., s.d.). Atherton, Montreal, II, 208; III, 85–86. Histoire de la Corporation de la Cité de Montréal, depuis son original jusqu'à nos jours . . . , J.-C. Lamothe et al., édit. (Montréal, 1903), 58–59, 161, 200–1, 204, 207, 281, 283, 286. F. W. Terrill, A chronology of Montreal and of Canada from A.D. 1752 to A.D. 1893, including commercial statistics, historical sketches of commercial corporations and firms and advertisements . . . (Montreal, 1893), 230, 236–67. E. A. Collard, "Mayor's house," Gazette (Montreal), 25 Jan. 1969. J.-J. Lefebvre et Thérèse Cromp, "Nos disparus," La Revue du barreau de la province de Québec (Montréal), XVIII (1958), 407–9. É.-Z. Massicotte, "Deux Rodier," BRH, XLIV (1938), 120–22.
© 1972–2023 University of Toronto/Université Laval
Cite This Article
Frederick H. Armstrong, "RODIER, CHARLES-SÉRAPHIN (1797-1876)," in Dictionary of Canadian Biography, vol. 10, University of Toronto/Université Laval, 2003–, accessed September 27, 2023, http://www.biographi.ca/en/bio/rodier_charles_seraphin_1797_1876_10E.html.
The citation above shows the format for footnotes and endnotes according to the Chicago manual of style (16th edition). Information to be used in other citation formats:
| | |
| --- | --- |
| Permalink: | http://www.biographi.ca/en/bio/rodier_charles_seraphin_1797_1876_10E.html |
| Author of Article: | Frederick H. Armstrong |
| Title of Article: | RODIER, CHARLES-SÉRAPHIN (1797-1876) |
| Publication Name: | Dictionary of Canadian Biography, vol. 10 |
| Publisher: | University of Toronto/Université Laval |
| Year of publication: | 1972 |
| Year of revision: | 1972 |
| Access Date: | September 27, 2023 |