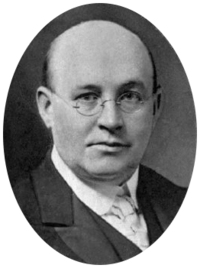 Source: Courtesy of Wikimedia Commons
CAMPBELL, COLIN H., lawyer, businessman, and politician; b. 25 Dec. 1859 in Wellington Square (Burlington), Upper Canada, son of John Hook Campbell and Jane Kennedy; m. 16 July 1884 Minnie Julia Beatrice Buck of Palermo, Ont., and they had a son and a daughter; d. 24 Oct. 1914 in Winnipeg.
Colin Campbell grew up in a well-established household in Burlington which emphasized its Scots-Irish origins and Presbyterian convictions. His primary education in local public schools was followed by a brief but satisfactory employment as a telegraph instructor for the Great North Western Telegraph Company of Canada in the nearby towns of Aberfoyle and Palermo. In 1875 he entered Oakville High School, where he swiftly completed classical studies with honours.
Campbell began to study law at Osgoode Hall, Toronto, in 1876. Until that time he may have signed Colin C. Campbell, but on entering law school he changed his middle initial to H, to distinguish himself from another Colin Campbell. He articled in Toronto, first in the office of George Taylor Denison* and then in that of Hoskin and Ogden. Completing all formal requirements for admission to the bar in 1879, he had to wait until the following year because of his age. Alfred Hoskin recommended him as "a clever young fellow" to another lawyer, John Billings of Port Perry. Campbell became Billings's partner and remained in practice at Port Perry until January 1882.
By then Campbell had heard reports from western Canada of remarkable opportunities. An influential young colleague, James Albert Manning Aikins*, who was already established in Winnipeg, arranged for Campbell to take up a managerial position with his growing firm, Aikins, Culver, and Hamilton. Campbell explained to his sweetheart that if he remained in Ontario it would simply take too long "to make that progress which ambitious young men are ambitious for." He arrived in Winnipeg early in 1882.
By the late summer Campbell was already unhappy with the firm's senior partner, Aikins, so he remained with it only until his admittance to the Manitoba bar was confirmed. He began his own firm, hastily selecting an inept partner, Herbert Bolster, a decision he soon regretted. The following year, after secretly negotiating the formation of a larger firm with two more-desirable partners, Francis Beverley Robertson and Horace E. Crawford, Campbell arranged to discard Bolster. His ruthless approach underlined the elements which were perceived as vital for success in a community already oversupplied with lawyers: enhancement of one's reputation in the marketplace, organization of legal talents to serve diverse clients, and shrewd assessment of each partner's social links, since such connections helped bring in business.
Campbell had arrived in Winnipeg in the midst of a real estate boom. Describing much of the speculation he observed as "one huge swindle," he quickly overcame his own scruples. He developed an expertise in real property law, became directly involved in land dealings, including the purchase of Métis scrip, and acted as a financial adviser and broker for purchasers and sellers. By 1883, in the wake of the boom, much of his work involved sorting out transactions which had soured, including some of his own.
Eventually, Campbell established one of the leading firms in the city. To broaden its portfolio, he secured the local solicitorships of mortgage and insurance companies based in Hamilton, Ont., and Montreal. He was soon in a position to broker knowledge about local investments and to forge links between central Canadian capital and western business opportunities. As a financial counsellor, he was cautious, especially with his own investments. In 1888, using funds of his own, he began a modest private banking venture in Boissevain with Crawford. Each contributed $3,000 in capital for the bank, named Cowan and Company and placed under separate management at arm's length from their firm. Campbell's various strategies worked so well that during the 1890s he was able to leave the bulk of litigation and supervision of juniors in his law office to Crawford, while he maintained an ever-widening range of business-generating social links, including a year as bencher of the Law Society of Manitoba in 1889.
When he started, Campbell was a part of a community of youthful bachelor lawyers who shared living arrangements and recreational activities. He understood, however, that marriage was an important bridge to the social world of more senior lawyers. He corresponded regularly with his fiancée in rich, voluminous, and candid detail. As soon as he was able to offer a substantial home with servants, they were married. He later wrote appreciatively of the role she played in his social advancement with the family of Premier John Norquay*.
Reflecting in part his own Presbyterian upbringing, Campbell chose social contacts and private pursuits with care and purpose. A member of St Andrew's parish, he taught Sunday school and was an elder and later a trustee. He joined the board of management of Manitoba College in 1891 and served as its chairman between 1895 and 1907, and he took an interest in the Winnipeg Young Men's Christian Association, first as a member of its board and then as president for five years during the early 1890s. Through his church affiliations he met Isaac Pitblado*, whom he recruited in 1903 after Crawford's sudden death. The subsequent restructuring of the firm, which became known as Campbell, Pitblado, Hoskin, and Grundy, assured its future as one of the largest in the city.
When he arrived in Manitoba Campbell was a conservative and a supporter of the National Policy of Sir John A. Macdonald*, but he soon began advocating a non-partisan approach towards the redress of provincial grievances over the Canadian Pacific Railway's monopoly, federal land administration, and the tariff restrictions on farm machinery. He served a term on the Winnipeg City Council and in 1893 made an unsuccessful bid in a by-election for the seat of Winnipeg in the House of Commons. It was probably not a coincidence that the same year he was awarded a qc.
In December 1899 Campbell ran in the provincial general election. He joined the Conservative forces under Hugh John Macdonald* who defeated the Liberal government of Thomas Greenway*. After winning by a large margin in the rural constituency of Morris, he moved swiftly to the front ranks of the provincial caucus: he served first as minister without portfolio from January to early October 1900, and then, on the 9th of that month, was appointed attorney general. He easily won the by-election of 27 October required to confirm his nomination. Two days later, after Macdonald had resigned to contest a federal election, Campbell resumed the post in the new government of Rodmond Palen Roblin*.
Roblin was not enthusiastic about implementing the temperance legislation passed by the Macdonald government in 1900 and he immediately began expressing concerns about its constitutionality. It fell to Campbell as attorney general to lead the team of lawyers required to test the validity of the Liquor Act. The matter was referred to the Judicial Committee of the Privy Council after the provincial Court of Queen's Bench found the act to be beyond provincial powers. Campbell travelled to England alone in 1901 and appeared by his actions there to be entirely indifferent to winning. Although the province was ultimately victorious, it was clear to many temperance advocates that Campbell had deftly played a political hand, hoping to avoid the controversy that putting the coercive measure into effect would surely provoke. Campbell next assisted the government in dodging its commitment by introducing a referendum on the subject on 2 April 1902. The no forces prevailed, sparing the government from acting on the issue. Although personally committed to sobriety and temperance, Campbell believed that the legislation desired by certain elements of the movement was impracticable, and he worked instead towards achieving softer, more enforceable standards.
Campbell's legal expertise made him a key player in Roblin's cabinet. He defended the details of arrangements with the Canadian Northern Railway [see Sir William Mackenzie*; Sir Donald Mann*], undertaken in order to gain control over freight rates and provide competition for the CPR. When, in 1905, the creation of new provinces in the North-West Territories became imminent, Campbell and Robert Rogers*, the minister of public works, went to Ottawa to defend their government's proposed extensions of the Manitoba boundary westward and northward to Hudson Bay. Although the boundary question was not resolved until 1912, Campbell played a central role in the continuing federal-provincial negotiations.
Working closely with provincial and municipal leaders, Campbell advanced his government's view that telephones should be municipally owned and operated utilities rather than privately run monopolies and that the provincial government should control long-distance lines. To achieve these ends, he helped mount a successful plebiscite to gain public approval for the establishment of the municipal utilities. Eventually he came to terms with the president of Bell Telephone Company of Canada, Charles Fleetford Sise, and the provincial government acquired Bell Telephone's assets in Manitoba on 15 Jan. 1908.
Under influence initially exerted by magistrate Thomas Mayne Daly of the Winnipeg Police Court, Campbell became increasingly aware of the unsatisfactory state of the law and legal institutions respecting juvenile offenders. He introduced an order in council to implement the federal Juvenile Delinquents Act of 1908, thus creating the first juvenile court in Canada, and he recommended Daly's appointment as its judge. The order, which came into force in 1909 and included provision for detention facilities and special trials for children in Winnipeg, would later be regarded by Campbell as his most significant and lasting achievement.
As the non-English-speaking population increased in Manitoba, the government came under mounting pressure to introduce mandatory school attendance. Campbell supported the idea in 1901 but maintained that it was financially impractical. In order to obtain greater revenues for education, he led his government's attack on Ottawa's control over the administration of school lands, but was successful only in obtaining the interest from the sale of the land, which the federal government agreed to pay to the province in 1902. As the minister responsible for education, he faced continuing pressure to assimilate immigrant children. In partial response to this issue and to the widespread use of American and other flags, he helped enact a measure in 1907 requiring all schools to fly the Union Jack during the school day or forfeit their grant. Reaction to this measure was mostly positive, except in some communities with a large immigrant population.
Campbell's fierce partisanship was sometimes controversial. During the provincial election campaign of July 1903 allegations were made that a local contractor had been expected to contribute $5,000 to the Conservatives in order to obtain drainage work. Although Campbell denied involvement and no conclusive proof was presented, in the public's mind he was a promoter of the scheme. Campbell, it seems, understood the political reality: the influence he had in cabinet and as attorney general could directly benefit him or his party. It was alleged that he instructed magistrates to treat Tory voters preferentially and that he had attempted to prevent a lawsuit against a client of his firm by expediting the passage of an amendment to a statute.
His greatest value to his party was in the abundant but less conspicuous patronage he dispensed to friends of the government and in his relentless attention to details of voter distribution and allegiance. In the provincial election of 1907 he was returned in Morris by a majority of two votes; a recount confirmed his election. Although the government was returned quite easily, the unpopularity of the flag policy among his Mennonite constituents had almost proved to be his political undoing. The following year he vigorously fought the proposed amendments to the Dominion Elections Act which sought to remedy the provincial control exercised over federal voting lists and other electoral abuses. His party feared the Liberals would repeat the Red Line scandal [see Hector Mansfield Howell] which had preceded the federal election of 1904; many Conservative voters were thought to have been improperly disenfranchised. Re-elected in July 1910, Campbell remained attorney general until October 1911 when, in a cabinet shuffle, he moved to public works.
Even while in politics he remained alert to business opportunities. When new homestead land became available in the North-West Territories in 1903, Campbell, as president of the Ontario and Manitoba Western Land Company, wrote to an agent of the dominion lands branch to request that the locating of Métis scrip in townships where his company owned land be done in such a way that the company would "have time to produce the halfbreed," whose land would then presumably be alienated. In 1912, when the Equitable Trust Company of Winnipeg was organized, Campbell, who had by that date resigned from the cabinet, became its president.
A prominent Presbyterian layman, Campbell served as a member of an advisory board for St Andrew's College, Toronto, in 1903 and the following year he represented his church in an interdenominational committee discussing the legal features of church union. He and his wife gave generous financial support to Presbyterian missions. He acted as solicitor for Queen's College, Kingston, in selecting suitable investments in the west and for Manitoba College. Membership in private clubs in Winnipeg, such as the Manitoba Club and the St Charles Country Club, and in Toronto, including the Albany Club and the Toronto Hunt Club, as well as a close identification with the freemasons, reinforced his prominent social position.
Campbell became minister of public works in 1911, the year the government announced its intention to erect new legislative buildings. Its plan, as he described it, was to construct buildings that were "architecturally beautiful and to lay grounds adjacent thereto becomingly." The contracts for construction would later be the subject of much controversy. An experienced and trusted minister, Campbell frequently defended the government's actions in areas beyond the scope of his own portfolio. Early in 1912 he joined Premier Roblin in Ottawa to hammer out an agreement on the extension of Manitoba's boundary and the concomitant financial arrangements. Continued economic growth, the increasing complexities of government activity, and the constant calls by various groups for legislative reform required Campbell's special skills as a draftsman and a trusted legislator but added substantially to his workload. Socially conservative, cautious, and always pragmatic, Campbell was invaluable for he was capable of both the dilatory and the decisive actions that politics of the moment required.
By 1912 Campbell's years of relentless striving "to build up an honorable reputation" were taking a toll on his health. He travelled alone to Kingston, Jamaica, hoping to find a cure. There he suffered a severe paralytic stroke which eventually forced Roblin to request his resignation from cabinet. Roblin still desired Campbell to return to public life even if a full recovery was not possible. His correspondence reveals that Campbell was his second in command and in his view the only man in the caucus with the "courage or knowledge to justify leadership" should he need to step down. Campbell next sought medical treatment in New York and Germany. He spent the winter of 1913–14 under the sun of Cairo before coming back to Manitoba the next summer. His unsuccessful attempt to return to work took place two weeks before his death in Winnipeg at age 54.
Campbell's estate, when probated, was valued at $138,000, leaving his wife, Minnie, and his son, Colin, who was then attending Upper Canada College in Toronto, well provided for.
Arch. of Western Canadian Legal Hist., Univ. of Man., Faculty of law (Winnipeg), Biog. files. Man., Legislative Library (Winnipeg), Biog. scrapbooks. PAM, GR 170, file 8009; GR 1568; GR 4347; MG 14, B21; C6. Manitoba Free Press, 1882–1914, esp. 26 Oct. 1914. Winnipeg Tribune, 24, 26 Oct. 1914. Canadian annual rev. (Hopkins), 1900–14. Canadian men and women of the time (Morgan; 1912). W. L. Clark, "My dear Campbell," Manitoba Pageant (Winnipeg), 20 (1974–75), no.2: 2–11. Dale and Lee Gibson, Substantial justice; law and lawyers in Manitoba, 1670–1970 (Winnipeg, 1972). Newspaper reference book. Pioneers of Man. (Morey et al.). F. H. Schofield, The story of Manitoba (3v., Winnipeg, 1913). R. St G. Stubbs, "The first juvenile court judge: the Honorable Thomas Mayne Daly, k.c.," Man., Hist. and Scientific Soc., Papers (Winnipeg), 3rd ser., nos.34–35 (1977–79): 49–66. Who's who in western Canada . . . , ed. C. W. Parker (Vancouver), 1911. R. A. Willie, "'It is every man for himself': Winnipeg lawyers and the law business, 1870 to 1903," in Essays in the history of Canadian law, ed. D. H. Flaherty et al. (7v. to date, Toronto, 1981– ), vol.4 (Beyond the law: lawyers and business in Canada, 1830 to 1930, ed. Carol Wilton, 1990): 263–97; "'A proper ideal during action': fraternity, leadership and lifestyle in Winnipeg lawyers' professional culture, 1878–1900," JCS, 27 (1992–93), no.1: 58–72; "'These legal gentlemen': becoming prominent in Manitoba, 1870–1900" (phd thesis, Univ. of Alta, Edmonton, 1989).
© 1998–2023 University of Toronto/Université Laval
Image Gallery

Cite This Article
Richard A. Willie, "CAMPBELL, COLIN H," in Dictionary of Canadian Biography, vol. 14, University of Toronto/Université Laval, 2003–, accessed October 4, 2023, http://www.biographi.ca/en/bio/campbell_colin_h_14E.html.
The citation above shows the format for footnotes and endnotes according to the Chicago manual of style (16th edition). Information to be used in other citation formats:
| | |
| --- | --- |
| Permalink: | http://www.biographi.ca/en/bio/campbell_colin_h_14E.html |
| Author of Article: | Richard A. Willie |
| Title of Article: | CAMPBELL, COLIN H |
| Publication Name: | Dictionary of Canadian Biography, vol. 14 |
| Publisher: | University of Toronto/Université Laval |
| Year of publication: | 1998 |
| Year of revision: | 1998 |
| Access Date: | October 4, 2023 |