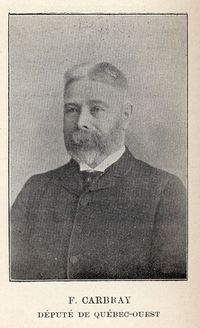 Source: Courtesy of Bibliothèque et Archives Nationales du Québec / 52327/1958186
CARBRAY, FELIX, accountant, businessman, politician, and office holder; b. 22 Dec. 1835 at Holland Farm, on the outskirts of Quebec, son of Neal (Niall) John Carbery and Catherine Connolly, natives of County Tyrone (Northern Ireland); m. 2 May 1854 Margaret Carbery at the cathedral of Notre-Dame in Quebec, and they had six daughters and four sons; m. secondly 25 Oct. 1902 Bridget Carbray, sister of his first wife and widow of Nicholas Knight (Karrol) Connolly, in New York; d. 20 Dec. 1907 at his Quebec residence on Rue Hamel, and was buried 23 December in St Patrick's cemetery.
Felix Carbray attended the Académie Commerciale de Québec, which was run by the Brothers of the Christian Schools at Quebec. He subsequently joined L. et C. Têtu et Compagnie (later Têtu et Garneau [see Pierre Garneau]), dry-goods wholesalers in the city, and became an accountant. He remained with the firm for some 15 years before striking out on his own in 1869 with a merchandise shipping company. The following year he entered into a partnership with Francis Alexander Routh under the name of Carbray and Routh. The partners, who were commission merchants, served mainly as middlemen between timber producers and distributors. They also acted as agents for steamship companies with ocean-going and St Lawrence River vessels. In the early 1870s there was stiff competition among shipping companies and commission merchants engaged in the lumber trade on the Quebec City waterfront. Independent producers were constantly being approached by firms such as Carbray and Routh, which offered to sell their product to the lumber barons. Carbray and Routh sought to take over regional markets, some of which were not being reached by the major Quebec lumber companies. By 1873 the two partners had invested more than $30,000 in their business. The firm was also co-owner of a ship, which it seems to have used for its own purposes, and it had cutting licences for some good timber limits. Credit agency reports stated that it could pay its debts without much difficulty and was even making a profit. Thus, Carbray and Routh had a strong foothold in the Quebec business community.
Between 1875 and 1878 the company opened an office in Montreal at 195 Rue des Commissaires, with Routh as agent. The depression affected its performance, however. Its financial assets, which had been evaluated to be in the $20,000–$35,000 range in 1875, fell to the $10,000–$20,000 level in 1878. The recovery of the 1880s brought it little benefit. Although its business activities required few permanent buildings and little inventory, it took more than ten years to regain financial stability. In 1879 Carbray's son Herbert John William entered the business, which then became known as Carbray, Routh and Company.
His son's presence enabled Carbray to realize his dream of entering politics. As the Conservative candidate in Quebec West in the 1881 provincial election, he was aided by Thomas McGreevy*, party treasurer in the Quebec City region and the éminence grise behind Sir Hector-Louis Langevin. Both from Irish families, the two men apparently knew and understood each other so well that during the election campaign McGreevy gave Carbray a property in Trois-Rivières at the end of Rue Bonaventure. The ties between them may have been of a business nature, but were perhaps cemented by the fact that Carbray's sister-in-law was married to Nicholas Knight Connolly, a partner of Larkin, Connolly and Company, which was closely associated with McGreevy. The campaign in Quebec West was a hard-fought one, since Carbray found himself in a close race against the city's former mayor Owen Murphy. It began a decade of political confrontation between the two men, who both represented the Irish community and were active in its local associations. The opening round went to Carbray by a margin of 91 votes.
In the Legislative Assembly Carbray's business experience stood him in good stead. In 1882 he was appointed to the standing committees on railways, canals, telegraph lines, and mining and manufacturing companies; public accounts; and industries. He hewed to the party line, but soon began to feel uncomfortable with some of the decisions made by the government of Premier Joseph-Adolphe Chapleau*. In May 1882 he confided to McGreevy that its plans to sell the Quebec, Montreal, Ottawa and Occidental Railway in two sections to private interests caused him some annoyance. That July Joseph-Alfred Mousseau*, who had succeeded Chapleau, appointed William Warren Lynch*, a Protestant, as the Irish community's representative in the cabinet. Carbray, who believed himself to be the obvious choice, was deeply resentful. In September 1883 he felt utterly betrayed when, despite the fact that throughout the 1882 and 1883 sessions he had loyally defended the government and the sale of the QMO&O, Quebec City was briefly removed from consideration as the terminus of the Canadian Pacific Railway. He especially blamed Louis-Adélard Senécal* and his syndicate, in which McGreevy had invested some $100,000. Carbray may have been taking a personal stand in favour of local interests, which had been neglected during the preceding years by Chapleau, Mousseau, and Senécal. It is difficult to be sure because of the ties between Carbray and McGreevy. Possibly the city's Irish Catholic faction in the provincial Conservative party wanted a fairer share of government largesse.
From then on Carbray distanced himself from the Conservative party, occasionally siding with the opposition. The hanging of Louis Riel* in November 1885 further alienated him from the Conservatives. He believed the Métis cause was just, although he did not approve of the part played by Riel; he none the less contributed to Riel's defence fund at the time of the trial and joined in the appeal to the federal government for commutation of the sentence. While Carbray was not directly involved in the linguistic and ethnic disputes stirred up by the Riel episode, the Métis demands probably reminded him of the situation in Ireland.
As an active member of Irish associations in Quebec City, Carbray followed closely the issue of Irish Home Rule, which intensified in Britain in 1886. In April he seized the occasion to present an address to the Legislative Assemby that he had worked out with Honoré Mercier*, leader of the opposition, and James McShane*, Liberal member for Montreal West. Carbray urged that a basic principle of British parliamentary democracy be applied to the Irish question – the granting of responsible government in local affairs. The resolution was couched in extremely polite terms to avoid offending the British, but it still prompted heated debate. As a journalist for La Patrie explained, the question of Irish Home Rule in veiled fashion evoked the Riel affair and the disturbing events that his death sentence set off in Quebec. The debate revealed the dissension that existed between those who supported "the side of the hangmen and Orangemen" and those who wanted more autonomy relative to the federal government. The resolution could be interpreted as an implied reproach, an attack on the interference of the central government. Although the Legislative Assembly passed the resolution unanimously on 16 April 1886, it remained torn by deep ethnic, religious, and regional divisions.
In the provincial election of October Carbray's flirtation with the Liberal opposition hurt him significantly. According to L'Électeur, Sir Adolphe-Philippe Caron even tried to have his brother-in-law William Sharples replace Carbray as Conservative candidate. Carbray succeeded in maintaining his nomination, but he had become persona non grata to some Conservatives. Despite McGreevy's influence he was defeated by Owen Murphy, who won by a slim majority of 8 votes.
Carbray returned to his business. Carbray, Routh and Company was still involved in the lumber trade and was indeed one of the first firms to penetrate the South American market. He and his Montreal partner also went into the coal business. In 1889, under the name of F. Carbray and Routh, they became general agents for the General Mining Association and the Low Point, Barrasois and Lingan Mining Company of Nova Scotia. In the early 1890s they were also general agents for two Cape Breton mining companies, one of them the North Sydney Coal and Railway Company Limited which had an annual output of 300,000 tons of coal. As an accomplished businessman who could speak French, English, Italian, Portuguese, Spanish, and Gaelic, Carbray was made Portugal's consul at Quebec in 1888.
Still in association with McGreevy, Carbray benefited from work undertaken by Larkin, Connolly and Company on the Louise Basin at Quebec. McGreevy's appointment as president of the Richelieu and Ontario Navigation Company in 1890 proved even more advantageous. In 1891 Carbray, Routh and Company won the supply contract for this shipping company, as well as for the CPR and the Quebec and Lake Saint John Railway. The connection seems to have lasted at least until McGreevy's death in 1897. As a member of the Quebec Harbour Commission from 1891 to 1895, Carbray may have looked out for the interests of Larkin, Connolly and Company, the main contractor for the major repairs being made to the city's harbour [see Patrick Joseph Larkin*]. In 1893 he tried in vain to reach an agreement with Caron to keep the Connollys clear of the legal proceedings that followed the McGreevy-Langevin scandal.
Carbray won Quebec West in the 1892 provincial election. His second term was rather dull. He spoke mainly on budget issues and railway development, and defended local interests, especially those of the Quebec, Montmorency and Charlevoix Railway Company, the Quebec and Lake Saint John Railway, and the Montmorency Electric Power Company. Reelected in 1897 because of a split in the Liberal vote, he sat on the opposition benches. His infrequent speeches were mostly about budgetary matters. His health was failing, and in 1901 he did not run again but turned all his attention to his business affairs.
That year Carbray, Routh and Company dissolved and Carbray, Son and Company was immediately formed. Felix and William John Carbray, another of his sons, were now in business on their own and confined their activities to Quebec City. F. Carbray and Routh ceased to exist in July and was liquidated the following year. Father and son continued to be active in shipping coal, which they sold mainly in western Ontario and New York State. Among the companies they represented were the Pittsburgh and Erie Coal Company and the Lehigh and Wilkesbarre Coal Company. In 1905 Carbray, Son and Company even set up a subsidiary, Carbray Coal and Storage Company, at Quebec. When Carbray died two years later, his son carried on alone.
Felix Carbray's tomb bears a simple epitaph, "His whole career has been one of fruitful and useful labour." In a sense it is an appropriate tribute to a man not noted for eloquence. However, it does not indicate his role in the Irish community at Quebec. Carbray represented his compatriots well by working within organizations such as the United Irish League, the Irish National Association, and St Patrick's Literary Institute of Quebec, in which he held office. His motives were not always disinterested, to be sure, but along with the McGreevy group he did come close to establishing a powerful lobby. On being deprived of some of its leaders, the city's Irish community began to experience the decline in its influence that continued throughout the century.
AC, Québec, État civil, Catholiques, St Patrick's Church (Quebec), 23 Dec. 1907; Minutiers, W. N. Campbell, 13 août 1887; J.-A. Charlebois, 22 nov. 1881, 6 nov. 1882. ANQ-Q, CE1-1, 25 déc. 1835, 2 mai 1854; T11-1/29, nos.2414 (1879), 4111 (1889); 31, nos.39 (1901), 40 (1901), 118 (1902), nos.1–2 (1908). Baker Library, R. G. Dun & Co. credit ledger, Canada, 8: 237. New York City, Dept. of Records and Information Services, Div. of Municipal Arch., Geneal. coll., vital records, Manhattan, marriages, 25 Oct. 1902. Le Canadien, 14 juill. 1890. L'Électeur, 26 oct., 1er–2, 26, 29–30 nov., 1er, 3 déc. 1881; 28–29 sept. 1883; 20 sept. 1886; 20 mars 1891; 18, 27 févr., 3–4 mars 1892; 2, 4–5, 7–9, 11 juin 1894; 2 mai 1896. La Patrie, 17 avril 1886. Quebec Chronicle, 21 Dec. 1907. Le Soleil, 21 déc. 1907. Benoit, "Le développement des mécanismes de crédit et la croissance économique d'une communauté d'affaires." Bradstreet commercial report, 1871–73, 1879–81, 1883, 1885, 1887, 1889, 1891–93, 1905. Canadian men and women of the time (Morgan; 1898). CPG, 1885, 1887, 1898. Cyclopædia of Canadian biog. (Rose and Charlesworth), 2: 499–500. Normand Laplante, "Canadian and British policy on Ireland, 1882–1914," Archivist (Ottawa), 16 (1989), no.5: 12–14. Montreal illustrated, 1894 . . . (Montreal, [1894]). Qué., Assemblée Législative, Débats, 1882: 507–8, 1028–29, 1201–6; 1883: 1315–18, 1321; 1884: 1323; 1886: 355–63, 982–87; 1892; 1893–1900. P.-G. Roy, Fils de Québec (4 sér., Lévis, Qué., 1933), 4: 145–47. RPQ. Special number of the "Dominion Illustrated" devoted to Montreal, the commercial metropolis of Canada (Montreal, 1891), 112.
© 1994–2023 University of Toronto/Université Laval
Image Gallery

Cite This Article
Jean Benoit, "CARBRAY, FELIX," in Dictionary of Canadian Biography, vol. 13, University of Toronto/Université Laval, 2003–, accessed October 1, 2023, http://www.biographi.ca/en/bio/carbray_felix_13E.html.
The citation above shows the format for footnotes and endnotes according to the Chicago manual of style (16th edition). Information to be used in other citation formats:
| | |
| --- | --- |
| Permalink: | http://www.biographi.ca/en/bio/carbray_felix_13E.html |
| Author of Article: | Jean Benoit |
| Title of Article: | CARBRAY, FELIX |
| Publication Name: | Dictionary of Canadian Biography, vol. 13 |
| Publisher: | University of Toronto/Université Laval |
| Year of publication: | 1994 |
| Year of revision: | 1994 |
| Access Date: | October 1, 2023 |