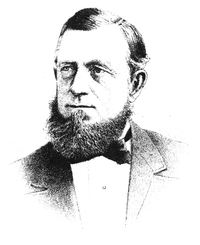 Source: Link
CHISHOLM, KENNETH, businessman, office holder, and politician; b. 17 March 1829 in Toronto Township, Upper Canada, son of Alexander Chisholm and Mary McDonell; m. first 1854 Margaret Elliott (d. 1863), and they had a daughter; m. secondly September 1865 Mary Ann (Minnie) McMaster (d. 1904), and they had three sons and a daughter; d. 26 Sept. 1906 in Brampton, Ont.
Of Scottish-loyalist background, Kenneth Chisholm's parents settled in Toronto Township, which Alexander Chisholm, a native of Glengarry County and a veteran of the War of 1812, had helped survey in 1819. After a brief primary education, Kenneth went to work as a clerk in Churchville. In 1852 he located in nearby Brampton, working as a grain salesman for Peleg Howland, a local merchant and brother of William Pearce Howland of Lambton Mills (Etobicoke). He next opened his own grain business and general store in Milton. He soon returned to Brampton, however, and with his future father-in-law John Elliott bought out Howland's business, which was renamed K. Chisholm and Company.
Using his centrally located store as his base of operations, Chisholm rose steadily in local fame. From 1855 to 1873 he was postmaster, a position that brought an enormous burst of business to his store. As well, he served as reeve of Brampton for several terms (1867–71, 1873–75, 1876–77, 1879) and as warden of Peel County for an unmatched record of three terms (1868–70). A Liberal, in 1873 he was elected mpp for Peel, a seat he would retain until his resignation in 1892.
When Chisholm started out in business in 1854, Brampton was at the beginning of two decades of spectacular economic growth based on a booming grain trade. The village not only was situated on a main road, between Orangeville and Lake Ontario, but also acquired good rail connections (the Grand Trunk and Credit Valley railways). Under such conditions, Chisholm's general merchandising and grain-weighing operations flourished. In partnership with his brother-in-law Matthew Elliott, the ambitious entrepreneur was able to expand his grain-handling activities to Eldorado Mills (Eldorado Park) near Brampton and to obtain a storehouse in Orangeville. Chisholm by himself bought out the Bill Hill Quarries at Credit Forks, strongly promoting the Credit Valley Railway, which passed by the site, in the process. In 1883 he became a director of the Central Bank of Canada and four years later he helped to organize Brampton's Board of Trade.
In 1880 Chisholm, Matthew Elliott, and other members of the town's commercial élite bought into the internationally renowned Haggert Foundry. It had been this operation, along with Dale's Nurseries, which had put Brampton on the map by the 1880s. Unfortunately for Chisholm, such fame was not to last much after he became vice-president and a minor investor in the foundry. By the late 1870s railway access and the expansion of newspaper advertising ensured that the foundry would soon lose its monopoly on agricultural implements and stoves in the region. Its fortunes steadily declined, until finally the company lapsed into receivership in 1891. Chisholm's investment evaporated, a loss that was compounded by the failure of the Central Bank in 1887. His palatial estate on Main Street, Alderlea, was sold after his business failures; it is now a Royal Canadian Legion hall.
During his time of public prominence, Chisholm had contributed much to his community. Along with his father-in-law, he was instrumental in establishing Brampton as a centre of Primitive Methodism in Canada [see William Lawson*]. He donated land for St Paul's Primitive Methodist Church and stone from his quarry for St Andrew's Presbyterian Church. As well, he gave land for and built the town's concert hall. Chisholm contributed generously to the Brampton Agricultural Society and is credited with being a founding member and organizer of Brampton's first golf, cricket, and tobagganing clubs.
After his financial collapse and departure from provincial politics, he became a figure of merely local note. In 1892 he was appointed registrar of Peel County, a position he held up to his death, despite failing mental health. A respected older resident, he continued to participate in such local events as "Scotchman's day" in 1895, the celebration of the queen's jubilee in 1897, and the exhibits by the Peel Pioneers at Brampton's fall fair in 1900. He died of "senile decay" in 1906. Even though the site of his general store at Main and Queen streets is still referred to as Chisholm's Corners, Chisholm has largely disappeared from local histories and folklore.
AO, F 171, MU 640, no.114; RG 8, 1–6-B, 66: 210. NA, RG 1, L3, 102: C12/199; RG 31, C1, 1861, 1871, 1881, 1891, Brampton, Ont. Ontario Geneal. Soc., Halton-Peel Branch (Oakville, Ont.), Index to cemeteries for the counties of Halton and Peel, sect.2, no.379 (copy in Region of Peel Arch., Brampton). Region of Peel Arch., M80-0004 (Haggert Foundry files); Registered survey plans for Brampton, 1848–88, esp. map H, no.34. Conservator (Brampton), 22 Aug. 1895, 22 June 1897, 5 Oct. 1900, 22 April 1904, 27 Sept. 1906. Zuhair Kashmeri, "Chisholm ignored in Brampton history: eventual financial collapse shadowed contributions," Brampton Daily Times, 6 Aug. 1977. Brampton centennial, 1853–1953; old home week, July 1st to 5th ([Brampton, 1953]). Brampton's 100th anniversary as an incorporated town, 1873–1973 (Brampton, 1973). W. P. Bull, From rattlesnake hunt to hockey: the history of sports in Canada and of the sportsmen of Peel, 1798 to 1934 (Toronto, 1934). CPG, 1891. Cyclopædia of Canadian biog. (Rose and Charlesworth), vol.1. Directories, Brampton, 1873/74; Can., Prov. of, 1857/58; Ont., 1901/2; Peel and Halton counties, 1866/67. A history of Peel County: to mark its centenary as a separate county, 1867–1967 (Toronto, 1967). Illustrated historical atlas of the county of Peel, Ont., comp. J. H. Pope (Toronto, 1877; repr. Port Elgin, Ont., 1971). W. J. Rattray, The Scot in British North America (4v., Toronto, 1880–84), 3: 801. W. D. Reid, The loyalists in Ontario: the sons and daughters of the American loyalists of Upper Canada (Lambertville, N.J., 1973).
© 1994–2023 University of Toronto/Université Laval
Cite This Article
Gayle M. Comeau-Vasilopoulos, "CHISHOLM, KENNETH," in Dictionary of Canadian Biography, vol. 13, University of Toronto/Université Laval, 2003–, accessed September 25, 2023, http://www.biographi.ca/en/bio/chisholm_kenneth_13E.html.
The citation above shows the format for footnotes and endnotes according to the Chicago manual of style (16th edition). Information to be used in other citation formats:
| | |
| --- | --- |
| Permalink: | http://www.biographi.ca/en/bio/chisholm_kenneth_13E.html |
| Author of Article: | Gayle M. Comeau-Vasilopoulos |
| Title of Article: | CHISHOLM, KENNETH |
| Publication Name: | Dictionary of Canadian Biography, vol. 13 |
| Publisher: | University of Toronto/Université Laval |
| Year of publication: | 1994 |
| Year of revision: | 1994 |
| Access Date: | September 25, 2023 |