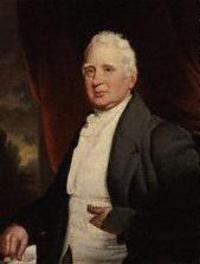 Source: Courtesy of Wikimedia Commons
COBBETT, WILLIAM, soldier, controversialist, and author; b. 9 March 1763 in Farnham (Surrey), England, third son of George Cobbett and Ann Vincent; m. 5 Feb. 1792 Anne Reid in Woolwich (London), and they had seven children; d. 18 June 1835 in Ash (Surrey).
William Cobbett, the great English radical-tory polemicist, was of uncultured, modest, rural stock. Even as a young boy, however, he exhibited that capacity for rebellious self-education that characterized his entire life. An occasional runaway from the age of 14, he left home permanently on 6 May 1783, and on 4 Feb. 1784, after a few unhappy months as a lawyer's clerk in London, he enlisted at Chatham (Kent) in the 54th Foot. A dreary year of barrack life followed, but by the time he sailed from Gravesend in March 1785 for Halifax to join the body of his regiment he had been promoted corporal. He was to spend six years in the Maritimes, chiefly in New Brunswick, before returning home with his unit.
Once back in England, Cobbett obtained an honourable discharge and then brought charges of corruption against his former officers. Fearing retaliation he fled to France in 1792 and later that year he moved to the United States. After establishing a reputation as an outspoken anti-Jacobin and anti-Jefferson journalist he returned to England in 1800 following a conviction for libel against Benjamin Rush, a prominent physician. En route in June he stopped briefly at Halifax. Now a celebrity and hero to the loyalists, he was received by Edward* Augustus, the Duke of Kent.
In 1802 he founded the famous Cobbett's Weekly Political Register, a personal organ that he edited until his death. From 1810 until 1812 he was imprisoned at Newgate for libelling the government, and from 1817 until 1819 he was in the United States, again a fugitive from official persecution. In 1830 he published in London his best-known book, Rural rides, an unparalleled description of the English countryside in the early 19th century. From 1832 until his death in 1835 he was a member of parliament for Oldham.
The neglected Canadian years of the otherwise much studied Cobbett are important both for their influence on his distinguished later career and for the light they throw on the history of New Brunswick. The dearth of contemporary records unfortunately causes a reliance on Cobbett's subsequent, opinionated, and often contradictory writings. Even the chronology of his New Brunswick years is impossible to recount with complete accuracy. It was in July 1785 that he and the 54th sailed across the Bay of Fundy from Windsor, N.S. (where the regiment had been stationed) to Saint John. Cobbett was certainly quartered at Fort Howe in Saint John for some time, and he may have been among the troops called out to suppress an election riot in November [see Elias Hardy*]; he was to comment upon the election in later life. He probably moved permanently to Fredericton in July 1787.
Cobbett claimed a wide familiarity with "the able Yankee farmers" who comprised the bulk of the population of the new province of New Brunswick, and his experience with them shattered his view of the class structure. To his surprise he found "thousands of captains and colonels without soldiers, and of squires without stockings or shoes." At home he "had never thought of approaching a squire without a most respectful bow: but, in this new world, though I was but a corporal, I often ordered a squire to bring me a glass of grog, and even to take care of my knapsack." More intimately, about July 1789, he became acquainted with an unnamed New England loyalist farmer, 40 miles from Fredericton, whose daughter he courted and almost married despite his engagement, while stationed at Fort Howe two years earlier, to his future wife, Anne Reid, the 13-year-old daughter of an artillery sergeant, Thomas Reid. Cobbett's later staunch Federalism and criticism of the American revolution can be partly attributed to his experience with the New Brunswick loyalists.
The loss in the Bay of Fundy, during the stormy 1785 crossing to New Brunswick, of Cobbett's well-thumbed copy of Jonathan Swift's A tale of a tub . . . , the book that had begun his intellectual awakening eight years earlier, did not dampen his passion for self-education. While rising within two years, through hard work and natural ability, to sergeant-major and by his own account virtually running the entire regiment, he also instructed everyone from the officers down in a new drill known as "Dundas's system," supervised the building of a large stone barrack in Fredericton, ghosted a royal commission report on New Brunswick (since lost), taught himself and several colleagues English grammar, studied geometry, and wrote the first of many textbooks, "Notebook on vulgar fractions" (which remains in manuscript form). When the 54th left New Brunswick, Lieutenant Governor Thomas Carleton* publicly commended Cobbett's military services.
His army experience launched Cobbett on his lifelong career as critic of the establishment, the class system, and corruption. Most of the officers, he claimed, were drunk, incompetent, and, even worse, venal. Aided by Corporal William Bestland, he searched the regimental records for evidence. The result of his naïve and unsuccessful attempt to bring charges against his superiors was his first published work, The soldier's friend . . . , an exposé printed in London in 1792. He had discovered his métier: crusading writing. He remained "the soldier's friend" and mounted an attack on flogging, which he had learned to hate in New Brunswick.
Cobbett's vocation as gardener and agriculturist was influenced by New Brunswick. "I have cultivated a garden at Frederickton," he declared. "I had as fine cabbages, turnips, and garden things of all the hardy sorts, as any man need wish to see. Indian Corn grew and ripened well." In Britain he strongly advocated the growing of turnips and maize, which in typically immodest fashion he called "Cobbett's corn." The 54th's goats began his boosting of the benefits of those self-sufficient animals. Cobbett enjoyed the New Brunswick scenery and such country pleasures as hunting, skating, and especially rambling – a sort of early "rural ride." Conversely, he always disliked commercial towns. With Saint John probably in mind he wrote, "I have always, from my very youth, disliked sea-ports."
Cobbett was never very consistent. For example, his descriptions of New Brunswick range from the rhapsodic – "some of these spots far surpass in rural beauty any other that my eyes ever beheld" – to the bleak – "that miserable country," "one great heap of rocks, covered with fir-trees." In his later years his criticisms of the North American colonies deepened because he hated the emigration there of English country folk. Throughout his voluminous writings he drew on his New Brunswick period for metaphors. Thus he used the hardships of the winter as a metaphor for the hardships caused in England by paper money.
Although Cobbett remains arguably the most important person who ever lived in New Brunswick, he is but a footnote in the history of the province. New Brunswick had more influence on him. His experiences there undoubtedly resulted in his discovery of his true calling, and until his death he used these experiences, and indeed his whole life, as raw material for his art, his writing, and his causes.
William Cobbett is the author of a large number of works, both published and unpublished. Two bibliographies of his published writings are available: M. L. Pearl, William Cobbett: a bibliographical account of his life and times (London, 1953), which also provides some information on the unpublished material, and P. W. Gaines, William Cobbett and the United States, 1792–1835; a bibliography with notes and extracts (Worcester, Mass., 1971). The following items, and editions, were used in the preparation of this sketch: Advice to young men and (incidentally) to young women in the middle & higher ranks, in a series of letters . . . (London, 1926); The autobiography of William Cobbett: the progress of a plough-boy to a seat in parliament, ed. William Reitzel (London, [1947]); Cobbett's Weekly Political Reg. (London), 1802–35; Life and adventures of Peter Porcupine . . . , ed. G. D. H. Cole (London, 1927; repr. Port Washington, N.Y., 1970); "Notebook on vulgar fractions . . . decimal fractions and geometry . . . , Fort Howe, 26 January 1789," an uncatalogued manuscript in Yale Univ. Library, Beinecke Rare Book and ms Library (New Haven, Conn.); Rural rides . . . with economical and political observations . . . (London, 1830); and A year's residence in the United States of America . . . (Fontwell, Eng., 1964).
D. G. Bell, Early loyalist Saint John; the origin of New Brunswick politics, 1783–1786 (Fredericton, 1983). George Spater, William Cobbett, the poor man's friend (2v., Cambridge, Eng., 1982). Wallace Brown, "William Cobbett in the Maritimes," Dalhousie Rev., 57 (1976–77): 448–61. Gerald Keith, "The legend of Jenny's Spring," N.B. Hist. Soc., Coll., no.18 (1963): 48–54.
© 1987–2023 University of Toronto/Université Laval
Cite This Article
Wallace Brown, "COBBETT, WILLIAM," in Dictionary of Canadian Biography, vol. 6, University of Toronto/Université Laval, 2003–, accessed September 27, 2023, http://www.biographi.ca/en/bio/cobbett_william_6E.html.
The citation above shows the format for footnotes and endnotes according to the Chicago manual of style (16th edition). Information to be used in other citation formats:
| | |
| --- | --- |
| Permalink: | http://www.biographi.ca/en/bio/cobbett_william_6E.html |
| Author of Article: | Wallace Brown |
| Title of Article: | COBBETT, WILLIAM |
| Publication Name: | Dictionary of Canadian Biography, vol. 6 |
| Publisher: | University of Toronto/Université Laval |
| Year of publication: | 1987 |
| Year of revision: | 1987 |
| Access Date: | September 27, 2023 |