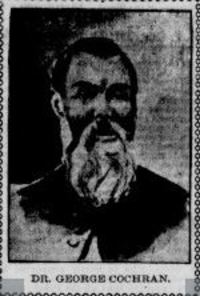 Source: Link
COCHRAN, GEORGE, Methodist minister, missionary, and educator; b. 14 Jan. 1834 in County Cavan (Republic of Ireland); m. 18 June 1857 Catharine Lynch Davidson near Churchville, Upper Canada, and they had one son and two daughters; d. 24 May 1901 in Los Angeles.
George Cochran left Ireland as a boy, and with his family settled in Owen Sound, Upper Canada. Having experienced spiritual awakening on 10 March 1852, he served as a local preacher at Elora the following year. In 1856 he was ordained, and he was accepted into full connexion with the Wesleyan Methodist Church in Canada in 1857. A succession of preaching charges in southern Ontario culminated in his appointment in 1872 to Metropolitan Church, Toronto, the premier charge in Ontario. He was then invited to open a Methodist mission in Japan.
The first Canadian Methodist foreign mission was inaugurated when Cochran arrived at Yokohama on 30 June 1873 accompanied by his family and fellow missionary Davidson McDonald. Cochran's career in Japan would fall into two periods, the first given over to evangelizing in Yokohama and Tokyo in the years 1873–79, and the second devoted to the superintendence of a theological training institute in Tokyo. The Cochrans experienced great difficulty adjusting to life in Japan. Though they received an allowance that was three times the amount given to missionaries in Canada, they found the cost of living high. Government restrictions on the residence of foreigners frustrated Cochran's attempts to find suitable accommodation for his family, and he was obliged to have a house constructed, based on a modified Western plan. The poor living conditions had an adverse effect on his wife's health, and she spent much of their stay confined to her bed.
Cochran found the Japanese open to Western ideas, but claimed they cared more for scientific knowledge and language instruction than for Christianity. Although he found a ready audience of Japanese students for his English-language sermons, he was not successful in securing converts. British and American Protestants had already established missions in Japan by the time Cochran arrived, and competition for souls was fierce. After two years he and McDonald could claim only 26 members at their two stations. Cochran's study of Japanese allowed him eventually to preach in the language and to sit on an interdenominational committee charged with translating the Bible into Japanese. By the end of his first tour of duty, the four-member mission force was able to report 200 converts, and the elements of the Methodist discipline, namely, class meetings, prayer and Bible-study groups, and sabbath services, were in place.
The expansion of mission work within Canada, coupled with economic recession, led the Methodist Missionary Society to counsel moderation in Japan. Cochran was cautioned by the society's secretary-treasurer, Alexander Sutherland, to curb the expenses and enthusiasms of his younger colleagues. In response to these demands, and with a view to intensifying evangelism, Cochran suggested that a theological training institute be established for native clergy. He had already drawn up a course of study and by 1878 had ordained his first recruits, but the plan for a college was not acted upon at this time.
His wife's constant illness and the lack of educational opportunities for their daughters prompted Cochran to request furlough in 1879. He spent the next five years lecturing on missions in Ontario, Quebec, and the Maritimes, promoting his college plan, and preaching in Toronto. Awarded a dd by Victoria College in 1882, he was elected president of the Toronto Conference in 1883 and that September was present at the meeting where union of the various Methodist churches in Canada was concluded [see Albert Carman*]. The following year, in August, he returned to Japan to establish his school at Tokyo.
The Tōyō Eiwa Gakkō, opened on 1 Dec. 1884, enjoyed considerable success, and Cochran was soon permitted to expand the facilities. Although the college had been founded to train native clergy, the academic and preparatory school programs it offered proved more popular with Japanese students than the theology course. The dearth of theological candidates led Cochran to propose that the institution become a union college in association with the American Methodists. As part of a movement towards uniting the two mission establishments, Cochran's plan was cautiously supported by his missionary society, and in 1888 he reported that there were nine students enrolled in theology. During a religious revival held in the academic department in 1887, the baptism of 40 students took place, making it the largest Methodist revival in Japan to that time. The same year, a disturbance at the preparatory school resulted in its closure, and the ensuing decline in student fees caused a serious deficit in the college's finances. Cochran's appeal for more funds was denied by Sutherland, who was hesitant to expand the mission in the light of negotiations for church union in Japan.
Cochran became increasingly ill during this period, and he was forced to join his wife in California in 1889. Two years later he returned briefly to Japan but in 1893 he left the country forever. The mission he had founded 20 years earlier was now an independent annual conference with a native clergy, a theological school, and a membership approaching 2,000. Social activism in missionary work was replacing the evangelism of an earlier era, and the Methodists were increasingly shifting their focus to China. Cochran spent the last years of his life teaching at the University of Southern California, where he served as dean of liberal arts from 1899 until his death in May 1901.
George Cochran's letters from Japan were printed in Wesleyan Missionary Notices, Canada Conference (Toronto), [2nd] ser., no.21 (November 1873): 334–36; no.23 (May 1874): 354–55; and no.24 (August 1874): 374–82; and in Missionary Notices of the Methodist Church of Canada (Toronto), 3rd ser., no.1 (January 1875): 5–7; no.3 (June 1875): 42–44; no.8 (June 1876): 124–29; no.14 (September 1877): 238–40; no.16 (February 1878): 278–82; and no.18 (August 1878): 304–5.
UCC-C, 14/2/2, boxes 2–9; Biog. file; G. R. P. Norman, "One hundred years in Japan: a history of the Canadian Methodist Church and United Church of Canada missions in Japan" (typescript, 1979); G. R. P. Norman and Howard Norman, "One hundred years in Japan, 1873–1973" (typescript, UCC, Div. of World Outreach, 1981), pt.i Christian Guardian, 1873–90. Los Angeles Daily Times, 25, 27 May 1901. Cornish, Cyclopædia of Methodism. Methodist Church (Canada, Newfoundland, Bermuda), Missionary Soc., Annual report (Toronto), 1884–94; Toronto Conference, Minutes, 1901: 16–17. Methodist Church of Canada, Missionary Soc., Annual report (Toronto), 1877–84. Missionary Outlook (Toronto), 3 (1883): 5–7; 4 (1884): 50; 20 (1901): 149–50. John Saunby, The new chivalry in Japan: Methodist golden jubilee (Toronto, 1923).
© 1994–2023 University of Toronto/Université Laval
Image Gallery

Cite This Article
Peter D. James, "COCHRAN, GEORGE," in Dictionary of Canadian Biography, vol. 13, University of Toronto/Université Laval, 2003–, accessed June 8, 2023, http://www.biographi.ca/en/bio/cochran_george_13E.html.
The citation above shows the format for footnotes and endnotes according to the Chicago manual of style (16th edition). Information to be used in other citation formats:
| | |
| --- | --- |
| Permalink: | http://www.biographi.ca/en/bio/cochran_george_13E.html |
| Author of Article: | Peter D. James |
| Title of Article: | COCHRAN, GEORGE |
| Publication Name: | Dictionary of Canadian Biography, vol. 13 |
| Publisher: | University of Toronto/Université Laval |
| Year of publication: | 1994 |
| Year of revision: | 1994 |
| Access Date: | June 8, 2023 |