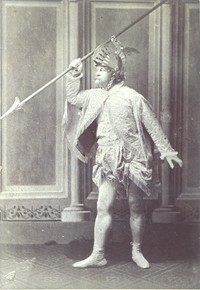 Source: Link
DANIELLE, CHARLES HENRY, dancing teacher, costume maker, restaurateur, and resort owner; b. 1 Nov. 1830 in Baltimore, Md, son of Joseph Danielle and Isabel —; d., probably unmarried, 1 May 1902 at his home near Irvine, Nfld.
Charles Danielle's origins are obscure and much of his life is the subject of legend. The youngest of six children, he first appeared before the footlights at the age of 14. Five years later he opened a dancing academy in Chicago, styling himself a professor of the Terpsichorean art. The title "professor" would stick with him throughout his varied career.
Danielle first visited St John's in the 1860s. Why he should have chosen the small Newfoundland capital is unknown. Perhaps the publicity surrounding American businessman Cyrus West Field's attempts to lay a transatlantic cable to the island in the 1850s and 1860s [see Frederic Newton Gisborne*] aroused Danielle's entrepreneurial ambitions. In St John's he reportedly advertised himself as a dancing instructor and fancy dressmaker. Neither occupation is likely to have been much in demand among the colony's inhabitants, who were more concerned with survival than with masquerades. Nevertheless, he soon established a reputation as a figure of glamour and mystery.
Details of Danielle's life over the next decades are scanty. At some point he evidently recognized the potential of the Victoria skating-rink, situated near Government House and the Newfoundland legislature on Military Road. He leased the property, which became the site of fancy-dress balls and ice carnivals he organized. There he stored the elaborate costumes he had created to rent or sell to his customers. Despite his skills as a showman, Danielle seems to have made enemies by his outspoken remarks. Early on the morning of 16 July 1878 the Victoria and the neighbouring Avalon rink were destroyed by fire, set, it was claimed, by someone with a grudge against the "professor." The Newfoundlander reported that the costumes lost in the fire had been insured for a thousand pounds.
After this disaster Danielle apparently left Newfoundland. No doubt the citizens of St John's thought they had seen the last of him. But a decade later he returned, on 31 May 1888. According to an apocryphal story, his first question as he strode down the gangplank of the Allan liner was "Is the fire out?" He had not lost his sense of humour or, as he soon revealed, his entrepreneurial skills. At the end of August 1888 he staged a "grand juvenile fancy dress ball" at the British Hall for the parents and friends of his dancing pupils. It was followed two weeks later by a "carnival and grand oriental costume ball" at the "City Opera House" (likely the City Rink) attended by more than two thousand people. A series of historical and mythological tableaux was presented to an enthusiastic audience that included Governor Henry Arthur Blake and his wife. Afterwards the governor was heard to remark to Danielle that "outside of Drury Lane Theatre, the exhibition was the best he had ever witnessed."
Danielle's next venture was a restaurant named the Royal on Water Street. It was a popular dining and drinking spot until it was destroyed in the great fire of July 1892. Undaunted, Danielle for a short time ran a smaller establishment, nicknamed the Little Royal. Then he shifted his operations to Quidi Vidi Lake, a small body of water in the eastern environs of the city, where a regatta had been held since the 1820s. There he built the sumptuous Royal Lake Pavilion, the first suburban roadhouse in the colony.
In 1895, however, he decided to move once again. He was being persecuted, he claimed, by a neighbour who envied his success. He dismantled the pavilion and transported it by rail to a picturesque site on the Topsail road near Irvine station. There he erected the Octagon Castle, a building that was to make him famous and whose name still survives in the nearby Octagon Pond. The castle was formally opened on 18 June 1896 by Sir William Vallance Whiteway, who paid tribute to the "genial professor" for "placing such a lovely resort at the service of the public."
The building consisted of a four-storey, eight-sided tower with wings on three sides. The imposing style of the exterior was complemented by a dazzling interior that has been described as a combination of 18th-century baroque and the Arabian Nights. Hundreds of yards of satin and tinsel decorated the banquet hall and the rooms set aside for reading, smoking, dressing, and private dining. But the highlight of every visitor's tour was Danielle's coffin, in which it was reputed he slept. Elaborately decorated with more than 7,000 white satin shells, it was displayed in a vault on the fourth floor surmounted by a gilt-framed inscription that read, "In the back of this Frame will be found Full instructions to be followed Immediately after my death."
Octagon Castle soon became a popular resort for the pleasure-loving public of St John's. Societies and clubs held their picnics there, and on holidays hundreds of excursionists flocked to the castle to enjoy the boating and other amenities. Once a year Danielle provided a day's outing for orphans from the city. To publicize the place he issued pamphlets describing its attractions and even included a list of "don'ts" to prospective clients. "Don't bring flasks in your pockets; the Professor keeps Strang's, Bennett's, and Gaden's best. . . . Don't bring any growlers with you; they keep me awake nights. . . . I want to implore patrons again not to bring flasks and bottles with them, and break them around the grounds. I have buried broken bottles until I can't get a whole angle worm to catch a trout, they are all cut up in bits."
Many stories have grown up around the proprietor of the Octagon Castle. One describes him lamenting the state of his health early in May 1901 and predicting that in a year he would "be no more." Exactly a year later he died. His sole heir was Frederick A. Brazill, his ward and assistant, about whom little is known. An immense crowd turned out for the arrival of the famous coffin at the railway station in westend St John's. His pallbearers included three former premiers, Whiteway, Sir James Spearman Winter*, and Daniel Joseph Greene, and prominent lawyer and politician Alfred Bishop Morine*. He was buried in the Anglican cemetery on the south bank of Quidi Vidi Lake near the site of his pavilion. An octagonal slab of white marble bears the terse inscription "To the memory of Charles H. Danielle." It is a prosaic epitaph for such a colourful character. Whatever secrets he may have had he took with him to the grave. The most visible symbol of his grandiose ambitions and his eccentricities, the Octagon Castle, disappeared in a fire in 1915.
The instructions from the framed inscription above Danielle's coffin, as well as two letters written by him concerning his death and estate, dated 9 Jan. and 8 Feb. 1902, are preserved at the Centre for Newfoundland Studies at the Memorial Univ. of Nfld, St John's. The centre holds numerous other items concerning Danielle, including two of his publicity booklets – Octagon Castle, probably published at St John's around 1900, and Octagon Castle, 1901 ([St John's?], 1901) – a memorial card, and clippings from contemporary newspapers and from four "Offbeat history" columns by Michael Francis Harrington which appeared in the St John's Evening Telegram. In addition, seven articles on the subject available at the centre, including those by Harrington and Murphy cited below, are indexed in its computerized bibliography of periodical articles.
Daily News (St John's), 19 June 1896; 2–3, 5 May 1902; 25 Feb. 1915; 1 May 1971, "Newscene" magazine sect. Evening Telegram, 1, 12 Sept. 1888; 19 June 1896; 2, 5 May 1902. Harbor Grace Standard (Harbour Grace, Nfld), 25 April 1890. Newfoundlander, 19 July 1878. Times and General Commercial Gazette (St John's), 2 June 1888. Christmas Messenger (St John's), 1928. DNLB (Cuff et al.). P. K. Devine, Ye olde St. John's, 1750–1936 (St John's, 1936). Encyclopedia of Nfld (Smallwood et al.). M. F. Harrington, "The Octagon Castle," Atlantic Advocate, 49 (1958–59), no.10: 39–43. M. P. Murphy, "The 'professor' was the talk of the town as the very eccentric owner of Octagon Castle," Atlantic Guardian (St John's), 9 (1952), no.1: 19–21. Paul O'Neill, The story of St. John's, Newfoundland (2v., Erin, Ont., 1975–76), 1. When was that? (Mosdell).
© 1994–2023 University of Toronto/Université Laval
Cite This Article
Michael Francis Harrington, "DANIELLE, CHARLES HENRY," in Dictionary of Canadian Biography, vol. 13, University of Toronto/Université Laval, 2003–, accessed November 29, 2023, http://www.biographi.ca/en/bio/danielle_charles_henry_13E.html.
The citation above shows the format for footnotes and endnotes according to the Chicago manual of style (16th edition). Information to be used in other citation formats:
| | |
| --- | --- |
| Permalink: | http://www.biographi.ca/en/bio/danielle_charles_henry_13E.html |
| Author of Article: | Michael Francis Harrington |
| Title of Article: | DANIELLE, CHARLES HENRY |
| Publication Name: | Dictionary of Canadian Biography, vol. 13 |
| Publisher: | University of Toronto/Université Laval |
| Year of publication: | 1994 |
| Year of revision: | 1994 |
| Access Date: | November 29, 2023 |