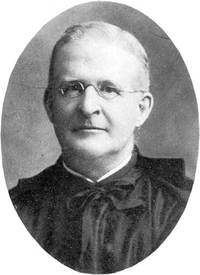 Source: Link
DRUMMOND, LEWIS HENRY (baptized Louis-Henri-Alphonse, he signed Louis when writing to his French-speaking superiors), Roman Catholic priest, Jesuit, educator, editor, public speaker, author, and translator; b. 19 Oct. 1848 in Montreal, fourth child of Lewis Thomas Drummond*, solicitor general of Lower Canada, and Elmire Debartzch, daughter of Pierre-Dominique Debartzch*; d. 28 July 1929 in Guelph, Ont.
Lewis Henry Drummond claimed Irish and Scots ancestors on his father's side and French and German on his mother's, although the Debartzchs came from Danzig (Gdańsk, Poland). Fluent in English and French, he gained an appreciation of both linguistic groups in an era marked by quarrels over language and religion. At the Collège Sainte-Marie in Montreal, which he attended from 1857 to 1865, he completed the classical course with outstanding success in debating and dramatics, interests which would continue for the rest of his life. He then studied geology and surveying with Sir William Edmond Logan* for about two and a half years.
Drummond entered the Jesuit noviciate at Sault-au-Récollet (Montreal) on 29 Jan. 1868. From 1870 to 1872 he taught fourth- and fifth-year classes in the classical program at the Collège Sainte-Marie. Exhausted after composing and giving several performances of a drama in five acts prepared for the golden anniversary of the ordination of Bishop Ignace Bourget*, which was celebrated from 27 to 30 Oct. 1872, he developed symptoms of tuberculosis and was sent to the Jesuits in Laval, France, to rest during 1872–73. He studied philosophy from 1873 to 1876 at Woodstock College in Woodstock, Md, and then taught at St Francis Xavier College in New York City, 1876–77 and 1879–80, and at St John's College in Fordham (New York City), 1877–79. He did his theology at St Beuno's College in Wales from 1880 to 1884 and while there was ordained priest on 23 Sept. 1883. During these years he also served on the editorial staff of the Month (London, Eng.).
After a year of spiritual training in Roehampton (London), Drummond returned to Canada. On 7 Aug. 1885 he arrived in St Boniface, Man., to teach at the Collège de Saint-Boniface, just taken over by the Jesuits. He would take the final vows of his order on 15 August the following year. The trial of Métis leader Louis Riel*, which had finished the week before Drummond's arrival, and Riel's hanging on 16 November divided the country and led to Drummond's rapid engagement in the political questions of the west. He began speaking and writing on behalf of French Canadians and of Roman Catholics in general. His training in rhetoric, added to his natural theatrical aptitudes, enabled him to become a public speaker of considerable renown. He gave retreats across the west and preached well-attended sermons in Winnipeg and other parishes in the archdiocese of St Boniface. He was often the guest speaker at religious and secular events. A devoted follower of Archbishop Alexandre-Antonin Taché*, he defended the ultramontane view in disputes over the Jesuits' Estates Act in 1889 [see Honoré Mercier*]. When he spoke in Brandon against D'Alton McCarthy*, who had criticized the act and Catholics in a speech in Manitoba on 5 August, troops had to be called in to prevent a riot.
In 1890 Drummond became rector of the Collège Sainte-Marie. He was the only anglophone ever to hold that position. Two of his plays, "The conversion of Ireland" and "Moïse en Egypte," were produced while he was at the college and he drew crowds to his sermons for the English congregation at Le Gesù. He also served as president of the administrative council of the Catholic and Protestant night schools of Montreal in 1891.
During 1886–87 Drummond had been one of two representatives of the Collège de Saint-Boniface on the University of Manitoba's board of studies. This experience, together with his rectorship in Montreal, contributed to his new position on the University of Manitoba's council when he returned to the Collège de Saint-Boniface in 1892 as prefect of studies. In addition, he was reappointed to the university's board of studies. He became an editor (though not listed as such) of the archdiocese's English-language newspaper, the Northwest Review. In 1895 he published Acadia, missing links of a lost chapter in American history (2v., Montreal and New York), his translation of a manuscript by Édouard Richard*. He continued his polemical activities, speaking on school questions, French-English relations, temperance, and even health care. By 1904, however, a bronchial infection forced him to slow down, and his teaching load was reduced from five lectures a day to two. That same year, he was elected a director of the Dominion Educational Association.
Drummond had been more ready than Taché's successor, Archbishop Adélard Langevin*, to accept the compromise offered by the government of Wilfrid Laurier* to settle the Manitoba school question in 1896 and relations between Drummond and his superior had soured. Drummond criticized a statement made by Langevin in 1900 for its biased presentation of the question, one that ascribed all virtues to the French and all vices to the English. He grew closer to the English-speaking Catholics of Winnipeg, who petitioned Langevin in 1906 to establish a parish for them in Fort Rouge, in the southern part of the city. Langevin blamed their actions on Drummond. The petitioners were eventually successful and Drummond became the first pastor of St Ignatius parish in February 1908, a position he held until the fall of that year.
After a few months in Guelph, Drummond moved to New York City to become assistant editor of the new Jesuit journal, America. In 1910 he returned to Montreal as assistant to Edward James Devine, editor of the Canadian Messenger of the Sacred Heart, and he again preached at Le Gesù. Two years later he went to Guelph as assistant pastor. In 1913 Drummond headed west to the Collège Saint-François-Xavier, newly established by the Jesuits in Edmonton. There he lectured in theology to lay teachers and was spiritual director until ill health forced him to return in 1919, to Montreal, where he served as spiritual director at Loyola College and edited the Loyola College Review.
With the division of the Jesuits into English- and French-speaking provinces in 1924, it was natural for Drummond to join the province of Upper Canada. Symptoms of Alzheimer's disease forced his move in 1925 to the St Stanislaus noviciate in Guelph, where the novices took turns caring for him. Though he was not confined to bed, he needed constant assistance in the ordinary tasks of life. Yet he never lost his editorial interests and, until the day he died, he wrote comments on magazine articles supplied to him by the novices.
Drummond's lively and eloquent teaching inspired the young men who became the lawyers, judges, and businessmen of St Boniface in the early 20th century, his prestige as an English-speaking priest, public speaker, and professor helped to safeguard the interests of the Collège de Saint-Boniface at the University of Manitoba, and his editorials and willingness to engage in public disputes shaped English-speaking discourse across western Canada. In 1961 the new science complex at Loyola College, Montreal, was named the Drummond Science Building in honour of him and his family.
Lewis Henry Drummond is the author of "Manitoba: a letter from St Boniface College," Woodstock Letters (Woodstock, Md), 16 (1887): 10–20, The French element in the Canadian northwest (Winnipeg, 1887), "The Church and the colony," in Canada and its provinces: a history of the Canadian people and their institutions . . . , ed. Adam Shortt and A. G. Doughty (23v., Toronto, 1913–17), 2: 379–444, and numerous articles and editorials in the Northwest Rev. (Winnipeg), 1885–1913. In addition, a series of exchanges between Drummond and the Reverend Jesse J. Roy was published as The Jesuit order, or, an infallible pope . . . ([Winnipeg?], 1889) and The Jesuits: a reply to the Rev. J. J. Roy . . . ([Ottawa?, 1889?]). A debate in which he became involved with the Reverend Richard Frederick Littledale resulted in the publication of Controversy on the constitutions of the Jesuits . . . (Winnipeg, 1889).
Arch. de la Compagnie de Jésus, Prov. du Canada Français (Saint-Jérôme, Qué.), BO-78-9-13-73 (lettres de Drummond à Désy). Arch. de la Soc. Hist. de Saint-Boniface (Winnipeg), Fonds de la Corporation archiépiscopale catholique romaine, sér. Langevin; sér. Taché. Soc. of Jesus, Upper Canada Prov. Arch., Regis College (Toronto), A-128 (L. H. Drummond files). Northwest Rev., 23 Jan., 19 Nov., 3 Dec. 1904; 2 Feb. 1918. Dictionary of Jesuit biography: ministry to English Canada, 1842–1987 (Toronto, 1991). Gérard Jolicœur, Les jésuites dans la vie manitobaine (1v. paru, Saint-Boniface [Winnipeg], 1985). Martha McCarthy, "St Ignatius parish, 1908–1929," in St Ignatius, a growing community (Winnipeg, 1983).
© 2005–2023 University of Toronto/Université Laval
Image Gallery

Cite This Article
Martha McCarthy, "DRUMMOND, LEWIS HENRY," in Dictionary of Canadian Biography, vol. 15, University of Toronto/Université Laval, 2003–, accessed December 3, 2023, http://www.biographi.ca/en/bio/drummond_lewis_henry_15E.html.
The citation above shows the format for footnotes and endnotes according to the Chicago manual of style (16th edition). Information to be used in other citation formats:
| | |
| --- | --- |
| Permalink: | http://www.biographi.ca/en/bio/drummond_lewis_henry_15E.html |
| Author of Article: | Martha McCarthy |
| Title of Article: | DRUMMOND, LEWIS HENRY |
| Publication Name: | Dictionary of Canadian Biography, vol. 15 |
| Publisher: | University of Toronto/Université Laval |
| Year of publication: | 2005 |
| Year of revision: | 2005 |
| Access Date: | December 3, 2023 |