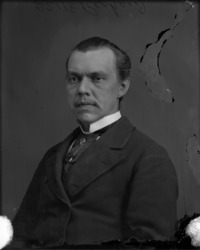 RICHARD, ÉDOUARD (Émery-Édouard is also found, and sometimes Émeri, but Édouard-Emery is incorrect), lawyer, politician, office holder, businessman, and historian; b. 14 March 1844 in Stanfold (Princeville), Lower Canada, son of Louis-Eusèbe Richard* and Hermine Prince, a niece of Jean-Charles Prince*, first bishop of Saint-Hyacinthe; d. unmarried 27 March 1904 in Willow Bluff, near Battleford (Sask.).
The great-grandson of Acadian exiles, Édouard Richard descended from well-to-do families who were among the first to colonize the Bois-Francs region of Quebec. He spent his youth in this area, among a people still showing the effects of the expulsion of 1755, whose tales were graven on his memory. After completing the classical program at the Séminaire de Nicolet, he studied law at the Université Laval for two years and then for one year at McGill College, where he obtained a bcl. He immediately went to Paris and spent eight months there with journalist Elzéar Gérin*. On his return he moved to Arthabaskaville (Arthabaska). Three months later his health failed.
In spite of everything he was called to the bar in 1868 and he went into partnership with Wilfrid Laurier* to practise law in Arthabaskaville. Their firm existed only in name: there was no hope of a cure for him. However, the two men remained in partnership for seven years and boarded for ten at the home of one of Richard's uncles. Despite his frail health Richard was drawn to politics, and he was elected to the House of Commons in 1872 for Mégantic as a Liberal. Re-elected in 1874, by 1878 he was too ill for the demanding life of a politician and declined to run again.
That year Richard left for Winnipeg. Shortly afterwards he was appointed sheriff of the North-West Territories and moved to Battleford. In 1881, while waiting for the railway to reach Regina, the future capital of the territories, he obtained permission to return to Winnipeg. To compensate for the idleness of his new situation, he founded Ed. Richard and Company, which handled real estate transactions, land speculation, and credit. He was a skilful businessman and in nine months he accumulated a capital of $250,000. Encouraged, he ran for election again, this time in the riding of St Boniface in the Manitoba election of 1883, but he was defeated by Alphonse-Alfred-Clément La Rivière*; worse still, campaigning cost him the vestiges of health he had left. Now bedridden, he was soon forced to resign as sheriff and lost his fortune. Four years later he had recovered and resumed his business activities. He had even got back his taste for politics. He ran in the federal riding of Provencher in a by-election in January 1889, but he was again defeated by La Rivière and ended his political career.
In 1891, after 23 years of extreme difficulty, Richard recovered the full use of his eyes and was able to resume two favourite occupations, reading and writing. Two decades before, he had honed his skills by writing a few articles for L'Opinion publique (Montreal), but from now on he would devote himself to history. He began reading Acadian history and, profoundly moved, was inspired with the mission of presenting his own view of the causes and events of the Acadian deportation. Soon his project broadened in scope: from short pieces of a popular kind, mounting a polemical counter-attack on the current interpretation of the affair, he moved on to a series of well-documented articles and eventually to a book based on thorough research. First he took three months to comb the archives in Ottawa and Quebec, and consulted other historians, such as François-Edme Rameau de Saint-Père and Pascal Poirier*. Then he spent two and a half years writing two volumes, which were translated into English for greater effect and published in New York and Montreal in 1895 under the title Acadia, missing links of a lost chapter in American history. In writing the book, Richard had but one aim, which he pursued methodically: "to show the bad faith and partiality" of historian Francis Parkman* and of archivist Thomas Beamish Akins*, who had compiled the documents on which Parkman had based his approval of the deportation. Furthermore, Richard intended to prove that the expulsion was the work of Charles Lawrence* and his henchmen, and that the British government had had nothing to do with it. Richard put the perpetrators of the deportation and their apologists on trial; his book, which does not mince words and verges on the pedantic, errs by exaggeration.
Richard returned to Arthabaskaville in 1894. Acadia, and everything related to the Acadians, was now an obsession with him, and he devoted himself to the cause of the Acadian renaissance [see Sir Pierre-Amand Landry*]. He busied himself promoting the establishment of an Acadian museum, dissemination of information about the history of Acadia, and erection of monuments to its historians. He launched one campaign to obtain reparations in principle for the deportation, and another to publish a new collection of documents relating to the affair. The Acadian élite supported him on all these points. A national convention even voted to submit a petition to the Nova Scotia House of Assembly calling for a revision of the compilation done by Akins, which had been the impetus for Richard's career as a historian.
Richard's work was greeted with delight by the Acadians, but was the subject of dispute in English-speaking Canada and in the United States. It brought him renown: a year after its publication, he was elected a fellow of the Royal Society of Canada, and then was awarded an honorary doctorate in letters by the Université Laval. The crowning glory came early in 1897, when he was appointed to succeed Joseph-Étienne-Eugène Marmette as Canadian archivist in France. Laurier, his "closest friend," got this position for him, much to the chagrin of people in charge of the federal archives branch, such as Douglas Brymner, who were afraid of controversy. He worked in Paris until the end of 1902, except for a brief stay in Ottawa during the winter of 1899. The results of his research were published in the reports of the archives branch for 1899 and 1904. Richard returned to Ottawa at the end of 1902, but left the capital the following summer because of a new bout of illness. He lived at the home of his cousin Émile Richard in Willow Bluff, where he died at the age of 60.
The controversy that Édouard Richard had aroused intensified after his death. The original manuscript of his history was found after a lengthy search, and was corrected and annotated by his first cousin Henri d'Arles [Beaudé]; its publication rekindled old quarrels and engendered new ones. There were arguments as to the accuracy of the critical edition and conflicting theories about the deportation were advanced. For more than half a century Richard's legacy remained central to Acadian historiography. He still holds a place in the pantheon of Acadia.
Édouard Richard is the author of Acadia, missing links of a lost chapter in American history (2v., Montreal and New York, [1895]); the original manuscript has been published as Acadie: reconstitution d'un chapitre perdu de l'histoire d'Amérique, Henri d'Arles [Henri Beaudé], edit. (3v., Québec et Boston, 1916–21).
Arch. du Séminaire de Trois-Rivières, Qué., 0276 (fonds Édouard Richard). Centre d'Études Acadiennes, Univ. de Moncton, N.-B., Fonds Placide Gaudet; Fonds V.[-A.] Landry; Fonds [F.-]E. Rameau de Saint-Père. NA, MG 26, G. Canadian men and women of the time (Morgan; 1898). Le Jeune, Dictionnaire. J.-É. Prince, "Édouard Richard et son œuvre 'Acadia,'" Rev. franco-américaine (Quebec), 3 (1909), no.3: 172–99. Standard dict. of Canadian biog. (Roberts and Tunnell), vol.1.
© 1994–2023 University of Toronto/Université Laval
Cite This Article
P. D. Clarke, "RICHARD, ÉDOUARD," in Dictionary of Canadian Biography, vol. 13, University of Toronto/Université Laval, 2003–, accessed September 27, 2023, http://www.biographi.ca/en/bio/richard_edouard_13E.html.
The citation above shows the format for footnotes and endnotes according to the Chicago manual of style (16th edition). Information to be used in other citation formats:
| | |
| --- | --- |
| Permalink: | http://www.biographi.ca/en/bio/richard_edouard_13E.html |
| Author of Article: | P. D. Clarke |
| Title of Article: | RICHARD, ÉDOUARD |
| Publication Name: | Dictionary of Canadian Biography, vol. 13 |
| Publisher: | University of Toronto/Université Laval |
| Year of publication: | 1994 |
| Year of revision: | 1994 |
| Access Date: | September 27, 2023 |