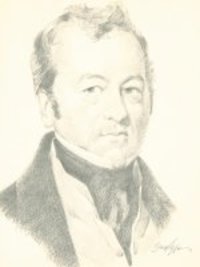 Source: Link
FERGUSSON, ADAM, agriculturalist and politician; b. 4 March 1783 at Woodhill, Perthshire, Scotland, the son. of Neil Fergusson, sheriff of Fifeshire, and Agnes Colquhoun; m. first Jemima Blair, née Johnston, by whom he had eight children, and secondly, in 1833, Jessie Tower; d. 25 Sept. 1862 at Waterdown, Canada West.
Adam Fergusson, a lawyer by training and country gentleman by inclination, was a wealthy magistrate and deputy lieutenant of Perthshire. He was also a director of the Highland Society of Scotland, an agricultural association which published a journal, supported exhibitions, and encouraged improved farming methods. In 1831 the society sent him to Canada and the United States to investigate the state of agriculture and the potential for emigration. His report to the directors was published in 1832 and reprinted in 1833 as an appendix to his own work, Practical notes made during a tour in Canada, and a portion of the United States. In 1834 he issued a new edition of the Practical notes which incorporated observations made during another visit to North America in 1833. H. J. Morgan* quotes the Montreal Gazette's observations on the 1834 edition: "unambitious in style, it is level in every capacity; strong in its collection of useful information, and correct in its general reflections. . . ." Fergusson was impressed with the opportunities for immigrants, and brought his family to Canada in the summer of 1833. He settled near Waterdown in East Flamborough Township where he built his home, Woodhill. In 1834 he and James Webster bought 7,367 acres in Nichol Township on part of which they established the village of Fergus. Webster built a grist mill and sawmill; Fergusson "offered to build a church as soon as a Church of Scotland clergyman could be obtained."
Fergusson commanded a militia unit during the Rebellion of 1837, and in its aftermath proposed unsuccessfully that British regiments be recruited for a short term of active service and encouraged to settle permanently in groups after being disbanded. Politically reliable communities in Upper Canada and a basis for a trained militia would thereby be established. He again demonstrated his loyalty to the British connection when he opposed annexation to the United States in 1850, maintaining that many potential immigrants would wish to remain under the British flag.
A farmer by avocation, Fergusson sought to improve the conditions and quality of Upper Canadian agriculture by encouraging selective livestock breeding, the development of new feeds, crop rotation, soil analysis, and improved drainage techniques. He was one of the first to import pure-bred, short-horned cattle from Britain and donated the Fergus Cup to be awarded in annual competition for the best-grade Durham heifer. He often contributed articles to agricultural journals in Britain and the United States and in 1839 tried to obtain a government loan to aid the publication of an Upper Canadian agricultural journal based in St Catharines. As early as 1843 he advocated a central agricultural society for Canada West and he was the first president of the Agricultural Association of Upper Canada organized in 1846. From its inception in 1850 until his death he was a leading member of the Board of Agriculture of Upper Canada, which co-ordinated the activities of various agricultural associations to make them more effective in developing and promoting good agricultural practices. The board also supported and distributed books and periodicals to educate farmers, and organized an annual agricultural exhibition in the province. A senator of the University of Toronto from 1856 until his death, Fergusson encouraged the establishment of a chair of agriculture at the university and was credited with bringing Dr Andrew Smith* from Scotland to found the veterinary school at Guelph which opened in 1863.
Fergusson, whom Sir George Arthur* described as "a gentleman from Scotland, highly respectable and intelligent," was an appointed member of the Legislative Council of Upper Canada and then of the united province from 1839 until 1862. In 1838 he had described himself as a Liberal who supported the British Reform Bill of 1832; he favoured constitutional reform in Canada and opposed special privileges for any church. He wanted "to safeguard the best interests of the people, to watch for money recklessly spent and to uphold the bond between Great Britain and Canada." His unquestioned loyalty and prestige lent respectability to the Reform cause. In May 1848 he was appointed chairman of the commission of inquiry to investigate the management of the provincial penitentiary near Kingston. The commission recommended the dismissal of the warden, Henry Smith, collected considerable evidence of the maltreatment of prisoners and of inefficient administration, and prepared the way for reforms such as the appointment of permanent salaried inspectors, begun in 1851.
Fergusson was actively involved in Reform party organization after 1844, and was chairman of the Reform conventions of 1857 and 1859. With George Brown*, William McDougall*, and others, Fergusson prepared the resolutions for the 1859 convention which condemned the union as a failure and advocated constitutional changes leading to confederation. But he was not well and was to suffer a paralytic stroke in 1860. He died two years later. Of his seven sons, Adam Johnston Fergusson Blair became a prominent Reform politician, and Robert Colquhoun Fergusson became governor of the Union Bank in London, England.
Adam Fergusson was the author of On the agricultural state of Canada, and part of the United States of America (Cupar, Scot., 1832) and Practical notes made during a tour in Canada, and a portion of the United States, in MDCCCXXXI (Edinburgh and London, 1833; 2nd ed., 1834). PAC, MG 24, B40; D16; RG 68, 1, General index, 1651–1841; 1841–67. Arthur papers (Sanderson). Globe, 1858–68. Leader, 26 Sept. 1862. London Free Press, 12 Nov. 1859. CPC, 1863. Morgan, Bibliotheca Canadensis. Notman and Taylor, Portraits of British Americans. A. E. Byerly, Fergus; or the Fergusson-Webster settlement, with an extensive history of north-east Nichol (Elora, Ont., [1934?]). Careless, Brown. G. C. Patterson, "Land settlement in Upper Canada, 1783–1840," Ont., Dept. of Archives, Report (Toronto), 1920.
© 1976–2023 University of Toronto/Université Laval
Image Gallery

Cite This Article
Elwood H. Jones, "FERGUSSON, ADAM," in Dictionary of Canadian Biography, vol. 9, University of Toronto/Université Laval, 2003–, accessed September 24, 2023, http://www.biographi.ca/en/bio/fergusson_adam_9E.html.
The citation above shows the format for footnotes and endnotes according to the Chicago manual of style (16th edition). Information to be used in other citation formats:
| | |
| --- | --- |
| Permalink: | http://www.biographi.ca/en/bio/fergusson_adam_9E.html |
| Author of Article: | Elwood H. Jones |
| Title of Article: | FERGUSSON, ADAM |
| Publication Name: | Dictionary of Canadian Biography, vol. 9 |
| Publisher: | University of Toronto/Université Laval |
| Year of publication: | 1976 |
| Year of revision: | 1976 |
| Access Date: | September 24, 2023 |