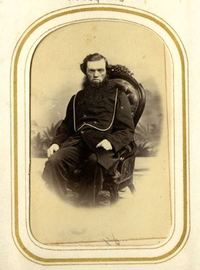 Source: Link
FRIEL, HENRY JAMES, journalist, politician, and public servant; b. 1823 at Montreal, son of Charles Friel; d. 16 May 1869 at Ottawa, Ont.
Henry James Friel was born of Irish Catholic parents. In 1827 the family moved to Bytown (Ottawa), Upper Canada, where Charles Friel operated a general store. Orphaned in the 1830s, Henry Friel apprenticed to Alexander James Christie*, proprietor of the Bytown Gazette. Friel proved to have all of the qualities necessary for a 19th century journalist: he was intensely political, he had an instinct for controversy, and he wrote well. His literary career began in 1845–46, when he contributed four articles on the Ottawa valley to the Montreal magazine, the Literary Garland. They confirm the judgement of the contemporary critic, Henry James Morgan*, that Friel was "a terse and vigorous writer of undoubted ability."
In October 1846 Friel and John George Bell purchased the Bytown Packet. It was a noisy, controversial paper which, under Friel's direction, made surprising impact for the Reform party in a traditionally Tory community. Friel strengthened his voice in 1848 by marrying into one of Bytown's leading families. His wife was Mary Anne, daughter of prominent merchant Daniel O'Connor. The Friels would have a number of children, but only three lived beyond infancy. Friel also began a busy career of social service: he was a founding member of the Bytown Mechanics' Institute (serving several times as its president) and was active in the affairs of St Joseph's Roman Catholic parish and in the Catholic charity, the St Vincent de Paul Society. During the 1860s he was a member of the council of the Ottawa Board of Trade and a director of the Ottawa Gas Company.
Friel was at the centre of most political disputes in Bytown. In September 1849, when rioting broke out over a proposed visit by Governor General Elgin [Bruce], Friel was among those arrested for abetting the looting of the government arsenal at Hull to supply arms to the Reform rioters. He had already entered active politics more legitimately when he was elected to Bytown's first town council in September 1847. Although defeated for re-election in 1848, he became a school trustee the following year.
The struggle to maintain a Reform newspaper was a financial drain. After the election in 1848 of the liberal government of Louis-Hippolyte La Fontaine and Robert Baldwin*, Friel became an avid seeker of patronage. When government printing contracts could not make the Packet profitable, he sold it in October 1849 to Robert Bell*. A civil service position then became Friel's goal. He was successful in 1850, being appointed clerk of the Carleton County Court and deputy clerk of the crown, posts he held until 1857.
Friel was elected alderman for Bytown's East Ward in 1850, 1853, and 1854, and in the latter year was chosen mayor by his fellow aldermen. He attempted to move into provincial politics in 1854, but was defeated for the Bytown seat. It was the first of three unsuccessful tries: in 1863 he ran in Prescott, and in 1867 he was bested by Richard William Scott* for the Ottawa seat in the Ontario Legislature. His municipal career remained successful, however, and when Bytown became the city of Ottawa in 1855, Friel continued as a dominant force. He was alderman from 1855 to 1858, and in 1864, 1865, and 1867. He was three times mayor, in 1863, 1868, and 1869, dying in office.
Friel had returned to journalism in 1858 when he established the Ottawa Union as a popular Reform paper modelled on the American "penny press." His first partner was his brother-in-law, Roderick O'Connor, who also operated the Catholic newspaper, the Tribune. In 1860 Friel took a new partner, civil engineer George Hugo Perry*. The paper expanded from a weekly to a tri-weekly in 1861, and to the Daily Union in 1865. It was chiefly concerned with protecting Ottawa's position as capital and as a linchpin in the union of the Canadas. As a result, the Union became a staunch opponent of the confederation scheme, which might endanger these Ottawa interests, and of those Reformers, such as George Brown*, who supported confederation.
In 1866 Friel sold the Union to its rival daily, the Ottawa Times. He busied himself with local politics and with his agency for the Royal Insurance Company. On 10 May 1869 Mrs Friel gave birth to a son. Henry Friel caught a severe cold the same night and it rapidly developed into lung congestion. On 16 May Mayor Friel died, aged 45. The city he had served so long gave him a grand state funeral, and he was laid to rest in the Ottawa Catholic Cemetery at Sandy Hill, on 19 May 1869.
H. J. Friel was the author of "The Calumette: a passage from Tom Clifden's Ottawa sketches," "Lake Colonge, from Tom Clifden's Ottawa sketches," "Lake des Alumettes, from Tom Clifden's Ottawa sketches," and "The misanthrope" in the Literary Garland (Montreal), new ser., III (1845), 520–22; IV (1846), 84–86, 235–37, and 343–57, respectively.
MTCL, Robert Baldwin papers, 37, no.70; 46, nos.30–36; 60, no.32; 70, no.31. PAC, MG 24, B55; I9, 12, p.3744; 20, pp.4967–70; 32;1107; RG 8, I (C series), 617, pp.57–59. Daily Union (Ottawa), 1865–66. Ottawa Citizen, 1851–69. Ottawa Times, 1865–69. Packet (Bytown [Ottawa]), 1846–51. Union (Ottawa), 1858–65. Illustrated historical atlas of the county of Carleton (including city of Ottawa), Ont. (Toronto, 1879; repr. Port Elgin, Ont., 1971), xix, xxviii-xxix. Morgan, Bibliotheca Canadensis, 131. The province of Ontario gazetteer and directory . . . , comp. Henry McEvoy (Toronto, 1869), 352–58. Alexis de Barbezieux, Histoire de la province ecclésiastique d'Ottawa et de la colonisation dans la vallée de l'Ottawa (2v., Ottawa, 1897), I, 1467. Lucien Brault, Ottawa old & new (Ottawa, 1946), 76–77, 86–89, 115–16, 200, 253. M. S. Cross, "Stony Monday, 1849: the rebellion losses riots in Bytown," OH, LXIII (1971), 177–90. R. U. Mahaffy, "Ottawa journalism, 1860 to 1870," OH, XLII (1950), 205–11.
© 1976–2023 University of Toronto/Université Laval
Image Gallery

Cite This Article
Michael S. Cross, "FRIEL, HENRY JAMES," in Dictionary of Canadian Biography, vol. 9, University of Toronto/Université Laval, 2003–, accessed December 8, 2023, http://www.biographi.ca/en/bio/friel_henry_james_9E.html.
The citation above shows the format for footnotes and endnotes according to the Chicago manual of style (16th edition). Information to be used in other citation formats:
| | |
| --- | --- |
| Permalink: | http://www.biographi.ca/en/bio/friel_henry_james_9E.html |
| Author of Article: | Michael S. Cross |
| Title of Article: | FRIEL, HENRY JAMES |
| Publication Name: | Dictionary of Canadian Biography, vol. 9 |
| Publisher: | University of Toronto/Université Laval |
| Year of publication: | 1976 |
| Year of revision: | 1976 |
| Access Date: | December 8, 2023 |