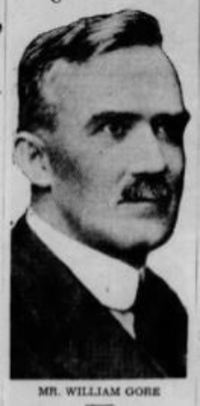 Source: Link
GORE, WILLIAM, civil engineer and inventor; b. 13 April 1871 in West Winch, near King's Lynn, England, son of John Gore, a shepherd, and Mary Ann Barrett; m. 2 Jan. 1899 Katherine (Katie, Kate) Daisley (d. 6 Dec. 1949) in King's Lynn, and they had one son; d. 7 June 1934 in Long Branch (Toronto), Ont.
Born in the low-lying Fens of eastern England, William Gore grew up in a landscape of engineered water. First educated at the technical school in King's Lynn, he was apprenticed and then became assistant engineer at Highgate Iron Works there. He subsequently moved to London to take the course in civil and mechanical engineering at the City and Guilds of London Institute for the Advancement of Technical Education. He graduated in 1896.
Gore's brilliance as a pupil led to employment with Britain's leading hydraulic engineers. As chief assistant to George Frederick Deacon and then to the firm of Sir Alexander Binnie, Son and Deacon from 1899 to 1912, he had what he would describe as "responsible charge" for work in England, Wales, Italy, Australia, Greece, Malta, Russia, and India. His projects involved reservoirs, aqueducts, dams, pipelines, filter beds, sewerage, irrigation canals, pumping plants, wells, and underground railways.
Two years after inventing the drifting-sand water filter in 1910, Gore joined London's Ransome-ver Mehr Machinery Company to develop this technology. A subsidiary, the John ver Mehr Engineering Company, was formed to explore overseas markets and meet the rising interest in purifying water to promote public health. By early 1913 Gore and John Malan ver Mehr were in Toronto demonstrating the new filter to Roland Caldwell Harris*, Toronto's commissioner of works. Dissatisfied with the capacity and performance of the slow-sand-filter plant completed on Centre Island in 1912, Harris was pushing for a more effective form of water treatment.
Tests conducted by George Gallie Nasmith*, director of laboratories for Toronto's health department [see Charles John Colwell Orr Hastings], proved Gore's invention successful, and in 1914 the municipal government of Horatio Clarence Hocken gave the John ver Mehr company a $1.1-million contract to build a drifting-sand-filter plant on Centre Island. The firm attracted both attention and talent, and by this time William Storrie, formerly in charge of waterworks in Ottawa, had joined it as chief engineer. The new undertaking was a bold step. As Canada's largest and most expensive filtration project and the world's biggest application of drifting-sand technology, it was closely followed in the North American engineering press. The plant, in partial operation in December 1917 but not completed until the following year, finally assured Torontonians of safe drinking water. At some point during these years, Gore and his wife decided to stay in Canada.
Gore's "inventive type of mind," as Storrie would put it, resulted in five Canadian patents being issued between 1913 and 1921. All related to the treatment of water or sewage. In 1915 Gore adapted his filter for wartime use, and it was subsequently employed by the British, French, and American armies. For the ver Mehr company, Gore and Storrie also designed small filtration units for office buildings in Toronto and Montreal. In 1919 Gore built drifting-sand plants in Brampton, Oshawa, and Rockland, Ont., while Storrie was occupied with ver Mehr projects in Britain. October 1919 saw the formation of a new partnership, Gore, Nasmith and Storrie (GNS), which was to consult, the Canadian Engineer reported, on "all forms of public health engineering, including water works, sewerage, sewage disposal and bacteriological research." Though the firm was said to be active across Canada, all of its enterprises covered by the engineering press were, with one exception, located in Ontario.
For municipal clients, GNS began with a report on potential solutions for a given sanitation problem. The firm then often designed, oversaw construction of, and initially operated any approved works. Its key water-supply projects were at Hamilton, Windsor, Toronto, Belleville, Ottawa, St Thomas, and Calgary, and its major sewage-related operations took place in Toronto, York Township, and Kitchener. The company also consulted widely throughout Ontario. Having already earned Harris's confidence, GNS obtained its most important assignments in Toronto. The commissioner of works was to rely exclusively on the firm for water-supply and sewage-disposal advice until his death in 1945.
The company's outstanding project was the Toronto Water Works Extension. Harris's vision was to achieve water security for the city by duplicating the major supply, distribution, and storage elements of the existing system. In 1925 he retained Gore and Henry Girdlestone Acres* to plan the work. The $14.3-million solution – at the time the country's most extensive water purification/distribution works – included a rapid-sand-filter plant that would feature a new spiral-mixing technology of Gore's invention, a reservoir, two pumping stations, and a 9.5-mile filtered-water tunnel. At the time of Gore's death only the reservoir and the tunnel were finished; the works, eventually known as the R. C. Harris Water Treatment Plant, would not become fully operational until 1941.
GNS also helped solve Toronto's sewage-treatment woes. The North Toronto waste-water project, finished in 1929 and described as "the largest complete system ever put in at one time in Canada," linked 13.5 miles of main sewers to a $1-million treatment plant. The plant, initially designed to accommodate the needs of 50,000 people, had a unique combination of features, including primary and secondary sedimentation tanks, heated digestion tanks, and glass-covered sludge-drying beds; the application of heat to speed up digestion had never before been attempted in Ontario. GNS's expansion of the works, completed in 1935, would serve 100,000 people. The North Toronto plant handled only one-tenth of Toronto's sewage, however. The rest went largely untreated into Lake Ontario (the sewage-disposal plant at Ashbridges Bay, completed in 1914, removed the sludge but did not further treat the effluent). Harris hoped to remedy this situation when he again retained Gore's firm in 1931. City Council baulked at the $20.4-million plan proposed two years later for a primary- and secondary-treatment works at the mouth of Highland Creek in Scarborough (Toronto). More studies and political indecision followed. Eventually a larger primary-treatment plant was begun at Ashbridges Bay in 1944.
The exception to GNS's Ontario-centred work was the creation of a new water-supply system for Calgary, the greatest of the firm's projects finished in Gore's lifetime. With the city facing a water famine in 1929, Gore pronounced the current system obsolete. His solution involved buying 2,400 acres along the Elbow River to create a dam, a reservoir, a pumping station powered by hydraulic turbines, a rapid-sand-filter plant, and 8.5 miles of water mains. In 1933 Calgarians gained an ample supply of quality drinking water, flood protection, and a major recreational space. The availability of irrigation water led to "fine gardens, beautiful parks and tidy boulevards" throughout the city, municipal officials noted.
Illness in early 1934 prevented Gore from delivering a major paper on the Calgary project. He would not live to see the unprecedented attention lavished on the Glenmore Water Works System – fitting, perhaps, because Gore was, as the Toronto Daily Star noted after his death, "as retiring as he was able." Although "little known outside his profession," the paper continued, he was "esteemed in the engineering world as one of its most brilliant men," and his passing merited lengthy obituaries in many Canadian and American engineering journals. Even the New York Times acknowledged Gore as "an engineer and inventor with an international reputation," though his role in using technology to enhance the health and well-being of Canadians went unremarked.
William Gore is the author or co-author of "The Toronto drifting sand water purification plant," Engineering Instit. of Can., Journal (Montreal), 2 (1919): 701–13 (with William Storrie); "Purification of sewage – sludge digestion," Canadian Engineer (Toronto), 48 (January–June 1925): 579–81 (with G. G. Nasmith); "The Border Cities' new filter plant," Contract Record and Engineering Rev. (Toronto), 3 March 1926: 202–6 (with J. C. Keith); City of Toronto report on proposed extensions to the water works system, May 15th, 1926 ([Toronto, 1926]) (with H. G. Acres); "Supply, intakes and storage," American Water Works Assoc., Journal (Baltimore, Md), 15 (January–June 1926): 531–45; "Fourteen million dollar extension to Toronto's water supply system," Contract Record and Engineering Rev., 19 June 1929: 726–30; "Ottawa's water purification problems," Contract Record and Engineering Rev., 19 March 1930: 343–45; "Modern water works pumping stations," Canadian Engineer, 22 March 1932: 5–8; "A $4,000,000 water supply system for the city of Calgary: part 1 – the dam, reservoir, screen house and pumping plant," Engineering and Contract Record (Toronto), 48 (1934): 359–68; and "Calgary's new water works system," American Water Works Assoc., Journal, 26 (1934): 977–1014. A complete listing of his articles in the above journals as well as in the American Soc. of Civil Engineers, Proc. (New York), Engineering News (New York), and Instit. of Civil Engineers, Minutes of proc. (London) is available in the DCB/DBC offices.
GRO, Reg. of marriages, King's Lynn, Norfolk, 2 Jan. 1899. LAC, R3492-0-5, vol.91, membership file for William Gore. New York Times, 8 June 1934: 21. Toronto Daily Star, 8 June 1934: 4. Letty Anderson, "Water-supply," in Building Canada: a history of public works, ed. N. R. Ball (Toronto and Buffalo, N.Y., 1988), 195–220. M. N. Baker, "Highlights reflecting Canadian waterworks practice," Engineering News-Record (New York), 5 June 1941: 77. A. E. Berry, "Developments in Canadian waterworks practice, 1850–1940," Water and Sewage (Toronto), 78 (1940), no.12: 9–18, 42–45. Canadian Intellectual Property Office, "Canadian patents database," patent nos.146827, 148307, 159657, 176682, 213108: www.ic.gc.ca/opic-cipo/cpd/eng/introduction.html (consulted 6 June 2017). Tom Davey, Recollections of water pollution control in Ontario (Aurora, Ont., 1985). William Storrie, "William Gore, M. Am. Soc. C. E.," American Soc. of Civil Engineers, Trans. (New York), 100 (1935): 1660–62.
© 2022–2023 University of Toronto/Université Laval
Image Gallery

Cite This Article
Wayne Reeves, "GORE, WILLIAM," in Dictionary of Canadian Biography, vol. 16, University of Toronto/Université Laval, 2003–, accessed October 3, 2023, http://www.biographi.ca/en/bio/gore_william_16E.html.
The citation above shows the format for footnotes and endnotes according to the Chicago manual of style (16th edition). Information to be used in other citation formats:
| | |
| --- | --- |
| Permalink: | http://www.biographi.ca/en/bio/gore_william_16E.html |
| Author of Article: | Wayne Reeves |
| Title of Article: | GORE, WILLIAM |
| Publication Name: | Dictionary of Canadian Biography, vol. 16 |
| Publisher: | University of Toronto/Université Laval |
| Year of publication: | 2022 |
| Year of revision: | 2022 |
| Access Date: | October 3, 2023 |